A Holy Grail, Now Reviewed
Antonio Meccariello is a shoe brand I wanted to Review for the longest time.
Breathtaking designs, stunning patinas and delightful curves, mixed with Italian passion. One of the best shoemakers of our time indeed.
Now that I am a proud owner of a Navy Hastatus II Adelaide Oxford, let's put it to the test in a thorough Review shall we?
Join me as we discuss every part of the shoe, fit and availability and of course if Antonio Meccariello shoes are worth the hype.
Spoiler alert: They are.
Who Is Antonio Meccariello?
It surprises me to this day how so many are not familiar in 2021 with the name Antonio Meccariello.
Well-known among us shoe enthusiasts, Antonio is one of the Best Shoemakers in the World. I always included him in every "Best" List I made so far and for a good reason.
Shoemaking runs in the blood of the Meccariello family since the 50's. More specifically in small towns scattered around Benevento, which is about 50 kilometers northeast of Naples.
As time passed and shoemaking became a rare and niche trade, many of the small workshops closed. Antonio's grandfather was a Bespoke Shoemaker so it's not hard to understand how he contracted the bug himself.
After studying pattern making and apprenticing under a lot of local maestros, people began to take notice of Antonio's exquisite work.
Rubinacci and Kiton eventually approached him to help create and produce their own ready to wear line. His goal however was to focus on his own workshop in Naples and thus the brand name "Antonio Meccariello" graced the world in 2012.
Known for his extreme attention to detail, continuous push for excellence and stylistic breakthroughs, his work is jaw-dropping from entry to bespoke.
Tip: Make sure to Read the Best Dress Shoes Guide 2021!
Antonio Meccariello Line Up
Before we delve into the Review of today's model, let's briefly touch upon the different lines that you can purchase right now:
Aeris: Entry Level Goodyear Welted Ready to Wear Shoes ($450 – $500)
Argentum RTW/MTO: Mid Range Goodyear Welted with no Gemming ($550 – $1450)
Argentum Dux: As above but with more handiwork and exclusive models only available for retailers
Handwelted Argentum: Similar to the previous ones but fully Handwelted RTW/MTO ($700 – $1600)
Titanus: Medallion Shoes Exclusive Models MTO ($1200)
Aurum: Fully Bespoke Quality MTO/MTM Shoes (Ranges from $1600 to >$3000)
Bespoke: Self-explanatory, shoes made individually for your foot's measurements (>$5350)
If you exclude the Argentum variations and the Titanus, essentially there are 4 main ranges to choose from. Since I purchased my shoes from a retailer, they are part of the Argentum Dux Line.
If you have more information about updated pricing or something I forgot, please let me know in the comments!
Today's Pair Background & Specifications
Through the magic of the internet and the terrible influence of Styleforum, I found last month a clearance sale on an online shop called Fine Shoes HK.
In what seems to be a full purge of their stock, they discounted multiple models from Vass, Enzo Bonafe and Antonio Meccariello.
Specifically, they had 4 models available but the only one that interested me was the Hastatus II Adelaide in Navy Patina and a Pin-Grain Throat.
For 50% off at just $400 including lasted shoe trees and free shipping how could I say no?
Regardless, let's take a look at the specifications in detail:
Brand: Antonio Meccariello
Model: Hastatus II
Style: Adelaide Oxford
Color: Navy Patina with Navy Pin-Grain Throat
Leather: Vintage Baby Box Calf 16 ft.
Construction: Argentum Dux
Eyelets: 5 Blind
Last: Chisel 2 Soft Square
Sole; Closed Channel Leather
Insole: Half
Lining: Genuine Leather
Shoe Trees: Lasted
Details: Medallion Toe
Price: $400 (50% Off Clearance)
Origin: 100% Made in Italy
Beefy specs and an absolute bargain of a price. The only downsides as you will see were that they were floor/try on models for 3 years and shipping took a decade.
However none of these would be issues when purchased directly from Antonio Meccariello's Website.
Unboxing Experience
One can say that the unboxing experience was extremely underwhelming and left a certain sour aftertaste in my mouth.
Upon receival the box looked like it spent a week in the same room with World War II Hulk. Bonus points if you get the reference here.
In other words, the box had damage almost everywhere but luckily was in one piece.
Since this was an older pair, there might be some differences with the new boxes so bear that in mind. This box is dark blue with a pretty big branded crest on the top followed by minimal details on the side panel.
The interior is rather spacious for a pair of shoes which is nice. Inside you actually get only some red shoe bags which as super nice and soft by the way.
And….that's it really. Some branded tissue paper but nothing else which honestly is fine.
If you want the more luxurious treatment you can request a wooden shoe box that will cost you extra.
Initial Impressions
Picture this first. I buy a pair of shoes for an amazing price that have no information about their condition on the retailer.
My friend Ashwin who provided some pictures you see here, also got the same model and his was pristine quality. By the way I totally was a bad influence and led him to this purchase.
Then I received a broken box after 4 weeks of transport, so you might think my expectations were lower.
Indeed, it was very slightly disappointing when my initial excitement turned into sadness. My pair was worn or at least tried on with visible crease marks around the vamp and very dry leather.
It took me a couple of minutes but then I got over it. The shoes themselves looked sublime and the price was mind-boggling.
As always I began silently observing the different angles of the shoes to see what feelings they invoke. The more I learn about shoes, the more I recognize a warmer special feeling when the pair speaks to me.
The good news is that one spoke to me immediately. Jaw-dropping curves, the slop under the lacing, the subtle amazing pin grain details. And of course the astonishing fiddleback waist and handpainted two-tone sole.
A purchase I would never regret.
Important! Antonio Meccariello would never allow worn or defective shoes to go out of the workshop. Remember that mine was a try on pair from a retailer not directly Antonio.
Antonio Meccariello Hastatus
I don't often do this in my Reviews but this one totally deserves it.
What I want to do is talk about the design elements and the model itself. To begin with, Antonio Meccariello has the most amazing names for his shoe models.
Inspired by Latin and Roman history, all his models have a distinct beautiful name. Simposio (a drinking party), Libritor (artilleryman), Principes (heavy sword infantry), Equites (roman cavalry) and of course Hastati (swordsmen).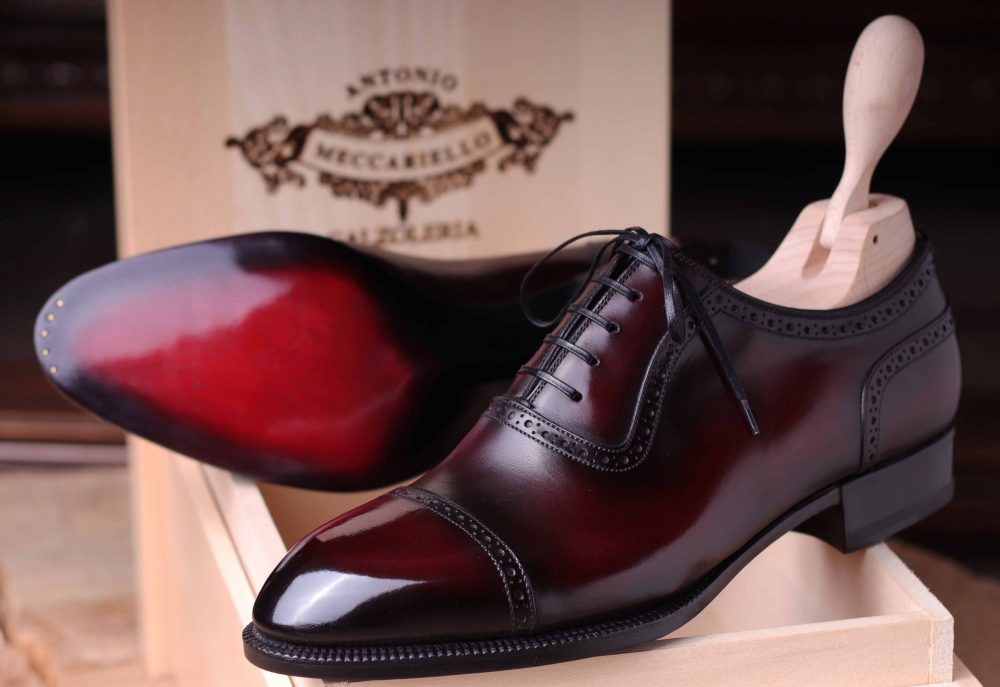 Doesn't that sound much cooler than calling your model "Tom" or "Joe" or "Bob"?
The Hastatus (singular of Hastati) is his trademark plain toe Adelaide oxford with a medallion toe. He also has a very special version called the Hastatus 4 with a unique throat design which forms a small "V" at the bottom.
My version has the codename Hastatus II and is truly a beauty. No matter which angle you look at it from, it has a certain finesse you won't find in other shoe schools.
From the structure of the front, to the unique medallion shape or the little broguing at the tongue, it's a gorgeous shoe.
It also has a humongous instep (in appearance) with a big slope running down the vamp towards the toe area.
Then you turn it upside down and you notice the delightful handpainted sole and a tight waist not many can produce even today.
Antonio Meccariello Leather Quality
The pair I have in my hands used some form of Vintage Navy 16 ft. Baby Box Calf.
Antonio Meccariello uses 14/16/18 ft. Triple Box Calf on his standard production these days while other shoemakers 24/28 feet of the hide.
What I understand from this is that he uses very specific parts of the hide for each pair of shoes compared to other manufacturers who try to use as much as possible.
My pair was extremely dry at some points while others had the appearance of loose grain in a sense. I later found out that they were in the store for 3 years which explains a lot.
However I must admit that the leather was remarkable. I could spot that in the non-flex areas where the leather was still lustrous and smooth as butter.
After a quick session of Pure Polish Conditioner (which smells divine by the way) they looked nice and refreshed.
The leather seems to flex rather nicely, has a smooth texture so I also expect it to crease gracefully. By no means it's as thin as the Saint Crispin's one.
As for the pin grain, it's quite hard to form an opinion as it's embossed calf. It has a great appearance and is such a subtle lovely detail you appreciate only up close.
It exhibits the good qualities of Crockett & Jones Handgrade so far, but time will tell how good it really ages. I expect Antonio to use only the best hides anyways.
Argentum Dux | Construction Quality
If you went through the section about the different ranges in the Meccariello quiver, you would be excused if it confused you.
The Argentum series has 4 variations from which 2 are retailer only: Argentum Dux and Titanus (Medallion Shoes Exclusive).
Then you have the regular Meccariello Argentum RTW/MTO which in many ways is similar to Dux, as well as a purely Handwelted Line.
What you choose is up to you and if there is stock, though for the most part you wouldn't really tell the difference I believe.
For those that want to delve deeper into the unique Argentum Dux Construction Antonio has a great article here. In most Goodyear Welted Shoes, the shoemaker uses a strip of linen to connect the welt and the uppers together.
Holdfast is another name for that linen piece which they attach to the insole with glue. In Argentum Dux however Antonio Meccariello uses no linen holdfast and instead carves it by hand without any glue, yet still uses a machine to sew it.
Reading the article is very helpful to visualize this and go more in-depth.
The shoes look to be extremely solid with a substantial weight to them. Not heavy, but they have the aura and feeling of well made.
I mentioned before how structured the side panel seems to be at the front and every detail is well executed.
When you look at the sole, the welt and the fudging it's really good. In other words, you know you are holding a quality item.
What is really interesting though is Antonio's comments. We discussed some things on Instagram and he said that this indeed an old model.
In the 3 years that passed he kept working every day to refine and improve the construction and details. He said that a shoe that you would buy today is even more superior to the one I have.
Which means if I am extremely satisfied and awed by these, how would I feel buying a newer version? Let me hide my wallet.
To sum up, the construction and feel of the shoe is one of the best I've handled up to $800.
Tip: Learn More about the different Types of Shoe Construction with our Ultimate Guide!
Antonio Meccariello Review | Stitching & Welt
Every time I reach the stitching section I ponder: should I even write this?
I think that by now, even at the lower tier entry shoes decent clicking is something you would expect. The machines are great and a skilled worker can do a good job.
There are few differences here and there, with the stitching density or even the difference in space between rows of stitching.
Thinking about this, the Hastatus looks great. Whether you look at the uppers, the perforations on the U throat or the lining, it looks great. Nothing triggered my OCD there and the SPI was pretty high.
Shifting my focus to the welt, it has a bit of bravado to it for a lack of better word. The outsole at the front has intentionally more space between the welt and the uppers with very prominent fudging.
Looking at it from the top, it reminds me this style I first noticed on Enzo Bonafe shoes.
It's like a pet Lynx you know? Can be adorable and purr like a big cat but is ready to pounce at you at any given moment. I don't know what I am talking about, I just love it.
Lastly, I should also mention that one of the recent improvements includes a higher 11 SPI Sole density. That's pretty great for RTW.
Antonio Meccariello Review | Details & Interior
One thing I noticed while examining the shoes was the subtle broguing on the tongue area.
The tongue itself seems to be a little narrower to be fair but still has good proportions.
At the back you have a nice dog-tail backseam which is very discreet with high SPI. The medallion broguing design at the toe is unique as well.
It reminds me a bit of a butterfly design and it just feels right. As my shoemaking knowledge grows and taste evolves, I learned to appreciate and seek a nice medallion on the toe.
The lining is also great, with good trimming around the edges. I spotted an extra piece of thinner leather in between the lining and the upper too. Kinda like the big one in my Stingray Review the other day, just way more discreet and thin.
Sueded heel cup, nice navy branded half insole. Pretty good.
If you really want me to nitpick something, at the side of the heel block the leather is not level. Nothing that you should remotely care about or even notice in the first place.
Lasted Shoe Trees
If you intend to buy high end shoes that transcend the boundaries of most mortals you should always invest in lasted shoe trees.
In other words, if you spend over $800 why not spend a tiny bit more to ensure your shoes keep the best possible shape.
Lasted shoe trees get that name due to the fact that they will fit the shoe's last perfectly.
What I noticed on these was that the handle is more substantial and lifts up much more outside the shoe. I like that actually it makes it so easy to carry and remove.
Quality seems to be pretty good and there is even a small aesthetic difference than most. Whereas you often see the metal bars that connect the pieces together, here you don't really.
The wooden piece on top that slides backwards covers it up. A cool little detail that seemingly makes no difference but still worth mentioning.
They are not hollow and thus carry a bit of extra weight but is an important underrated companion.
Antonio Meccariello Review | Sole & Waist
What an amazing sole this is. Absolutely unreal for $400 and even at full price.
First of all the hand-painting is gorgeous with a navy finish at the edge and a brighter more cobalt blue middle part.
You cannot see any stitching remains and the waist is sharp and tight. The fiddleback it forms is very noticeable and one of the sharpest in the industry.
I try to understand who on the right mind would buy the English more boring shoes instead of these? I retail Crockett & Jones Handgrade by the way, so let that sink in.
Hands down one of the best looking soles under $1000-$1200 I'd say and customizable.
There are a few nails at the toe area and surprisingly few at the heel block. The latter has a rather big and thicker rubber insert at the back.
It remains to be seen how slippery it is!
Antonio Meccariello Chisel 2 Last
The bread and butter of Antonio Meccariello Lasts in my opinion are those that have some form of square toe shape.
I am not sure if this is a southern Italy thing (since Paolo Scafora does it too) but they do it so well. Often quite aggressively too.
This Last is the Chisel 2 and has a more gently soft square shape which I like very much. It's lovely!
It slopes so well at the front while the curve at your instep is like a kamikaze waterslide. It has a slightly elongated look but in reality doesn't seem to be that much longer.
Look at the waist and it make a sharp turn inwards in tune with the shoe's aesthetics. Delicious.
For those that prefer more contemporary shapes, you can always use the Hawksbill or a more round last.
Sizing Choice & Comfort
One of the most controversial topics for me to talk about in this Review is sizing and fit. I will try my best to explain why but also keep this as updated as I can.
After multiple discussions on Styleforum I took their advice to size up half on Meccariello Soft Square Lasts including the Chisel 2.
Instead of my regular UK 8 I therefore took a UK 8.5 (US 9.5D) which for the most part turned out to be the right choice.
The instep was comfortable but not with much excess space as I could tell from the gentle V gap of the laces. If there is no gap in the beginning then it might be the wrong size for you, or you have a low volume foot with low instep.
Width was also spot on, reminiscent of the comfort I get with the Crockett & Jones 348 Last. Just the perfect amount of space for my little toe and enough space at the toe area.
The only "issue" was the heel cup. I could fit almost one finger in it and there was just a little heel movement when I walked.
Nonetheless the shoes seem to have nice arch support and a rather gentle break in period. I expect them to be very comfortable.
Sizing Advice For Chisel 2
Initially I thought this might be the wrong size and that the Chisel 2 fits True To Size instead. I would say that if you have a regular or narrow foot, the Chisel 2 is indeed true to size.
A better alternative would possibly be if you make an MTO Shoe to get an E Width shoe (UK 8E in my case).
However, after some discussion with Antonio he did make some good points. Due to the fiddleback waist a shoe can be more rigid and it is possible that will disappear after the initial break in period.
As the shoe breaks in and the V space between the laces disappear, you can adjust them more which in turn might give better grip to your heel area. Hopefully after 4-5 wears.
In the meantime, I used some amazing suede tongue pads by Skolyx (Link) that push your instep backwards and totally eliminated my heel slip.
My advice as it stands is: take half a size up from your regular UK if you have a slightly wider foot/regular foot and consider using a tongue pad to adjust the fit if required.
You can see my advice in the pinned comment in the Video Review below.
Video Review
As always, for those of you that prefer Video Reviews, here it is! Please make sure to read the pinned comment for fit updates!
How Versatile Are Navy Shoes?
Navy shoes are so underrated which boggles my mind. Think about it for a second.
Navy and darker shades of blue are the most versatile colors in the world for clothing. From socks, trousers, sweaters and shirts or suits, they are so easy to match effortlessly.
Why couldn't you do that with a nice pair of navy shoes then? They share the same traits and depending on the light conditions will look very dark.
I am a huge fan of blue shoes and I actually have 5 pairs right now. As you can see in the worn shots everything works so well together.
The era of white and blue collar is behind us and there are no real restrictions to what you can wear these days with a suit. Oxford or not, I wouldn't hesitate a moment to wear these with chinos or jeans and most suits.
Granted, it is not for everyone but if you have a core collection don't be afraid to branch out to more adventurous versatile colors.
Oh, and if you like those awesome wool/silk socks check out my Review of Viccel Socks!
Is Antonio Meccariello Worth The Hype?
If you ask me who is my favorite shoemaker in the world right now I would tell you two: Paolo Scafora and Antonio Meccariello.
The first offers this incredibly bold, unique Norwegian style that I adore. The latter however carries this mystical invisible aura, like the smell of fine wine.
It's intoxicating to look at Meccariello shoes and breathtaking to hold them. Now that I own them, even though it's an older model it's difficult to put into words the emotions I feel.
There's a certain passion oozing out of every pore, every corner and detail of the shoe. The designs are unlike anything in their price range, the finishing, the construction and the value of what you get.
How could I choose Carmina for example when I can buy the Meccariello Aeris instead?
In other words, I am glad to tell you that this is one of the finest shoes I own from one of the best shoemakers of our time. Small workshop, a delightfully passionate man that will answer your every question and amazing shoes to complete the package.
No, this is not a sponsored post. I bought this with my own money and I would again and again.
Check out Antonio Meccariello's Website and support one of the best shoemakers of our time.
Concluding Remarks
That brings us to the end of my Review of the Antonio Meccariello Hastatus II in Navy Patina. Superb shoes for a mind-boggling price.
I still can't believe the deal I got for them. It's a shoe that will surely stay in my collection for a long time and I will wear in every opportunity. Currently I am purging my wardrobe to invest in higher end shoes and this is one of them.
Check them out and don't forget to share your opinions or experiences in the comments section.
Make sure to Subscribe to the Newsletter for 10% Off The Noble Shoe and stay up to date with the amazing upcoming content I have. Stay safe and take care!
Thank you for reading,
Kostas Mandilaris,
Misiu Academy