For Those That Want The Absolute Best
Not so long ago, I wrote one of my favorite article series on Misiu Academy. The aim was to find the Best Formal Shoe Brands in the World! Initially I split the project into 4 parts. Looking back and seeing how many options exist however, I decided to cut back to 3 main tiers and instead write an article on Bespoke Shoemaking later. Here are the categories:
Over 700$
Bespoke Shoemaking
Therefore, today's article focuses on The Best Formal Shoe Brands Over 700$! An exciting return to this project and a welcome break from multiple shoe reviews. A kind reminder is that this list is mine and something might be missing! You are always welcome to comment or mail us about glaring omissions.
Grab some coffee or a cold drink, this is going to be a long one!

A Short Intro Before The Show…
As you move to the high end spectrum of shoes, you will see diminishing returns as a regular customer. There is hardly (if any) difference in functionality or overall construction as you move from 400 to 1000$ shoes.
A Hand-Welted Shoe or Closed Channel Sole will not make any difference in real life applications. You might ask what's the point then? Well as with all good things in life, there are shoe lovers and shoe enthusiasts. The latter is a true aficionado, a connoisseur that enjoys the details and the personal satisfaction of dissecting a premium shoe. Or the history behind it.
These people have gradually moved through the early tiers, have a good collection of shoes and now want something more. That does not mean of course that you need to spend 1000$ for a shoe you will rarely use just to be among the elite.
However, if you love shoes, history, construction and the absolute best, then this is where the real game begins. Let's start because we have a lot of ground to cover!
Tip: Some Brands like Antonio Meccariello might also make the previous lists but their high end shoes are incredible and a shame to omit.
Best Formal Shoe Brands Over 700$
Since every company has their own pricing system, I will use the average or lowest prices that meet the 700$ threshold.
Tip: All prices include VAT unless stated otherwise. This means you might get a much better deal if you are VAT Exempt.
1. Enzo Bonafé Hand-Welted Line – $700/6600 SEK/£560/€625
One of the few Brands to make both the previous list and this one, Enzo Bonafé is an awesome Brand from Bologna, Italy.
A very high quality shoemaker, Enzo still make shoes at the age of 84. That's astounding and shows how much of a connection shoemakers have with their craft. Working alongside Amedeo Testoni of the eponymous Brand he eventually created his own company that stands the test of time.
Each shoe is a veritable work of art, but you already know that don't you? Why does Enzo Bonafé make a second appearance here then?
Because of their higher tier, Hand-Welted Line that begins at about $700. It requires much more handiwork and attention to detail but is absolutely spectacular, especially for this price. For Shell Cordovan models, you can expect pay up to $1500! Quite (shell) shocking huh?
Enzo Bonafé – Lasts & Styles
If you read our previous entry in the series, then you essentially know everything about this section. The Enzo Bonafé website is not the most modern and you are better off browsing their Instagram or Retailers for information and pictures.
Skoaktiebolaget carries quite a few models with frequent GMTOs while my friend Gaurav at Shopmehra has a large selection as well. He is slightly cheaper too!
To avoid repeating myself, Enzo Bonafé Shoes have a very Italian look to them. Chiseled, soft square toes with aggressive edges and intricate finish. Their button boots are very famous as well as their cordovan versions. Of course, they have more round conservative lasts if that is what you seek. Here are a few I could find:
946 – E, F, G, H
363 – F
363MOD – F
804 – F, G
74945 – F
062 – F, G
2102B – F
173 – F
There is no shortage of what you can find and the materials you can use. If you choose to go down the MTO route the possibilities are endless. Take a look at those special Norvegese shoes they make.
Tip: Not sure what Norvegese even means? Let's go to Shoe Construction School!
2. Antonio Meccariello Argentum – $700/6600 SEK/£560/€625
Just what is there to say about this man from Italy. His designs are the golden standard for me and when you consider the value of what you get for the price, it blows my mind.
Meccariello was also in the previous list but with his Aeris RTW line. This will focus a little bit more on the Argentum RTW that starts around $700 (with VAT). Some models cost less but I think this is a good average to start with.
The shoes are Hand-Welted with a strong focus on Oxfords or Derbies along with a few other styles. Everything has also names from the Ancient Roman era. I love this because it shows pride and respect to the old times and cultural values. As a Greek I also know what each word means.
Principes for example means "Princes" while Simposio means "Symposium". It just makes me smile.
Antonio Meccariello Argentum – Lasts & Styles
Meccariello's lasts do not differ from the other line. Nonetheless here's a picture of them again for visualization purposes.
As you see the shapes are once more chiseled and sleek, a stark contrast to English Shoemaking. Even the Argentum Round last tends to look like a soft almond in my opinion. Sizing is a common concern for many.
Luckily, some models come in different widths which is a great addition for those with different feet. As for the actual sizing, after consulting with various people in the industry it looks like you should generally size half a size up from your regular UK size. For example, I would choose a UK 7.5 while my regular size is UK 7.
You can find from Brogues, to Adelaides, Split-Toe Derbies, Suede Loafers and Boots in his collection. The finish looks absolutely incredible with rich, vivid colors especially in burgundy shapes. It makes me feel like I am reading a book in a vineyard in Italy with a newspaper and a linen suit, sipping red wine and admiring the shoes on a glass vintage table.
Antonio's shoes simply have something enchanting about them. Add to all that Hand-Welting, a very tight fiddleback waist and closed channel sole and it is hard to resist. My absolute favorite from this list.
2.1 Y By Yeossal Prestige Series – $807/7570 SEK/£645 /€720
Yeossal is a really nice store in Singapore that was the idea of 5 friends and classic menswear enthusiasts. The culmination of this passion resulted into their own online store. They carry Japanese Brand Il Corno Blu, TLB Mallorca and Antonio Meccariello's RTW.
Update 29/7/2019: The very friendly guys at Yeossal corrected me about a few things! They were 5 not 6 friends and they also have a physical boutique, which was a bit unclear above!
Not so long ago they created their own shoe line that goes by the name "Y By Yeossal". From my understanding there is the basic collection that retails for around 585$ and some casual cheaper models and the Prestige Series. They have since confirmed to me that the basic collection is actually hand-welted and comes with a fiddleback waist and lasted shoe trees. What an absolute bargain.
The Prestige Series starts from $807 and you will notice something familiar immediately. The picture style looks exactly out of the workshop of Antonio Meccariello. And that is because…he actually makes some models exclusively for Yeossal. Hence my decision to file this under this entry.
Not a vast amount of models to choose from, but I am willing to bet my left arm that whatever Antonio makes is worth the price tag.
3. George Cleverly – $750/7039 SEK/£600/€669
Ladies and Gentlemen, welcome to our first complicated entry in this list. George Cleverly as a Brand dates back to 1958 in London. His reputation was fantastic and his shoes a work of art. After his passing at the age of 93 (working until the very end!) a team of two businessmen sharing close ties with George took over the baton. I suggest you watch the excellent short video on their website.
So wait a second, why is this all confusing? Well, first of all George Cleverly makes incredible Bespoke Shoes. They do have however:
A RTW Line
A Semi-Bespoke Line
Another Semi-Bespoke Line called Anthony Cleverly.
Bespoke Shoes
Now, while I am not an expert I did some digging and research. Try to follow this. Crockett & Jones seems to make the RTW Line on their Handgrade standards using the Goodyear Welt System. The original Semi-Bespoke Line is no longer in production and used to be Hand-Welted. Not only that, but it looks like the "Semi-Bespoke" wordplay was all marketing terminology [Source].
Moving on, we have the "New" Semi-Bespoke estranged brother Anthony Cleverly. Goodyear Welted and supposedly using better leather while more is done in-house. Whatever that means.
Absolutely convoluted, but wait until we get to the Bemers later on..
George Cleverly – Lasts & Style
Regardless of the marketing jargon, Cleverly shoes are exquisite in quality and standards. Pricey of course carrying a strong brand name, but all of the shoes come with shoe trees. These cost extra to buy from C&J for example.
There is no information on the lasts, but they are very similar to the Crockett & Jones 337 and 348 lasts.
Selection wise nonetheless, there is quite a bit to choose from. Availability is another thing. I feel most of the styles are variations of Oxfords and Derbies, with a decent amount of loafers and a few boots.
Predominately, the lasts have a chiseled or soft square toe with a very distinctive look and rather unusual for the usual round British lasts.
I am not sure about the price tag and if I will ever get a chance to try them, but they look fantastic. Many compare them to overall more expensive brands like G&G and EG and say they are better. I would love to hear from someone's personal experience!
They list Mr. Porter as their official re-seller so here's the link to UK and US.
Note: George Cleverly might start at around $750 but goes up to $1500!
4. Alden – $799/7500 SEK/£639 /€711
Charles H. Alden found Alden Shoe Company in 1884 by  in Massachusetts. Since then they make very high quality and comfortable dress shoes and boots and remain as one of the last few true bastions of american shoemaking.
I found it very difficult to write Alden's section because of a few reasons. First of all is the official website. It is absolutely the most horrendous looking high quality shoe website I have probably seen in this digital age. My understanding is that retailers carry most of the weight and the target market is mostly North America. I am sorry, but it is shocking.
The other reason is that I am not sure what the prices really are. There are models cheaper than 700$ and of course others that cost over 1600$. Therefore I chose to go with the average price I can find in a few retailers in Europe and the US. Take it with a grain of salt.
Nonetheless, Alden has a good reputation even though their prices are quite high. Their strong selling point is comfort and their boots, especially shell cordovan. Luckily, you can find the official catalog of 2019 here.
Alden – Lasts & Style
Alden is rolling with the more casual trends taking over the world these days. Or better say, continue doing that since their classic styles never went away. There is a large variety to choose from but definitely less formal dressy kinds.
All the lasts tend to be round with Trubalance and Barrie being the most famous when I hear people talking about Alden. That in conjunction with various widths and the natural spacious nature of a rounder last provides comfort. A big selling point for Alden especially with some special orthopedic versions.
Other than that, they make everything from loafers to bluchers, longwings and work boots. Their Indy Boot is probably the most iconic shoe they have and seems to rival in popularity the Iron Rangers. Very popular in forums, their Color 8 Horween Shell Cordovan Boots are a joy to behold and the craftsmanship is fantastic. I am not a big fan of the chunky bulky models.
Yes, they are expensive but remember, handmade in America where labor costs more. In such an age it is hard to do that and continue carrying your heritage with the same pride. I look forward to trying one in the future.
5. Gaziano & Girling – Starting $870/8165 SEK/£696 /€775
If you love shoes, you are probably aware of Gaziano & Girling which is the "child" of Dean Girling and Tony Gaziano. Both were former workers at the best shoemaking companies like Edward Green and John Lobb before embarking on their own adventure in 2006.
It is quite incredible what they achieved a little over 10 years later. Their reputation is ever growing with some of the best Bespoke service in the world. What is also growing is the prices which in certain retail shops I will not name is over $2400. Two thousand, four hundred and eighty dollars for a lazyman loafer.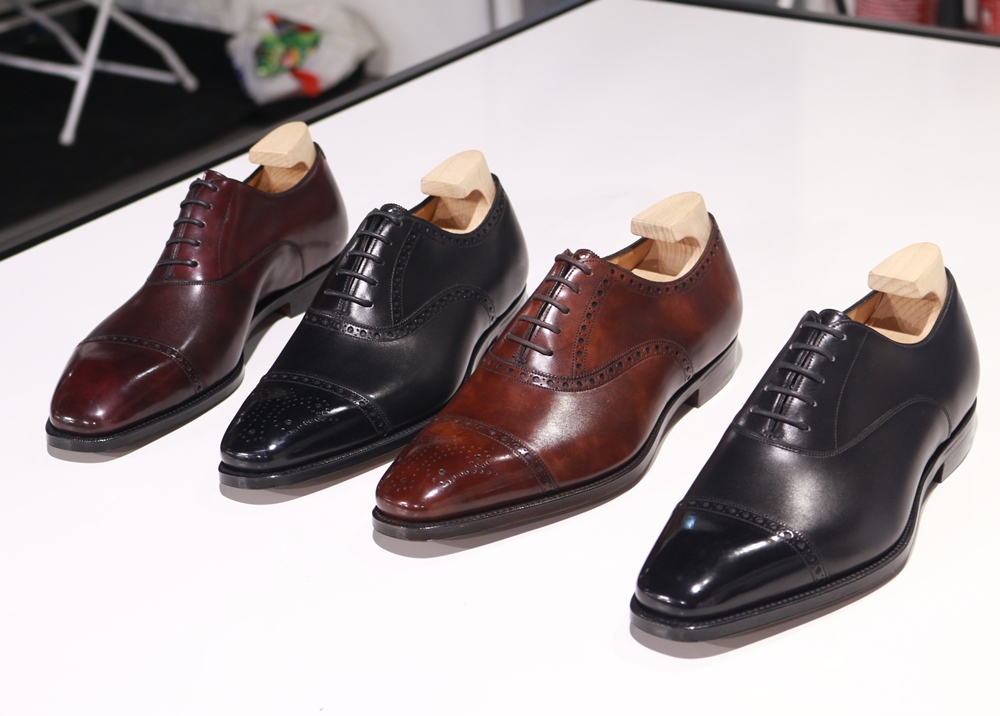 While prices hover between $1100-1500 there is a new collection that launched not so long ago. The Classic Collection starts at about $870 and that is why Gaziano & Girling sits so high (or low?!) on our list.
Gaziano & Girling – Lasts & Style
What you notice immediately is how daring their shoes are. It is a step away from what I call classic British shoemaking. Their shoes are more elongated, sleek and reminiscent of Italy in my opinion. I like this very much and it surely caters to more adventurous people or younger enthusiasts.
Here's where the Classic Collection comes in to bridge the gap. A few more conservative styles on the new R18 and S45 lasts and a flexible mix of standard/wide fitting.
I had the pleasure of checking them out during the last two trunk shows in London and Stockholm. The materials and construction are top notch and there is good value in the Classic Collection right now. The price is after all almost $300 less minimum than the flagship models. It is available currently only through their webshop.
Want a last list? Oh the research!
SL14: Soft Square
MH71: Soft Square
TG73: Chiseled
DG70: Smart Round
Deco: Square Toe
KN14: Soft Square
GG06: Classic Round
R18: Round
S45: You guessed it, Soft Square
Notice a pattern?!
When it comes to styles, they have everything. A very strong focus lies on Oxfords & Derbies but you can find loafers, different styles of boots, bi-material uppers and some very unusual colors. Add to that closed channel soles, tight fiddleback waists and you are treading Bespoke level quality.
Gaziano & Girling has a die-hard fanbase and is an excellent purchase if you want something a little less conservative but extremely stylish.
6. Paolo Scafora – $950/8900 SEK/£760 /€845
Queue the Italian music because we are going to Italy. Specifically the streets of Napoli where Gennaro Scafora gave birth to the brand honoring one of his sons, Paolo. Nowadays, Paolo Scafora himself carries the legacy of his family forward in the best possible manner.
Handmade in Italy using the finest materials and most complicated, intricate constructions their shoes are a work of art. My first ever encounter with them was in Skoaktiebolaget, who recently discontinued the Brand due to low sales. Quite a bummer but an excellent chance to grab something on sale.
Hugo Jacomet also speaks very highly about them and I can understand why. What fascinates me is that they have one of the best Italian websites and their English is excellent. Very neat and good attention to detail along with gorgeous imagery.
Paolo Scafora – Lasts & Styles
While they focus a lot on Bespoke Projects, Paolo Scafora does have a RTW line up. It only takes a look at the family crest embossed on each sole to know you have something special on your hands. I must admit I think if that compromises the sole durability a bit!
Additionally, a MTO service carries a 15% extra fee but you get to choose anything you want. There is limited information on the lasts but there is a nice comparison of 3 from Skoaktiebolaget.
In total, I could find 10 lasts:
Vec: A chiseled last
R: A more round last
Door: A very soft square last
Buk: Round classic last
Vola: Almond shaped last
A/TR: A very tight almond last
327: Soft square last
Tir: Another soft square last
Q: Square toe last
JLMoc: Round loafer last
That's pretty impressive! And so is the amount of styles and offerings. Paolo Scafora shoes continue the trend of sleek, elegant and chiseled Italian shoes with sharp edges. At the same time, they differ from Meccariello or Bonafe somehow. The color and the finish is superb with hand-painted edges evidence that someone spent hours perfecting them.
You might notice there is a shortage of Boots with only a few Chukkas, Chelseas and Buckle Boots available. There is a strong focus on the classics but if there is an area where Paolo Scafora excels at is the construction.
From Goodyear-Welted all the way to their Norvegese masterpieces and impressively the rare Tirolese construction. They are simply on another level. Bravo! Of course, for those masterpieces you need to spend "just" $1985.
Once more I absolutely adore the naming. Ischia, Neapolis to name a few. It presses all the right buttons in my mind.
Tip: What is Tirolese? Back to the drawing board.
7. Norman Vilalta – Starting $1175/11057 SEK/£940/€1050
Here we have the most interesting, different and fascinating entry in my opinion. Norman Vilalta is a man from Patagonia, a sparsely populated region in the southest tip of South America. He currently resides in Barcelona where he operates a small workshop producing very unusual but high quality shoes for men.
A lawyer by trade, he wanted to change his life and infuse it with art and artistic expression. So at the age of 31 (!) he decided to move to Florence and learn shoemaking. He traveled halfway across the world to pursue his dream. It reminds me of my own story, where at the age of 30 I decided to leave a comfortable corporate life and open my own creative shoe shop (The Noble Shoe).
I respect Mr. Vilalta very much. I met him for the first time during the London Super Trunk. Casually dressed in his signature red beanie with his ears popping out. I remember how we talked like everyday people and even told me he was looking at apprentices at the time. When I asked for his card, he just drew a shoe which is his signature.
What a man. What an inspiration to everyone. Thank you Norman for this opportunity to write about you.
Norman Vilalta – Lasts & Styles
After spending the first 10 years making Bespoke shoes only, Norman created a RTW line that would have all the core elements of his style.
Unique hand-painted patinas, Goodyear Welted and creative designs like no other. You can easily identify a shoe by Norman Vilalta. For me, that is the tractor style soles, the rich patina and very intriguing grain, the very unusual take on Chelsea Boots and the side-lacing wholecuts.
There are also classic models for those that are more conservative. The product descriptions are detailed and offer great insight for the customer. A detail I really like is how different the interior is. They use a quilted, padded insole for comfort and luxury along with the personal touches of the artisans working on your shoe.
For those with more requirements, you can always go the MTO route and choose from various customizations.
While I am not fond of chunky shoes so much, this green pebble grain derby keeps growing on me. I would also definitely wear the Chelsea Boot. A man can dream! Oh how I would love to properly interview Mr. Vilalta or review one of his shoes.
As far as lasts go, there is no information that I could find. They do tend to be more chiseled and soft square like however. Oh, might be worth mentioning the most expensive model costs $1722.
8. Edward Green – Starting $1205/11330 SEK/£965/€1075
Edward Green is one of the most iconic, classic British Shoemakers in the world. Straight out of England's shoemaking heaven in Northamptonshire, Edward Green continues making some of the finest shoes on the planet.
They use the finest materials, hand techniques and take quality over quantity with just 350 pairs per week.
Starting here, the prices are really going to go up. While there are a few models costing much less (unlined shoes and slippers), most of them cost much more. Expect to fork out over $1400 for most shoes and up to a colossal $1870 for cordovan versions.
Edward Green – Lasts & Styles
Talking about iconic, who cannot think about the Dover and Galway. So many try to copy their style and honestly they do a great job. My friend Bojan creates the "Zalways" while I sell the Carlos Santos "Salway".
The Dover on the other hand is a beautiful split-toe derby that looks fantastic from every angle. Everything's on point, it looks like the perfect proportions especially in suede.
Colors are not on shortage either. I counted 21 from rich burgundy, to sand suede, tan and navy. Nightshade is one of my favorites. It is a mix between purple and burgundy.
For such a special shoemaker, Edward Green also have a rather large range of models. Some are different versions of the same style but still. You can find Oxfords, Brogues, Derbies, Chelsea Boots and Wholecuts but also interesting Chukkas with buckles and slippers. Of course, you can customize your shoes to your specifications.
Edward Green currently offers 6 different lasts:
202: A round traditional last
72: A round last for more country shoes
82: An elegant almond last
915: A more sleek, modern almond last
184: Softly rounded penny loafer last
888: A chiseled, soft square last
What is great is that while the core is traditional and classic there are always some models for more daring or fashion forward people. Or those that simply want something different but with the same quality of Edward Green. I am very fond of this stunning single monk with an apron toe.
Quite unusual and not something you see every day!
9. Stefano Bemer – $1350/12700 SEK/£1082/€1205
Probably the most convoluted entry in this list. Stefano Bemer himself was one of the best shoemakers in the world. People from all over the world including now famous shoemakers like Justin Fitzpatrick, Norman Vilalta and even Sir Daniel Day-Lewis.
Unfortunately, Stefano Bemer passed away untimely in 2012 after a 2 year battle with liver disease (I read diabetes). This presented a big challenge to carry forward the legacy.
After consulting with Stefano's wife, they passed the baton to Tommaso Melani who now drives the company forward. At the time, Stefano's brother Mario was working there.
Mario worried that the vision was different from his brother's and soon left to create his own company, Mario Bemer Firenze.
Adding to the confusion, I hear that Mario himself runs Mario Bemer USA, while others the European department.
Update: I am honored to receive a comment by no other than Mario Bemer himself. It is in the comments down below. Essentially he wanted to carry his vision as an artisan and a century old tradition with a small private clientele outside the limelight. He is focusing mostly in exclusive Bespoke and MTO Shoes. Thank you sir.
With all that, I do not feel comfortable advising one over the other but both make excellent shoes.
Disclaimer: Please take all this with a grain of salt.
Stefano Bemer – Lasts & Styles
Mostly a Bespoke production company that appreciated each handmade step involved into shoemaking, Stefano eventually expanded to a RTW line. The collection is limited with 11 styles on the official website.
I cannot comment unfortunately on lasts, but there is this distinctive Italian flair about them with sharp edges and narrow toes.
I especially like their loafers, but that's it. Hugo Jacomet holds them in high regard and that is enough for me to include Stefano here.
As for Mario, he has some cheaper RTW models but honestly I do not like the designs.
10. Saint Crispin's – $1555/14600 SEK/£1245/€1388
From the most unusual of places we have Saint Crispin's. A small company with 24 employees in a workshop in Transylvania, Romania.
I should not say much, their reputation is legendary and quality unparalleled. I would suggest you read the short history here.
A Brand that is very difficult to find given the low volume of production with just 1500 pairs made every year. This small RTW collection is just 30% of their production as the rest is custom Made-To-Order shoes and a few Bespoke.
Using the best materials available they create works of art done 95% by hand. The last 5% is the machine stitching the sole. I challenge you to find other British Shoemakers hand sewing the welt.
Everything comes with a price however and it is a big one clocking at just over $1500. Is it worth it? If you have such a budget and you like the style, absolutely. What's the deal with the overuse of filters on their photos by the way??
Trivia: Saint Crispin is the Saint of Shoemakers
Saint Crispin's – Lasts & Style
With such a low volume in production and endless customization there is no point in talking about specific lasts. There is an excellent option to create your own personal last for a one time fee of $560. The idea is that you get a very personal fit and is totally worth it if you plan to buy more shoes down the line.
Interestingly, their shoes have longer and thicker stiffeners which means the break in period can be longer and the fit snugger. It is a thing to consider if you are used to softer shoes.
The website is lacking a bit in filters which makes it easy to go through the styles. They do seem to favor soft round/almond toes however. Designs are daring and exciting and makes them unique. You don't see a center seam oxford every day! The possibilities when it comes to custom shoes are endless.
From time to time you can get them on clearance at 40% discount which is a steal for such high quality. Be on the lookout!
11. John Lobb – $1600/15050 SEK/£1280/€1430
A name that sparks confusion when it comes to origin and location, John Lobb is one of the greatest shoemaker of our time.
To make it simple, in 1976 the Hermes group bought the John Lobb Atelier that the eponymous family owned in Paris but also the the right to sell globally with the same name. The only place that remains under the original family and also makes exclusively Bespoke shoes is John Lobb London. Their RTW division is in Northampton. Easy enough?
John Lobb is a very classic shoemaker with English designs and they do not use any patina. Due to the affiliation with Hermes they have access to the best and rarest leathers in the world.
I find it a little difficult to spend so much for a classic design (at this stage of my life) based on what I see. You can get the occasional good deal in places like Skoaktiebolaget or cheaper models costing just south of $1300.
Regardless of my personal taste, the craftsmanship is spectacular with a high level of detail. And this is what you buy. Craftsmanship, quality, finishing, personal care and experience.
John Lobb – Lasts & Style
They have a massive 17 different lasts that I will not list here. You can visit this section of their website, click on "Refine Search" and at the bottom choose "Last Guide". Bear in mind that the list includes sneakers.
We already established that John Lobb has classic designs for the utmost professionalism, simplicity and finesse. These lasts vary from mostly round, to soft almond and square shapes.
The tend to have a very clean look to them and their museum calf sparks interest everywhere.
If you can afford a John Lobb shoe then you are probably at a very good stage in your life. Kudos to you. I am on my way there.
12. Corthay – $1850/17400 SEK/£1480/€1650
Finally, we are at the end of our normal list. Corthay is a French shoemaker that makes some of the most expensive and unique shoes on the planet.
In a very challenging time, the factory is in France in a very bold move. Labor costs are very high yet Corthay remains steadfast with a very focused approach and vision.
I have no personal experience with them, though real shoe lovers speak highly of the brand and quality.
Corthay – Lasts & Style
Another very difficult topic to dissect, Corthay's information is scarce. You can find them in only a few handful places while they operate their own shops around the world.
Designs vary but overall I notice elongated shapes and very daring designs. The trademark patina work of France continues as well. You can browse the selection here. Does anyone else get nauseated by the website scroll by the way?
According to many, their most iconic shoe is the 2 eyelet derby with the name Arca. People say many companies try to imitate it but fail to get the proportions correctly.
The models seem to have a very tight toe and Corthay is really creative with their sewing, buckles and colors.
What to say about them…I am not a big fan. This is for people with really different taste that want something unique. I tend to dislike plain toe dress shoes as something looks off about them. Maybe I just need to get more experience and understanding that comes with time. This is how I began enjoying suede shoes.
They do have some tasty Chelsea Boots though and a ridiculous range of sizes.
Honorable Mentions
Some companies either did not make the cut for lack of information or personal distaste. If it is the latter, it is my opinion and you might have a different one.
Santoni: Famous Italian Brand with too much to analyze. They make incredible shoes but also rubbish cemented ones. Too fashion forward for my taste. Around $850+.
J.M. Weston: French Brand with the iconic Penny Loafer 180. Not enough info.
Aubercy: Another French Brand with discreet presence. I don't know much but Justin does.
Bontoni: Great patinas, notoriously hard to find. Prices over $1500. Not enough information.
Bestetti: A fantastic shoemaker that unfortunately passed away in 2016 before he was even 50. The company still runs today and I wish I knew more about them. More here.
The Best Formal Shoe Brands – Reflections
Wow, that was a long list! I wish I had time for more research. As I said in the beginning of this article, these companies are mainly for those that appreciate the art of shoemaking, the history and process rather than simply getting a good shoe. Of course, these are for people with higher budgets and different priorities. It is also a stark reminder that you buy quality over quantity.
A great shoe like one of those above will stand the test of time and you can pass it down to your son. All of them will carry a certain history, like the wanderlust of Norman Vilalta or the passion of Enzo Bonafe. It is worth it.
And that brings us to the end of the "Best Formal Shoe Brands Over $700" article! I sure hope you appreciate the effort since every google search I did resulted into sneakers or mainstream shoes. Subscribe for more awesome upcoming content and follow us on Instagram, I have a lot to share!