Hot News Straight From Mallorca
Sometimes you can look at a product and feel the love, passion and hard work that goes into it. Welcome to the first ever Review of the TLB Mallorca Artista line! A premium line of shoes that made me feel exactly those emotions during the London Super Trunk Show 2019.
The first batch of Artistas will be delivered to their owners in May, but TLB Mallorca was very kind to send me a pair of their Burgundy Vegano Leather Adelaide for review purposes. With an impressive set of features hardly found in RTW shoemaking, a competitive price and beautiful aesthetics, it is a statement to the rest of the industry.
Still with me? Let's embark on a magic tale of shoemaking.
TLB Mallorca – A Trip Down Memory Lane
Back in early 2018 a new brand was launched in the middle price segment. The company dons its name from the owner, Toni Llobera Barceló and operates in the center of the Balearic Islands. More specifically, in his state of the art factory in Inca in the heart of Mallorca (hence the name TLB Mallorca).
The company might be new, however Toni has extensive experience in the shoe industry both as a creator and a director. The beginning of this marvelous story dates as back as the 50's. Toni's grandfather was an industrial engineer and created a very special machine specifically for the footwear industry. Since he was a young kiddo, he was fascinated by the works of his father who produced leather goods. And this is how he gained experience, by helping his father as a real worker and not just an onlooker.
A few years ago, Toni decided he wanted to make shoes that bear his own name and offer the highest possible quality for a competitive price. In an age where people outsource everything to Asia, his bold decision was to build a state of the art factory in Inca. About 50 years ago, there might have been 100 factories making shoes there, however now there are less than 5.
All this shows the commitment of Toni, but also the belief that his shoes deserve to be out there. Nowadays, TLB Mallorca is building an extensive network that includes Sweden, Poland, Singapore and Japan to name a few. This is great news since it makes availability much easier, in addition to their nice website.
Enough jibber jabber though! Let's talk shoes!
The Artista Line
Today, TLB Mallorca offers some of the most classic styles for men's shoes. Armed with a very competitive price of $410 and unique styling, they sit in a very competitive market. It is worth noting that there is a customization program which is very interesting for those that want more control.
Back in March 2019 though, the flagship premium line was announced. The name? Artista. It implies artistic creativity and surely enough, they look striking and elegant. Developed in close collaboration with Jesper Ingevaldsson from Skolyx/Shoegazing, the Artista line aims to offer unprecedented quality at just $475 (425 €/4295 SEK/365 £) including VAT.
Some of the features include:
Very tight, beveled waists that are fully welted
Close channel single leather/rubber sole with fiddleback waist
High quality leather from reputable tanneries
Real leather heel stiffeners
A very high SPI (Stitches Per Inch)
There is a big influence from Japanese Bespoke shoemaking here and probably none at this price point that can offer these kinds of enhancements.
Currently, the Artista line includes a total of 10 models in 8 styles which are based on two lasts: The Picasso and the Goya. The collection ranges from wholecuts, to Adelaide oxfords and austerity brogues. For more information, please refer here.
Some Information About The Lasts
It is worth mentioning that all the lasts of TLB Mallorca have the same body and the difference lies in the toes. This ensures that once you find your ideal sizing you can be sure that all shoes will be comfortable and fit well. On the same time, you can seamlessly change between styles and pick the one you want.
The Picasso Last in particular has a very elegant soft square toe reminiscent of Japanese shoes and Gaziano & Girling a bit.
The Goya on the other hand has a rounder toe to satisfy people used to more British shoemaking.
The 107 Picasso – Specifications
Are you ready for all the juicy specifications?
Brand: TLB Mallorca
Line: Artista
Model: 107 Adelaide Oxford
Last: Picasso
Color: Burgundy Vegano Leather
Toe Shape: Soft Square
Made In: Spain
Size: UK 7 (US 8/EU 41)
Width: F (Regular)
Sole: Single Leather Close Channel Sole
Tannery: Tannerie d'Annonay
Lining: Calf
Insoles: Vegetable Tanned Leather
Stitching: 270° Goodyear Welt System
Eyelets: 5 Blind Eyelets
Price: $475 (425 €/4295 SEK/365 £) including VAT
Wow! That's a pretty long list right? And in the upcoming sections you will see even more details.
Unboxing – A Simple Experience
We begin with what is the weakest part of the TLB Mallorca Artista Review. The box is very reminiscent of the Carlos Santos one, with a black exterior. The company logo is on the top and on the side you can find quick information like color, line and size.
In fact, even the black dust bags remind me the ones Santos uses, albeit they are roomier. There is some thin tissue paper stuffed inside the shoes with a little plastic stick to keep form.
That's it. Comparing the experience to Carlos Santos, Enzo Bonafe and Edward & James, it is lacking a bit. There is no leaflet, shoe horn or other amenities and that might be underwhelming for some. However, I believe it is a way to cut down on some costs to offer you the best product at the best possible price. I am more than ok with that.
First Impressions
Recently I have been talking quite a bit about the smell of shoes. The TLB Mallorca Artista though has a very strong, unique smell. A mix of real leather and a freshly painted room I would say. Almost a whole week later they still retain that vivid, intoxicating aura.
It looks elegant and looks very sleek and tight. My first thought was how am I going to fit my feet in there! After a quick scan all over I could not see any quality issue and I spent quite some time looking at the sole.
A great first impression that hypes up the product as much as the specifications.
Styling & Aesthetics
The TLB Mallorca Artista 107 is an Adelaide Oxford with a plain toe with a punched medallion. Oxford means that the lacing is closed (Derby shoes have open lacing) and broguing refers to the perforations on top of the shoe. More information here.
Specifically, an Adelaide is an Oxford shoe where the yoke has a distinctive "U" shape. It is usually reserved for dressier shoes unless the uppers are from suede. It often sports a more elongated sleek shape and its origin can be traced back to the 70's and legendary last maker Terry Moore. Think of the Edward Green Canterbury. I like it very much and you often encounter it on more stylish lasts.
How should I best describe the Artista? Think of Crockett & Jones as a classic Bentley. Luxurious, contemporary but can also pack a punch. Now, think of Carmina and Carlos Santos as a Ferrari. Very stylish, exotic and curvy. The Artista then is like a Lamborghini Aventador. It looks like a fighter jet, a raging bull ready to cause an uproar on the middle price market. A very extreme example surely, but very well worth it for me.
The Toe
The 107 of the Artista is on the Picasso last which is a soft square last. It gets quite pointy on the front and has no Cap-Toe. The broguing on the top is a medallion and while not the most formal, it certainly adds to the character and versatility. For those of you that wonder about broguing, it refers to the perforations you often see on dress shoes.
Heel & Backseam
We get a very classic dog-tail backseam on the back, similar to Loake 1880 and Carlos Santos. With real leather heel stiffeners to complete the look and maintain shape.
Vamp & Uppers
A broguing pattern exists around the lacing of the Artista which is supported by 5 blind eyelets. This gives a very nice and clean look in my opinion. When it comes to the laces, they are thin but feel strong and are easy to handle.
Welt Stitching
If you are familiar with high end shoes and especially Enzo Bonafe, you will feel right at home with the Artista. The stitching is processed with a fudging wheel and it looks so much better in these kind of shoes. More impressively, it is a 270º welt that even goes through the tight waist. It is something you will find in bespoke or Japanese shoemaking, whereas other RTW companies use cemented/blake construction for this part.
Outsole
What a beauty. How rare it is to find a RTW shoe with closed channel stitching at these price points. I think Cobbler Union does it. When you can see the stitching on the bottom of a shoe, it is an open channel. However, by using a thin flap of leather that can cover the stitching a manufacturer can create a very nice uniform clean look.
The Artista has a single leather sole, but you can request a rubber one instead. Vegetable tanned with a nice feel when you touch them. The sides of the sole are black and that meshes well with the uppers. In addition, the back of the heel stack has a leather patch which gives some additional grip. A total of 12 nails reinforce the heel.
Important: I feel I should address this here. The sole in the above picture is the result of just stepping outside my house for 1 minute. You can see the impact on the sole. Imagine if the size was wrong and I had to send them back. Would you accept them if you were the company? Please, test your shoes indoors and preferably on a carpet.
Insole & Lining
The leather insole and lining are very simplistic with just the TLB Mallorca logo embossed in the insole.
Quality & Construction
It is very challenging depicting the correct color of burgundy in pictures. The Artista comes in both dark brown and burgundy. The latter is a very rich, deep red burgundy color with a lovely shiny finish. In many occasions, it will appear a bit brown.
Looking at the leather up close, one can see the pores and the details of the construction. The perforations both in the medallion and yoke are very good with an extremely high 8 SPI (Stitches Per Inch).
Everything is very well made. The fudging on the welt stitching adds so much class. Apart from the shape of the last however, the real treat is the sole. It is so sleek and smooth. The fiddleback waist and beveling is a work of art and it took many months of trial and error to achieve this result. The welt is so tight it is barely visible from the middle of the shoe until the back.
I honestly do not have anything bad to say about the quality. Only time will be the real judge and then we will see how the leather will age and create a patina. For now however, there are no scuffs, scratches or inconsistencies. A 9.5/10 in my book with half a point for future updates.
Picking The Correct Size
The Artista line is available in a wide range of sizes. From UK 5 to UK 12 including half sizes. The advice is to go TTS (True To Size). For comparison, let us look at my other shoes:
The trend for me is clear when it comes to F regular widths. As you will see in the following section, it was the correct decision. For any questions or assistance you can ask TLB Mallorca Customer Service or one of their retailers such as Skolyx or Yeossal.
Alright, Tell Me If They Are Comfortable
As aforementioned, looking at the shoes made me wonder how my feet will fit in there. The Artista looks so slim. Nonetheless, after the initial struggle my feet slipped in there and it was surprisingly comfortable. The fit is snug with thin socks, but would be uncomfortable with thick ones. As you can see in the pictures, the instep is a little low.
Everyone's feet are different and my right one has a 0.5 cm higher instep. Regardless, I expect this to mold over my foot and loosen up a little. The vamp is spot on however for me with just enough room to wiggle my toes.
I need to get more wear out of them to make a more accurate assessment but I do not expect extensive break-in period. One thing I should mention however is that you need to be weary of the leather sole. It is so fine and polished that you will need to be careful on slippery surfaces, rain and snow. If you have to battle these elements outside, I would suggest getting the rubber sole.
So spend a few hours at a time wearing them to ease up the break-in period. Grade you say? Mmm I would start with an 8.5/10 until I get more mileage out of them.
TLB Mallorca Artista Review – So Much Shoe For The Money
It is safe to say that the Artista line from TLB Mallorca has a lot of value. It certainly pushes the envelop in the mid-tier segment. Apart from the packaging, there are so many features packed into one pair of shoes. The only thing left to see is if they can keep up this level of consistency and quality.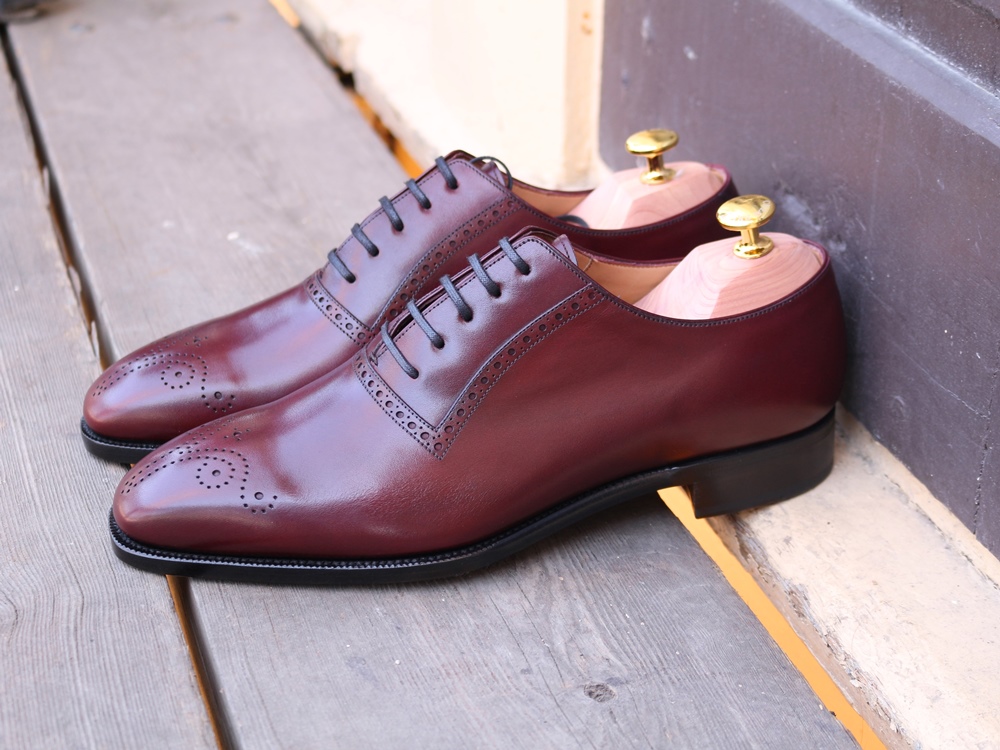 A very strong competitor for Carmina, Carlos Santos, Cheaney and much more expensive brands like Crockett & Jones Benchgrade. Definitely one to consider for those of you that admire the style of Yohei Fukuda, Enzo Bonafe and Gaziano Girling.
Taking Care Of Your Artista
You should always invest in a quality horsehair brush and cedar shoe trees. The first will remove dust particles while the latter keep the shape of the shoes, prevent excess creasing and absorb moisture.
For polishing, you should deep clean your shoes with the Saphir Renovateur 1-2 times a year, and use regular polish to keep the color vibrant and moisturized. Skolyx suggests the Saphir 1925 Burgundy, but the 02 Neutral would work as well. Do not overdo it with the polish, as it will leave white residues and even crack the leather.
Reminder: A color polish will slightly change the color of your shoe and probably darken it a bit.
Concluding Remarks
What a year to be a gentleman 2019 is shaping to be. We are so spoiled for choice! TLB Mallorca is definitely contributing to this cause with the excellent Artista line up. With very large sizing options, different styles and impeccable construction, it is a very sound investment for anyone looking for a shoe between 400-600$. An unbelievably tight waist, closed channel soles and quality leathers are features you find in shoes that cost 2-3 times the price.
This brings us to the end of the TLB Mallorca Artista Review and I could not be happier. I now have a very versatile elegant shoe in my collection that I can wear with jeans, chinos or suits. I will wear it when I need to bring my A game.
How about you? Are you one of the lucky ones to own or looking to get one? Leave your comments down below if you enjoyed this long review! Let me know what we could improve and subscribe so you never miss upcoming content.
Thank you for reading,
Kostas Mandilaris,
Misiu Academy