ultimate shoe guides are back
Welcome to the long overdue Ultimate Guide of the Best & Worst Dress Shoes for men.
This is a personal list that includes serious thoughts, frustration, anger and a humor.
However, it can definitely be a good starting guide for you that is entering the dress shoe industry or want to go to the next level.
Get a lot of coffee, this is going to be a long list!
preface, background & Disclaimers
I was sitting on my sofa in my cozy Florentine apartment, sipping cappuccino while the rain fell on my roof and watching the King's Man film.
Then I made the mistake to open Facebook, where my friend (you suck!) Kenwin tagged me to watch a putrid video about a list.
It was a list of the "28 Best & Worst RTW Dress Shoe Brands Over $500" from a popular YouTube Channel.
Reading through the comments and the misinformation by each alleged expert made me want to have an anal evacuation.
First of all, because the list was horrific with certain placements making no sense and too many glaring omissions.
However, I can understand it a bit because a list is usually someone's personal opinion.
Nonetheless, how can you quantify what is best? Just look at how many different elements there are:
Value
Price
Leather Quality
Construction
Heritage/Reputation
Designs
Lasts
Back in 2020 I wrote the 14+4 Worst Dress Shoes Guide which was really funny to write.
I also have a ton of exhaustingly in-depth Best Dress Shoe Guides in the blog over the years.
But I never wrote something about both of them especially since there are so many brands out there.
While I am no expert, I do study leatherworking and bespoke shoemaking and have tried or owned most of the brands here.
In such lists, I do feel that you have to establish some rules and have a certain benchmark at the top.
Lastly, another element that affect my grading is overhyped marketing and appearances on certain media channels.
grading system
There's one elephant left in the room and that is the "Grading System".
Here's the one I will be using:
S: This is stands for Stylish and truly exceptional shoes in my opinion
A: A is for Awesome and an overall damn good shoe
B: B stands for Beautiful and will be a good shoe that I can't decide if it needs an A or C probably
C: C stands for Common and is can be a good, average or ok shoe
D: D is for Dookie and this excrement should be avoided.
WASOF: What A Shitload Of Fuck, which pretty much means avoid it by all costs
If your favorite shoes end up in a category you don't like, it's ok we can have different opinions.
Are you ready? You better be.
WASOF: What A shitload of fuck
We will begin with these, shoes that I think you should avoid at all costs.
This is the part where we scrape the bottom of the toilet bowl.
These are shoes that people should slap you for every dollar spent so you can come to your senses.
Lethato
We start off strong, with possibly the worst shoes that I reviewed here so far in 200 Articles.
Shoes Made in India around the $200 price point and "handpainted" patinas.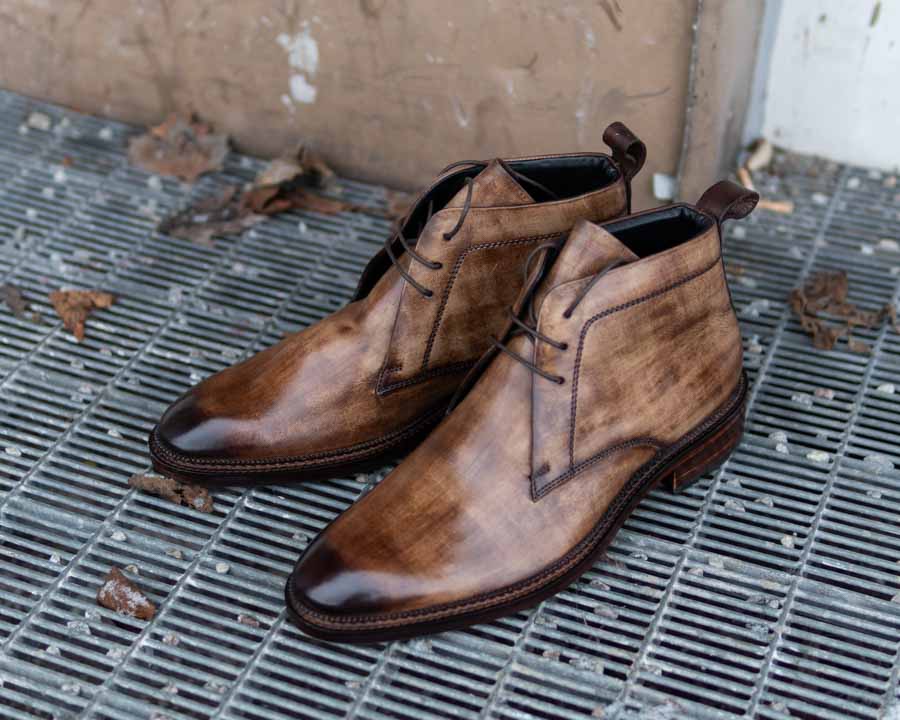 The fact that they appeared on the Bespoke Unit blog should tell you how bad they are.
Their fatal flaw was the ungodly squeaking of the lining, making them unbearable to use.
Especially avoid if you are a thief trying to sneak into a house.
I should also mention they told me to take my YouTube Video down because they "didn't tell me I should make one".
So here it is once more.
As much as I despise Meermin, there's no reason to buy these instead of them.
Stay Away.
meermin
Meermin is the definite, industry disrupting budget and value king around the $200 mark.
A brand based in Mallorca (Spain) that produces their shoes in China.
Overall their shoes are decent with a lot of designs and customization and probably deserve a C.
However, due to the fact that they are a horrible company that holds you hostage and ruin your feet, it earns the prestigious shit award.
The internet is infested with stories of horrible return stories, chargebacks, consumer dissatisfaction and drama.
There was even one instance where a plastic component in the lining broke and damaged someone's foot.
Here's my Review of the rubbish pair I had, followed by the Video Review.
Debatable quality and attention to detail, leather and generally it shows you that Meermin can be a gamble.
Unless you are on a severely tight budget around $200 I would avoid.
undandy
"Allow me to introduce myself, and have the pleasure of your acquaintance as one must never underestimate the importance of a first impression. I go by the name of Mr. Youwillnevergetyourshoes".
Mr. Undandy
Grab yourselves some popcorn with butter and let's learn about Undandy.
A Dress Shoe Brand from Portugal that over the past 2 years tried really hard to be on this list.
Undandy produces shoes in Portugal with a Blake Construction and allows customization for a cheap price.
The problem, other than the quality issues, decomposing materials and fit issues is the customer service and fraud.
For 2 years now people don't receive their shoes (or do after a year) or cannot get a refund.
Undandy holds them hostage with fake announcements, canned replies about their backlog.
The worst part is that they continue to sell shoes on their channels and accept new orders.
I strongly encourage you to check out the visitor posts or comments on Facebook and Instagram.
Stay FAR AWAY from this horrible company that should face a group lawsuit.
To Boot New York
The only thing that needs a boot is their ass.
First time I went to their website and saw the prices I didn't believe it.
All the way from $350 to $550 USD?
Underwhelming designs, using the words "handcrafted" and the overall feel of the brand.
Using words such as "top quality leather buffed to a lustrous finish" to avoid saying corrected grain.
They even used a picture of a shoe that looks used.
Would you buy this?
If you do, Will Smith will be waiting around the corner.
suitsupply
I have a long history with Suitsupply and to be fair their shoes are not dumpster quality.
However, I worked there and the way the promotion worked as well as the quality was unreal.
Let alone that they made us sell used floor models for the full price.
There are situations where I was too embarrassed and told the client to look elsewhere.
Their campaigns should tell you more than enough about who they are.
Blake stitched, subpar quality, inconsistent sizing and overpriced.
A good indicator is when shoes don't have last names.
Stay away from these miserable shoes that cost $300 USD.
church's
When I coined the term "Shitload of fuck" for this article I thought of Church's.
I am quite outspoken and talked about them a lot already in previous articles.
They raised their prices overnight last year by 40-50% while the quality remained the same.
In my opinion these are shoes that shouldn't cost more than $300.
The acquisition of Prada also lead to some horrific models and fashion shoes.
This new iteration of Church's is for idiots and a sad decline of an iconic brand.
Frankly, they deserve their own rating of Tyrannosaurus Excrements.
mezlan
When I say the word Mezlan, I feel like a cat barfing.
That is never a good sign.
Generic shoes made in Spain that try to stand out with gimmicky designs and flat lasts.
Also, if you are the cheapest man in the world and want to pretend you have crocodile shoes here you go.
The boniest, ugliest exotic hides I have ever seen, where the croc and gator is likely to come alive and eat you.
Holy mother of ass some of them are terrible.
For $300+ USD you can buy much better shoes and you should.
If you feel the urge to waste money, I accept PayPal.
Morjas
There is one thing such as minimalism and another thing about being lazy.
Morjas is a budget Swedish brand making shoes in Spain.
My biggest gripe with Morjas is the models and way of promotion.
While I understand the idea about building a core collection, I just can't get the name of the models out of my head.
Naming your shoes "The Oxford", "The Derby", "The Sneaker" and for the love of baby Jesus "The Belt" is laughable.
The quality of the sole seems to be subpar which was the main complaint of people working with me in Suitsupply.
Which is really funny by the way, their own shoes were so bad they wore other things.
Lastly, they quote full grain high end materials when clearly some of them are corrected grain lower quality.
Some pictures of people's shoes in Styleforum are terrible such as the one above.
Just buy something else.
Paul parkman
Oh boy, we are on this one.
I don't know what my gripe with Paul Parkman is.
They are probably decent, with decent materials and even some of the Norwegian Construction looks good.
However, the marketing, designs and color palettes leave a sour taste in my mouth.
Certain designs look like they came out of a time capsule from the 90's for example.
And then there are those overdone patinas which are too much even for my taste.
They make the shoes look too disjointed and I would never buy them.
Who knows, maybe they will send me a pair to Review and it will change my mind.
For those wondering, Paul Parkman makes their shoes in Turkey.
I would avoid.
ace marks
A brand quoting $600 shoes for half the price and appearing on major sell out YouTube Channels?
Which also has what seems to be only one last?
While also throwing the word "Handcrafted" in every sentence?
My ass is handcrafted.
There are far better shoes for $300 but anything appearing on Real Men Real Style should be a good indicator.
I am sure they are decent and not horrific, but you can buy better at those prices.
Avoid like Covid.
paul evans
I know what's the wholesale price of Paul Evans and their retail price is too much.
Shoddy leather quality, pronounced creasing (probably bad clicking) and sizing difficulties.
This is a fashion brand riding a name and good marketing.
There are far better shoes out there and I hope one day I can Review one of them to show you what I mean.
Stay away or send me a pair to dissect.
nisolo
All you need to know about Nisolo is that someone once described them as "Cardboard on Feet".
Whether that is true or not, I am not willing to find out.
The design is underwhelming and the outsole looks disproportionate in my eyes.
They don't ship outside the USA either so it's not as accessible.
I should say that they seem to support ethical working, decent wages and sustainability.
This is noble of them if true and if you want to support this, I won't say no.
magnanni
If you can find a pair of shoes in Nordstrom, it probably means they are below par.
But look at the real price of Magnanni which is $475 USD?
Bologna construction, made in Spain for the price of TLB Artista?
If you own any, it's fine don't worry.
Next time do your self a favor and put your money towards something better.
any designer brand
You should avoid any shoes made by designer brands with very few exceptions.
Those possibly include Yves Saint Laurent (for a certain aesthetic) and Ralph Lauren Purple Label (Made by Crockett & Jones).
Anything else is like puking on a pile of shit. It will smell even worse.
You pay for the name, the lifestyle, their overhead and they try to woo you with their fancy name and "modern" extreme designs.
Extravagant designs from Gucci, Prada, Louboutin and the rest usually have cheap cemented blake construction for unbelievable prices.
Some of them have possibly good leather, but it's not worth it.
Do I need to say more?
fast fashion shoes
Any cemented construction shoe is something you need to avoid.
There is no excuse not to buy Blake or Goodyear Welted shoes in 2022.
All the shoes you find in unknown websites or fast fashion chains are garbage.
Here's a few so you get a reminder:
Cole Haan: Doodoo
Stacey Adams: Putrid cat piss
Aldo: Elephant Diarrhea
Kenneth Cole: Baby Puke
H&M/Zara: Shit stain on the fabric of nature
In case you didn't get it, I would rather drink Beyoncé's recycled piss water than buy these shoes.
Writing this made me increasingly upset, so I can't wait to get to the actual good shoes.
D: Dookie
I don't know why, but I find this word hilarious and this was my only chance to use it.
You get the point, D Tier shoes are below average and I would personally not buy them.
Very important to bear in mind that certain brands will be controversial here.
I will explain my motivation behind each choice.
Cie shoes
Cie Shoes is a Chinese Brand making entry level Goodyear Welted Shoes.
They are not inherently bad and I actually enjoyed wearing my zip boots.
Why do I include them in this tier level then?
For a few reasons actually.
One, is that I criticized publicly them ripping off popular designs from Brands such as Norman Vilalta or Septieme Largeur.
After that, they stopped talking to me which is interesting since I actually called them decent.
This also shows me some lack of creativity and no clear identity.
I'd recommend skipping this one, as well as the import taxes you will have to pay.
grenson
WHAT IN THE ASS?
Grenson shoes for $700+?
I really tried hard not to put this in the dumpster category.
They are probably decent shoes, but who on the right mind would spend $700 for Grenson??
Look at them, would you ever buy these over Crockett & Jones?
At least they offer paid duties and free shipping I suppose?
I also wonder what happened to their older, cheaper Made in India line.
These are for people that want a chunkier shoe or a triple welt.
I just can't personally endorse them.
Santoni
Santoni is not a bad brand, but it is a confusing, average brand.
Their top tier shoes are surely good but there are much better brands out there.
Additionally, the biggest confusion is with all their different ranges and sizing.
You have to be really careful about what you buy.
It could be Goodyear Welted, Blake, Cemented and even those cost a lot.
If you really like the Santoni aesthetics, you will probably find them somewhere in deep discounts.
This is a brand that does not interest me.
Salvatore ferragamo
Continuing with the Italian Dookie with Salvatore Ferragamo.
Actually, the top tier MTO of Ferragamo is made by Paolo Scafora and they are spectacular.
But to pay $2500 for the name is stupid and you should buy from Paolo Scafora directly.
This is more of a fashion brand with modern designs and honestly they look underwhelming.
The only thing I would recommend to buy from Salvatore Ferragamo is his autobiography.
It is a fantastic book and will save you hundreds of dollars.
Cnes shoemaker
CNES Shoemaker is a Chinese Brand that has an MTO and RTW Line of varying quality.
Their higher end range is probably pretty decent.
However their entry range (which I reviewed here) was like unsalted potatoes.
So bland, average leather, dull last and the worst resale value.
Can you believe I sold these shoes for $70 practically new and the Lethato for $120?
This is prime time Dookie, further exaggerated by their response to the Review.
As opposed to CIE Shoes, they didn't even reply to me and never will.
There are better brands for the money out there.
Allen edmonds
Let me get this straight out of the way.
Allen Edmonds is like a bag of cat poo, mixed with diarrhea and vomit.
It is a very nasty bag.
If you buy them at full price, you really need to check your head.
So why is this not in the garbage tier?
The fact that they are so accessible in the USA make it easy for people to get a decent shoe.
They are also excellent references for any further shoe shopping online.
Don't forget that they are pretty much the only brand offering widths from A to EEEE.
And due to their frequent 50% sales you can buy them for 200-250$ which is not terrible.
The main problem with Allen Edmonds is the declining quality but what you expect for a brand that produces a million shoes a year?
They also look very boring and in my opinion ugly.
If your main argument is that they are 100% American, well most of them are not.
Partly made in the Dominican Republic but still called American.
They are ok shoes and will serve you well daily, but if you look to upgrade your style, collection and quality look elsewhere.
beckett simonon
Beckett Simonon is yet another budget brand.
They make their shoes in Colombia but the main issue is the ordering system.
This is mostly an exclusively MTO brand producing in small batches.
What this means is a waiting time of about 3 months.
To be honest, 3 months is quite the waiting time for this price tier and what if the sizing is wrong, there are defects or delays?
Not only  that but they only ship in the Americas.
As expected, clicking is not the best and unless you want to support Colombians and a US based company, get Meermin or Allen Edmonds on sale.
thursday's boots
Thursday's boots are actually fine for $200 shoes.
With a multitude of more rugged shoes and the rare option of women's boots they are fine.
However it is the relentless marketing of YouTubers, the self-promotion, buzzwords and false marketing that gets me.
They of course advertise them as handcrafted (which they are not), but the next fact is the one that gets me.
Essentially what they say is that you get shoes that would otherwise cost $600 for just $200 due to the direct to consumer model.
Lately they seem to take a step back by saying "Honest Prices" which is much better.
Now that's Grade A bullshit but it seems to work.
The best moment when was that shill from Stridewise crowned them Brand of the Year.
That's the same guy that one of his first replies to me was "What's my commission".
I should mention that at one point in the past few years Thursday's donated shoes to a school.
Here's the story and it's commendable.
heinrich dinkelacker
I had a pair of Heinrich Dinkelacker in Shell Cordovan.
I actually liked them quite a lot, even though the aesthetics were special.
Originally fully handmade, some sources told me that they moved production from Hungary to Spain if I remember right.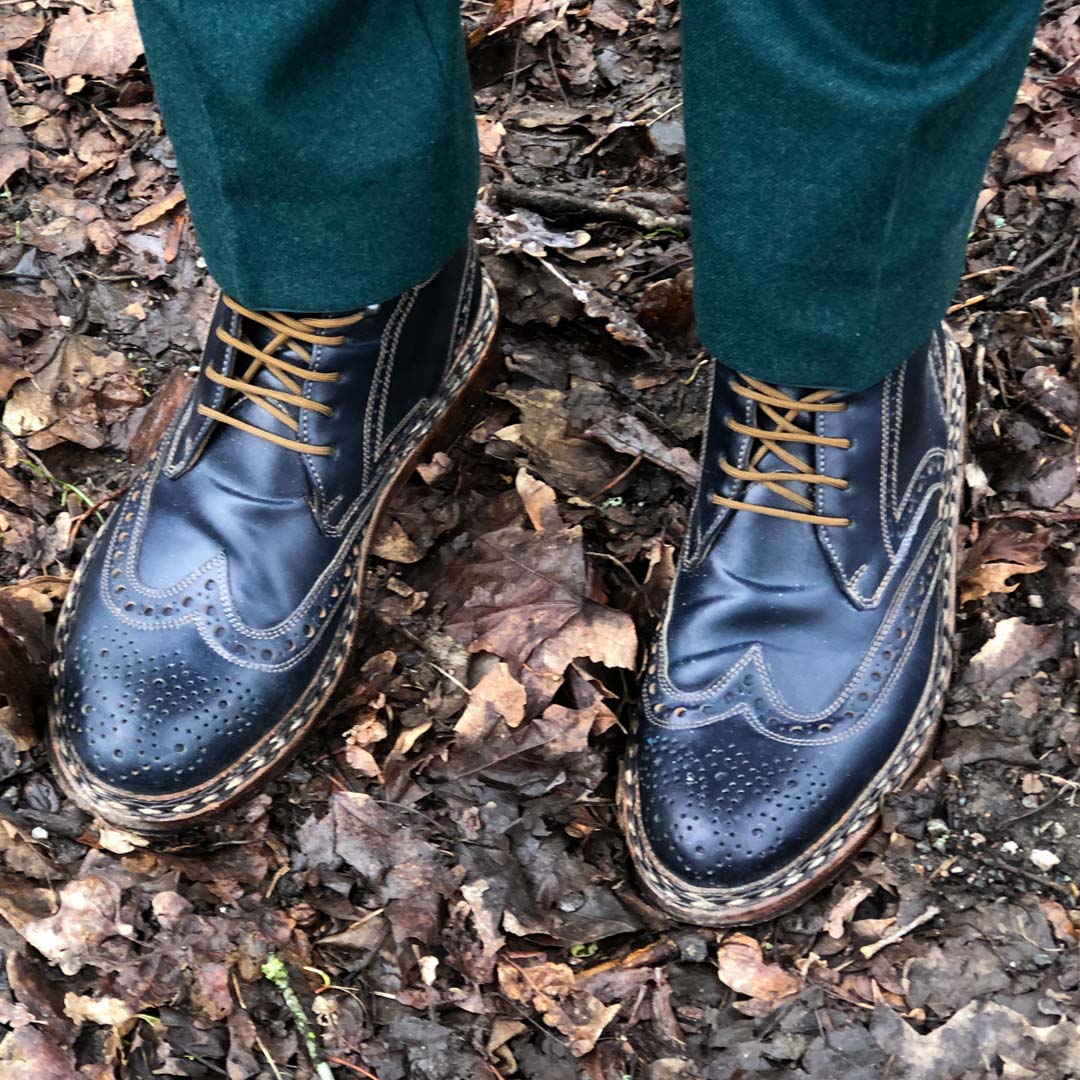 Losing the handmade element but keeping the already high prices drops the value quite a lot.
They also have a very specific Austro-Hungarian chunky style.
If you are not a fan, they will be irrelevant to you.
It is best to experiment with them during their frequent sales.
Corthay
Oh dear, from now on it's pure controversy.
Starting with the famous French brand Corthay.
Corthay is a luxury brand that commands outrageous prices for machine made shoes.
Their most famous shoe is the 2 eyelet derby Arca.
But honest to whatever deity you believe in, do you know any other shoe model they make?
There are other outrageous models such as the "Rock Shoe" or that other one that looks like it had a wedgie at the toe box.
Those don't appeal to me, but you have to admire the creativity and execution.
For $2250 I will rather buy a plethora of other brands.
Oh, you better be prepared they run NARROW.
George cleverley
Another controversial entry is George Cleverley.
A "prestigious" English machine made shoe brand that apparently treats customers like garbage.
There is a certain interaction where one of the owners is belittling a prospective buyer.
How real this is I don't know nor care.
However I also remember my friend Peter Harrison commissioning a very expensive shoe in Hatchgrain cordovan.
The shoes he got back were terrible and nothing like what he should receive.
It required a lot of back and forth and a collective community push for him to fix this.
Spend your money on a better, less controversial brand.
Saint crispin's
Possibly the most controversial entry in all this list.
Let's begin with the obvious, Saint Crispin's are NOT bad shoes.
They are pretty good shoes and mostly handmade (Read the Review).
However, I find them a bit bland, I am not a fan of their excessive use of image filters and the leather is not my cup of tea.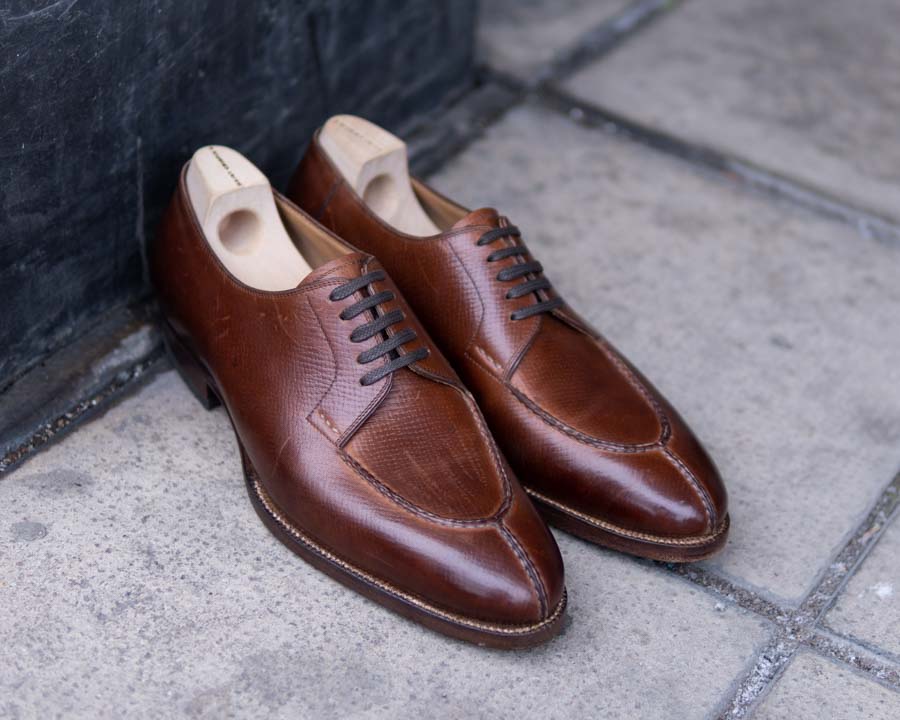 If you are not a fan of excessive creasing, you will not enjoy these.
The leather is from Poland (from what they told me) and the waist is wood-pegged.
That's not bad, but why spend $1500 when there are better brands out there?
For the same amount of money, you can buy Petru & Claymoor for example which was superior when I compared them and fully handmade too.
Lastly, why not buy Zonkey Boot instead which is essentially the same shoe for 50% less?
They do have one redeeming factor which is generally a pretty good fit.
Oh and their shoe trees are pretty good.
I remember the actual owner once attacked a random commentator on my YouTube Video.
That was a bit surreal.
If you buy them and like them, I am pretty sure you will be very happy.
But due to all the things I mentioned above this is where I put them.
berluti
I don't care how good they are, for $2280 USD you should look elsewhere.
Personally I find (most of) their shoes ghastly and overpriced.
The only positive thing I can think of is how they basically introduced the concept of handpainted patina on shoes.
I really need to try not to put them in the dumpster category and keep my personal feelings out of this.
C: Common
This is a bit of a stranger category.
Shoes that get a C can be average, or can be great but there's a certain element that penalizes them.
Nonetheless, they are brands that you will probably not regret buying.
Use your own experience and judgement.
zonkey boot
I will start with this to continue off the previous entry.
In many ways this is pretty much a spin-off of Saint Crispin's.
They look like pretty decent shoes and with MTO the sky is the limit.
However I never had an interest to buy them for some reason, which is probably the fact that I like Italian style more.
Zonkey Boot has superior product photography and aesthetics and for $700-900 USD cost much less than their counterpart.
I think they even have the exact same Classic Last so you can get the same fit you enjoy.
Not my personal favorite, but still good shoes.
bridlen
Here's a brand I don't know much about.
Bridlen is an Indian Brand making welted shoes around the $300 USD mark.
They have a really nice website, good photos a wide gamma of shoes.
But can you get over the Made in India "stigma" about quality?
Are you willing to gamble on an unknown company and risk paying import duties (if any).
Bridlen looks professional enough to be the real deal, but unless they send me a pair for a Review I can't say more.
Let me know if you try them.
myrqvist
Myrqvist is another Swedish Entry Level Brand.
Originally Myrqvist made their shoes in India, but switched production to Portugal.
Their shoes are decent, but prices are creeping up with time.
I once reviewed a pair of loafers I got and it was just fine.
The problem I have is that they play the "Handcrafted" word game again as well as the direct to consumer thing.
For $339 USD I would buy something else but they were better than some previous ones.
fugashin
Fugashin is a brand out of Vietnam that is becoming more popular.
They were next to impossible to order a few years ago, but they worked on their international presence more.
For $225 they are not that bad and they have an extensive Custom Made Program.
I still found it a bit harder to communicate with them, which is why there is no Review yet.
So for now, I will leave them with C Grade in a gray area.
Loake
Loake is a classic British Shoemaker from Northampton.
In fact, the classic Loake 1880 Aldwych was my first ever welted pair of shoes.
At the time, I liked them a lot and it was a massive improvement from what I had before.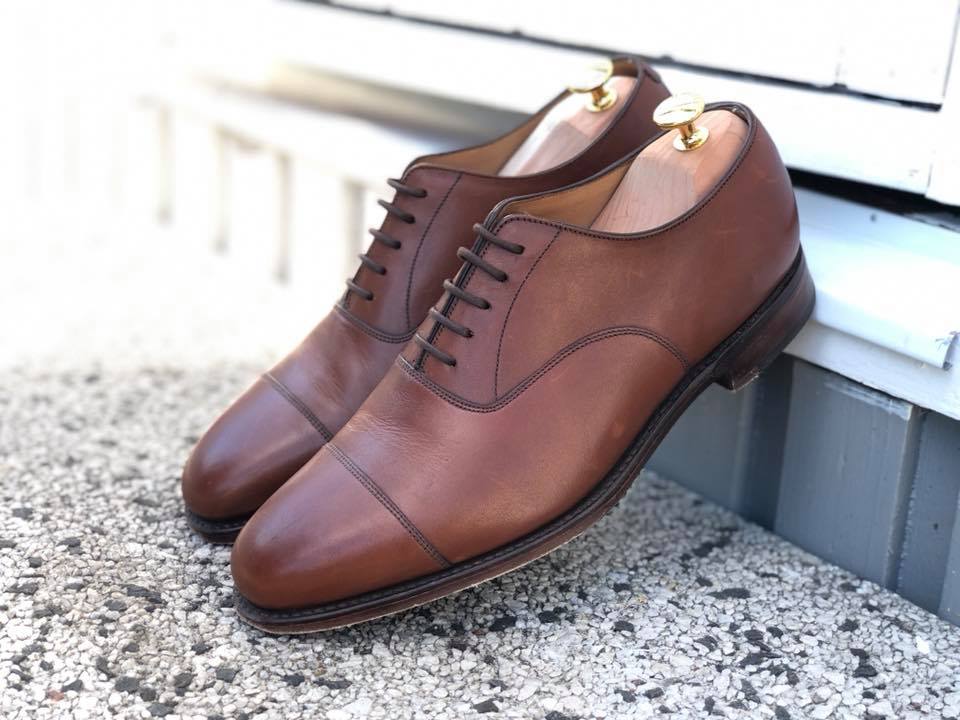 However as time passed by, the leather was underwhelming and they looked bland.
That's what they are, a contemporary British shoemaker.
The biggest problems with Loake is their multiple ranges.
Some basic Loake are Made in India, while there is the 1880, 1880 Export Grade and Legacy.
Those cost way too much for what you get in my opinion.
Loake shoes are like the Allen Edmonds of Europe and that is never a good comparison.
Plus, they pulled out of most retailers possibly irreversibly damaging a lot of stores.
I cannot recommend Loake, but they will serve you well and are accessible.
carmina
Spanish Carmina makes good shoes.
They also have a variety of designs, leathers and popular lasts alongside their extensive MTO Program.
The reasons why Carmina is "just" a C for me are the following:
At $435 I would buy another brand as I find them slightly overhyped
Shoddy customer service and various complaints about not accepting returns
Declining quality control since the pandemic started (quoting existing customers)
MTO starts at around $560 which I can't see myself paying for Carmina
A good thing is they fixed their convoluted weird leather naming.
Carmina lasts also tend to fit the average person nicely and provide excellent references for the future.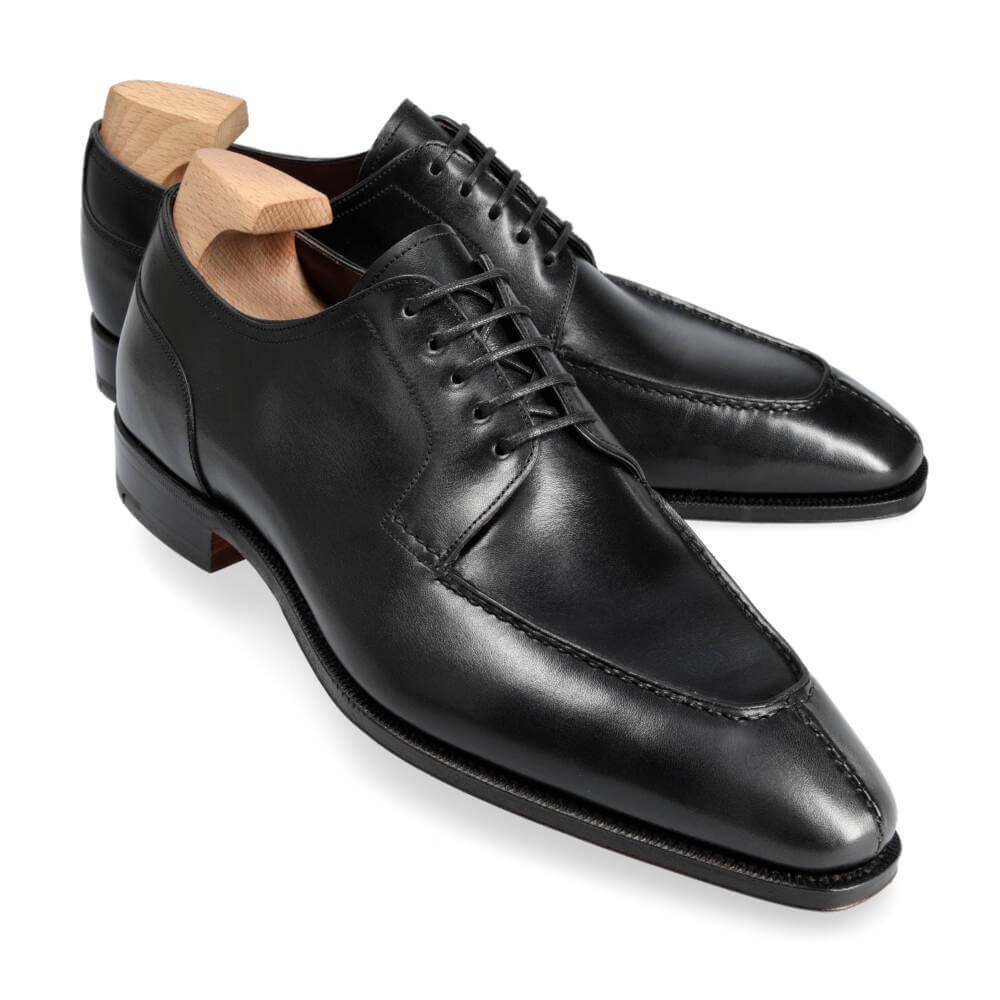 What I don't understand is the universal acclaim about their "new revolutionary 3D MTO too".
It's pretty good but Bespoke Factory did the same ages ago, it's not new.
I do have some personal gripes with Carmina and certain communication issues.
However I will not say they are not good shoes and that you won't be happy with them.
A plethora of customization, lasts and leathers will make it a good buy.
It's just that I personally would spend my money elsewhere.
george lyon shoes
I reviewed George Lyon Shoes last year.
A small US based company making shoes in Spain, they have a very specific, small selection of shoes.
They cater to a very niche crowd and one of their selling points is offering a matching belt in the price.
My Chukkas (Review Here) were pretty decent and the leather aged in a nice way.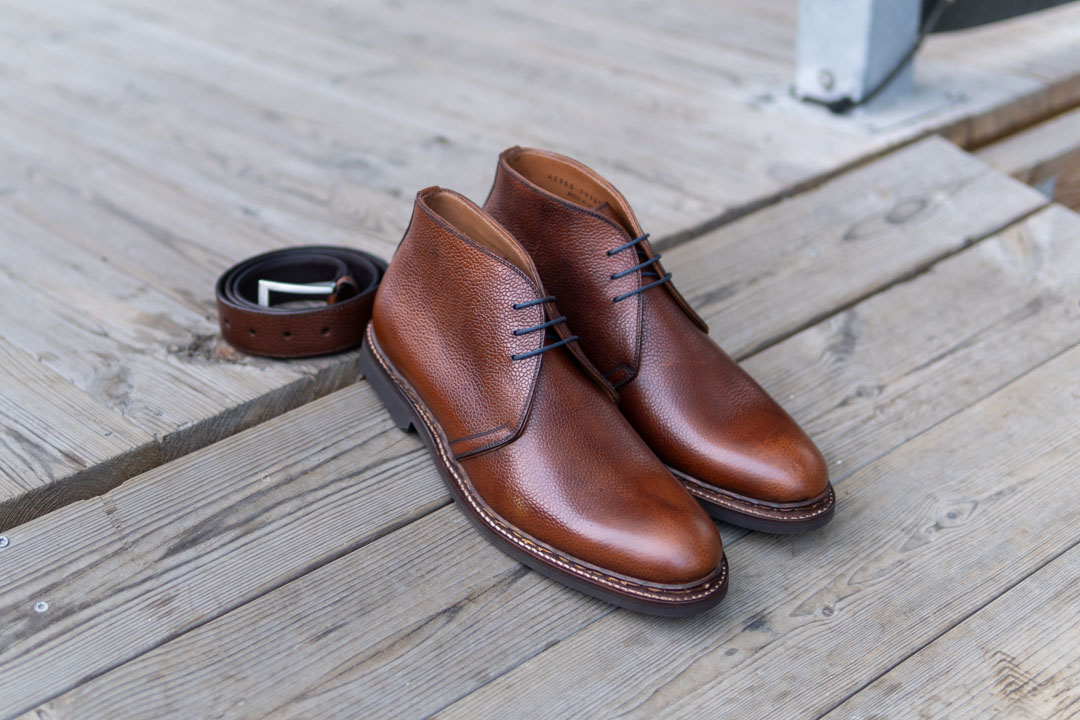 While I can't actively endorse them over other brands, I am sure there is a specific crowd for them.
Plus, you support a small family business and the owner is a good guy.
They are ok and hardwearing, but definitely more casual.
alden
Alden is one of the last bastions of USA shoemaking.
I was conflicted about putting them in the D Tier instead.
More than decent shoes, but definitely overpriced and with a more niche crowd.
Known for their Shell Cordovan, Tankers, Indy models and distinctive split-toes, they sure have a crowd.
Quality wise you can surely buy better shoes but they cater to specific people.
Recently there was a scandal about the CEO stealing money to pay for a celebrity's lifestyle so there's no shortage of drama either.
Buy them in Europe and you pay even more of a premium.
If this is the looks you are going for, then this is a good option.
grant stone
Grant Stone is another US company which produces shoes in China.
Their popularity exploded in the last few years and users and critics are raving about the quality and value.
With shoes around the $300-400 USD point they seem like good value for those looking for more rugged, casual designs.
You can see that from the leather as well, with waxy, roughout, CXL or suede for example.
I give them a C because they don't interest me but most importantly I don't have personal experience with them.
The reviews are extremely positive and the owner seems like a good friendly guy.
For those reasons, if you like the looks I am sure you will like the shoes.
cheaney
Cheaney is truly a contemporary British Shoemaker.
If you are looking for good, classic shoes in core colors then here you go.
Recently they experimented with some questionable models, such as a hideous sandal/derby hybrid.
Starting around the $385 range but all the way up to $850, they are quite pricey now.
The fact that they are machine made, there are better shoes out there and I would rather buy Crockett & Jones leads me to give them a C.
If I get my hands on one in the future and do a proper Review, I will let you know.
Good shoes, you will be happy but I feel the value is not there unless on sale.
Altan Bottier
Altan Bottier is a Parisian Shoemaker which as far as I know makes the shoes in Spain and finishes them in house.
They have a very distinctive style and focus on extravagant patinas and super exotic leathers.
Their Nubuck Alligator and Ultimate Hippo shoes are truly something else.
Most of their shoes are blake stitched, but at $600 it starts to be quite pricey.
The designs are modern, recognizable with a clear identity and approach.
For some inexplicable reason they ruined their photography on Instagram and only recently got back to their normal.
Some people say their leather is subpar and thin, but I cannot attest to their quality yet.
I tried to reach out to them multiple times for a Review or an Interview to no avail.
If they want me to change my mind, they are welcome to send me a pair.
passus
Hungarian Passus makes a great shoe.
Superb quality and construction, offset by a tricky fit.
I have actually two reviews on the blog, a Derby and my personal Chukkas.
The problem is they are flying a lot under the radar and they are not doing many updates.
I honestly have a bad feeling about all this and hope to be proven wrong.
If you decide to buy a shoe from them, the quality is excellent.
The leather is top notch and so is the construction.
Yearn Shoemaker
Yearn Shoemaker is a relatively new player from the Asian market.
They make a few RTW and MTO shoes with excellent designs.
Not only that but they are also quite affordable at around $400 for a handmade shoe.
They still have some way to go however to polish the quality of their offerings.
For example, packaging needs to be more secure and the adhesive for the insole changed as it has a very potent smell in the start.
Additionally, the clicking on my pair was not the finest leading to some stranger crease marks.
Lastly, the fit proved to be a bit more difficult and I might have to revise my thoughts about them being more narrow.
Overall it's a shoe with great value, solid construction and endless options.
bontoni
I don't know where to put this brand.
They undoubtedly make great shoes, with good leather and bolder designs.
Initially I heard about them from my friend Hugo Jacomet who classified them as impossible to find and top tier.
After looking at them however I was a bit underwhelmed.
A friend with a sizeable shoe wardrobe confirmed my suspicions when he ordered a pair.
He said they are good, but nothing special and he would spend his money elsewhere.
If you want a pair, keep an eye on Norwegian retailer Cavour which has them on sale from time to time.
B: Beautiful
Now we are finally going into better territory.
These shoes are definitely good and if you buy them, you will be surely happy.
Remember that this is my own personal list and you might not agree.
Some are controversial, but I have tried most high end brands by now and I understand their quality and value.
When I can buy a better shoe for the same price, the value goes down.
john lobb
John Lobb is an iconic brand, shrouded by a bit of confusion and controversy.
Here we are talking about the RTW Paris department, not the Bespoke London Store.
Backed by Hermes, they have exquisite leathers and classic designs.
They are only Goodyear Welted by machine however and if I am spending so much money, I'd rather go handmade.
For $2045 for a Prestige black oxford, I am sure you can find a better choice elsewhere.
Alternatively you can pick them on a discount in certain places.
Superb shoes, some iconic models such as the Lopez but not my cup of tea.
caulaincourt
Caulaincourt is a true mystery of Parisian shoemaking.
The reason for this B is that the owner is like a mad, rebellious artist.
He has a very clear vision, artistic style and reasoning behind each model and collection.
I imagine Alexis drinking some bourbon in the night with dimmed lights and designing shoes while Bach plays in the background.
This, plus the overall aesthetic and youthful nature of the shoes makes me give a B.
Depending on each model's purpose, they apply the appropriate construction as well.
I think they are a great alternative style for those that want something different.
A Review will be on the way soon.
Tip: Read my Interview with Alexis here.
aubercy
Ah, Aubercy has such a lovely name that rolls off the tongue.
A classic, legendary Paris family and workshop producing RTW, MTO and Bespoke Shoes.
This is a true, family business that remains loyal to the core.
Mostly focused on Blake Construction, rumor has it it's one of the best in the world.
Some designs are iconic, such as the masked loafer Lupin but some others are terrible.
I like the idea of owning Aubercy and supporting Xavier and his family.
And I promise you they will be great quality shoes as well.
Tip: Read my Interview with Xavier Aubercy here.
Edward Green
Edward Green is one of England's most famous and prestigious shoemaker.
Their shoes are excellent and great quality, but the prices have increased greatly and value is low.
I was particularly harsh on them in my Review but after some investigative journalism I have edits to make.
Back then, I talked about how the leather and construction were subpar as well as the broguing defects I found.
However, I reached out to Edward Green after readers expressed concerns.
Their head of international sales (I forgot the official title sorry) was extremely helpful and polite, despite my scathing review.
He helped me identify that my shoes were Factory Seconds from 2017, falsely sold to me by a retailer as brand new.
So that review is not indicative about the final quality of Edward Green, which should be very good.
This doesn't change my opinion that they are too safe and contemporary however.
For those prices, I am looking for something more than just heritage and quality.
For most people out there Edward Green will be A or S Tier.
paul sargent
Paul Sargent (formerly Alfred Sargent) is a great British Brand.
Their quality was great before and often underappreciated.
There was even a time I think where they were producing shoes for a much higher end brand.
It's a small team of honest people but to be fair, I don't know if I would choose them over Crockett & Jones.
Their gamma is currently limited and their weakest point is their photography.
I offered (and still offer) to do some free shoe photography and promotion for them if they want.
Paul Sargent has a strong cult following and I recommend checking them out for some classics.
Tricker's
When it comes to iconic English Bootmaker Tricker's I don't have that much to say.
They are definitely not my cup of tea but they target a specific crowd.
Country boots, rugged casual styles and good quality is big positive.
Since they often run clearance sales and outlets the value is there.
I don't think they are better than a lot of brands that came before, but for those that love such aesthetics it's a no brainer.
cobbler union
Cobbler Union is yet another USA Shoemaker producing shoes in Spain.
They make good shoes and recently you can find them on discount often.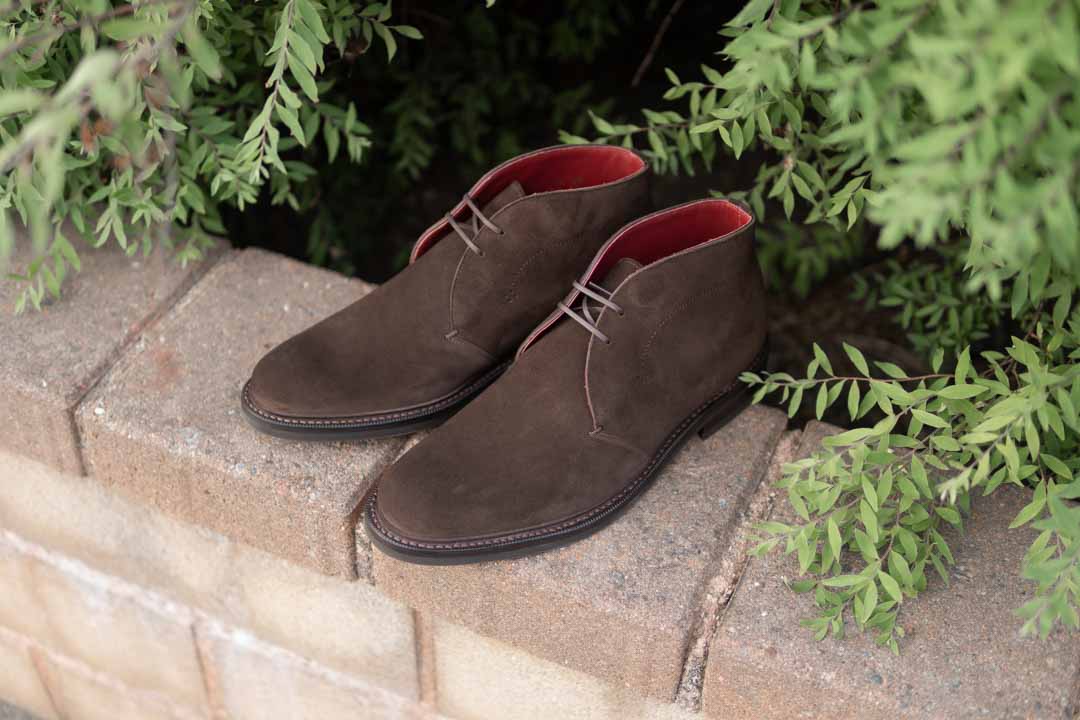 Pretty good leather and solid construction with what was overall a comfy fit.
I don't put them higher because my aesthetics differ a bit and they tend to look more contemporary and balanced.
The suede was pretty good and you can find my Review Here.
You will most likely be happy with one of these.
skolyx/yanko
I put these two together because the practically go hand in hand.
Skolyx is an increasingly popular online retailer from Sweden.
They have their own in-house brand and also retail Yanko from Spain.
I like their shoes more than Myrqvist for the most part and they are honest, good entry level welted shoes.
They have all the basics that you need to start your classic wardrobe.
Sons of Henrey
Sons of Henrey is a small brand from Belgium.
They have a small, curated selection from a famous Spanish Factory but also a collaboration with a high end Chinese workshop.
The sole owner is Tom who is someone I consider a friend now.
Each season he prepares a well-thought collection of RTW shoes that are very good quality.
His niche however is making Made to Orders in special leathers such as Utah (Hatchgrain), Kudu Antelope and even shell cordovan.
The more high end options are also available via the Oct. Tenth workshop I mentioned previously.
I do own one pair of Chukka Boots (Review) that are very good quality, fit well and have competitive pricing.
Limited availability and the fact that you often have to wait is the only reason I don't put them in A.
If you can get your hands on a pair you will enjoy them very much.
After all, the George Split-Toe Derby is a best seller for a reason.
A: Awesome
Awesome should be self-explanatory.
I don't see how you can go wrong with these shoes for any reason.
Personal preference is important as not everyone likes patinas, or made to orders or exotic leathers.
What I do feel is that these shoes represent some of the best bang for buck out there.
TLB Mallorca
TLB Mallorca is a relatively new brand from Spain.
Launched 4-5 years ago, it has an awesome owner and seriously good shoes.
Seriously, for a machine made shoe at these price point, their Artista collection is astonishing.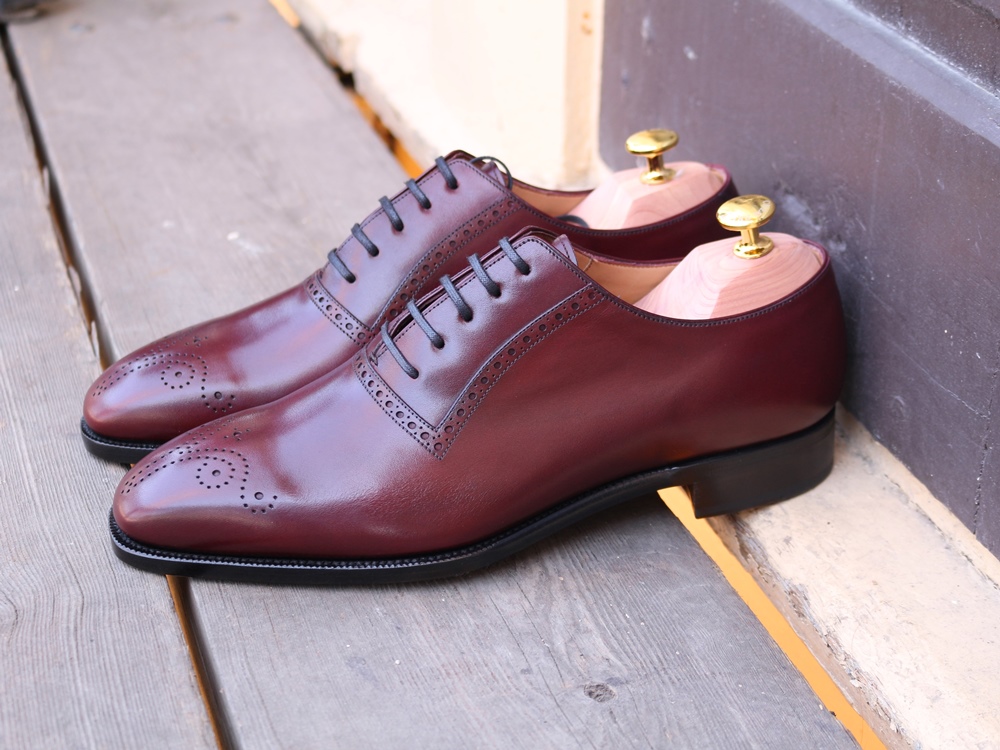 I am not the biggest fan of their vegano leather (personal preference) but their suede and museum calf is excellent.
The waist and finish is superb for this price point and their city sole just as good.
There's a plethora of models and possibility to customize just like Carmina.
Certain lasts and maybe some photography are not my favorites but quality wise this is a great benchmark.
Make sure to check them out.
septieme largeur
I really, really like Septieme Largeur.
Great shoes with handmade patinas and natural nuances that make it feel personal.
Solid leather, good construction and fair price point.
I developed a great friendship with the owner (Interview Here) and currently have two shoes from them.
The Ernest Jodhpurs and the Joffre Adelaide Oxford.
I feel they are a bit underrated and deserve more exposure.
carlos santos
Let's get this out of the way first.
I retail Carlos Santos on The Noble Shoe and is the building block of my reputation.
However, few can argue that the value/quality ration that Portuguese Carlos Santos offers is right up there.
If you remember my first pair of shoes was the Loake Aldwych.
A few months later I purchased my first Carlos Santos Monks in Wine Shadow Patina.
I was astounded by the difference in quality, aesthetics and what was possible.
So much, that just a year later I quit my engineering job to sell them instead.
Excellent modern lasts, good leather, a plethora of models (in the right retailer) and accessible patinas.
Getting such shoes with the possibility of having 20 handpainted colors and good quality for $300-$450 is great.
My daily drivers are Carlos Santos and will be for years to come.
People that upgrade from Allen Edmonds to Carlos Santos told me they will never go back.
Granted, they are not for everyone but there are also more contemporary models to choose from.
I will appreciate your support for my business, but will also understand your skepticism.
Crockett & Jones
One of the most famous British Shoemakers of all time is Crockett & Jones.
It took me a while to warm up to them, because of the price and the looks.
For the most part it is contemporary classics but they do have some pretty good lasts if you look closely.
The 337, 373 or 348 for example or the perennial 325.
It was only when I got my hands on them that I realized their quality.
Crockett & Jones calf is exceptional and buttery smooth, while their scotchgrain is phenomenal.
Especially on models such as the Islay, Coniston or Boston you can see how rich the grain is.
Very solid construction and I really like their city sole.
They are also the official shoes of James Bond, with one of the most popular boots being the Roughout Suede Molton which is legitimately always out of stock.
As good as their Handgrade Line is, the real value lies in the Benchgrade collection which I recommend around the $600-750 mark.
If Crockett & Jones interests you, I can source almost every model via The Noble Shoe.
Check out the collection or send me a mail!
enzo bonafe
It is rare I give such a high grade for a shoe I don't own.
However, I had experience handling and checking out Italian Enzo Bonafe.
They are genuinely great shoes with excellent construction, designs and possibilities.
Very fairly priced for a hand-welted shoe, but be careful because they also have a Blake/Bologna Range.
Some models have Norwegian braided construction and their shell cordovan boots are lovely.
Their archives are endless with many lasts and models if you want to do Made To Order.
There is only one problem with Enzo Bonafe and that is availability.
Since they do not have their own channel, they have to rely on a few select retailers.
I recommend checking out Mehra and Solegarb.
Very good shoes that I hope to own in the future.
Yeossal
Yeossal is kind of a sneaky entry as most of their shoes will be MTO.
A Singaporean brand that utilizes a small workshop in China to make exceptional shoes.
Yeossal has a lot of great models to choose from with an extensive customization ability.
Their prices are disruptive in the best possible way and the quality is there.
A fully customized shoe with all the goodies will be under $850 or so.
I have a pair from Yeossal and I can tell you from 43 pairs of shoes, they are my most worn pair this past 12 months.
Sizing can be a little tricky for some, but their SG65 Last fits me perfectly.
Yeossal is a great brand to check out not only for shoes, but also certain clothing items.
Tip: Read my Review of Yeossal Shoes Here.
Acme Shoemaker
Acme is another Chinese brand but one that is extremely high end.
Their shoes have ever improving quality and are among the best RTW you can buy.
Personally I haven't tried them, but people like The Shoe Snob, Shoegazing and friends vouch for them.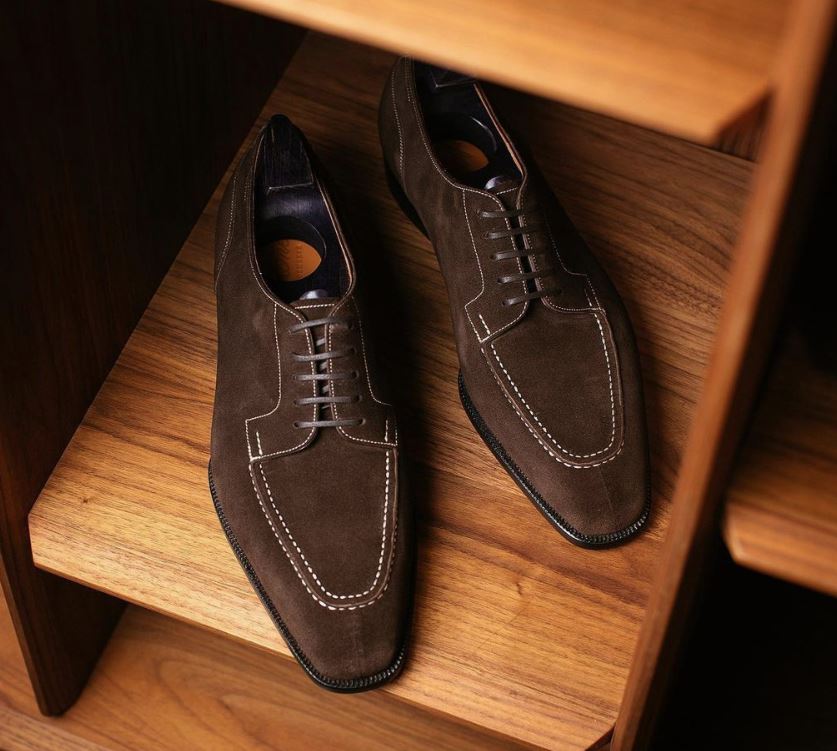 It also helps that their designs are extremely elegant and aggressive in all the right ways.
If I had one negative thing to say is that I can't find a distinct identity in their models yet.
They are on my radar around the $1500 market and I genuinely hope they allow me to review a pair soon.
Vass
Vass Budapest is a great brand from Hungary.
Fully handmade shoes for $550 and much less if you find them on discount.
Vass spoiled everyone during the pandemic with frequent sales to sustain their operations and now everyone's hungry!
Welted, lasted by hand including the sole and represent excellent value.
Leather is good and they are famous for their museum calf and they often use J.R. leather soles.
While not the best shoes in the world they are truly exceptional.
Check out the Review of my Austerity Brogues in Brown Museum.
There are however a few issues.
For example, Vass phased out most retailers globally which means you have to go through them directly now.
It's an issue because communication is not their strongest point.
Secondly, certain models are very Austro-Hungarian and appeal to a very specific crowd.
As comfortable as the budapester can be, I would feel like a clown wearing them.
I am a big fan of their F, U and K lasts which seem a bit more modern.
If you are looking for a great value/price ratio Vass is one of the best out there.
S: Stylish
The cream of the crop for me and overwhelmingly Italian.
These are shoes that defy logic, price, notions of value and aesthetics.
If you asked me to pick my favorite current RTW shoemakers these would be them.
I should mention that their prices are not for the faint hearted but who cares at this point.
Gaziano & Girling
Gaziano & Girling is the only higher end British shoemaker that I would consider buying personally.
Whereas most UK brands stick with the same style, Gaziano & Girling brings the Italian flair right in your face.
Modern designs, aesthetically pleasing lasts and great components.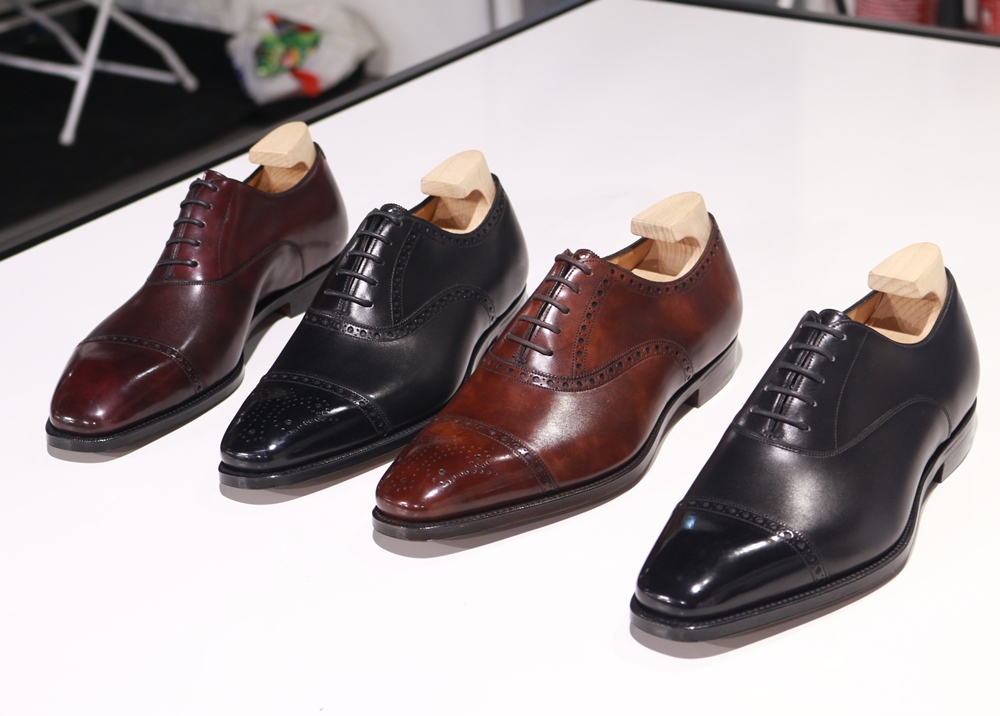 I did hear certain people complain that the fit is difficult (they are narrow) or that the leather is not as good as others.
Honestly I cannot tell you until I own one, but I like what I see and hear.
Despite them being machine made they are good shoes and nobody can argue about that.
For those that desire even more, you can go for the Optimum Range or their Bespoke Service.
Norman vilalta
Norman Vilalta is a man that shares the same journey as me.
Or better say I share the same journey with him as we both started from different fields and became shoemakers.
Argentinian Norman Vilalta has a small atelier in Barcelona where he mostly makes Bespoke and MTO shoes.
Norman also has a curated RTW collection of Goodyear Welted shoes that are fantastic.
The thing with Norman is that he has a very specific identity and uniqueness in his designs.
Very rarely you will see a subdued, classic pair from him.
They have seductive lines, aggressive shapes, design twists, patinas, different insoles and outsoles.
It's a marinade of creativity that is surely not for everyone, but will wow those that seek it.
I have one pair from Norman which is the Calder Wingtip Derby and it is one of my favorite pairs.
The leather is superb and simultaneously one of the best RTW fits I have.
I enjoy how I feel when I wear Norman's shoes.
Surely, they are not the cheapest at around $1100-$1300 USD but they are worth it.
Availability is mostly through their own website, but Norman is also very careful with the selection of few retailers.
As I am typing these words, I am proud to say that I am finally one.
Expect to see Norman Vilalta models soon at The Noble Shoe.
antonio meccariello
Uncle Antonio as I like to call them is the big daddy of shoemakers.
Like hot damn he is one of the best, but also the nicest out there.
Based in Naples (Italy) he makes the most exquisite shoes and some of the best Bespoke in the world.
There is a selection of RTW and MTO models in the admittedly terrible website but the shoes are astonishing.
Like seriously, the designs and execution as well as the price is superb.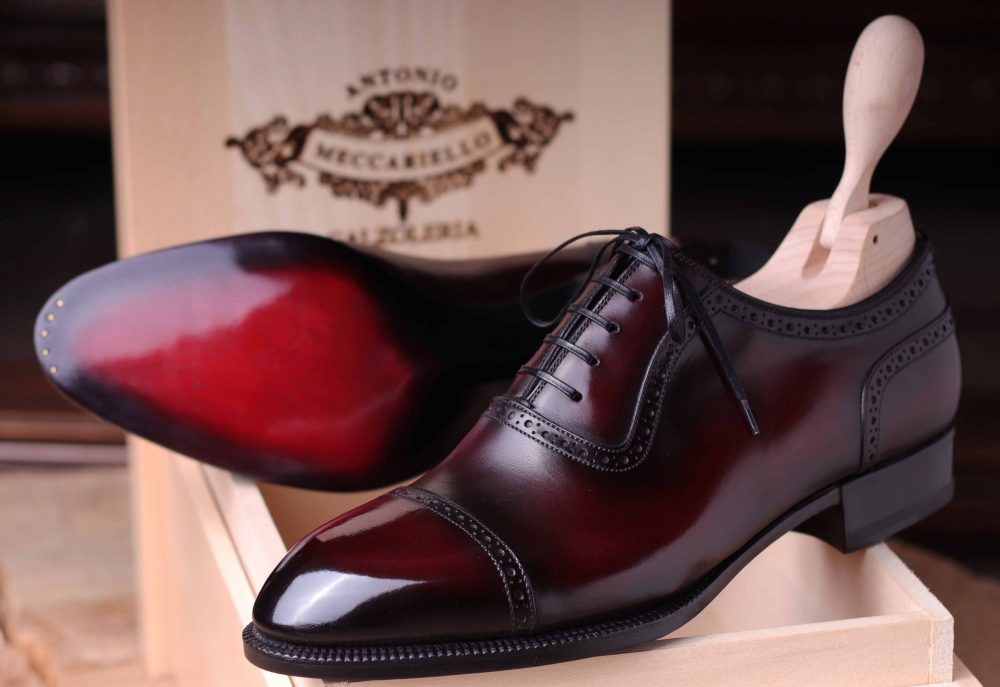 Even as we speak, he is preparing a handwelted collection called "Roma" that will cost $500.
Let that sink in, because the Allen Edmonds Dalton Boots cost $495 new.
Leather, construction, execution, most people that know about good shoes would not hesitate to pick Antonio as their favorite.
I am a huge fan and I do have a pair of Navy Hastatus (Review).
If you see a list of the best shoes in the world and Antonio Meccariello isn't in there, you know it's bad.
paolo scafora
We stay in Napoli and my joint favorite Paolo Scafora.
Paolo Scafora is a wonderful man and so are his shoes.
He is even friends with Antonio and it was the latter that introduced us, leading me to stock Paolo Scafora Shoes.
Paolo Scafora is the mastermind of the Norwegian and Tyrolese Construction.
His shoes wow, confuse, provoke but they are masterpieces.
I now have extensive experience with most of his lasts, leather and various constructions.
The leather is very smooth and one of the best in my collection and feedback for lasts DOOR, VOLA, AT/R is very positive for comfort.
A trademark of Paolo Scafora is the embossed family crest on the leather sole of course.
While Norwegian construction often looks chunky Paolo has found a way to make it look appropriate.
For those that want something simpler, you can have regular Hand-welted shoes or make an MTO of your craziest dreams.
For example here is the latest Shark Leather Derby I made via my shop for a client.
Expect shoes to run around the $1300-$1600 price point.
I am enamored with this brand and will always be.
Tip: I offer Paolo Scafora MTOs for great prices (Email me here).
stefano bemer
Finishing of with another Italian Shoemaker.
Stefano Bemer was a legendary Bespoke Shoemaker from Florence that unfortunately passed away around 2012.
After his passing another company took the reigns and modernized the brand reaching out internationally.
This is the cream of the crop of shoes especially with the Tradizione Range that will set you back $2000-$2400 USD.
Fully handmade shoes made on the original Stefano Bemer lasts which are breathtaking.
From every possible angle, the waist, the details are meticulous.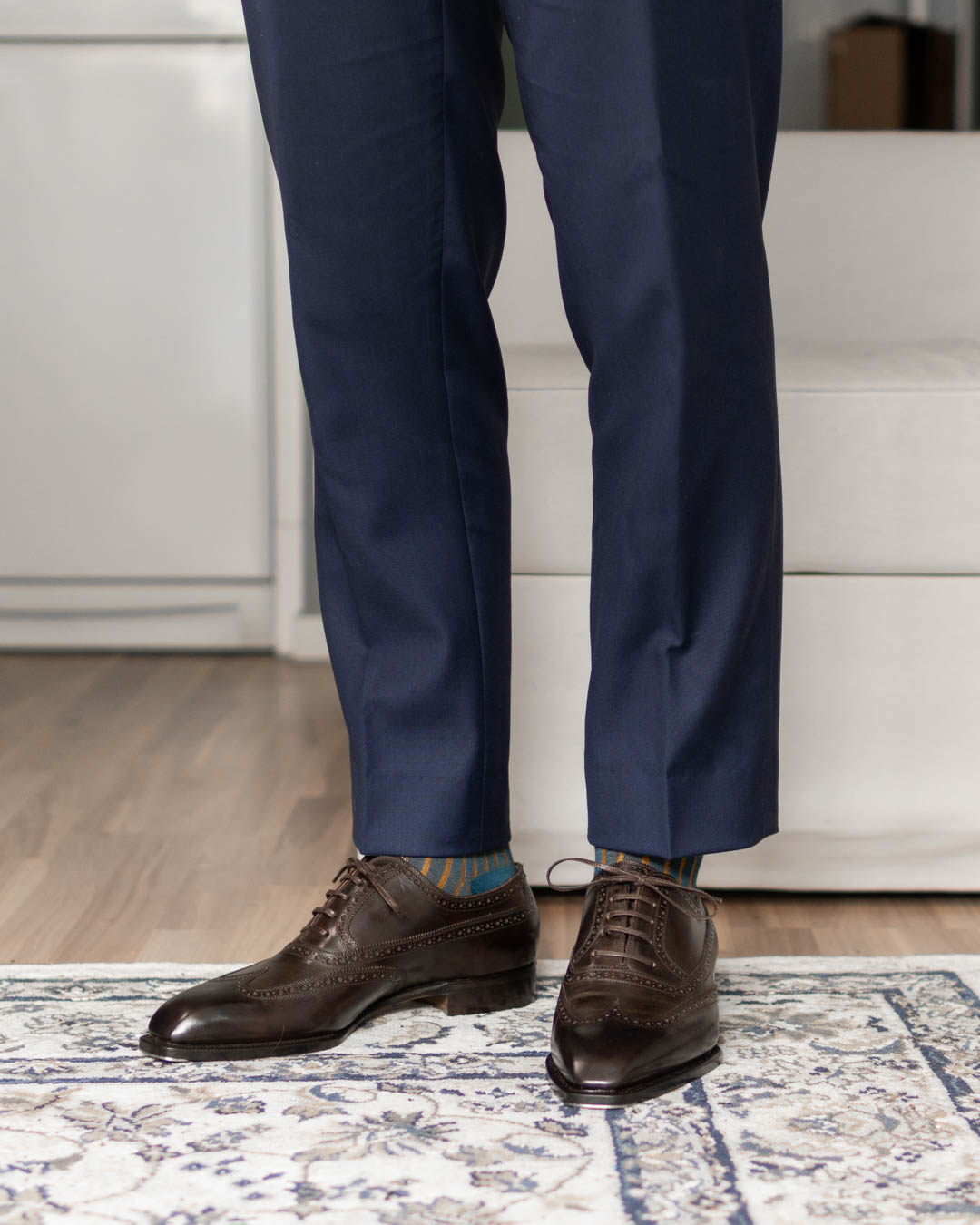 The Stefano Bemer S last is in the top 3 fitting RTW Lasts for me as of now.
I like the man I become when I wear these shoes and they give me the confidence to do anything.
In fact, I left my life in Sweden back to come here in Florence and study at the Stefano Bemer Academy.
They are spectacular shoes and quite often A-list celebrities like Brad Pitt wear them.
Don't forget to read my Review of the stunning T6456 Oxford.
Did I mention that Daniel Day Lewis spent 10 months learning shoemaking under the original Stefano?
What a privilege to be here and wear these shoes.
Unranked
There are certain brands that due to lack of experience or private reasons I will not cover or grade.
Let's quickly go through them.
Winson shoemaker
Winson is a shoemaker from Indonesia that I interviewed on Misiu Academy.
His popularity is growing by the day and the queues are currently minimum 6 months.
He is not on the list because I don't have any shoes or experience and because it's all Made to Order.
velasca
Italian brand with nice lifestyle photography and decent shoes.
Most are blake stitched, but their pricing and model selection doesn't inspire me.
I have no experience with them and have no plans to buy just to review.
If they send me a pair I will be glad to cover them.
rozsnyai
Hungarian shoes that live in the shadow of Vass but with decent reputation.
I honestly don't know much about them and is unlikely I will cover them any time soon.
Gordon jim jun
A small Chinese workshop that makes RTW and MTO shoes.
Seems very high quality and feedback is great, however I don't have hands on experience.
I might reach out to him and see if I can work something out.
My gut feeling tells me this is a good brand to try.
J.M. weston
As strange as it sounds, I know nothing about this French brand.
I have no interest in them nor I find them attractive.
Japanese brands
There's a ton of brands out there to cover and unfortunately I have none of their shoes.
Hiro Yanagimachi, Yohei Fukuda, Siroeno Yosui are some that need no introduction and are spectacular.
Others such as Oriental, Miyagi Kogyo and Corno Blu are harder to find and I cannot speak about their quality.
Japanese people focus much on quality so I would expect them to be good.
J.Fitzpatrick
Justin Fitzpatrick is a good friend of mine and it would be unfair to rank his shoes.
They are made in Spain and I am sure are excellent quality.
Justin also studied at Stefano Bemer and has a strong knowledge about shoes inside out.
His designs are very niche and target a specific audience.
I would say more youthful, modern, vintage, Victorian or artistic.
For example, the man that wants to buy teal suede loafers or button boots will go to his shop.
He even has an entry range for lesser budgets and I encourage you to visit him in his shop in New York.
vahtia
I only had a brief encounter with this Indonesian Brand and it was a little underwhelming.
However, my pair was a defect purely for review purposes so I cannot comment more.
Very small selection with possibility of MTO.
It's a hard sell, there are other options out there.
barker
Decent British shoes that sound like the Allen Edmonds of Europe.
Pass.
Andres sendra
Most of the Made in Spain shoes come from the factory of Andres Sendra.
There's no real point to cover their own brand yet with multiple representations out there.
Shoepassion
Shoepassion and Heinrich Dinkelacker go together.
From Germany, I know little of their shoes to be honest and can't give them a grade.
I guess they are ok but nothing I would salivate over.
American boot brands
I am from Europe and cannot understand the obsession of Americans with work boots.
Doesn't matter, because I simply don't have any experience with them and this is more about dress shoes.
White's, Rancourt, Red Wing, Parkhurst, Viberg and many more are a different type of shoe irrelevant to this list.
bespoke factory
Not much to say here, there are countless brands out there that utilize Bespoke Factory to produce MTO Shoes.
Fun fact, they have nothing to do with Bespoke.
any brand not mentioned
Anything not mentioned here means it's either not RTW or I have no experience with.
Or they tried to threaten me.
conclusions
There is no such thing as a "perfect" list.
Each person has their own preferences and experiences as well as perceptions of quality, value and worth.
Most controversial picks of mine were low not because they are bad shoes, but because I could buy something better.
As I always say, if a certain brands fits you and your aesthetics and satisfies you that's perfect.
This was how I rank most brands at the moment of writing.
I hope you enjoyed this huge guide about the Best & Worst Dress Shoes for Men.
It was fun to write, exhausting and hopefully humorous.
Let me know what you think in the comment and I am bracing myself for the shares and angry comments.
Thank you for reading,
Kostas Mandilaris,
Misiu Academy