Reviewing A Wardrobe Staple
Let me formally welcome you to the Cobbler Union Dark Brown Suede Chukka Boots Review.
A Brand that was always in my radar for a Review and what better way to do it than with a wardrobe staple.
In today's Review we will once more go in-depth discussing and nitpicking everything from quality, sizing and value.
Are Cobbler Union Shoes worth your money? Let's find out!
Cobbler Union History
As always, let us begin with a short history lesson because it is actually an interesting one.
You see, Cobbler Union is not a brand that's been around for a century or decades.
In fact, Cobbler Union recently celebrated their 8th anniversary. To their credit, they managed to create a great name for themselves in a very competitive industry and segment.
This is all down to Daniel Porcelli, the owner and founder of Cobbler Union. Of course, the craftsmen and artisans making these shoes deserve equal credit they don't often get from people.
Daniel comes from Patagonia and if that sounds familiar, it's because Norman Vilalta is also from there. The two used to be good friends and worked together in Barcelona to launch Norman's first RTW Line.
Due to personal reasons, it didn't work out in the end however Daniel enjoyed shoes so much he decided to launch his own company.
While I look forward to hearing more about his journey in an upcoming interview, the word Union signifies to me the importance Daniel puts into people and the actual craft.
Nowadays Cobbler Union has a stellar reputation and surprisingly keeps the same price as opposed to many other brands increasing prices every year.
With a small but expanding curated selection of classics, it comes down to the quality and customer service in order to stand out from the crowd.
So let's find out about that today!
Communication & Previous Mishaps
Before I get on with the actual Review, you all know that I am extremely honest and transparent.
Sometimes too much for my own good. Companies like CNES stopped talking to me and Lethato asked me to remove my Video Review for example.
First of all, I would like to disclose that I received these Cobbler Union Chukkas as a Review pair. But as you will see I am going to do a proper dissection of all the good and bad.
In 2019 I first approached Cobbler Union for a Review pair and while they initially agreed, they stopped responding to my messages.
Eventually I gave up, but I still believed in their product and always included them in my lists such as "Best Chukka Boots".
Additionally, my friend Hugo Jacomet (The Parisian Gentleman) endorses them which for me is a big thing.
I think it was also partly my fault, because I think Instagram is such a rubbish platform and I should have emailed instead.
Nonetheless, I had the chance to speak via video call with Daniel and Katie (Chief of Staff) and it was such a breath of fresh air to meet people in the industry "face to face".
They were very kind to apologize and I admire that because you could see that they want to improve and get better. There will always be QC or other problems in the shoe business, but it is how you deal with it that matters.
In other words, I had a blast discussing everything with Daniel and he looks to be as passionate about his business 8 years later as when he first started.
I truly wish them all the best and I learned a lot from our interactions.
Cobbler Union Review | Chukka Boots Specification
Now this was a bit of a first because Cobbler Union asked me to pick a few styles I liked.
I chose 4 including some lovely adelaides and boots. However, until they dispatched them I had no clue which model it would be.
And to be fair it was genuinely exciting! Obviously in your case you would select  your own model and have control over your choice.
In my case, I sort of wished they would send the Chukka Boots because I didn't have a suede version and they are truly staples. I also liked the design and in Sweden, Autumn is never that far away.
Brand: Cobbler Union
Type: Chukka Boots
Leather: Suede
Color: Dark Brown
Tannery: Charles Stead (UK)
Construction: Goodyear Welted
Eyelets: 2 Blind
Lining: Leather
Sole: Vibram Rubber
Last: 312
Size: UK 7.5 (US 8.5D/EU 41.5)
Details: Quilted Insole
Origin: Almansa, Spain
Price: $425
I should also mention that until the moment I started typing this sentence, I thought my boots were on the SOHO Last.
I chose that model from the website and was surprised by how round the toe was compared to the pictures.
After inspecting the box, it was clear to me that the Last is 312 instead. I am not sure if they still produce the boot on this last, however bear that in mind when I am giving sizing advice later on.
Overall, it looks like a very solid boot on paper, with an excellent sole choice and top quality suede.
Delivery & Unboxing
I always like to begin a review with the simple yet underrated things such as shipping.
Until a few months ago, I had no idea Cobbler Union actually had a European website. Due to the import taxes from the USA it made me reluctant to try their shoes.
However, due to some sort of bug the pop up redirecting you to the EU Website did not show until recently.
This means that Cobbler Union ships from Spain to the EU and from their US storage elsewhere.
My package arrived via UPS and there was a lot of tracking and confirmation emails. Nice, clean and protected packaging.
The box itself is simple and functional. Brown branded cardboard with a sliding compartment making it easy to use.
On the side you have your usual quick details about the product such as style, last, sole and size.
When it comes to the containers it is a very minimalist experience as you only get shoe bags and your shoes.
The shoe bags are nice with a navy color and large enough to fit each boot comfortably.
At this price point and stage in my shoe journey, I don't care much about the spartan unboxing.
To their credit Cobbler Union hasn't increased prices and if this is a way to save some costs I'll take it any day.
Initial Impressions
Capturing dark brown suede during product photography is tricky, especially with the darker pictures on the website.
I'd personally increase the shadows on Lightroom a little so one can see the little details of the Chukkas.
Before I discuss the actual Chukkas, there is a point I need to address.
The design of this pair is nearly identical to one from another Spanish high end maker.
With the exception of the last shape and some stitching in the middle it's a carbon copy. From the eyelets to the curve of the stitching and the star shaped hole underneath all the way to the lining color.
I will not mention who the other maker is as it is none of my business, but it does make certain sense given their previous relationship.
In other words, I don't know who holds intellectual property over this design and I don't care much. As a buyer, I would want an excellent pair of shoes and that's what I will focus on.
After getting this out of my chest, I can tell you a few more things about the design itself.
Chukka Boots are hard to reinvent, so this is a real classic, 2 eyelet Chukka with a rubber sole and a rounder toe.
Suede is such a beautiful acquired taste and a must have in a man's wardrobe.
The last is a bit too round for what I usually go for, but this works really well. The small design elements on the side quarters and the backseam really help it stand out.
A quick inspection of the sole will also reveal why people always prefer Vibram over Dainite. It's just so good.
Overall I think you will be extremely happy with this handsome boot.
Build Quality
Goodyear Welted shoes need no introduction.
The most solid, widespread quality construction in the world and these feel exactly like that.
A very solid, sturdy boot with a substantial feel no thanks to the heavy sole.
Unless it is decorative, it also has a storm welt and a 360 welt all around the boot.
The laces are nice and I love they used flat ones. They make most shoes look better in my opinion.
Interestingly the front of the toebox has heavy structure, but compared to other lasts the side walls have much less (structure). I like the idea in such a shoe, since it provides comfort and less rigidness for my wider feet.
Another feature (or lack thereof) that I like is the absence of pull tabs.
With the exception of Chelsea boots I personally believe they are pointless as you always use a shoehorn. Shoes with pull tabs cause my trousers to bunch up way too often.
In certain of their leather soles, Cobbler Union adds a beautiful fiddleback waist to the mix.
I spotted a few QC issues here and there on the internet such as some sole channels peeling off and a recent one where there were nails protruding from the insole.
The latter definitely needed better Quality Control, but Cobbler Union has a good reputation for their customer service. I actually forwarded the case to them and they already contacted the customer.
So if you have an issue, contact them before getting the pitchforks out on internet forums.
All companies have QC issues, it's how they deal with them that matters.
The boots I received are flawless and I would be extremely happy if I bought this full price.
Leather Quality
I will be honest with you, the suede on this pair is spectacular.
Like, absolutely fantastic. I think it is the best suede I handled under $500.
No wonder since it comes from one of the most popular suede Tanneries which is Charles Stead.
It's just nicer compared to the Crockett & Jones Benchgrade (Lowndes 4 & Cavendish) I had for comparison.
The nap is short yet velvet smooth. It's so nice to just hold them really.
If I really had to nitpick, the left pair has the tiniest spot where there seems to be some leftover glue on.
In a few months I actually have a brown suede pair from Yeossal coming, so I will revisit this section and see how it fares compared to a higher end shoe.
Cobbler Union is also famous for their museum calf offerings but I can't really comment on that without hands on experience.
From the construction and leather alone, these shoes deserve their price tag.
Stitching & Welt
How do I innovate and write more about the stitching and welt?
Always a question I ponder all the time when new shoes come in. The nature of Chukka Boots means they have less visible stitching compared to most other styles.
However, as aforementioned these ones have some more unique elements.
The main stitching is of course at the facing going all the way down to the sole. It's a mix of single and double stitching with a bigger one reinforcing the middle and holding the pieces together.
The thread also has a color that mimics the leather so it is extremely discreet and clean.
Look at the backseam however and you will see a detail that I only saw once before during my George Lyon Review.
A straight backseam with a leaf-shaped design at the top. Follow that seam towards the side and it just curves and ends suddenly almost parallel to the first eyelet.
Underneath, you get the last small detail which is the star shaped 4 holes which I really like.
As far as the welt goes, it's an extremely tidy job with no loose threads and a nice 360 storm welt.
Even the welt joint was smooth and once more the thread had a brown color matching the uppers.
Very interestingly, there is decorative fudging around the shoe which you don't see often on rubber soles.
Want me to really nitpick? One of the holes in the star shape I mentioned didn't punch in properly. It's a 10 second fix with a needle though so I don't mind.
Interior & Lining
Just like last time, there is a rather unusual element in the insole of Cobbler Union.
Beginning with the rich burgundy lining, there is a matching burgundy/wine red quilted half insole.
It acts as a cushion and has a soft bumpy feel when you touch it. I expect to learn more about this when Daniel prepares the interview answers.
Overall the stitching and trimming of the lining is good for the price point and I totally believe more brands should experiment with different colored linings!
This is shaping to be a really nice boot by the way so far.
Cobbler Union Vibram Sole
I cannot speak about the leather sole, but this one is a proper tank.
Quite thick but not chunky and it has a very grainy texture. The unfamiliar might confuse them for Dainite soles because both have similar studs.
Looking at the heel, I cannot say with certainty if the middle part is stacked or leatherboard as I can see some individual markings but also uneven at the top.
The 360 storm welt also gives the chukkas a bit of a more casual appearance with a "fatter" heel.
What, do you expect more extreme nitpicking? I suppose the very edge of the outsole has a slight brown tint to it rather than black?
I don't know you would need a microscope.
Cobbler Union gets my approval for using Vibram, it's just the better sole.
Cobbler Union 312 Last
The 312 is definitely not the type of last I prefer personally.
However this is important to note, there's nothing wrong with the last, it's just I prefer soft square and almond ones. If you are in the market for a rounder classic shape, you will love this.
Looking from the top down, it seems like a rather wide comfortable shape especially at the toebox and widest point.
Cobbler Union describes the 312 as its widest and roundest last for a comfortable yet not chunky fit.
I think it's a rather accurate description as you do see the more casual nature of the shape, but it's certainly not like a rounded service boot.
Tip: Find out more about Cobbler Union's Lasts Here.
Sizing Advice
Cobbler Union recommends that unless you have wide feet, you should size down half from your regular UK.
The boots are very roomy and in my opinion only take your regular UK if you are a true EE or EEE.
My usual size is UK 8 and I have medium-wide feet with a higher instep and these ones are UK 7.5.
There is definitely ample space around the widest point and the toe box as advertised. This doesn't mean my foot is swimming or slips around but I certainly have more flexibility.
I think it will be slightly snugger with winter socks as I only tried with dress socks this time.
I always advise people to contact the retailer directly for sizing advice, but I am willing to eat my own shorts if you don't size down half on this last.
Examples so you visualize it better:
UK 8 in Carmina Rain: Take UK 7.5 on Cobbler Union 312
US 9D/E on Allen Edmonds 65: Take UK 7.5 on Cobbler Union 312
What about comfort then?
I pretty much covered it above, this is a very comfy last and definitely something for those of you looking for a classic shape and longer wear.
And while I will always prefer a leather sole the rubber version is a must where it rains a lot!
How To Wear Brown Suede Chukkas?
Probably the most boring topic to write about is matching brown shoes.
One of the most versatile colors known to man needs no introduction. With very few exceptions such as charcoal grey, brown goes with almost everything.
Since chukkas are not the dressiest boot out there, a suede version with a slightly wider sole gives you a hint.
Barring super casual suits or separates, I would wear these with everything else but shorts.
This includes chinos, jeans (looks superb) and flannel trousers.
My advice to you is to when possible try to add texture to your outfit since suede is not as smooth as calf.
Therefore denim, cotton, and flannel weaves for example just blend in nicely together.
Did I mention a pair of Chukkas in Suede or Calf is a must in your collection?
The Value Of Cobbler Union
Cobbler Union faced (and faces) a very difficult challenge.
It came in late in a very demanding and harsh industry and an extremely competitive price point.
For $395 (shoes) and $425-$475 (boots) one can buy Carmina, TLB Mallorca, Carlos Santos Handgrade and more.
However if you notice the price structure, I think they have clearly and intelligently targeted Allen Edmonds in the US market.
An Allen Edmonds Park Avenue also costs $395 and you have to be mad in the head to buy that over Cobbler Union. Or any of the aforementioned brands.
The shoes I received were clearly superior and overall very good. Good construction, nice attention to detail, a stylish design and phenomenal suede.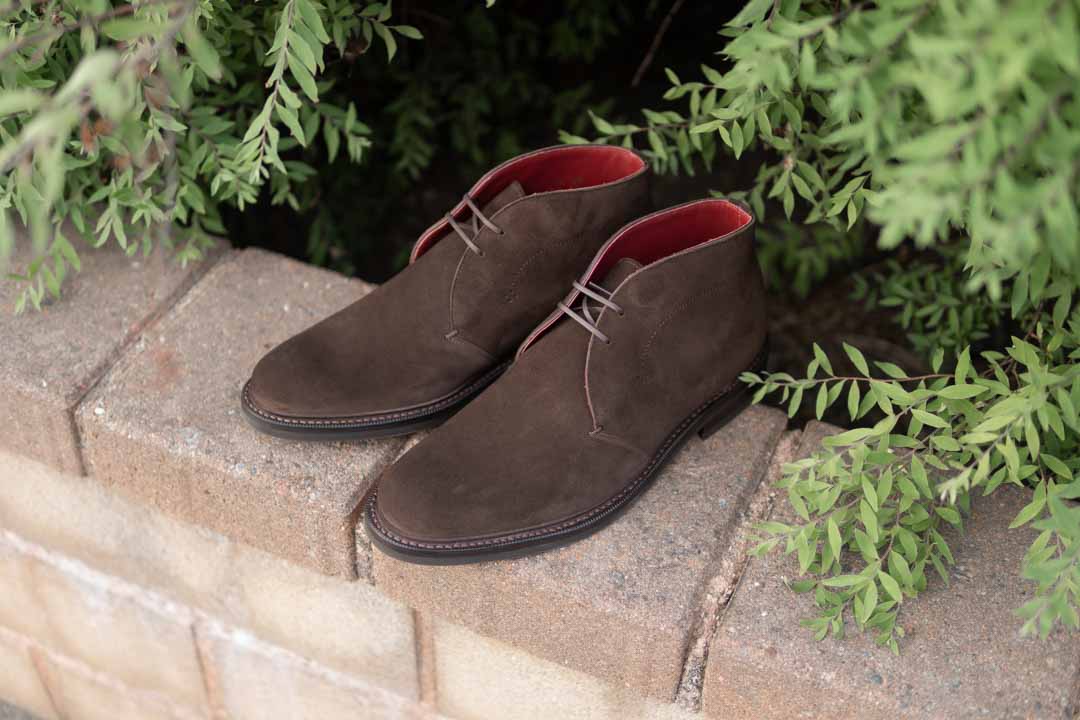 My advice to Cobbler Union is to find a way to showcase their background and personal story more with increased social media presence and response. It's a long great journey and people love hearing those.
I cannot say "Buy Cobbler Union it is the Best" since that notion doesn't exist with any brand, but I can confidently say that in 99% of situations you will be extremely satisfied with what you get.
And if you are not I am very sure they will assist you into finding a solution.
When it comes to the actual shoes I got, they are flawless and a very good purchase for anyone.
Video Review
As always, here is the Video Review on my YouTube Channel! Make sure to Subscribe!
Conclusions
This brings us to the end of the Cobbler Union Brown Suede Chukka Boots Review!
A competitive, good quality, versatile boot that you will wear for years to come. In today's society and industry I am sure they could charge much more for these shoes actually.
To their credit, they want to offer a good product for the best possible price and so far it's surely there with the other heavyweights.
And you support a smaller business instead of a global conglomerate. I always value this highly whenever I consider a purchase and alternatives.
Despite Cobbler Union being a direct competitor to my own shop, I can definitely recommend them for their shoes.
Don't forget to let me know if you enjoyed this review and what's your opinion or experience with Cobbler Union in the comments!
Thank you for reading,
Kostas Mandilaris,
Misiu Academy