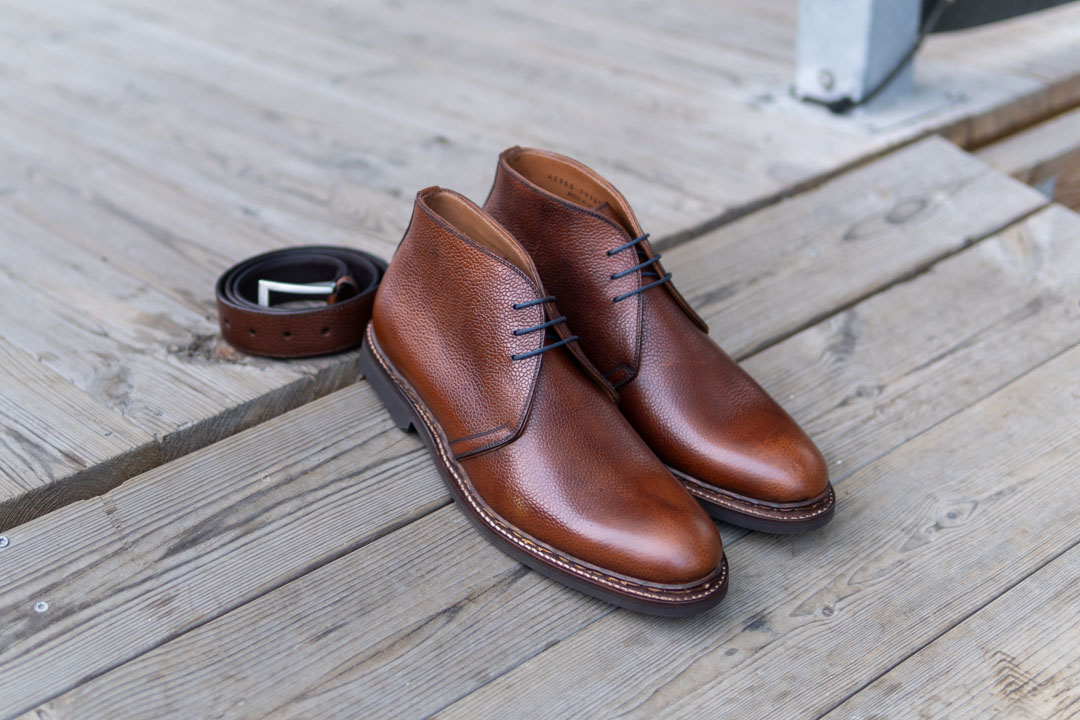 Did Someone Say Emerging Brands?
Welcome to the Official Review of George Lyon Shoes! Every once in a while, I check out my friend Michael on Instagram who has the unique ability of unearthing new brands I had no idea about. A few months ago I stumbled upon his own unboxing review of George Lyon Shoes which sparked some interest.
After a lovely discussion with the owner, he was more than kind to allow me to review a pair of my choice. I chose a pair of beautiful Chukkas in Country Calf which are the topic of today's discussion. While I can already tell you they are solid boots, I recommend you check out the rest of the article as we dive in deeper in each section.
I thoroughly enjoy talking about welts, design and of course the overall quality so this will be interesting. Shall we?
George Lyon Shoes | Small Stories, Big Dreams
There is something special about a nice background story when it comes to small brands. Generally the idea is that you spot a problem or something that frustrates you and you provide the solution since you are tired of waiting for someone to fix it. But when you marinate a solution with a good story it all comes together nicely with its own unique charm.
Josh Speirs (the owner) is a pleasure to talk to. He briefly introduced me to the brand and the reasoning behind its conception which honestly is nothing groundbreaking. Our industry has tons of mass-produced fast fashion shoes but Josh also found it challenging to get matching belts with them. Instead of passively sitting around he founded George Lyon Shoes instead.
Here comes the charming part of the story. His third great grandfather originated from Scotland and grew up quite poor without a single pair of shoes until he was 12. He finally took the decision to move to America in the late 1850's to pursue a better life. Together with his family, they walked all the way from NYC to the Rocky Mountains to become successful entrepreneurs. Josh decided to follow on his ancestor's footsteps so in honor of George Speirs and Janet Lyon he named the company George Lyon Shoes.
Trivia #1: The Tartan Pattern on the box is a family pattern!
Trivia #2: You pronounce Lyon as in "Lion" and Speirs as in "Spears"!
A (Very) Small Collection
First of all I would like to talk about the shoe and belt issue. There is indeed a problem that stems from fast fashion and low quality fashion indeed. However, there are many good brands in all price tiers that offer welted shoes. Although very few with a base in the USA but there is definitely misinformation and lack of knowledge from most men about footwear and justifying a more expensive purchase. Regardless, kudos to Josh for trying to offer a quality product and educating men about welted shoes.
As for the belts, the aforementioned companies usually have them too (including my own Carlos Santos) but surprisingly few sell them as a bundle. In Europe we don't use belts that much but in North America it seems to be a more popular trend and I can see the allure of making a purchase with less steps. You know, no need to go find another product and add it to your cart.
Josh has a very small curated collection at the moment of only 2 styles. A Derby called Deacon in Black and Honey Tan Leather and a Chukka Boot in Country Calf. Interestingly enough you can get yourself a small hat! I will honestly say that I am not a big fan of plain toe derbies, let alone derbies in such colors. The Sienna Derby is a more difficult color to match consistently I feel, while the natural colored sole is a strange choice for a black shoe. However I am sure they both have their niche audience and that makes them unique.
The Benjamin Chukka on the other hand looks like a superb every day shoe. A little rugged, like a smaller service boot with a great ridgeway sole and more waterproof construction. It felt like something that I would wear.
You might argue, why should you bother with such a small collection. While you are partly right many companies choose to start with a small selection that means something to them and work on a more constrained budget. As we speak, Josh is working on new designs which I look forward to.
Specifications Of The Benjamin Chukkas
Here is the classic section where I give a quick overview of the specifications of each shoe I review:
Brand: George Lyon Shoes
Model: Benjamin
Style: Chukka Boots
Construction: Norwegian Welt
Leather: Full Grain Country Calf 196 (Tannerie D'Annonay)
Color: Chestnut Brown
Eyelets: 3 Blind
Sole: Ridgeway Rubber
Laces: Round Navy + 1 extra pair
Belt: Matching Color & Leather with Silver Buckle
Accessories: Dust Bags and Shoe Horn
Origin: Spain
Shipping: Free & Free Returns
Price: $460
It is a quite fair price for a pair of shoes and a belt. Provided that the shoes are good of course! I must mention that the derbies will cost you $450 however it looks like the original price was $100 more. Not sure if this discount is permanent but $560 is a much tougher sell.
Another important thing to mention is that currently George Lyon Shoes ship only within the USA. However I provided Josh with a label for Europe and if you are interested Send him an Email. I am sure he will try to help you!
Unboxing Experience
The box that comes with George Lyon Shoes is substantial and beefy. It has a black finish with a yellow logo and quite sturdy cardboard with a front flap. One can find all the important basic details on the side sticker.
Inside it is actually superb and a pleasant surprise. Everything is neat with the charming tartan family pattern I mentioned above. Even the tissue paper has the same pattern -which is thicker than usual by the way. Additionally there is some sort of patent foam to protect your shoes and belt during transport.
Don't worry there are more goodies! A custom plastic shoe horn and branded felt dust bags mean that overall George Lyon spares no expenses in packaging. Take for example the $620 Crockett & Jones Handgrade Belgrave that comes with just shoe bags.
Josh also includes a hand-written note which is an awesome touch. However my favorite part is Josh's thanks for supporting a small business as well as the donations towards the KIVA non-profit. Support small businesses and local people my friends!
How Do I Review A Shoe?
Very good question reader! What I usually do is talk about the various components of the shoe and divide them in small categories. For example we would talk about the leather and build quality, the welt and stitching and the sole before moving on to sizing and comfort. If you feel that there is a point I missed let me know in the comments down below and I will make sure to include it!
Shall we start?
Leather Quality & Overall Build
The boot will not win any awards of the handsomest boot around but this is not what it tries to do. It is a good looking, more rugged classic Chukka. The Benjamin has 3 eyelets and a few pieces of leather stitched together with a plain toe.
It also has a substantial weight which comes down to the construction method and the heavy ridgeway sole. But when you hold it in your hands it feels like a very sturdy boot that you can take to the trenches of WWII or a trip to the grocery store. More waterproof than your usual shoes due to the construction and with a really good country calf leather from D'Annonay.
For the uninitiated Country Calf is more of a buzzword I would say and in simple terms means Scotch Grain. It's quite supple but thick with a very structured toe and mid-section. Very interestingly the Scotch Grain fades towards the toe for a more unique aesthetic design. Just like the apron on the Crockett & Jones Boston.
Same thing inside with superb lining and a comfy insole. I will discuss each individually but it impressed me!
Stitching Of The Uppers
More plus points for George Lyon Shoes here. A chukka doesn't have much stitching on the uppers, which makes it more important that those are well-done. Clean machine stitching with a straight backseam on the back although with a little twist.
On the backseam you have a tiny little interesting detail. There is a small loop on the top that makes a small "leaf" shape. If you appreciate small details you will enjoy this.
If I have to be incredibly picky I would say that that "leaf" is not exactly sitting even in the middle but that's my OCD talking.
The Norwegian Welt
Now this is a very interesting topic. First of all, if you are unsure what is a Norwegian Welt or Norvegese check out my Ultimate Guide to Shoe Construction. There are different variations and one would argue that the original classic Norwegian does not have a welt, then you have the Goyser. Others would argue that Norwegian is just Storm Welt or that it should not be machine-made. I will not go into that discussion though.
Initially I had my doubts that this was a genuine Norvegese but after close inspection the stitches look real. The uppers fold outwards like they should while one can see clearly the braided stitching under what seems to be a storm welt.
Might as well add that this is a 360 construction which goes all around the shoe. But what about the quality of the stitching?
In truth, upon close inspection it looks a little sloppy at some points. The stitches are not entirely level while the storm welt on the top is very "wavy" at points. Some areas of the stitching have dried color but for me it adds a little charm since it's due to the hand-painting.
However on the same time it adds a little nitty-gritty rugged feel to the boots which works. Mind me that as I learn more about shoes I also tend to be more critical and detailed oriented. These boots are excellent and much better than some others I handled before for much more money.
Ridgeway Baby
I had my first real meeting with a Ridgeway Sole last month from a GMTO at The Noble Shoe. It's superb and a fantastic alternative to a Dainite Sole. Tanky, a little thicker and my god it feels durable.
Today I used them for the first time for the entire day and the sole looks brand new. The Stitching on the soles is spot on and excellent.
Inner Lining
George Lyon gets maximum points for the inner lining as well. Extremely good job with clean trimming on the top and a lining that looks and feels high quality.
The heel cap has a sueded feel while the insole is tidy and comfortable for your foot.
Anything Else?
To not make a million paragraphs I will talk about some details here.
While I cannot find a proper name for the last it is a classic round last as you would expect. A really small detail that I really liked was the laces. Whoever came up with the idea of putting navy laces on these was a genius. Such a subtle difference that adds such a little color and flair If you don't like them you can always switch to the more conservative formal ones.
You will rarely find me using belts, but this is a really good one. Made from the same leather and with a great silver buckle it's perfect for those that want one.
Honestly a very solid boot and belt!
Sizing
Ah we finally arrived at one of the most important aspects of any clothing article. The fit. Because it doesn't matter how good looking or well-built it is if it doesn't fit.
It amazed me how comfortable the Benjamin Chukka is out of the box for the most part. I tend to have a higher instep and a little wider foot but it's spot on. There is the perfect amount of space on the front, on my instep and the sides.
I also get zero heel slip which is great. If I had to find a flaw with the fitting is that the ankle part on the insides of my feet is rather stiff. However this is something that will change when the leather softens a bit and a problem I often have with boots.
Wearing them with woolen socks it was perfect in UK 8 which is my average True To Size on regular fitting lasts. I would say that if you are in between sizes or have a lower instep/narrower foot you can consider going down half a size.
Brilliant I must say and a very welcome surprise.
So…How Do I Style Them?
This type of shoe is the bread and butter of denim and casual clothing. You will not wear them with suits or separates but chinos and jeans are fine.
Additionally, the color is pretty versatile and will look exceptional with any shades of blue really. Whether you go for urban adventures or hiking this is a pretty good choice I would say!
Video Review
Here is the Video Review on my YouTube Channel if you prefer that format!
George Lyon Shoes Review | Are They Worth Your Money?
Always a tough question to answer isn't it? I am quite critical and honest in my Reviews. I lambasted CIE Shoes for copying Septieme Largeur while CNES's Leather Disappointed me a bit. Both companies stopped talking to me afterwards by the way.
Nonetheless I must say that these George Lyon Shoes impressed me. A very decent boot for a fair price of $460. When you consider that quality belts go for up to $100 then the price for just the shoes is excellent. If I am honest I would like to see an option to purchase just the shoes or the belt separately as well. A drop down menu could maybe work where you can select the belt or not. This does defeat the motto of George Lyon a bit but not everyone wants a belt.
Would I buy these instead of Meermin? Any day of the week. Would I buy these compared to Carlos Santos? If I looked for a more classic rugged everyday Chukka absolutely. Allen Edmonds? Don't make me laugh. In fact if I compare these with Carmina or Crockett & Jones benchgrade I cannot really find anything that seems (or feels) worse quality.
If this or the derbies are you kind of style I can certainly endorse them. Great job Josh!
Handcrafted & Handmade?
I will make a very small detour here and touch upon the "handmade" or "handcrafted" claims shoemakers always make. This buzzword appears everywhere from cheap to high end shoes including George Lyon. A truly handmade shoe uses no machine whatsoever although one can argue about the machine stitching of the uppers. Justin FitzPatrick talks about this often and I have an article you should read here.
In this occasion the only "hand" part is the finishing and dyeing. Structurally there is no difference and you will get an excellent pair of shoes but just be aware that they are machine made.
Conclusions
It's been a while since I really had only good things to say about another shoemaker! I went into this Review with zero expectations and it really surprised me pleasantly. An excellent everyday boot that fits me superbly and an owner that goes above and beyond to help and satisfy you.
The box is a premium experience and although the collection is laser focused I am sure more things will come! These boots are excellent value and I will put them to good use. Big thanks to Josh for this opportunity and I really wish him the best. Please make sure to check out the George Lyon Shoes Website!
So, how did you like this Review? A Video Version will come soon but let me know what you think in the comments down below! If you are new please consider Subscribing as it motivates me to keep this blog going!