Details Make The Man
For the past year I sang songs about the store Granqvist Sweden. A small shop located close to the center of the majestic city of Stockholm. A small, local business with a lot of heart and above everything excellent customer service and some of the best accessories for men in the world. In my opinion that is.
From vintage pocket squares to the most incredible ties and bow-ties or other small goods, you can always find something great here. As a small business owner myself I feel a deep connection with such stores and always try to support them. Especially if they operate on such a high level of quality.
In today's article I was fortunate enough to receive two amazing ties of my choice from Granqvist Store. One is a gorgeous purple silk tie with geometric shapes while the other my first ever Shantung regimental tie.
Let us drink some warm coffee together and go through this review while snow nests on the porch of my window. Stockholm is a majestic place during the winter after all.
Granqvist Store Is The Manifestation Of Doing What You Love
My first encounter with the eponymous owner Henrik Granqvist was more than a year ago at the Stockholm Trunk Show. He is a very nice gentle person with wide knowledge when it comes to accessories.
When I talked to him we discussed about his vision to have his own store selling quality bow-ties and ties to people. All this while keeping a nice family, home atmosphere in the shop. Just like me Henrik does virtually everything which means marketing, selling or designing the collections.
The Store itself is near Saint Eriksplan which is a district not far away from the center of Stockholm. Located in Rörstrandsgatan 10, the Granqvist Store is full of character as soon as you step inside. Hundreds of colorful ties and pocket squares in every corner create a beautiful palette. You can even get things like premium shirts, gloves and scarves from various materials here.
Of course this means it can be daunting to choose as most men seem to have difficulty matching patterns and colors. However, Henrik himself or his very helpful staff can assist you choose the perfect accessory for your outfit.
Presenting Today's Review Items
Now now, let us finally begin looking at today's items! Thinking about how my wardrobe looks like, I think I made good choices. I wanted a classic silk tie to pair with most of my outfits but also something unique with texture for the flannels and structured jackets.
Let's take a closer look.
1. Printed Medallion Silk Tie In Purple/Yellow/Blue/White
I never expected I would be so thrilled to write about a tie. If you are like me and you wear suits all the time, you will most likely wear a tie as well. The problem with ties is that they can often be heavy or have a small "chocking effect" after many hours. This is especially the case if you tie a bulkier knot.
This one was one of the first ties I saw when I started looking. I absolutely loved it. The color, the pattern and how amazingly thin it is. While I think this one was a store exclusive, you can find a selection of Printed Medallion Silk Ties on the website.
So why am I heaping praise on this so much? It is just a tie after all right? Well honest to god this is the best tie I have ever had. I might not know much about construction or history, however I can spot a quality item from miles away now. The moment you touch this, you will understand how luxurious and soft the silk is. Nothing like the plasticky feeling many cheap ties have.
Another incredible feature is how thin this is. A Self-Tipped model with a three fold construction that is so light I can hardly describe it with words. I never wore a tie before in my life and felt that I am not wearing one. I remember rushing to message Henrik after I put it on for the first time to tell him that this is the best tie I ever tried.
The weaving follows a twill pattern and everything is so meticulously made. There are no loose threads, there are no inconsistencies of any kind and you can just zoom in with your eyes. Every detail laid before your eyes to feast. Of course the same applies when you look at the back side. From the branded loop to fit the skinny part of the tie until the "Handmade in Italy" part it feels like it is worth the money.
2. Shantung Regimental Tie In Green/Navy/White
Why are people so afraid to wear Regimental Ties? I have quite a few suits and jackets with texture, which was the perfect opportunity to try something different. Shantung is pretty much raw silk and this explains the rougher, heavier texture it has.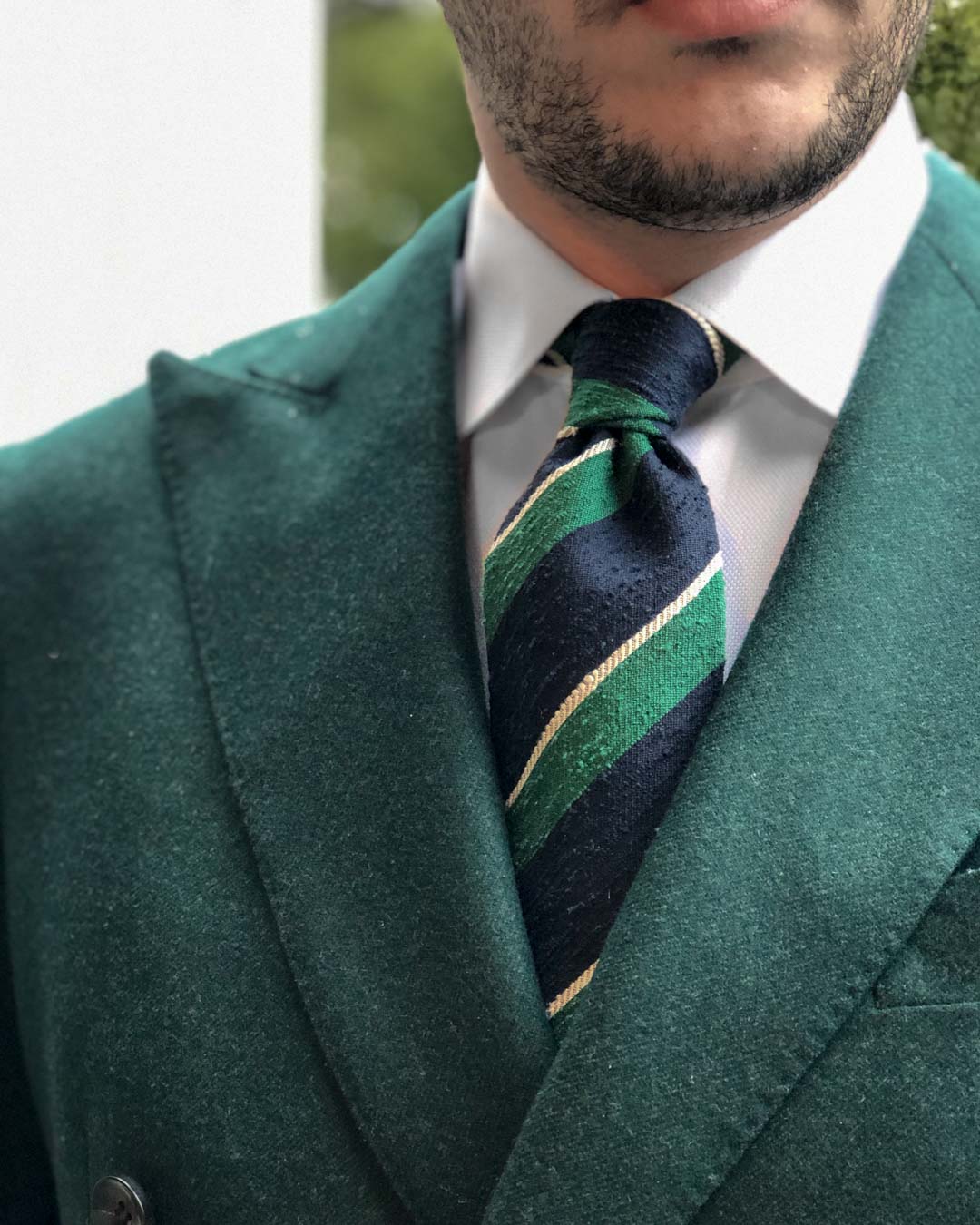 This one in particular is a really nice combination of blue, white and green that matches well with most outfits. Here are the official specifications:
Shantung Tie in 100% silk
150 x 8 cm
Untipped with Handrolled ends
Four fold construction
Made by hand in Italy
While I can totally understand that the texture on such ties is not everyone's cup of tea, it is still very interesting to look at. The "irregularities" are part of the character of Shantung Silk just like the scars are a part of Kudu Leather. It makes the perfect match for my flannel green suit.
The edges are untipped and handrolled and it has a thinner interlining than usual. That means that these ties are indeed heavier than printed silk but thinner than usual Shantung. It is quite cool and it can produce a big knot. I find the width just right as I could fit my tie clip 3/4 of the way which is the ideal sartorial situation.
So How Do You Match Them?
This is quite a difficult question to answer in a few sentences. It really depends on a few factors, but there are some ground rules I will share with you.
First of all always try to match the textures and feel of your fabrics. A worsted wool suit in S130 is most likely going to look out of place with a flannel shirt or a cashmere tie. Likewise when you have some linen, cotton or flannel clothes try to use some texture.
Pattern on pattern can be tricky at first but is not rocket science. Generally if you have a tie or a pocket square with a busy louder pattern try to keep the rest of your outfit more clean and simple. This way you put all the attention in those items instead of creating confusion.
Expanding on the last part if you choose to have similar patterns such as stripes on the suit and shirt it is essential to have them in different proportions. Otherwise this creates once more confusion and a weird feeling. I would not start with more than 2 patterns on the whole outfit as it is more advanced.
Knots are another controversial subject for many. There are literally hundreds of knots to choose from, some of which are ridiculous. Stick with a few basics like the Windsor and Four In Hand. Personally the Double Four In Hand is my favorite and looks good with every collar. Instead of trying to be extravagant with the knot why not focus on the details such as improving your dimple?
Quality Of The Granqvist Store Ties & Pocket Squares
I must have 3 or 4 pocket squares from Granqvist now and I absolutely love them. Especially the wagon in linen cotton and blue/white is my all time favorite. I already talked about the quality and the details, but I find it imperative to do one more time.
What you get is top quality construction and materials while spending half of the price of a Drake's Tie. And I can tell you these are certainly on par with them. Before wearing the Purple one I never thought I would be willing to spend more than 50 Euros on a Tie yet here I am.
And if you think I am biased, you can check out all the different reviews and comments they have. Don't forget that I am a buyer too and I am very careful with my purchases.
Support Granqvist Store & Small Businesses This Christmas
I am always a fan of supporting passionate people that do something they love and live off it. It shows in their work, the communication and their products. Henrik Granqvist is certainly one of them and I will be a huge fan for a long time. If you are looking for a new tie or accessory or the perfect Christmas Gift please make sure to check out Granqvist Store. There is so much to choose from and if you do, maybe leave a comment and share your experience with me.
I would like to thank Henrik for showing me what a tie can be and educating me on construction and details. And of course providing me with two gorgeous ties that I can eventually pass down to my son one day. Because good things are an investment and will last a lifetime.
This concludes my Review on the Granqvist Store Ties! I hope you enjoyed it as much as I did writing it. If you have any thoughts or questions, please leave a comment and don't forget to Subscribe as we are nearing Christmas!
Thank you for reading,
Kostas Mandilaris,
Misiu Academy