New Month, New Interview!
Join me as I sit down with Daniel Porcelli, Founder of Cobbler Union to learn more about his journey.
In fact, the timing was perfect, coming right off the bat of their Suede Chukkas Review.
A lot of questions, a lot of curiosity so grab an iced latte and enjoy the show!
1. Thank you for spending some time with us Daniel! Please start by giving us a short introduction about yourself!
Hello readers! My name is Daniel Porcelli.
I'm basically a man shaped by three different and unique worlds.
I spent the first 18 years of my life in Argentina, where I was born. I've lived in the U.S. for the past 30 years and have been very fortunate to frequently travel to Europe for business over the past 10 years.
I've taken what I consider to be the best "stuff" from each place and consider myself an open-minded global citizen.
Professionally, I have a traditional business background, holding degrees in economics and business.
Before jumping into the world of shoemaking, I worked for large and small organizations, while specializing in marketing and consulting.
Above all, I'm the luckiest husband in the world and the proud father of Francesca and Stefano.
2. I am genuinely curious why did you choose the shoe industry? What was the catalyst for your involvement in shoemaking?
The main reason I do what I do is my love and passion for entrepreneurship and the shoemaking craft.
There is nothing I rather do than dedicate my life to growing Cobbler Union while preserving and promoting our trade.
3. Every story has a beginning. How did the Cobbler Union adventure begin?
Every experience in life teaches us something.
For my co-founder and I, immersing ourselves in the world of bespoke shoemaking for almost three years, prior to Cobbler Union, taught us three things:
High-end classic shoemaking is a fascinating world we wanted to be a part of
A fragmented and "old" industry like shoemaking was primed for disruption
Most importantly, if we did it well we could build a world-class organization and leave a legacy in the process
Thus, in the fall of 2013, we imagined Cobbler Union and embarked in a most extraordinary journey.
4. It's very true that the industry required some modernization. What would you say is Cobbler Union's ethos and mission?
At its most basic level, Cobbler Union aims to preserve and promote our extraordinary craft and to help men discover the power of style and self-expression.
5. Looking at the Omega in your Logo, I always got Ancient Greek vibes in it. How did you end up with the name Cobbler Union Daniel?
Sorry to disappoint you here, Kostas!
No intentional Greek influence in our logo…However, now that you mention it…
Seriously, as industry outsiders, with much different goals than most of our peers, we never thought about naming our company after ourselves.
The word Union came to mind first because we encountered a broken industry in great peril.
We thought, if we are to help this industry grow and prosper, we need everyone to pull in the same direction (i.e. Union).
We also wanted to build an unpretentious luxury footwear company. That led us to think about the word Cobbler, which doesn't even mean shoemaker!
However, we appreciated its colloquial meaning and hoped most people around the world would associate Cobbler Union with handcrafted shoes!
The two words combined, Cobbler + Union, represent our belief that everyone involved in our trade: tanneries, manufacturers, brands like CU, influencers, the media and, most importantly, our customers, must work together in order to preserve this craft for future generations to enjoy.
6. I think you make a great point about the words shoemaker and cobbler. The million dollar question is who and why comes to Cobbler Union for shoes instead of going to a more "established" brand such as Allen Edmonds or Carmina. What makes you unique?
We obviously work in an extremely fragmented market where many brands can sell and prosper.
Knowing this, we have worked very hard to carve out our own niche from day one, not just sell shoes.
We've done so by constantly refining our original value proposition: allowing men the opportunity to purchase world-class handcrafted shoes at a fraction of the price they would pay at a luxury retail store.
Ultimately, we make some of the best shoes in the world, sell them at an extraordinary price point and provide industry-leading customer service. This is why, I believe, customers come to Cobbler Union, and why so many keep shopping with us for years.
7. You recently celebrated your 7th anniversary recently. What a milestone! Did you ever expect it would grow so much?
We're very proud of turning 7 for sure!
Growth has always been an important factor in all decisions we make.
However, healthy growth, we believe, is even more important in our category.
This has been especially true during this unprecedented pandemic.
8. I'd like to talk about shoes now! How does a seasonal collection come to life?
Instead of working on seasonal collections we work on fine-tuning our collections in 18-month cycles.
As you know, classic shoes have great staying power. This allows us to refresh and improve the collection on an ongoing basis, giving us the ability to assess demand and to react to any shifts in customer preferences or behavior.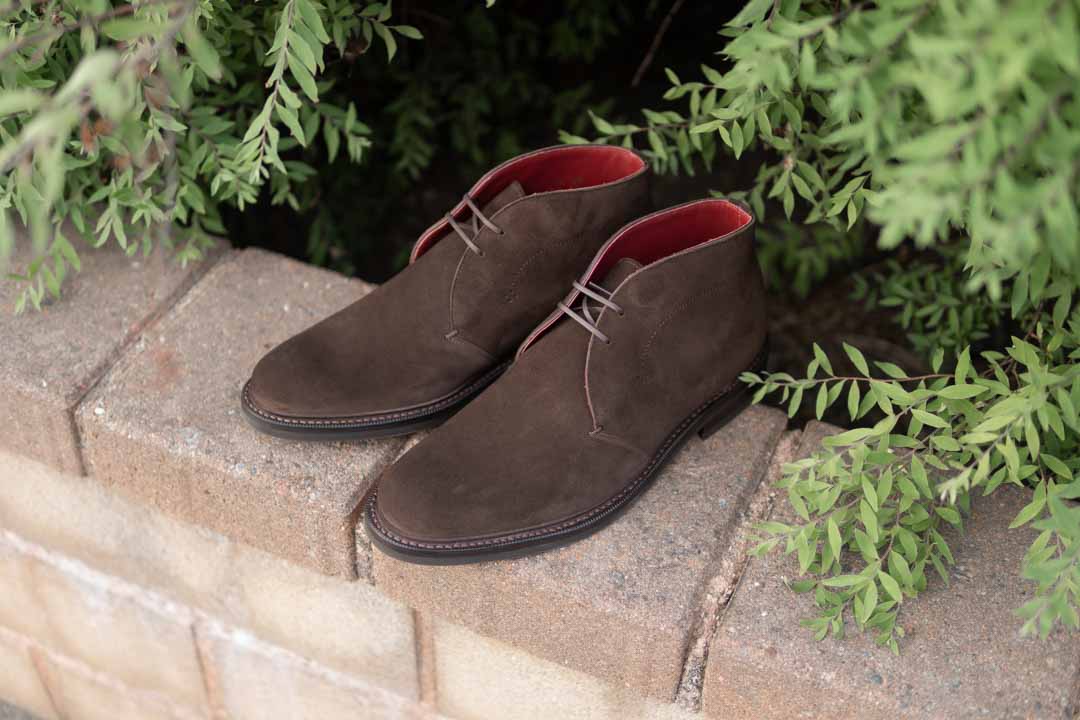 To better illustrate what I'm saying, we're currently working on several new boots for the fall/winter 2021-22 collection and new loafers for spring/summer 2022, while also developing five new lasts we believe can complement those we already offer.
9. You make a fine point Daniel. Classic shoes will always be in demand. How much influence do you have in the creative direction of the company?
As CEO and Creative Director, I can certainly be blamed for all the good and the bad at Cobbler Union.
However, my marketing and production teams play an increasingly important role in sourcing materials, developing shoes, improving quality; thus, positively affecting our products and brand on a daily basis.
10. Were there any people or brands that influenced you?
Too many to mention!
As a former consultant, I like to learn from those doing amazing things, not just in shoemaking.
I can be inspired by Elon Musk one minute, by Hermes the next, and by the most obscure Japanese shoemaker the next.
In terms of direct influence in how we think about shoemaking, I have great respect for legacy shoemakers such as John Lobb, Edward Green, JM Weston, etc.
11. What is your favorite model or make up during these 8 years of development?
I love our boots the most. All of them.
12. Love the confidence! How did you cope during the pandemic? Did you have to rethink your strategy, alter your business model? Did you use the downtime to make improvements in certain key areas?
Keeping Cobbler Union alive during this pandemic has been the most difficult thing I've done in my professional career.
Back in March 2020, we had to cut our overhead in half. We had no idea how long the pandemic would last, but never expected it to last this long!
Most importantly, we didn't know how much we could sell with everyone working from home.
So, we focused on our existing customers offering them great incentives and, honestly, asking them to help us keep our wheels turning. They came through and I can humbly tell you we wouldn't be here without them.
During these difficult times, we invested a lot of time and effort in improving our technology, systems and internal processes.
We worked very hard to make our global operations the best they've ever been.
13. I totally understand and respect that and it's what I did albeit in a smaller scale. To those of us that supported us during the hardest times thank you! Looking back, is there something that you would have done differently?
Knowing what we know today about the duration of this pandemic, I'm sure we could have cut our expenses even further, earlier.
14. What would you say is the most rewarding part of your job?
By far, seeing customers come back year after year.
15. The "customer is always right" is rubbish. You have to still keep them as happy as possible, but also sustain your business. How do you keep a balance especially with customers that are just impossible to please?
We believe customer service is the only sustainable competitive advantage a business like ours can have.
Our #1 job is to take great care of our customers. Doing so accepts no ambiguity. No matter the issue, our customers know we'll arrive at a fair resolution.
Providing a great customer experience is good business.
16. When I spoke to you and Katie I got the sense that Cobbler Union is a "family" of tight relations. How do you keep them your staff motivated and happy, but also focused?
It is true that we think of our internal and external partners as part of our family.
This is one of the coolest aspects of our industry: everyone is family-owned.
Long-lasting relationships are better than short-term transactions.
I believe this is a key mindset to be successful in this industry.
17. Why Spain and for example not Made in the USA or another country?
We're currently making products in Spain, Portugal and Italy.
These three countries, plus England, can produce, better than anyone else, footwear following strict quality standards and techniques we believe our non-negotiable for our brand.
Production clusters are extremely important in our industry. We need to continue to support them!
18. Why is the shoe industry in such a sad state?
Wow! I'm not sure I'd fully agree with that description.
However, it's true the Covid-19 pandemic hasn't been kind to our industry.
We all need to rethink our collections and business models. We ought to become much more pragmatic, expand our boundaries.
There are too many outdated third or fourth generation companies and even more "romantic" independents in this business.
We need to come together, consolidate and grow larger, healthier organizations.
Author's Comment: Here my intention was to focus on the casualization of menswear and fast fashion, but also the outdated business models Daniel mentions in his answer.
19. How do we re-introduce the dress shoe or sharper clothing to the youth and people of today?
I don't have an answer for that one! However, I believe we all need to broaden our perspectives.
While it may be hard to force a suit and a tie onto a young professional nowadays, it may not be as hard to show them how to dress as successful adults.
Regardless of what we do, we need to accept the fact that we work with an immense minority.
When you put us all together, we represent a significant group of people.
But, we'll never represent a majority. And that's OK.
The same is true in the world of sports cars, automatic watches, art, architecture and so many other fields.
20. Following that discussion, what are 5 shoes/styles any man should have in his wardrobe?
More than ever before, it really depends on how that man dresses for work and life.
Ten, fifteen, years ago, many of us wore suits to work.
Owning five pairs of classic shoes was normal, and enough. That's no longer the case.
Elegance has been massively redefined.
And, thus, an elegant man today will own fifteen to twenty pairs of shoes, including a few great boots, loafers, dressy sneakers, drivers…etc.
21. "Embarrassingly looks at his 50 pairs". Do you always base your decisions on data and due diligence, or sometimes follow your gut feeling and heart?
All of the above!
22. What does the future hold for Cobbler Union?
Most immediately, transitioning to a post-Covid normal is next for Cobbler Union.
We can't assume this thing is over (it isn't). Nothing is more important for us than seeing our customers go back to the office and resume their normal routines.
Once we're back to normal, we'll definitely focus on expansion both online and offline.
23. Last words for our readers! Give them some motivation or pep talk!
Keep reading what Kostas writes!!! Fair enough? And celebrate the art of dressing well. It's both fun and powerful.
Thank you for the opportunity, Kostas!
Afterthoughts
To begin with, I would like to thank Daniel Porcelli for taking the time off his busy schedule and answering my many questions.
Extended thanks to Chief of Staff Katie who is also wonderful and facilitated the connection between me and Daniel.
Generally, in many ways by reading Daniel's answers I did see a part of me in his business model and vision.
Consumer centric, modern, small-batch classic perfection with a twist.
Some things I disagree is the more liberal use of the word handcrafted and handmade (huge discussion) or that maybe our industry is healthy.
A discussion we also had and agreed on was the fact that companies in this arena should stick together and support each other.
There are tons of great brands and shoes out there for you to discover and certainly enough of the pie for everyone.
Just make sure to support your favorite business (not only during sales) and buy quality over quantity!
Overall, the shoes I received from Cobbler Union were good quality and could definitely recommend my pair.
You can check out and buy Cobbler Union shoes in their official website.
Who Would You Like To See Next?
I am always on the hunt for new interviews and interesting people to talk to.
Your comments and opinions are extremely valuable so let me know if you like these! Find all of the Interviews Here!
I'd also like to hear who you would like me to interview next and I will do my best to get them!
Until next time, peace out, stay safe, stay healthy and buy some shoes!
Thank you for reading,
Kostas Mandilaris,
Misiu Academy