A New Entry Level Brand From India
Another year gone soon! In the last article of 2020 I will take a look at the Brand Lethato Shoes from India.
More specifically I will review a pair of their Chukka Boots in Wooden Patina which Lethato was kind enough to provide.
It was a very interesting experience to say the least so keep reading to find out what I think!
A Bit Of Background On Lethato Shoes
Not so long ago I published a massive guide called "The 20 Best Chukka Boots" which proved to be a huge success.
A man named Albert contacted me shortly afterwards asking if I could include his brand in the list. The brand's name was Lethato Shoes.
I hadn't heard of them before but Albert's confidence led to me to investigate further. A few mail exchanges and a pair of Chukka Boots were on their way to me.
Honestly I can give them a thumbs up for the efficient communication and speedy replies.
Even though Lethato Shoes provided this pair you will see that my opinions are honest and constructive.
Who Is Behind Lethato?
After a bit of searching on LinkedIn I found out that a nice lady by the name of Vidhi Bansal founded Lethato Shoes in 2016.
The factory seems to produce small batches and low quantities of shoes in a workshop in the region of Agra in India.
If the shoes end up being good value I would be more than glad to support an honest Indian woman trying to make change and produce good shoes.
"Handcrafted" Indian Shoes
While waiting for my boots to arrive I began doing some research on Lethato.
Many people with interest in shoemaking will recognize that many companies outsource or manufacture their shoes in India.
There is an abundance of leather, affordable work force and some skilled workers. Many footwear giants make their shoes in India actually such as:
Nike
Adidas
Clarks
Gordon & Bros
Bridlen
Grenson
Loake (their cheaper lines)
And these are just a few. There is certainly a stigma associating Asian countries with lower quality or counterfeit products but you should remember that right now some of the best shoes in the world come from China such as Acme Shoemaker.
When it comes to Lethato Shoes they are very smart to ride the "Handmade" or "Handcrafted" wagon.
In reality, there is nothing handmade about these shoes apart from maybe the patina. Let me explain.
To begin with the shoes have a Blake Stitched Construction and done by machine. There is nothing like Hand-welting (there isn't any), Hand-lasting or Hand-sewing on the boots.
People often call it Handmade because there is a human hand possibly operating the machine.
I wrote a big article debunking the myths of Handmade Vs Handcrafted that I recommend reading.
Price Point & Features
Before we get into the actual in-depth Review of the Lethato Chukkas I want to discuss the specifications and some initial thoughts.
Lethato Shoes use their website as well as Amazon and Ebay channels to sale their shoes. The easiest way to see the entire collection however is through their own website.
There is a variety of shoes and boots with different styles focusing on colorful combinations like wingtips and Jodhpurs.
The cheapest shoe on the website will cost you $130 while the most expensive boots $249. I will discuss their value proposition in the late stages of this review.
Brand: Lethato
Model: Classic Chukka Boots
Color: Wooden Patina (Brown)
Leather: Full Grain Genuine Italian Leather
Sole: Half-Leather (Argentinean) & Half Rubber
Eyelets: 3 Blind with metal aglets
Construction: Blake Stitched
Price: $199
Origin: India
As you can see the specifications are actually not that bad on paper. However the keen eye would argue that Lethato Shoes would have to cut significant corners to achieve this price point.
Additionally, you are entering Meermin and other Goodyear Welted Shoes territory at those prices.
One thing I should also mention was that I found mixed Customer Reviews on the Internet with valuable information what to look for.
In order to find out if Lethato provides good value and quality for the price I will do a thorough Review.
Unboxing & Delivery
As aforementioned my communication with Lethato was quick and efficient. I received an email with a DHL Express tracking code shortly after.
Even though I use DHL Express for The Noble Shoe, it still surprised me pleasantly how quick the boots arrived.
It was not more than 3 business days from India to Sweden and that is mighty impressive. Great job there!
When it comes to the box I was not exactly sure how they fit in the boots as it is quite compact.
The box itself is from some form of recycled cardboard which is commendable. While prone to scuffs and delivery marks it holds up rather well I would say.
The presentation is rather Spartan as we say in my home country. However you do get:
A plastic shoe horn
A single nylon black dust bag
Two paper thin shoe protectors
The inclusion of the shoe horn is commendable however the nylon bag smells plasticky and a bit "chemical".
Your shoes will be packed rather tight and have some sort of paper inserts for form. However the right pair had a creased dent under the eyelets.
In comparison a pair of Meermin has a Goodyear Welt and comes with a better box for the same price.
This is something Lethato can definitely improve upon since nobody wants to received damaged shoes.
First Impressions | Lethato Chukkas
As always the first thing I do when receiving a new pair is to inspect it.
It allows me to discover any good (or bad!) features as well as make a quick opinion about the quality.
The Lethato Chukkas are in essence a pair of plain classic Chukka Boots. They have a plain toe, 3 eyelets and the minimal stitching that this type of shoe requires.
While the stitching density is not extraordinary, I must admit it is actually very neat.
They also do a good imitation of a "zipper" storm welt which is only for aesthetical purposes since the boots are Blake Stitched.
A bit of a chunkier sole certainly matches the style with a leather sole and "commando style" inserts. I am not sure what kind of rubber it is but reminds me of a lug sole with a rougher finish.
If there are some things that worried me those were the heel block, the finishing and the leather smell.
Real leather has a very distinct smell and this one feels a bit dull. I am also not sure that they Hand-paint the patina as they claim.
As for the last concern, I worry about the durability of the heel as you will see later on.
Leather Quality
Lethato's leather quality is fine for the most part but for $199 you can certainly do better.
While they claim Full Grain Calf you need to be wary of some things. First of all the say "finest Italian flexible leather". What does that even mean?
There is no information on the tannery however the leather is rather soft indeed. It has a glossy finish and only time will tell how it will age.
However this is a great time to mention another pitfall for potential buyers.
As you might know "Full Grain Leather" is the best part of each hide. But what part of the hide you take it from has a monumental effect in its performance and quality.
The best cuts come from the bend and butt of the animal. Nonetheless even if you use the worst cut like the belly it can still be Full Grain Leather.
In this case the way the leather creases indicates loose grain in certain areas which leads me to believe it comes from the belly of a cow.
Lethato's leather is fine as long as you understand that. Nothing exceptional though.
Tip: If you don't know what loose grain or full grain means I recommend my Shoe Leather Guide (Click Here)!
Finishing & Patina
A way to distinguish yourself from the rest of the market is by offering customization or patinas.
As leather ages it develops character and its color changes. Patina artists try to imitate this ageing by hand-painting the leather.
It is very rare to see this in lower price segments especially when the bar is set high by Carlos Santos and Septieme Largeur around the $300-400 mark.
The work on the Lethato Shoes is by no means bad but it certainly doesn't have the attention and depth of the brands above.
In fact it is very difficult to say if this finish is by hand. A more experienced Patina Artist can probably tell.
When it comes to the burnishing on the toes it actually fades nicely for the price with the rest of the uppers.
Update: Lethato confirmed that they handpaint the shoes
Stitching & Construction
I must admit I am not a huge fan of Blake Stitched Shoes and prefer welted footwear.
If memory serves me right this is actually the first Blake Stitched Shoes I review on this blog! I have nothing against it and it is generally very comfortable and easy to break in.
Honestly their stitching seems pretty good from top to bottom. Their "faux" storm welt is pretty good and I like the fact that they chose the "zipper" welt design.
There is one area over the heel block that they forgot to add but overall very impressive for the price.
You can say the same about the stitching of the uppers which is mostly double. Very consistent across the board and you have to look really close to see that some spots are not evenly spaced.
Tip: Read more about the different Types of Shoe Construction (Click Here)!
Inner Lining & Insole
Lethato Shoes have a substantial lining which is thicker at the top.
It's a little foamy to the touch but from briefly trying them on comfy for your ankle. The same goes for the insoles which have some nice soft padding to them.
There's not much to talk about here other than that but it's a good effort. I regularly see shoemakers ignore their insoles and they often lack cushion.
You know what? The trimming on the top of the shaft is actually quite tidy as well.
The Lethato Shoes Sole
Since these Lethato Chukkas don't have a real welt I can only talk about the build quality of the sole.
Starting with the outsole it has an interesting design. It is a leather sole (with emphasis on Argentinean for some reason) and a half-rubber commando style insert.
The rubber seems lower quality with not the usual robustness of commando soles and a lot of texture. You can probably see the ridges in the photo.
Lethato's leather part displays their logo and the sizing. It is a UK 8 but the US equivalent says US 8.5-9 which I assume is because some manufacturers claim the difference between US and UK is only half a size.
The finishing of the leather sole is a little messy with smudged color but I would really not care about it.
What I do care about is the durability of the sole and their inserts. Only time will tell but I cannot say with confidence it will hold.
Potential Issues
I don't often touch upon these areas but I wanted to delve a bit deeper into the outsole.
Most of the complains I read online about Lethato are about the heel cracking and detaching.
The edge dressing definitely lacks finesse with glue dripping around some areas. The one that worried me a bit more was the crack in one of the heels.
You can see the black part that seems to emulate a real welt and I suppose they glue it to the sole. Could it compromise its integrity?
I want to see how they will hold up however with 50 pairs of shoes it's challenging to emulate regular wear.
This is not a warning but more of a caution I would say.
Update: Lethato were kind enough to provide an update. They admit there were issues with the heels detaching 2 years ago but they worked to remedy the issue.
Last & Sizing Advice
Lethato has no real info on their lasts on the website.
The Last of the Chukka Boots has a medium round, slightly almond toe shape. I actually think it looks pretty fine on this pair with a gentle bevel.
As many of you might know I am between UK 7.5 and UK 8 in most of my shoes.
Ordering these in UK 8 was a bit of a gamble but the safest bet. If they were on the roomier side I would compensate with an insole or thicker socks.
It's a rather normal length last with a normal to slightly generous instep and good width.
Therefore I am glad to report that UK 8 is indeed my size and you should probably take your regular UK size.
Tip: For those in the USA size down one FULL size from your US. Example: A US 9D should take a UK 8 on these!
Are Lethato Shoes Comfortable?
This is a very interesting question to answer. The short answer is Yes, but there is a big problem.
Let me explain. The boots are super comfy which is often true with Blake Stitched shoes. Their leather seems a bit thinner and is rather supple so break in will be easy.
I tried them in the house and I am in fact wearing them as I type this. Almost forgot I am wearing them which is a good sign.
Regardless it is time to talk about the bad stuff. Remember that foamy nice cushion on the sides of the shaft's inner lining?
It squeaks. And when I say it squeaks it does it a lot with a quite annoying plasticky sound. This is often the result of leather rubbing against leather and the inner lining is quite thick.
Will it disappear with time? I can't tell but it is unbearable. No it hasn't and it will not. I decided not to wear them anymore.
Update: I will try some solutions I heard about and see if it makes any difference. The Lethato representative told me that they didn't encounter such a problem so it could be just my pair.
Is It Worth Your Money?
Honestly I think I tried to be fair and discuss the good and the bad.
When weighting things like the price, design, comfort and flaws I would personally not buy these Lethato Chukkas for $199.
The biggest drawback for me is the squeaking and the underlying uncertainty about the integrity of the sole and heel.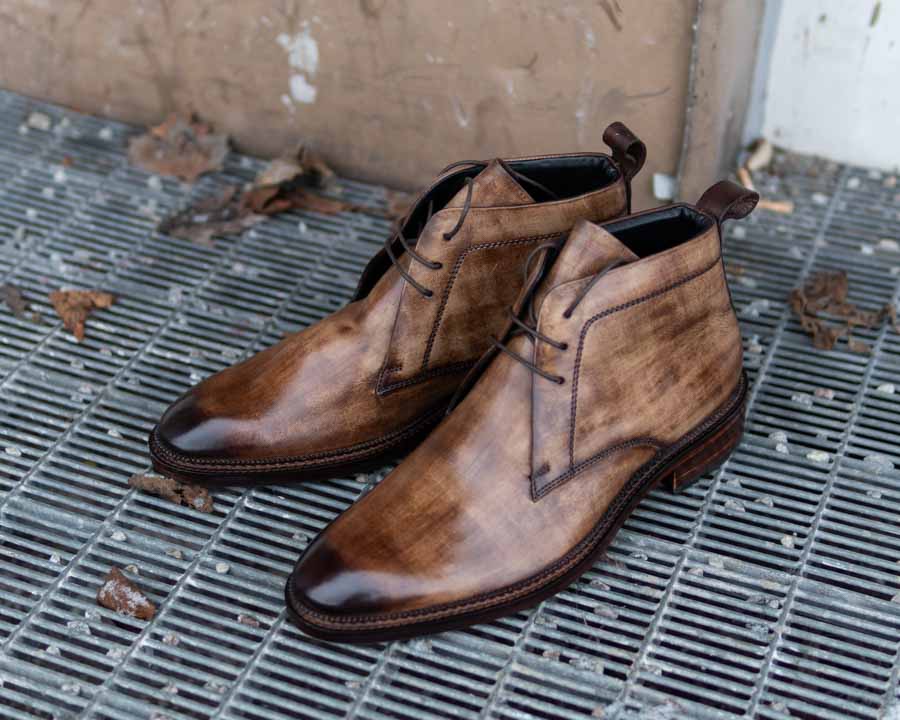 The entry level shoe market is extremely competitive right now and Lethato might find more success in its domestic Asian market. It seems really hard to convince someone accustomed to Meermin to switch to something new with inferior construction.
I don't know their costs however I feel it would be more appropriate to price these around the $130-150 segment.
In all honesty if I knew that this pair would squeak so much I wouldn't personally buy it at any price point. So I really hope this is an outlier.
All in all this is a fair, honest try by a rather new shoemaker and I do have to commend Lethato for their fast shipping and responsiveness.
In the meantime I will wear them as much as I can and update with my results!
Update 30/01/2021: After further inspection and use, I want to make it crystal clear that I DO NOT recommend buying these shoes.
Video Review
For those of you that prefer to watch, here is my YouTube Video Version. I recommend watching it all!
Concluding Remarks
While I am a "snob" now when it comes to footwear and suits I always try to test out new things on the high and low end.
This pair was a review pair but I warned them that my opinion will be an honest one and I believe it shows. I will never sugarcoat the issues just because I got a free pair.
I have enough shoes and I am more interested in the journey and bringing you all something new or rare. Such as this review of course!
In the end, you use my experience and the data you collect to make your own educated choice. In my short time with these Lethato Chukkas, they are decent shoes but the squeaking makes it unbearable for me.
If you have experience with the brand (good or bad!) please share it in the comments below or simply let me know what you think.
As always, if you enjoy the content please don't forget to Subscribe or share the article!
Thank you for reading,
Kostas Mandilaris,
Misiu Academy