Shoe Endgame With Saint Crispin's
Today I have the honor to do a Review about a pair of Saint Crispin's Shoes.
A Brand that is one of the best in the world, yet somehow eluded me until this moment. With the help of one of you, I managed to bring you this detailed review today.
Specifically, a Review of a Split-Toe Derby in Brown Russian Calf on the Saint Crispin's Classic Last.
It has the potential to be controversial, fascinating and incur deep thoughts and a new perspective.
Let's begin shall we?
Why Do I Have A Pair Of Saint Crispin's?
Usually when a person review's a pair of shoes there are two possible outcomes:
They bought it with their own money
The Brand provided them as a Review pair
Misiu Academy is a hobby blog and doesn't really have any income – apart from a few affiliate links in most articles that nobody clicks!
That and the fact that I have almost 50 pairs of shoes means that spending my savings to try the end-game shoes is not a priority. However, as the Blog and YouTube Channel grow, there are some of you that really appreciate what I do.
Specifically, one of my readers who wants to remain anonymous has a great shoe collection that wants the world to see. You can say that he is a "Shoe Aficionado from Romania", which is very fitting for this Review!
He contacted me and wanted to send me some of his shoes for me to Review and show you. It humbles me that someone would recognize my effort and appreciate what I do that much that he would send a "stranger" his own personal shoes that cost over $1000.
The great thing about this is that I can review them without any bias and from a different perspective.
I thank him very much and I hope you all enjoy what I have to offer you today with this article.
Who Is Saint Crispin's?
I always enjoy researching more information about companies.
Saint Crispin's enjoys a strong reputation in the High End Shoe Community and overall need no introduction. Even though I have some strong controversial feelings about them, they always feature in my Best Shoes List (Read Here).
Exclusive footwear for men with great construction and comfort and endless customization.
But who are they really?
Saint Crispin's Brief History
For those of you unaware, Saint Crispin's is a Brand that produces shoes in a very small scale workshop in Transylvania, Romania.
In fact, they only produce about 1600 pairs per year with 2/3 of that number being Made To Order Shoes and the rest Bespoke and RTW. Unless I am mistaken, their main showroom and headquarters are in Austria.
Their story is not as prestigious and old as the classic Northampton Brands however their shoemaking skills are undisputed.
Saint Crispin's made its first steps as a brand in the early 80's as third party patternmakers. Eventually they moved into Bespoke working in very small scale as their workshop tops at 30 people.
The actual name began circulating around 1992 and they attempted to use their expertise and years of experience and infuse a Ready To Wear Line with Bespoke level quality elements. It seems to work since there are many enthusiasts that share these thoughts.
Specifically, in an era where most companies make mass-produced welted shoes with mostly machinery, Saint Crispin's still does most of the work by Hand.
Which means Hand-Welting and Hand-Lasting the shoes and although they use machines for the sole, it is a very old technique. More on that later.
Who Owns Saint Crispin's?
Another topic I would like to briefly discuss is ownership.
You already read that it is a small-scale artisanal operation and the same applies for the management.
To my understanding, there are currently two key people taking care of operations in Europe and the USA.
Philip Car is the actual Owner/CEO of Saint Crispin's and an incredibly active man, traveling everywhere for small scale trunk shows and personal fittings.
In the USA however, Zachary Jobe (former Armoury employee) is often in charge of the area. Bear in mind that my data comes from research so please correct me if this is wrong now.
Of course, nothing would be possible without the amazing people in the workshops that put their heart and soul creating these amazing shoes.
Saint Crispin's Mod 508 Specifications
Before we delve in the actual Review I think it is always great to give an overview of the model in question:
Brand: Saint Crispin's
Style: Split-Toe Derby
Color: Mid Brown
Leather: Russian Calf (Hatch Grain)
Leather Code: RUS 075
Apron: Hand-Stitched
Eyelets: 5 Blind
Construction: Hand-Welted, Hand-Lasted, Machine Sewn 10mm Soles
Waist: Wood Pegged
Sole: Dark Brown
Sole Code: GE10
Edge Dressing: Dark Brown
Last: Saint Crispin's Classic
Width: F (Regular)
Shoe Trees: Maple Hollowed Lasted Trees
Size: UK 8
Made In: Transylvania, Romania
Price: €1489 (includes 19% VAT)
The price is approximately $1500 USD for you outside the EU and includes shipping. As you can see the specifications are quite detailed this time.
There are a few variations of the Mod 508 Split-Toe and the HA denotes a Hand-Stitched Apron while the 508 A uses a machine.
For full transparency's sake, the price of this particular model had a discount at about $1200 (excl. VAT).
Saint Crispin's Unboxing Experience
I honestly did not expect to receive what seems to be the original packaging.
When I received it, I could immediately spot the branded Saint Crispin's tape and the little markings that say "Genuine Hand-Welted Shoes".
Inside is what I assume the original Shoe Box which has a few surprising elements.
First of all, the box itself is sturdy in a nice natural brown color and thick enough to endure transportation. It's definitely not up to par with the luxurious feeling of the Paolo Scafora Box and it has a more "raw" feeling to it. Remember this word for later.
On the side you can spot a handwritten sticker with all the details of your shoes such as order number, model, leather code and size. They even write your name on it (blurred here of course for privacy reasons) which adds to the personal experience.
The moment you open the box it greets you with a delightful smell of what I can only call "tea flavor". Just like when you have some aromatic herbs/tea and you put them in hot boiling water and the aroma spreads around and enchants your nostrils.
These smells come from small cotton bags that resemble tiny hay sacks with a branded Saint Crispin's bow tie.
Tissue paper is also branded and you receive spare flat laces and possibly the best quality shoe horn I've seen. Metallic with an enameled gold finish. I think it is actually brass!
Another standout feature I found very interesting is the shoe bags. In a very genius move that makes me wonder why other companies not use, Saint Crispin's Shoe Bags have the shape of a shoe.
Made from heavier fleece/flannel material but most importantly an inside seam just like pillow cases. You know, when you put your pillow in and there's an extra piece of fabric at the entrance point to keep it inside.
What this does is allow each shoe to sit nicely inside the bag and not slip out or expose it to any hazards.
Note On Unboxing
A quick note here. I want you to remember that these are someone else's shoes and your experience could be a little different.
If there's something extra I missed let me know in the comments and I will add it in!
Lastly, I couldn't care less if the box is not gold or "amazing" and I just compared it to what I have at similar price points. I would never dock off points for something so trivial.
Saint Crispin's Shoes Review | Initial Impressions
I will start with a little controversial statement for many of you.
Most of the Saint Crispin's designs don't appeal to me or awe me. The overall shape, creations of people on the internet and the obnoxious filters they use on their photos often put me off.
The same happened here. Over the past year I converted into a big fan of Split-Toe Derbies. This is a divisive style of Derby Shoes that many people loathe or love with a passion.
In many cases, it is a style that you grow to love as your taste and understanding of shoes evolves. If you look at it from a simple perspective, this is a classic Split-Toe Derby with a Handstitched Apron and 5 eyelets.
Aesthetically it is quite similar in many ways to the Edward Green Dover although this doesn't have stitching at the back of the quarters for a cleaner look.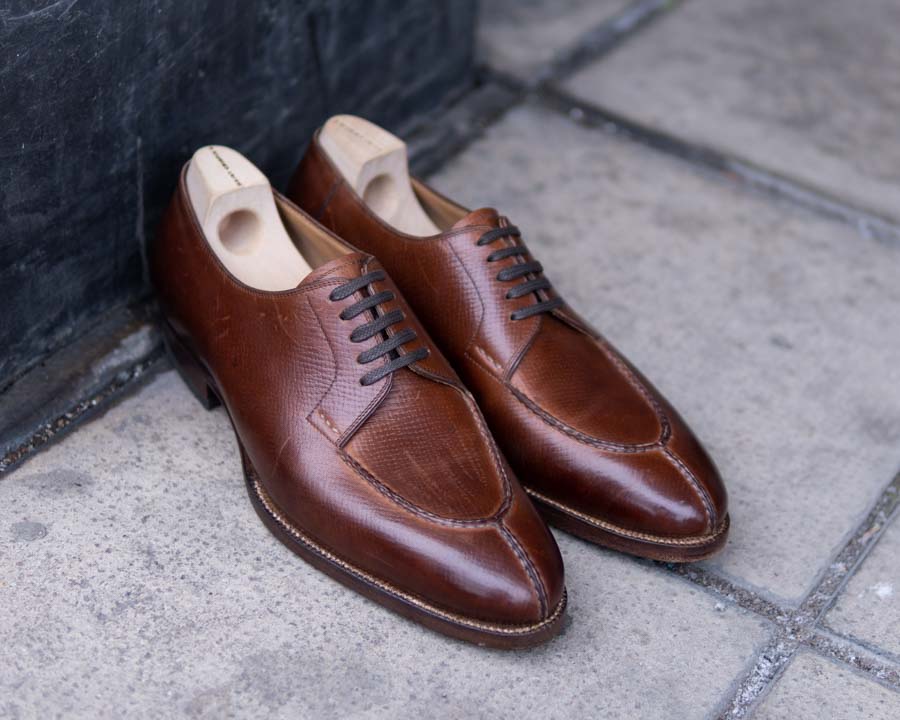 I remember posting this in our High End Shoes Facebook group and someone asked if this is Carlos Santos. Is this a compliment for Carlos Santos or a hubris towards Saint Crispin's?
Regardless, it looked like a solid shoe and surprisingly light no less thanks to the amazing lasted shoe trees.
The finishing of the leather didn't amaze me either, although the owner tried the pair on with a couple of scratches. It could also be sitting in storage for a while due to Covid and could maybe use a refreshing conditioning.
At first glance, it just didn't elicit any awe and positive feelings out of me. I will expand on this later in the last paragraphs of the Review so make sure to read that part before you castigate me.
Tip: If you want to learn more about Split-Toe Derbies and the Types of Dress Shoes make sure to read my Ultimate Guide (Link Here)!
Saint Crispin's Shoes Review | Leather Quality
I could probably write a whole separate article about the leather of Saint Crispin's.
In any case I will try my best to talk about it with reason and then personal preference. Strong polarized opinions make this topic extremely interesting as you either hate it or love it.
Mentioning this is important but not entirely relevant to this pair as it uses Russian Calf or Hatch Grain Leather.
Saint Crispin's uses mostly crust leather, which is natural without any color or dye. They receive that from the tannery and then normally proceed to cut the patterns and sew the uppers. When the shoe is ready they will then apply the dye and paint them to your liking or desire.
Crust leather does not always go through the same process like other leathers (the ones dyed in the tanneries) and is more supple, less stiff but also thinner.
This gives it certain qualities that you might (or might not) like:
It will crease much more very quickly especially at flex points
It will age quicker with a natural patina
If you don't like Patinas or despise heavy creasing these are not for you, or you should choose another type of leather such as suede. Here I should also make a note that while I hate heavy creasing "LEATHER CREASES DEAL WITH IT"!
Back to this model now that I cleared things up.
Update 04/02/2021: Crust leather can be both thin and thicker. Creasing does not have a particular creasing pattern compared to aniline. The leather Saint Crispin's uses comes from a Polish Tannery and is quite thin though. Thanks to Jesper from Shoegazing for the tips!
Russian Calf Leather
Observing and feeling the shoes confirms some of the thoughts and facts above.
First of all the quality of the hides Saint Crispin's uses is excellent with top notch full grain leather. It's quite supple during wear and smooth but has very strong structure at the quarters, opening and bottom of the shoe.
Russian Calf looks like a form of discrete scotchgrain with those microscopic grids that add just enough texture. This texture seems to slightly fade towards the toe and edges of the shoe.
I don't have anything negative to say about the actual finishing, although there are certain points such as the edges of the apron where there's no color for a lack of expression.
There are two kinds of people here. One that will not like this effect and prefer a more uniform "perfect" color and the other. The one that will appreciate the reminder that this shoe was handpainted for them.
One thing I note about this pair though is that it seems to get scratched really easily.
Nonetheless the more time I spend with the shoe the more I begin to appreciate its appearance and unique qualities.
Inner Lining
In most reviews I don't really have much to say about insoles and the lining. However in this case I feel I should expand a bit more.
To begin with, Saint Crispin's Shoes have an actual full insole and not a half-insole you see in most shoes. It's smooth and soft and sanded to perfection with an almost glossy outlook.
Upon further inspection inside the shoe you begin to appreciate the inner lining which we often overlook.
Here it is brilliant, well-trimmed at the top and with superb leather with the most delicate feeling. You need to touch them to understand but it has a seamless transition from smooth calf to a "sueded" feel towards the heel cup.
The only better one I saw was the Maftei "one piece" lining honestly.
Lastly, a detail you will often miss is the handwritten details on the bottom of the tongue rather than the sides of the shoe.
Saint Crispin's Shoes Review | Construction
While talking about the construction of Saint Crispin's Shoes I will also discuss a few other things.
Outside of their Bespoke, Saint Crispin's Shoes are:
Hand-Welted
Hand-Lasted
Wood-Pegged with machine stitched outsoles
The first two are certainly what you would expect from an exclusive shoemaker. It is the choice of wood pegging that slightly baffles me for a few reasons.
Among Bespoke Shoemakers that offer this rarer form of construction, it is the cheapest and easiest. That's at least what Mr. Maftei told me.
Their durability is a bit less and it is harder to find someone that can replace the soles. Then again, people that have such shoes are likely to have a larger collection and big rotation. Quite unlikely you will wear them out and even then you can probably refurbish them via Saint Crispin's.
What Is Wood-Pegging?
Until the last few months I never had a close encounter with Wood-Pegged Shoes.
I talked about this before in my Methods of Shoe Construction (Read Here!) and during my Septieme Largeur Review (Link).
During research for this article however I found a fantastic old book that you can read about Shoes from 1891. It also discusses the first appearance of Wooden Pegs or "Pegged Construction".
"A construction method where the upper, insole, midsole and outsole is attached with pegs, either made of wood or brass. The shoes are constructed without any glue. Not very common nowadays but a few high end bespoke brands offer this for classical men's shoes."
(1891) ", in Bryant, J. (ed.) Shoe and leather trade. : , pp. 42-48.
In lower tier shoes they glue the waist, however high end brands stitch it. If you want to read the book you can find it for free here (Google Books Link).
The Saint Crispin's Sole
I struggled a bit in this section because I wasn't sure what to write.
The sole itself is fantastic and what you would expect from this price category. Anything from the edge dressing to the hand-painted sole is a joy. Specifically I enjoy the shade of brown they chose.
This custom model has an extra textured rubber layer at the heel which I assume helps with grip.
The really interesting part is the waist. It's not extremely beveled (my Maftei is much tighter) with a discreet fiddleback. If you remember Paolo Scafora soles are also similar but it seems some people are hell-bent on having the tightest waists possible.
Saint Crispin's also does a very good job with the closed channel stitching and it's virtually invisible.
On the middle part you can spot the pegs too. I counted about 32 (16 on each side) if I remember correctly.
Overall a good sole with attention to detail.
Saint Crispin's Shoes Review | Pattern & Stitching
In this section we will discuss two important components of a shoe: Stitching and Patternmaking.
Since I have a lot of things to say I will allocate one sub-section to each one of them.
The Split-Toe Pattern
Split-Toe Derbies are difficult to get the proportions right. The place of the split dictates the overall appearance of the shoe.
Put it too low and it looks like a boat, but put it too high and it looks ridiculous to my eye. When I look at the Mod. 108 shoe I struggle to understand who finds it attractive. Put down the pitchforks and the tomahawks, it's my opinion. If you like it, then that's perfectly fine.
The 508 is just right. In my eye the most beautiful Split-Toe Derbies in the market are the Antonio Meccariello Centurion and the Paolo Scafora 583.
However this Saint Crispin's model does some things right. For example I really like that there is no stitching at the back of the quarters. I also like how nicely they stitch the facing and the spacing of the eyelets.
On the other hand there is one tiny detail that bothers me aesthetically. At the bottom of the facing, there is a small individual stitch right above the main seam that seems to offer extra support and structure between the vamp and the lacing system. I cannot take my eyes off it.
The whole shoe is a little asymmetrical from a bird's eye view and triggers my OCD slightly. Like I mentioned before, the have this "raw" contemporary feeling to them and seem to go under the radar. One person on Styleforum with an envious shoe collection said they wouldn't make top 3 in beauty, but that's not their purpose.
This got me thinking about who and why prefers Saint Crispin's Shoes and I will certainly reflect on that before the conclusion.
Stitching Quality
Now now, I have good things to say too.
The stitching on this pair is impeccable along with the clicking from top to bottom. There's not a single bad thing to say as the quality and stitch density is superb across the board.
Whether you look at the handstitched apron, the facing or the welt you will smile and visualize the person making this.
In fact, if you really look closely at the welt you might notice some tiny irregularities which indicate someone did this with their hands. Such a nice feeling and a work of art.
The heel cup is so tight and elegant and the edge of the sole trimmed to a nice amount. You will spot just a bit of the sole from the top adding some necessary width.
Saint Crispin's Shoes Review | The Classic Last
Saint Crispin's refer to it as their "Signature last, elegant and timeless for a versatile use".
When I look at it from above it seems like a balanced mix of a soft round and almond last. I don't see it as something special at least on this model and I would prefer the original Riva Last.
It has a gentle nice bevel in the inside of the shoe but I cannot shake the "boaty" feeling it gives me. It feels more contemporary than modern so to speak.
The heel cup is phenomenal though with a beautiful elegant shape and asymmetrical top.
Saint Crispin's Shoes Review | Shoe Trees
I don't think I ever had to make a section about shoe trees before on Misiu Academy.
While I own amazing shoe trees from Maftei Vienna and Paolo Scafora, I stumbled upon an amazing video on YouTube and learned more about the history behind this.
Did you know that Saint Crispin's has employees on the workshop that work exclusively with shoe trees and lasts?
It seems that three people do and that one pair of shoe trees takes up to 8 hours to make from a block of wood.
Can you wrap your head around that? There are so many steps to ensure that the shoe trees are a direct copy of your last, fit perfectly and help retain the shoe shape in the best possible way.
Remarkable to say the least but honestly what amazed me the most was the fantastic video about this.
For those of you wondering, the only difference hollowed trees make is the lightness. They are the perfect travel companions and that's their main purpose.
Potentially they might also help with ventilation and circulation of air. Plus, they look super cool!
Lastly, compared to many shoe trees out there Saint Crispin's use hinges rather than springs and they are simply better. Quite interestingly, Gaziano & Girling shoe trees use springs which is disappointing for some.
Saint Crispin's Size Advice
So these shoes are on the "Classic Last" in a UK 8 size.
It has a regular width and I tend to hover between UK 7.5 and UK 8. My forefoot is a little harder to fit at the widest part and I do have a higher instep especially on the right foot.
While I did try them on I cannot give 100% accurate advice during normal wear however I will share my thoughts. After all, this is not my pair so I was as gentle as possible to avoid creases and sole wear.
There is a good amount of space on the front between my toes and toe area of the shoe. By good I mean the right amount in what seems to be about 1.5 cm.
Most importantly I don't feel any pinching on the widest part of my foot and little toes which is often the problem with chiseled lasts. The instep feels right with the slightest hint of extra space but it's also a Derby. Probably a better choice than an oxford if you have similar issues.
Lastly, the heel cup hugs my foot rather well with the tiniest of space available. I wouldn't call it heel slip but if you wanted a super snug fit you might add a heel pad. However I would not size down as it would be too narrow.
To conclude, I would say these fit rather true to size and advise you to take your regular UK size. If you are in the US size down 1 FULL size from your regular US D. As an example If you wear US 10D take a UK 9 in this last.
Personally I found these fitting similarly to Carmina Rain and Crockett & Jones 348.
Are Saint Crispin's Shoes Comfortable?
Another controversial topic is comfort.
Reading through Simon Crompton's Review I was negatively prejudiced when it comes to Saint Crispin's.
In his Review on Permanent Style he mentioned that they are extremely stiff in the beginning. And then he added:
"That structure is the one thing I'm not  sure I can get used to in Saint Crispin's."
Simon Crompton, Permanent Style (Source)
The reasoning behind his thought is the Wooden Pegging which uses a leather larger stiffener that goes all the way from the back of the heel towards the middle of your foot. The wearer benefits from better arch support but is also requires more wear to soften up. On the other hand it tends to retain shape better.
Why do I mention this? Because without even trying them I felt I don't want to have stiff shoes. It shows how much a large "influencer" can influence you with mere words or his own experience.
However, after handling this pair it surprised me how lightweight they were. Most importantly when I put them on they felt great.
No stiffness whatsoever, no discomfort anywhere. And for those of you that argue that it's a used pair, the original owner told me he merely tried them on. You can actually see from the sole condition that the only wear was in-house.
Of course I have no experience in everyday conditions and longer wear but this was my first feeling. I understood more why the Styleforumers rave about the "Best RTW Fit ever".
My advice is try them on if you can and decide for yourselves.
The Handmade Debate
Many Brands like to use the term "Handmade" or "Handcrafted" these days.
They try to generate enthusiasm, credibility and of course sales. In fact, outside of true Bespoke Shoemaking there aren't really Handmade Shoes since they use machines to sew the uppers.
Sewing the uppers by hand is laborious, time consuming and ultimately has no benefit at all. If we take that outside of the equation there are three key parts that define "Handmade" Shoes:
Hand-Welting: Sewing the Welt by Hand
Hand-Lasting: Lasting the Shoes by Hand
Sole: Sewing the Sole by Hand
Once again, sewing the sole by hand is impractical for Ready to Wear and a select few companies do it. Meermin's Linea Maestro and Vass Budapest to name a couple.
On the other hand (pun intended), Hand-Welting and Hand-Lasting have their merits and are a sign of labor, skill and finesse. More high end Brands do that but interestingly you will not find a single British Brand that does that outside of Bespoke.
That's right, Gaziano Girling, Crockett & Jones, Edward Green and John Lobb all are machine Goodyear Welted without a single sign of "Handmade". Yet they call themselves it right?
Does that make them inferior shoes? Absolutely not their construction is great but as a customer I feel more inclined to pay such money for a Hand-Welted Shoe.
Saint Crispin's is very transparent about this actually and it's commendable. In my book they are Handmade.
Update 04/02/2021: Linea Maestro seems to machine stitch their soles after all.
Real Craftsmanship In Motion
One of the best parts of my research was stumbling upon yet another incredible video by Saint Crispin's.
It's a little over 15 minutes and shows the entire process of making one pair of shoes.
Simply breathtaking and I cannot wait to study Bespoke Shoemaking in 2022.
Are Saint Crispin's Shoes Worth It?
As aforementioned countless times during this Review, it might be hard to explain to the average individual why he should spend $1500 on one pair of shoes and be happy yet temper his expectations.
First of all, if you watched the video above you will see how much effort and skill it takes to create just one pair of shoes. The whole workshop produces 1600 pairs a year, while Allen Edmonds makes 1 million shoes in the same timeframe.
This is the real deal, handmade genuine old-school shoemaking. If you are content with buying cheap garbage from Zara and HM I wonder what are you doing here. Those that seek value and decent quality will also not bother due to the premium price.
In all honesty, if you want good, functional quality shoes the sweat spot is between the $300-$500 mark these days. If you want something more though such as heritage, exclusivity and the finest materials and construction Saint Crispin's Shoes are hard to beat.
Once again, while the beauty of some patterns is debatable and a personal preference, Saint Crispin's gives the ability to people to create their own shoes. In the precise way they envision it. If you add great arch support, great fitting lasts and a superb personalized last system with modifications then it's not such a high price to pay.
However if details like the lack of a tight fiddleback, thinner crust leather or non-flamboyant models don't inspire you, this might not be the brand for you.
Regardless, there's no denying that these are one of the top shoemakers in the world and will be for decades to come. If you are in that ballpark I recommend you at least try them on.
Extra Personal Thoughts About This
I wouldn't buy this shoe. It doesn't get that "Marie Kondo" feeling out of me and I think I know why.
Because this is not my shoe and because this is not what I would have designed. I don't care for it in other words. Does that make sense?
I would certainly choose something more flamboyant and special that would represent who I am. I am not bashing Saint Crispin's and actually admire them with huge chunks of respect.
But the next time I try them and spend that much I will create something glorious.
Where To Buy Saint Crispin's Shoes?
I suppose it's good to have a small section about availability.
In general you should always go through their Official Website but some of you might want to try them in store or support your local retailer.
Here's a Link with all the retailers in the world at the moment. Not as widespread as other brands but some solid branching including potential trunk shows.
A very interesting fact is that there is not a single shop in the UK that retails them. Looks like the recent Cavour store in London does retail Saint Crispin's!
Video Review
For those of you that prefer the Video Format here's my YouTube Review instead!
Saint Crispin's Shoes Review | Conclusion
If you made it this far congratulations. This was my longest, most thorough review yet and an honor to have Saint Crispin's Shoes here.
In fact this review was almost twice as big as the next one clocking at about 5000 words. It was an engrossing experience which altered (or bettered) my viewpoint of high end shoemaking.
What it taught me was that there's more to a good shoe than just looks and more often than not the secret sauce lies in the parts that you cannot see. For example it is impossible to convey the feeling of support the shoes have for a person with plantar fasciitis like me. You have to try them on.
Despite my controversial points, I feel I did these shoes justice from a neutral point of view and decent photography. I would like to hear your opinions in the comments if you have or want to buy Saint Crispin's Shoes.
If you enjoy the article please Subscribe to support my little hobby blog. Be safe and have a good week!
Thank you for reading,
Kostas Mandilaris,
Misiu Academy