Black Friday Is Back
In this article we will talk about Black Friday Deals of 2022 for men.
The focus will be mostly on quality dress shoes worth your time.
There will also be some recommendations for clothes, suits, accessories and knitwear.
It will be a rather long list, so sit back and enjoy!
Black Friday, Week, Month
Black Friday & Cyber Monday used to be about heavily discounted electronics.
Originating in the USA, this spread like wildfire over the past years everywhere and is about anything imaginable.
This of course includes shoes and clothes.
Even though in most cases it is all about clearing excess stock there are some good deals to be had for customers looking to upgrade their wardrobe.
This year's list is definitely smaller as you will see with much lesser deals.
For convenience, I divided each section into countries.
I will also put a bonus section at the end of each section with some bonus tips.
Tip: If you want to see what I think about each shoe brand check out this article!
1. The Noble Shoe
That's begin with my little store, The Noble Shoe!
Generally we don't do sales but there are still a few promos.
Buy 2 Pairs of Carlos Santos, Get 10% Off
Free Matching Belt with each Patina Service Purchase
10% Discount on Norman Vilalta
MTO Fee Waive for Paolo Scafora Commissions
All discounts are automatic and applied during checkout.
Thank you for your continuous support!
2. Spain
Shoes from Spain have a fantastic reputation and are excellent for entry and mid-range shoes.
Discounts are not as common and vary a lot, often coming with accessories instead.
2.1 Peter Hunt (15% Off)
Another small brand from Spain is Peter Hunt Shoes.
I recently did a review for them (Article Here) and they are quite decent shoes focused on patinas.
This season they are doing a 15% Black Friday Sale.
2.2 Andres Sendra (Up To 50% Off)
Andres Sendra is a brand from Almansa producing shoes for many famous shoemaking brands.
However they also have their own in-house line of course!
They are good value and this year are doing an up to 50% Off Promo.
You can get some good shoes for just $200-$300!
2.3 TLB Mallorca/Skolyx
TLB Mallorca is one of the finest RTW Brands out there offering great quality for the price.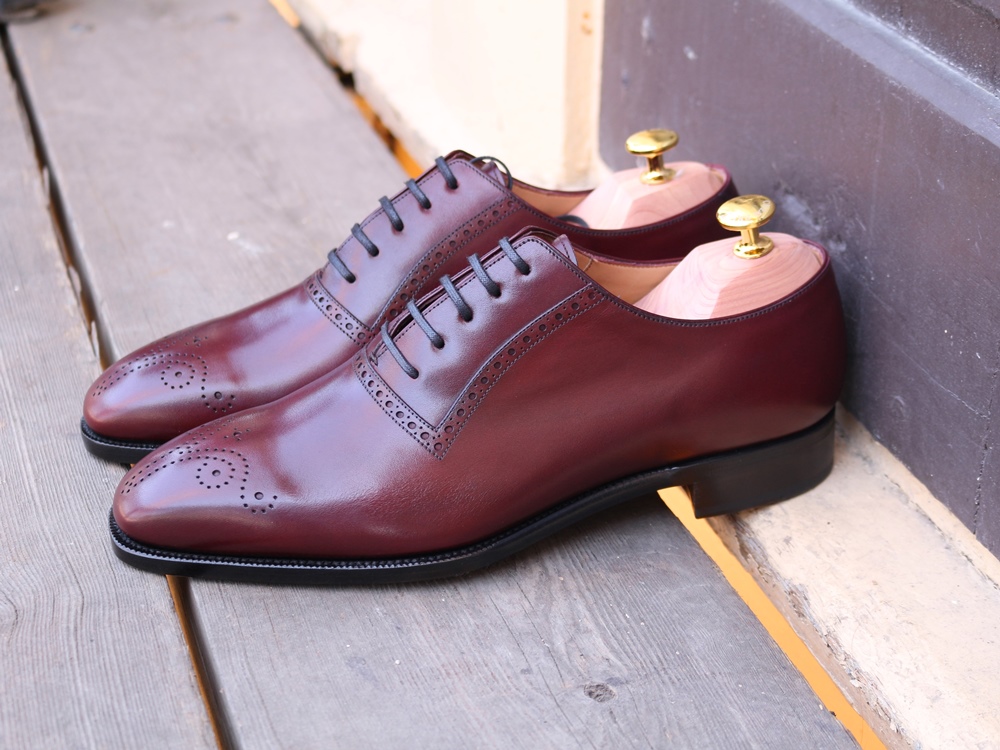 They never go on sale but for Black Friday they usually offer a free belt with each purchase.
Be on the lookout this year in case something changes or they offer an MTO Fee Waiver.
2.4 Others
Here's the current status on some other brands:
Carmina (No Sales)
Meermin (No Sales)
Berwick (No Sales)
I should remind you that Meermin did a factory seconds sale a couple of weeks ago and Carmina has an Outlet Section.
3. Italy
Italy, land of Romance, Food, Culture and some of the finest shoes on the planet.
Unfortunately, there are very few deals to be had here.
3.1 Stefano Bemer (Up To 50% Off)
Stefano Bemer is a prestigious luxury brand from Florence.
They don't really do sales however this time you might be lucky.
Some models from the Classica mid-range are discounted and also they discontinue the entry level Essenziale Collection.
For those interested in MTOs or Bespoke, you can get a 35% Cashback Voucher for future purchases.
If you decide to buy from Stefano Bemer, write that I referred you and you might get a free wallet!
Tip: Read my Review of Stefano Bemer Here.
3.2 Velasca (20% Off Selected Models)
Velasca is a smaller Italian company that started producing mainly Blake Stitched Shoes.
Their range expanded to Goodyear but so did their prices.
Excellent lifestyle imagery and big range of models and styles.
This Black Friday get 20% Off with the code VSTORY22.
3.3 Others
Other than individual retailers running some clearance promos, luxury Italian Brands don't do in-house sales.
Enzo Bonafe (No Sales)
Santoni (No Sales)
Salvatore Ferragamo (No Sales)
Meccariello (No Sales)
Even on sale, I would avoid Salvatore Ferragamo and Santoni.
They are just not good enough for the price.
4. France
Ah, welcome to the land of patina and flamboyance!
Just like the middle class household (it doesn't exist anymore) their shoes are either affordable or insane.
4.1 Septieme Largeur ($70 Off Patina)
Septieme Largeur is one of my favorite entry level brands.
Good quality, great build, nice looks and excellent patinas.
This year's promo is called "Patine Days" and includes $70 Off their Patina Service Program.
4.2 Finsbury (25% Off)
For approximately $200 you can get a pair of Finsbury with their Black Friday Promo.
It is valid in most of their models excluding the Business Line and Accessories.
I don't know much about them, but if you live in France it could be an option.
4.3 Others
The list of brands not doing sales is far greater.
Caulaincourt (No Sales)
Aubercy (No Sales)
Corthay (No Sales)J
J.M. Weston (No Sales)
Altan Bottier (No Sales)
Orban's (No Sales)
John Lobb (No Sales)
Berluti (No Sales)
Caulaincourt, Orban's and Altan Bottier do have some outlet sales.
Now, you would already be mad to spend over $2000 on Berluti so don't.
5. Germany/Hungary/Romania
A small cluster of brands does exist within Central Europe.
5.1 Shoepassion (Up To 70% Off)
Shoepassion is the biggest, most well-known dress shoe brand in Germany.
For less than $200 you can get something that I recommend more than Meermin.
There's a ton of stuff and styles to choose from too.
5.2 Heinrich Dinkelacker (Up To 50% Off)
Heinrich Dinkelacker is a very unique niche brand with strong Austro-Hungarian styling.
They specialize in the Budapester, triple chained stitching and heavy soles.
Unless you have a high budget and like this very specific style I wouldn't pay full price.
Luckily, they are doing an up to 50% Off Selected Models Discount.
5.3 Others
A few more brands are not doing sales but they are in the luxury department.
Vass (No Sales)
Passus (No Sales)
Petru & Claymoor (No Sales)
Saint Crispin's (No Sales)
I should mention that there might be chance Vass Budapest does some sales on certain models.
There are also some archive sales of Saint Crispin's on their website.
6. England
The UK is home of some of the oldest and most prestigious heritage shoe brands out there.
Deals however are scarce and you will have more luck looking at retailers.
6.1 Tricker's (20% Off Extra Outlet)
Tricker's is a heavily casual, bulkier focused brand with a love for boots.
Their Stow Boot in particular is iconic.
There are no current sales that I know of, however there is a promo where you get 20% Extra discount on their Outlet Page.
Applied automatically on checkout.
6.2 Loake (30% Off Certain Models)
Loake is another mainstream UK Brand and in fact was the first ever good dress shoe I bought in 2018.
They are totally fine, but I find them a bit overpriced.
With 30% Off however they can be a solid choice to refresh your collection or enter the Goodyear Welted World!
There is a broad collection and styles to choose from.
6.3 Others
And here is the collection of other brands that have nothing yet or won't do sales.
Cheaney (No Sales)
Barker's (No Sales)
Crockett & Jones (No Sales)
Gaziano & Girling (No Sales)
Edward Green (No Sales)
Grenson (No Sales)
Paul Sargent (No Sales)
Church's (No Sales)
Keep an eye on Cheaney and Barker's as they might announce something.
Herring and AFPOS also have some regular sales page.
I just wanted to include Church's just to tell you that you shouldn't buy this rubbish even on sale.
7. USA
Let's move to the USA for a bit.
This side of the world gave birth to Black Friday so the deals are more frequent.
7.1 Allen Edmonds ($199 & $249 Deals)
The USA's most famous and accessible brand is on constant sales.
You would have to be a lunatic to buy Allen Edmonds at full price.
However, with multiple widths, many models, sizes and availability they are an easy choice for those living there.
This Black Friday they are doing a promo where shoes cost
.
It's not a bad deal if this is going to be your first shoe brand.
They also make for an excellent reference for future online purchases elsewhere.
7.2 Cobbler Union (Up to 50% Off)
Cobbler Union is a Brand from Georgia producing shoes in Spain.
They are often on sale and this Black Friday is no different.
There's up to a 50% Off Discount on their website.
7.3 Grant Stone (20% Off over $400)
A brand increasing in popularity in the USA is Grant Stone.
Very casual with heavy focus on boots.
Just like last year, they are doing a 20% Discount if you spend over $400 USD.
I don't know much about them other than the fact they make the shoes in China.
7.4 White's (Up To 40% Off)
Another extremely popular Brand in the USA is White's Boots.
It's a brand many talk about on Reddit and a sizeable discount to omit.
Most of the models have a modest 10-20% Discount though.
Extremely casual, service and work boots here.
If you love those, take a look.
7.5 Others
Justin Fitzpatrick has no current sales, however there is a hint of early access if you subscribe to the newsletter.
8. Sweden
While not exactly a behemoth in the shoe industry, Sweden does have a couple of brands.
8.1 Myrqvist (15-40% Off)
Myrqvist is a Swedish Brand producing affordable shoes in Portugal.
Their prices crept up in the last few years, but their shoes are decent.
Interestingly, they claim up to 50% in discounts however there is not a single item over 40%.
Still, for 15-40% Off it can be a good entry level deal.
8.2 Others
Skolyx is a brand that I included with TLB Mallorca.
Morjas is a brand that don't do any sales, nor I recommend them period.
9. Asia
Surprisingly, I did not find any sales from Asian Brands.
I will make a short list however but I would not expect anything.
Yeossal
Vahtia
CNES
Acme Shoemaker
Winson
Yearn
Bridlen
Blkbird
Yeossal might do something and CNES has the occasional odd stock sales.
10. Clothes
We are finally at the bottom and it's time to share a few clothing deals.
Most of them are from my favorite brands, where I shop personally.
10.1 Lanieri (Up To 30% Off)
My favorite custom MTM Brand is currently Lanieri from Italy.
They offer a wide range of anything a man needs in his wardrobe.
From Suits, Jackets, Outerwear, Knitwear and shirts all the way to accessories.
In fact, I recently reviewed some trousers I got from them and I placed an order for more things.
This Black Friday they have up to 30% Off selected items.
Make sure to check out if my MISIUACADEMY Code gives you an extra discount!
10.2 APposta (20% Off)
Apposta is another Italian Brand that makes custom MTM Shirts Online.
I use them currently for all my shirt purchases.
Great quality and a massive range of fabrics to choose from.
There is a flat 20% Off this Black Friday.
10.3 Gobi Cashmere (Up To 70% Off)
Gobi Cashmere is my go-to cashmere knitwear brand.
Already quite affordable, they are virtually non stop on sale.
Right now they are doing up to 70% Off and I think you can still use the Discount Code GOBI20 for an extra 20% Off.
If you find your size or have a spouse, it's madness.
10.4 Black Lapel (Up to 20% Off)
Black Lapel is custom MTM Brand making mostly suits.
They have an up to 20% Discount if you spend $1500 which is a fair deal.
Good reputation and what seems to be good quality.
10.5 Southern Scholar (Up to 30% Off)
Southern Scholar receives high praise from my friends.
You can get up to a 30% Discount if you spend more than $300.
10.6 Cavour (30% Off)
Cavour is a Norwegian Brand that offers high end tailoring items and shoes.
I tested their quality last year and it was excellent.
This time they are doing a flat 30% Discount on many items.
10.7 Others
Here is a collection of other brands that interest me that either have deals or are worth looking into.
Pini Parma (Only Outlet Promos)
Oliver Wicks (Nothing yet)
Proper Cloth (No Sales)
Granqvist (4 for 2 Outlet)
Let me know if I missed something major!
Conclusions
This is the end of my Black Friday 2022 Promotions List!
Compared to other years it might appear underwhelming but there are still significant discounts and bundles here and there.
Remember to support your favorite brands during and outside of sales.
Especially little shops that promote quality and longevity!
Happy shopping and I will see you next week!
Thank you for reading,
Kostas Mandilaris,
Misiu Academy