We've Come A Long Way
Welcome to the 156th article posted on Misiu Academy.
For most number will mean nothing, however for me it is a major landmark and food for thought. It's the third anniversary of the blog and a milestone I never thought we would reach.
In today's article, I will look back and see what I achieved during these 3 years. What changed, how my taste evolved and where we are going in the future.
Thank you all for being a part of this.
A Very Unusual Start
Back in May 2018, I had what seemed to be a promising engineering job.
Coming from a poor background, it was important to me when I got my first job to dress well. My moto was dress for the position you want to be in, not the one you are.
Dress the way it makes you feel good, but also nicely out of respect to yourself and others.
I got my first suit which in hindsight was a garbage polyester sweat-suit and a pair of cemented brown derbies. Even though I look back and they were garbage, the fit was good and I felt like a million dollars.
I am a perfectionist though, so I began researching and reading through blogs about shoes and suits. I always wanted to look and feel amazing.
During May 2018 I was "lecturing" my Polish girlfriend at the time about dressing well. She called it "Misiu Academy".
Misiu (pronounced mi-su) in polish was an affectionate way to call your partner "teddy bear". And academy because of the lecturing.
Jokingly, she said I should start a blog about this and teach other people. So I did and here we are 3 years later. She is long gone, but the blog is still going strong and prosperous.
Pretending To Be More Knowledgeable Than I Was
The most tough topics I wanted to tackle when I started were…well to start if you are a newbie like me.
So the beginning was all about guides and how to wear certain suits. I was uneasy in front of the camera, using a terrible phone, bad angles and pictures.
I remember the first guide like yesterday: How To Buy Your First Suit. It's definitely due for a make over, but still most of the things there are correct.
Due to my lack of experience and my tremendous improvisation ability, including lots of research and the gift of the silver tongue, I wrote sounding much more experienced than I was.
So when I look back and see certain posts I cringe, but it is all part of the experience. You look back and reflect and improve along the way.
How Did My Style Evolve?
Four years ago I had never worn a suit.
In fact I was piss poor, struggling to even afford rent or a loaf of bread every day. Clothes were never a priority.
Investing in the basics was super important, so I went from casual to a good fitting suit, nice sweaters, chinos and jeans.
My first suit was navy and so were most of the subsequent ones until I felt confident to take it to the next level.
Now, you will either see me in something classic and conservative, or extremely bold with hardly anything between.
The same goes for shoes since most of my collection is now oxfords, monk straps and boots.
One of the things I was obsessed about due to the fact everyone else recommended them was accessories. I even wrote an old guide about accessories here.
Just because people say get a watch, you should not or it can lead to disaster. Like my infamous Vincero Review and the fact that I just hate wearing things on my wrist.
The worst offenders though are people on those Facebook "style" groups I am in. You will see them overload with bowler hats, flower lapel pins (who are you the joker?), tie clips, belts and more.
I suppose the biggest reflections for me when I look back are:
Understanding how the rise of the trousers affects your looks
I don't want to wear belts and prefer the cleaner look of side adjusters
Watches are not for me
My sock game was pathetic
Underestimating other subtle things such as finding a cure for my skin problem
The reason I am writing all this is because when you reflect, you look at your change and it helps develop your own unique style.
Everybody Loves An Ultimate Guide
Who doesn't like a good Ultimate Guide where you can find all the information about each topic without opening 29 billion tabs?
When it comes to menswear there was a clear lack of guides that talked about more than the basics. I wanted to fill that void and I think I did quite well with Misiu Academy.
Some of the most popular guides are:
There are many more I would like to write but it takes much effort, time and research to do so. If you have ideas about a topic I would love to know!
Honesty Is The Basis Of Everything
One of the things I hate the most in life is people lying in order to progress.
Misiu Academy is a hobby, with no sponsored articles or paid collaborations. There are very few affiliate links for brands like Cheaney, Spier & Mackay, Apposta and such. But these are products I use daily, love and can recommend.
A lot of the products were sent to me for a review but always had a full disclosure. Nobody pays me other than the pathetic ad revenue of Google Ads you see on the page. It's only fair if I make 50$ (yes that's how much I make per month) if you click on a link I used as I spent hours of my free time writing these reviews.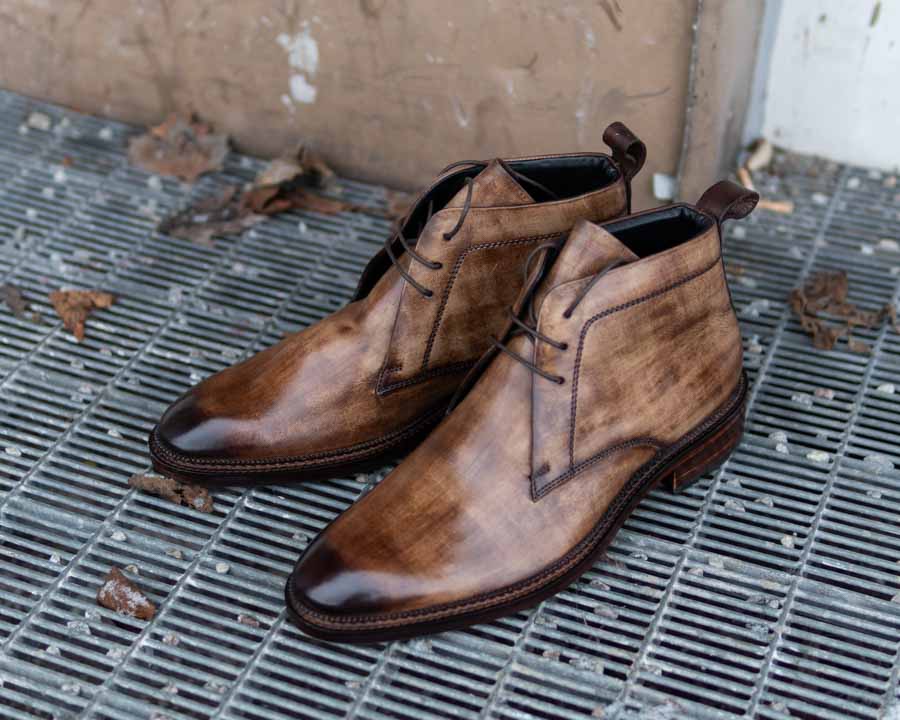 The key point here though is that as a customer doing my own research, "fakefluencers" have infested the web pushing products that are garbage. And they make millions per year from commissions.
Me on the other hand as an ethical idiot, received review products from pairs like CNES Shoemaker, CIE Shoes, bought the Vincero Watch and Lethato. I did not hesitate for a second to write my honest opinion and expose the flaws.
CNES Shoemaker for example stopped talking to me when they sent me used shoes of inferior leather. CIE Shoes said thank you when I wrote in my Review that they blatantly copied Septieme Largeur and Norman Vilalta. Lethato asked me to delete my YouTube video because I talked bad about their sub par shoes selling for $200. You get the point.
The bottom line is, look for real reviews and not people that only talk about the positives.
Birth Of The Noble Shoe
March 23, 2019 was the defining moment in my life.
It was the time that I knew what I would do with my life. It all happened in the Shoegazing London Super Trunk Show 2019.
There I decided that I would quit my toxic corporate job and sell the best shoes in the world for a living. A week later, I applied for a small business loan and handed my resignation.
I remember clear as day where I was when I conceived the name "The Noble Shoe" in the turn before my house.
Another thing I remember is the first 4 orders I received on my opening month. A measly 4 orders, yet all from people reading the blog. Two years later and I am selling over a 120 pairs per month. Thank you all so much.
The Noble Shoe is my full time job now. I couldn't have done it without the initial support by Marta who I wish well to wherever she is now. Thanking Damian and Krim who invested in me and the company last year is also important.
Most importantly, I made great friends all over the world like Michael, Ashwin, Mehdi, Kenwin, Harrison and many more.
Misiu Academy – What's Next
So what is next for Misiu Academy?
The good news is that I still manage to pump out an article every week.
It's most a shoe related niche blog now but I do want to add even more suit and clothing content. Those are much more difficult though since buying clothes is not a priority for me anymore and collaborations are harder.
In other words, expect more shoe reviews and guides in the future!
l
There is also my YouTube Misiu Academy Channel which is an amazing experience for me to present content. Most of you love it, but please consider Subscribing as it helps a lot!
In February 2022 I plan to take the Stefano Bemer Shoemaking School in Italy, so it will be a struggle to be consistent with content. I will do my best and might make free and paid guides to learn shoemaking.
If some revenue comes in or paid advertisements that I endorse, I will invest in better equipment as well. Maybe a third redesign of the blog and better menu?
Of course, I want to keep talking to you in the comments section. It's so important to me and maybe you don't realize that but this is why I do this. Those simple interactions usually make my day.
The Noble Shoe – What's Next
I will not reveal all my plans for The Noble Shoe since it will be a surprise.
However I will give you some hints and snippets what to expect. A redesign of the website is coming soon (at the time of writing) with a new logo and brand image as well as another exciting brand from Europe.
My own shoe brand will be in the works too which is super exciting.
So a lot of quality of life improvements but the same exceptional customer service you know and love.
What Would You Like To See?
The real question going forward is the one above though.
What type of content would you like to see? Do we just keep going on like usual or is there something that frustrates you or can be improved?
Last year, a reader gave me valuable feedback that I showcased my own shop too much in my recent posts. It was great feedback and I improved greatly on that.
So please keep engaging with me in the comments and letting me know what you like or not like!
A Toast To Many More Years Of Misiu Academy
We are not really going anywhere.
I will keep writing as long as I enjoy doing it and you find it valuable. We will see if I can keep up writing once a week though as it is quite energy draining.
If you have a passion and knowledge for good shoes and classic menswear, reach out to me at [email protected] and we can discuss guest posting here!
In the meantime, thank you for reading, commenting and just being here. It means a lot to me, more than you can possibly imagine.
Let's keep making the world a better sartorial place!
Thank you for reading,
Kostas Mandilaris,
Misiu Academy