Many Fits, A Lot Of Value
Unless you live under a rock, you must all know about Suitsupply by now. A Dutch company making waves out there with their value and quality suits for great prices. Curiously enough there is not much information out there about the fits and features of the different models. I am here to help you solve that riddle with a Full Guide on Suitsupply Suit Fits.
Working with these suits almost every day means that I have a good grasp of the features and reasons to buy one over the other. With time quite scarce due to work and The Noble Shoe it feels good to return to our larger guide articles!
So get a mug of warm coffee, sit on a comfy chair, pet the cat and let's dive right into this fascinating business model.
The 21st Century Business Model
First of all we need to do a quick history lesson. Fokke de Jong found Suitsupply back in 2000 when he was just 26. The banks initially shunned his idea to sell suits from boxes, he found a boutique by the highway with some free space. Shortly after, the idea turned into a reality and today the brand has more than 130 shops all over the world.
Suitsupply has a brilliant and unconventional business model. They have something called "Destination Stores". They are usually located outside the city, near highways or generally places where you have to travel to get to. Because the brand and the store is a destination. An experience. Of course they will not avoid a premium location if a good opportunity shows up.
Additionally it is a vertically integrated company. They skip middle men and buy directly from the supplier, while owning their own production factories in China. What that means is that they go directly to mills like Vitale Barberis Canonico and buy the fabrics, then produce the suits in their own Factory.
Of course, some items are made in different countries. Sneakers and Boat Shoes in Portugal, some shirts in Poland and most shoes in Italy to name a few.
What this does is allow Suitsupply to offer very competitive prices in RTW suiting especially when it comes to Entry Level or Made To Measure.
Suitsupply Suit Fits – 7 Different Models
Even though the company literally offers everything the main focus is suiting. There is a very broad selection of fabrics and patterns to choose from. Twice a year Suitsupply also introduces seasonal fabrics and styles such as cotton, linen or flannel wool.
I find Suitsupply's website very easy to use and intuitive. Fast, responsive and modern with a lot of visual material. Although I must admit that sometimes it is very hard to gauge the real color of some fabrics.
In reality, understanding and remembering the features of each model is not that hard. The only ones that are a bit complicated are the Havana Suits. I will do my best to tackle that.
Suitsupply Has Three Main Fits
Depending on their cut each suit falls into 3 main categories. Regular, Slim and Extra Slim. We learn at the academy that the Sienna has a "Contemporary" Fit but in my opinion it leans towards Regular.
Regular Fit: Napoli, Sienna
Slim Fit: Lazio, Havana, Jort, La Spalla
Extra Slim Fit: Washington
Now that we know the names and the categories we will work our way to the top. Before that however I need to mention that there are also 3 version of most suits. A Short, Regular and Long version. Here are the key differences when compared to the Regular suits:
Short: -2.5 cm sleeve length, -3 cm jacket length, -4 cm pants length
Long: +2.5 cm sleeve length, +3 cm jacket length, +4 cm pants length, -2 cm waist for jacket and pants
These are easy to identify by the names. A 38R (48R in Europe) is a regular version while a 38S is a short and 38L a long version. To make things worse, if you are in Sweden or Europe, the short version of the 48R is a 24 (divide by 2) and a long version 94 (double minus 2). The key here is to know the differences between each version and your base size.
The Napoli – Your Classic Business Suit
When someone walks in and ask for a basic, business suit one of the first things that pop to mind is The Napoli. A very affordable suit that in Sweden hovers between 2999 and 3499 SEK. It is a good chance to mention that prices vary in different regions. For example in Europe the Napoli costs 299 – 379€ whereas in the US 399$ with some online exclusives at 359$.
Most of the designs of Napoli suits are conservative in various shades of blue and dark grey. However you can find some that have stripes or checks if this is your preferred fit. It comes with a Half Canvas construction, notch lapels and structured shoulders. The key characteristic is the shoulders and the fit. It is good for those that do not like the modern slim cut or need some extra space around the waist without sacrificing shape.
Other features include a boat shaped pocket, two button closure and flap pockets. The Napoli is fully lined with double vents and 4 functional buttons.
The actual fabric is usually S110 Wool from the mills Zignone and Reda. So to sum up the key features of the Napoli:
Regular Fit
Constructed Shoulders
Flap Pockets
Half Canvas
Two Button Single Breasted Jacket
Notch Lapels
Usually S110 Wool
A really classic business suit for most occasions and those that prefer a regular cut or need some extra space at the front. Another helpful tip is that the Napoli is the only suit model in the Blue Line of Suitsupply.
The Lazio – Slim & Elegant
It is virtually impossible to distinguish from the Napoli and Lazio by simply looking at them. The best way to tell when they are hanging on the Suitsupply Suitwaves is by looking at the color of the stitches on the cuff. The Lazio is a part of the Purple Line and has a purple X stitch.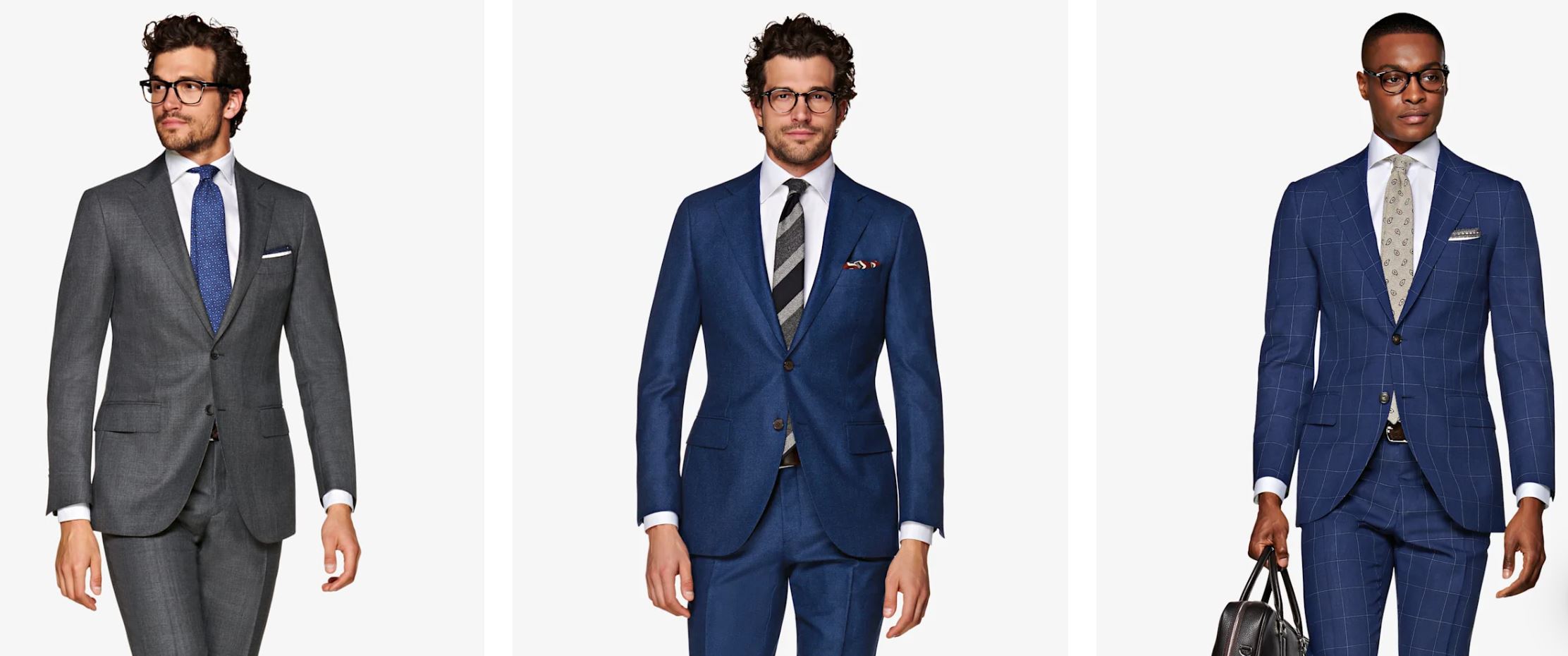 Other than that, they main features are still the same when it comes to canvas, details and construction. The main difference is that the Lazio has a slim fit. It is a modern cut with elegant padded shoulders for a very masculine look. I find the notch lapels larger than what you usually get in other brands.
What some might not know is that the Lazio jackets come with slightly shorter length and a bit more tapered pants. This means that if another model needs alterations at the sleeves for you, the Lazio might be perfect.
This model along with the Havana has the most variations when it comes to patterns and fabrics. Usually it has a brown lining and more often than not utilizes wool from heritage brand Vitale Barberis Canonico. Here you will get your first taste of three piece suits and blends of silk, mohair or cashmere. And I am not counting the seasonal fabrics!
Slim Fit
Constructed Shoulders
Flap Pockets
Half Canvas
Two Button Single Breasted Jacket
Shorter Length
Notch Lapels
Often VBC Fabrics and seasonal blends
Available for Mix & Match
Apart from the fit I would say the last bullet point is the standalone feature for you. The Lazio is one of the few that allows Mix & Match. What that means is that you can be a 50 on the jacket but 48 on the pants. Or a 48 jacket and 24 pants. Mix & Match allows you to buy separates or mix sizes to find your perfect fit. The options are limited to a Navy (2778) and Grey (2505) plain model or a Navy Pinstripe. I think the latter is not available online.
To keep things simple I will use US prices. The Lazio usually hovers around 499$ and 699$ with some online gems at the 359$ mark. From the most classic business suits to wonderful windowpane and houndstooth, it is a very flexible model that will satisfy most people. A very popular option at the shop and excellent choice for those that need extra pants!
The Washington – Extra Slim, Extra Long, Extra Structured
Coming up we cross the Atlantic and land in Washington. The only Extra Slim Fit model in the Suitsupply Collection. It is one of the more confusing Suitsupply Suit Fits however when it comes to details. Let's begin with the easy ones.
The classic, base model Washington has a single breasted jacket with Peak Lapels. It also has 5 buttons on the sleeves and a longer base length. This makes it perfect for those slimmer people in need of a tapered fit. Another feature is the higher armholes and the heaviest constructed shoulders from all the Suitsupply models. It also has a Half-Canvas construction.
Additionally, it has 2.5 Button Closure on the jacket (purely cosmetic) and pants with Higher Rise. Most Suitsupply Suit Fits use the Brescia pants instead.
Now, some versions of the Washington have (or not) a Ticket Pocket but here's where it gets interesting. Some have Notch Lapels instead and there is even a Full Canvas version with S150 Wool by Carlo Barbera. It sports a regular 2 button closure with a sleek herringbone pattern, hand-finished details and even a Sous Bras (for sweat prevention). For all this it costs a massive 999$ while the base line begins at 569$.
Extra Slim Fit
Constructed Shoulders
Flap Pockets (Some with Ticket Pocket)
2.5 Button Single Breasted Jacket
Longer Length
Peak Lapels (Some have Notch)
5 Buttons on the sleeves
If you are a taller, slimmer person that likes a modern cut and a masculine look then the Washington is probably for you. Peak Lapels are not so common on Single Breasted suits so that will accentuate your shoulders and masculine look.
Tip: The Washington is part of the Purple Line however the Full Canvas version is part of the Red Line.
The Havana – Casual Suits For Everyone
Queue confusion because we just arrived at the Havana! In theory the Havana is one of the simplest models to explain. Patch Pockets, Single Breasted with a Slim Fit, Half Canvas and Unconstructed Natural Shoulders. Instantly recognizable from the pockets and the daring, casual designs or materials such as Alpaca or Giro Inglese.
The Havana is perfect for those that do not like padding on the shoulders or enjoy more adventurous designs while keeping a modern cut.
So while that is easy to go through there are a few different models within the same line up. I might even forget some of them! Let's try to get them all.
1. The Havana Patch
The one we discussed above is the one that describes Havana the best. Both in Single and Double Breasted versions with Patch Pockets and unusual designs with bright colors, checks and blends. It is the one you will also find in the Blazer sections of Suitsupply barring the Lazio Mix & Match.
The more discrete ones retain a formal nature but are suitable for more relaxed environments or after work events.
2. The Havana Jetted
Exactly the same as the Patch version but with Jetted Pockets. It naturally comes with Peak Lapels and has two wonderful pinstripe models in Navy and Charcoal Grey.
As a fan of Double Breasted suits I really enjoy this one!
3. The Havana Flap
Because things were not confusing enough, we also have the Havana Flap. Single Breasted with all the previous features but with Flap Pockets. Not much to mention here, but they recently released "The World's Most Lightweight Suit" which costs 999$ and is Havana Flap.
For example this is a regular version and this is the lightweight model. It weights 525 grams, comes from E. Thomas and is from S150 luxurious wool.
4. The Havana Wide Lapel/Pleated
Flap Pockets, a Ticket Pocket and Wider Notch Lapels just because. A pretty rare model and here is one for the curious minds. It also comes with Pleated Shoulders.
5. The Traveller
This is essentially another Havana Flap. The only difference is the way it is woven. It uses a Twisted Weaving that allows it to stay crease free. Think of it as a spring that when released returns to shape. Available in a small variety of colors and part of the Mix & Match program, it is excellent for those that travel (duh!), commute, cycle or move a lot during their workday.
There is however a big difference when it comes to the regular flap versions. The Traveller comes Unlined and also in Double Breasted. Here's a Classic Traveller suit from Suitsupply.
Easily distinguishable from the marking "Traveller" at the sleeve buttons or inside the lining that has the marking "iTravel". The mill that makes them is Cerutti.
Important! The Traveller comes lined if you get it through the Custom Made Program!
The Sienna – Beautiful Affordable Luxury
One of the models that you will go "Wow!" when you first touch or try it on. The Sienna is a lot of value for a very good price. A very refined model with a "Contemporary" Regular Fit that kickstarts the Red Line.
It comes in Single Breasted with Flap Pockets and a Ticket Pocket and Notch Lapels. Although it is part of the Red Line it has a Half Canvas construction. In some regions you might find it without the Ticket Pocket.
A Sous Bras makes sure you will not sweat the arms too much but the most distinctive feature is in the shoulders. Lightly Padded with something called "Spalla Camicia" which translates to "Shirt Shoulder". The armhole sits higher up allowing for better range of motion and movement.
The Sienna Birdseye is a very classic beautiful model and most of them have S130 Wool from VBC. As part of the higher end it has AMF Stitching with Hand-Finished Details and Real Horn Buttons.