The Ever-Changing Landscape Of Business Attire
The days of having to wear a suit and tie every day to the office are long gone. Many workplaces have more relaxed rules with even classic white collar Goldman Sachs changing the rules lately. It is not a terrible thing as it allows us to express more of our personality while still looking professional. How do you do that? This is the aim of today's Business Wardrobe Essentials for Men Guide.
But what constitutes a great Professional Business Wardrobe in 2020?
There are a few key pieces that work together in tandem to create great professional outfits every day. But most importantly, you will be able to do this effortlessly. And you will begin to see how your life changes for the better.
Let us begin with why.
Disclaimer: This article might contain affiliate links that earn Misiu Academy a small commission | Picture by Hugo Jacomet
People Judge You
Whether we like it or not, people view us differently depending on how we dress. I am pretty sure most of you have a story that involves clothing. Let me share one of my own!
A few months ago I went to a bar with a friend. It was crawling with people. Some of them had nice clothes on them but most preferred comfortable casual clothing. I was wearing my custom Double-Breasted Suit with my Best Tie and had my Cashmere Coat in hand.
The moment we walk in the crowd a lovely looking blonde woman stops and looks me dead in the eye. She proceeds to kiss my cheek without saying a word and then asks me:
"Are you from Dubai?"
Gold-digger, Lokal Izakaya Stockholm
So what happened here? The woman immediately knew my clothing was expensive and fit well. As a result, she thought I was rich and wanted me to pay for her drinks. She would have never even looked at me if I dressed casually.
Moral of the story: You wouldn't ask for a loan in bathing shorts, or you would not go to an interview with sweatpants would you? However don't dress well just to impress other people. On the contrary you should do it for yourself. I dressed well because I want to.
Look Professional & Reap The Rewards
Whether you are looking to increase your confidence, feel better or chase that promotion you should look professional. This means it is time to ditch the Big Logo T-Shirts, baggy cargo pants and square-toe shoes.
In an older study a massive 41% of Employers in the US are more likely to promote those that dress professionally (Source). In the end you are costing yourself a lot money. Always dress for the part and how you look is a reflection of how much you care for your career or personal development. Good, fitting clothing means you respect yourself.
It is time to elevate your looks to the next level, or revamp your Business Wardrobe with all the essentials a man needs in 2020. There are a few different components that will help you create a minimalist, interchangeable wardrobe which will stand the test of time and look good in any environment.
Here's a summary of what we will go through:
Suits
Dress Shirts
Dress Shoes
Ties
Coats
Socks & Other Accessories
I feel this is enough to start a Professional Wardrobe that will work for Business Formal, Business Casual and Smart Casual.
1. Suits
The cornerstone of every gentleman's wardrobe is the suit. It is our modern version of armor and will always stand the test of time. In simple terms a suit is a two-piece set of jacket and trousers from the same cloth. A three-piece suit includes a matching waistcoat but it should not be your priority in the beginning.
Classic suits are also quite versatile and you can mix and match trousers to create more outfits. They also have multiple uses like interviews, conferences, board meetings and much more.
So how many suits does one need? It really depends on your line of work and workplace dress code. Ideally, you would need 5 good suits which you would rotate for each day of the week. Not everyone can afford 5 suits immediately however so slowly building up your wardrobe is key.
For me personally the sweet spot to start is two to three suits and have certain general characteristics:
Plain Color
Wool Fabric
No Synthetics
Compliment Each Other
The reason you don't want to start with patterns or pinstripes is because they stand out and people will remember them more if they are your only suits. If there is one thing you should always keep from my articles is that FIT IS KING. Make sure whatever garment you get fits you well whether it costs 100$ or 2000$.
Tip: Always strive to get the best for your budget. Avoid synthetic cheap suits from polyester because they look terrible, will not last and do not breathe. Make sure to read my Guide on How to Spot a Cheap Suit.
Your first suit should be a Navy Blue Suit. A two-piece, single breasted navy suit is by far the most versatile garment of this list. Not only it looks fantastic on everyone but you can mix it with virtually anything.
Navy looks great with grey, pink, blue, olive green and beige to name a few. It helps you look more youthful but also conveys importance, confidence, intelligence and stability. These are great traits that you want to project.
How much you should spend depends on your budget. You can get a fantastic half-canvassed suit from 348$ these days or spend thousands on a designer or high end Italian suit. I currently recommend 4 Brands for entry level suiting. Spier & Mackay, Suitsupply, Brooks Brothers and Black Lapel.
Spier & Mackay is a Canadian brand with great value and quality. Read more about them in last week's article.
We are all familiar with
Suitsupply
and I have multiple articles about them. A dutch brand with half-canvassed suits from $399 – $599 ballpark.
Brooks Brothers is one of the oldest when it comes to formal suiting. A safe choice and interestingly they use the same male models as Suitsupply.

When it comes to high end suiting some love designers such as Tom Ford, Italian brands like Brioni or the popular Ermenegildo Zegna. You are looking at way over $2000. I would definitely prefer bespoke at these prices, then again if you are considering these money is not an issue.

1.2 A Charcoal Grey Single Breasted Suit
Grey means business. The first thing that comes to mind are lawyers and powerful bankers. Grey in general is a rather cool and neutral color which is the balance of white and black. It is more conservative and communicates strength and masculinity.
Medium and Charcoal Grey colors are great versatile pieces. Not only they are very professional and look really good on their own, but they also match blue very well. If you intend to mix navy and grey I suggest a slightly less dark shade of grey.
Light Grey on the other hand is a less formal, more summery color and an excellent expansion to your wardrobe later on.
To avoid repeating myself in every paragraph, I will show you items from the 4 aforementioned brands from the navy section. If anything changes I will of course let you know! It is worth noting that these are just suggestions but also subject to availability.
And here we have a higher end suit from Brooks Brothers.

If you have money to spend here are a couple more expensive options from Zegna and Brioni.

1.3 Your Third Suit
Since we nailed the basics we face a very interesting question. What should my third suit choice be? With a Navy and Grey Suit to rotate you can create different outfits simply by changing the shirt color or the tie. It leaves a little more leeway for choosing the next one. In my opinion here are the choices:
Another Single Breasted suit in different shades of Navy or Grey. A safe and professional choice.
A Double Breasted Suit in Navy. Classic, timeless and oozes professionalism but requires confidence.
A Single Breasted suit in subtle Glen Plaid/Prince of Wales Pattern in Blue or Grey.
The choice is yours and of course depends on your personality and workplace rules. Many might argue with me but that is my view from my experience and journey so far.

These three options should occupy your next slots until number 5, when you can start considering a pinstripe suit.
2. Dress Shirts
What good is a nice suit without a great dress shirt. Back in the day I wrote an interesting article on the Essential Dress Shirts you need. I plan to revisit it but the essence remains the same which is the mantra "less is more".
In total I think the perfect starting number of business shirts is 8. To break it down you should have:
2 Plain White Dress Shirts
2 Plain Light Blue Dress Shirts
1 Plain Light Pink Dress Shirt
1 Striped White/Blue Shirt
2 Button Down Shirts in White and Blue
Your Shirts should be from 100% Cotton with a fine smooth weave. If you despise ironing you can opt for some traveler twisted weave fabrics or non-iron shirts. Needless to say for your more casual clothing you can have or substitute something for denim, flannel or linen shirts.
Luckily there are tons of options when it comes to shirts. T.M. Lewin and Charles Tyrwhitt are budget kings but nowadays you can make great shirts without breaking the bank.
Spier & Mackay offer quality shirts for less than $50 while you can create custom MTM shirts online with Italian Apposta.
With all these not only you have a suit for every day of the week but also can make the same suit look different due to the color change. I call this a win-win.
3. Dress Shoes
Honestly I think I would need a separate article just to talk about the variety of options when it comes to shoes. It is imperative that you have good shoes since a great outfit can look terrible with cheap shoes.
Your shoes should be at least Blake Stitched but preferably Goodyear Welted to ensure longevity. Not sure what that means? Read the Complete Guide on Shoe Construction. Now let's look at what you should get.
3.1 A Black Oxford
I am not a huge fan of black shoes but nobody can argue that they are the most formal shoes out there. These will work perfectly with your grey suit but also look good with navy blue. Additionally, you know that this is a shoe for the most important occasions in your life. From weddings to funerals, a black oxford will never let you down.
This time I will toot my own horn and show you my only personal pair of black oxfords. A Reversed Stitched Handgrade pair from Carlos Santos exclusive for The Noble Shoe. I am really proud of this one.
Now for those of you that want another option here's one from Church's and another from Edward Green.

3.2 A Dark Brown Oxford
Dark Brown is a match made in heaven for navy blue. It can work ok with charcoal grey but only if it is very dark in my opinion. It is slightly less formal than the black version, but it is one shoe that should be in every gentleman's wardrobe.

Furthermore there are plenty of options with TLB Mallorca, Carmina and Crockett & Jones to name a few.
3.3 A Pair Of Dark Brown Derby Shoes
A Dark Brown Derby has the exact same traits as the Brown Oxford although with a less formal nature. It is a great versatile style that you can use from suits to jeans without a problem. It will still look great in your workplace especially now that the rules are more relaxed.
3.4 One Pair Of Oxblood Oxfords
Burgundy and Oxblood are incredible colors. They match every formal outfit you throw at them and will still look classy. I don't care what others say but if you don't have a pair of Oxblood Oxfords in your wardrobe you are missing out.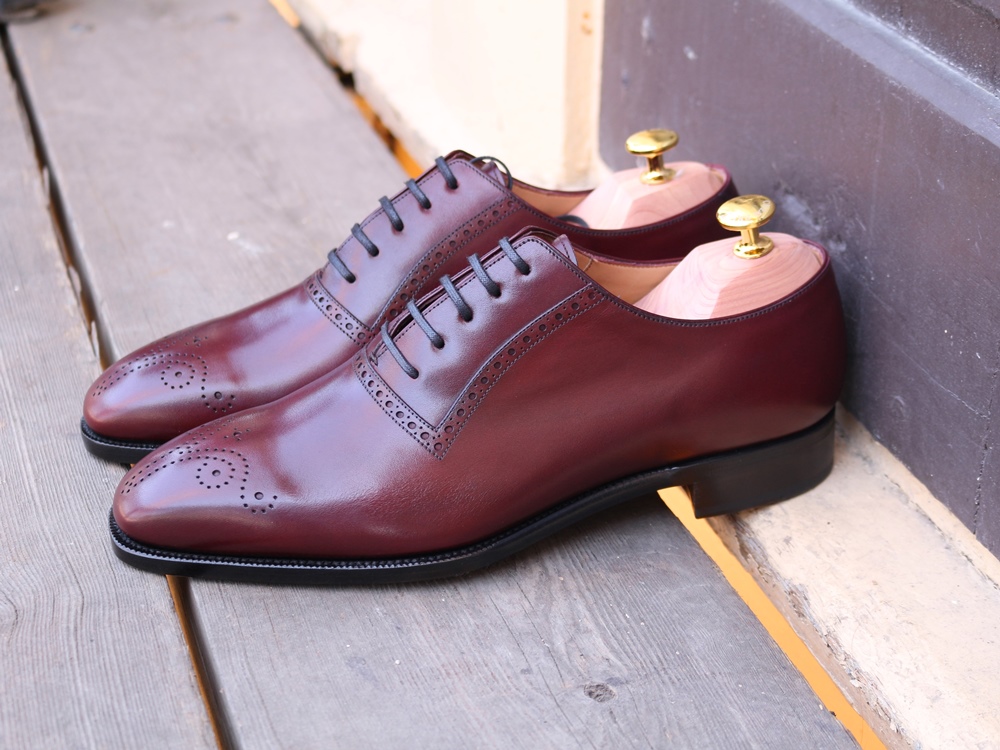 In a sea of black and dark brown, you can subtly stand out. Do it.
3.5 After The Basics
You now have 3 pairs of great shoes that you can rotate and let rest for at least 24-48 hours. What should you do next then? There are a few options which you are more than welcome to debate:
Dressy Dark Brown Chelsea Boots
Black or Dark Brown Double Monk Straps
Semi/Quarter Brogues
Black Penny Loafers
First things first. Chelsea Boots are totally awesome, versatile and have a long storied history. A Dressy pair will look rather sharp under a navy suit. Queue Carlos Santos in Guimaraes.
Finally, whatever people tell you about monk strap shoes, ignore them. They are stylish, formal enough and a great way to break the norm. As a result Black or Oxblood would make a great choice.

A little broguing is also acceptable as long as we are not talking about chunky country shoes. As far as penny loafers go, I dislike the style on my feet but nobody can deny the utility. Most workplaces are so relaxed now that it will not be a problem for you to wear them.

4. Ties
Yet another accessory that can elevate an outfit to the next level is your tie. There are still quite a lot of workplaces that require a tie and you should definitely have a few. I would say 6-8 is a good starting number.
At least half of them should be plain in solid color without patterns. The best colors to start with are Navy, Burgundy, Brown and Dark Green in my opinion. Avoid strong red colors or you will look too aggressive or like Donald Trump. Don't forget to match the width of the tie to the width of the lapels.

Luckily the tie is a great way to add some flair to your outfit when you can. Subtle patterns such as dots or regimental striped ties are always fair game. Needless to say that my all time favorite tie is this one from Granqvist Sweden.
5. Overcoats
While overcoats are not something you will wear in the office they are a sign if you really care. If you look sharp in the office but wear a cheap old coat outside it will diminish your value. You want to look and feel great anywhere, anytime.
I would suggest having at least one overcoat in wool or cashmere in a Single or Double Breasted style. Color depends on you but most people will opt for Navy Blue or Charcoal Grey. In some cases you will see Light Grey or Camel but it is down to preference and skin tone.
I will have in the near future a new review on the latest pure cashmere light grey overcoat of Suitsupply which I will compare to the Navy one. I do think they are great value for money and look very classy.
6. Socks & Other Accessories
There is only one thing left to really complete our Business Wardrobe Essentials. It is a topic that I often neglect myself but I am working to improve it!
Accessories are a very nice way to stand out or show who you are. You don't have to go wild and add boutonnieres or flower lapels and be a try-hard. Of course this is my own opinion but if you are under 40 and you wear a bowler hat, use a cane or have flower lapels I won't take you seriously. At least not in a business environment.
Keep it simple through adding a nice subtle tie clip or using some lovely socks to create some contrast. By far the best socks I saw in the web or used are Mes Chaussettes Rouges and Viccel Socks while I also saw great things from Southern Scholar.
When it comes to pocket squares it is yet another playground. If you are in more conservative environments you should use simple, plain pocket squares. White is probably the safest choice there is but color will be a good choice. I always wonder what is the pattern of every pocket square I see tucked into every breast pocket since each one of them is an adventure. Try not to match completely your tie and shirt and instead incorporate elements and colors from each one of them in different shades.
Lastly, there are a few more accessories that I don't personally use but are very popular. Watches, belts and to a lesser extent suspenders. The general rule of thumb is that your accessories should match the material and color. Don't wear a brown belt with black shoes for example, or a gold watch with a silver tie-clip.
I don't enjoy the feeling of a watch on my wrist and I feel I should warn you one more time about the worst purchase I ever made. Please do NOT buy Vincero Watches or any other influencer crap especially when it comes to timepieces.
For a budget piece get an Orient Bambino and if you can afford it a Rolex or a Cartier is always a superb option. If you are wealthy you probably already know about Patek Philippe so there is no need for me to tell you.

7. Miscellaneous
What could we include in this category? Everything else that is more suited towards a casual lifestyle such as knitwear or convoluted terms such as sport coats and trousers.
It goes without saying that the modern man needs a few pairs of classy chinos and suit separates. This includes blazers and dress pants. One of the best items you can buy however is a few good pieces of knitwear.
Namely, Cardigans, V-Neck Sweaters and Turtlenecks from Cashmere or Fine Merino Wool. The former can look really smart under a suit with or without a tie. The turtleneck on the other hand is yet another timeless piece of clothing that is nowadays acceptable with a suit in many places. And it looks damn cool.

Honestly, for blazers and trousers you can already mix your suit pieces. I would reserve these for more adventurous outfits and patterns such as checks, houndstooth and other textures. Definitely get yourselves some nice flannel trousers in dark grey and navy when you can for the colder times.
That Was A Lot Of Info, Sum It Up!
It sure was and if I had more time it would be even more! There are a few things that we can sum up though with our trusty bullet points.
Fit is king! Make sure all your clothes fit the best they can.
For a professional appearance, less is more.
Slowly get the basics of this guide and then expand to more adventurous items.
Jeans do not belong in Business Formal or Casual. Period.
Pay enough attention to your shoes especially if you are new to this.
Solid colors without patterns will always be more business appropriate apart from pinstripes.
In the end, everything depends on your country, region and company. If you are in a very conservative law firm and show up in jeans or a hoodie it will not make a good impression whereas if you are in IT it will be more than normal. This guide focused more on more traditional workplaces however they are disappearing fast. It is especially true during these times of writing when the Coronavirus is forcing everyone to work remotely from home.
Wrapping It Up
You should remember to dress up whenever you can. It will boost your confidence, people will treat you differently and often preferentially. It is sad, but also true. All you need to do is remember to be a gentleman not only in appearance but also in actions. What good is a man with a $10000 suit who has the manners of a pig or treats his peers like slaves or subordinates.
This brings us to the close of the Guide to Business Wardrobe Essentials for Men. It could be a massive article and will definitely receive updates but is a good starting point. I enjoyed writing it even if it cost me a few days of sleep! It will also hopefully be a reminder to myself to correct my stylistic mistakes or evolve my taste.
In the next few weeks I have a lot of news from the shoe world, as well as tons of Suitsupply Reviews. Five Suits, a Jacket and an overcoat to name a few. Until then, please consider Subscribing or leaving a comment with your thoughts or suggestions. Be safe!
Thank you for reading,
Kostas Mandilaris,
Misiu Academy