From Sweden (And Italy) With Love
Project TWLV is a Swedish Bootmaker with an excellent selection of unique, casual boots. Today I have the chance to present one of them to you. In a small collaboration with Project TWLV, Misiu academy is proud to bring you this in-depth "Review of the Project TWLV Royal Logger Boot in Sand Suede".
What should you expect to read in this article? Details about the most important things, such as quality, stitching, construction and comfort as well as value for money. It is going to be a blast!
With gorgeous Swedish minimalism and a touch of Italian flair, this is definitely a stand out boot for casual wear. Let's discover together exactly why!
Project TWLV – Background & Story
If you remember, I was lucky enough to attend the Shoegazing London Super Trunk Show a few weeks ago. There I met Henrik who is one of the owners and Johnny who is their digital marketer. I was impressed by the unique selection of Boots for more casual wear and the design choices behind them. The philosophy and history behind Project TWLV were some of the main reasons to bring this article to fruition.
Henrik is a very passionate man about shoes and I can see myself in this situation. Sitting with his Italian friend Antonio one day in Stockholm, they decided to turn their passion into a project.
A collection of 12 styles that would be handmade in Italy fusing Scandinavian Design with exciting Italian flair. Both of them have years of experience in the shoe industry and this reflects in the style of their boots. Their zipper boots are some of their most popular styles after all.
Fun Trivia: Project TWLV stands for Project Twelve, to commemorate the 12 launch styles during inception.
Different Styles For Different Occasions
The first thing you will notice when you enter the website, is that film noir feeling. It is very clean and straight to the point, just as you would expect from Scandinavia.
The main attraction however is men's shoes. Each style has a different codename and persona and most of them come in different leathers. From kangaroo leather, to python and soft cordovan or suede, Project TWLV boasts an impressive selection. Here's a quick listing:
Flame: Zipper Boots in 16 colors. Most popular model
Royal: Goodyear Welted Logger Boots for work-wear
Hanoi & Icon: Classic Chelsea Boots with a longer shaft
Play & Nexx: Interesting take on Balmoral Boots with a flat rubber sole
Lowrider: Rock Boots in Calf or Suede
Kent: Classic Chukkas for a relaxed look
Reflex: Hiker's Boots that you can go to war with
Cult: A more Classic take on Balmoral Boots from Horsehide Leather
Baltimore: Similar to the Royal Logger Boots but with broguing
Daze: A contemporary Derby Shoe in two colors
Jay: Chelsea Boots but with a very unique rubber strip to join the quarters and vamp
Hellstrom & Ace: Fashion forward Zipper Boots with a longer shaft
Hives: Harness Boots in Tan Suede
A total of 17 different styles to satisfy anyone is enough variety in my opinion. There is also a small "Women's Line" which has a total of 8 Boots at the moment.
When it comes to the stitching of the sole, Project TWLV focuses on three main methods. Blake, Blake Rapid and the Goodyear Welt System. It is an important feature of good shoes, since it allows the owner to resole them and prolong their life span greatly.
Disclaimer: Project TWLV use cordovan, which is essentially horsehide but NOT shell. They are transparent about it in the info tab, but it is always good to state.
Choice & Specifications
With the summer slowly approaching I wanted to try a more casual boot that I could wear with jeans and chinos. Looking at the Project TWLV website, the Royal Boot in beautiful Sand Suede was certainly a more unusual yet gorgeous boot. You know that feeling when you look at something and you think it has your name written all over it? Well I plead guilty then!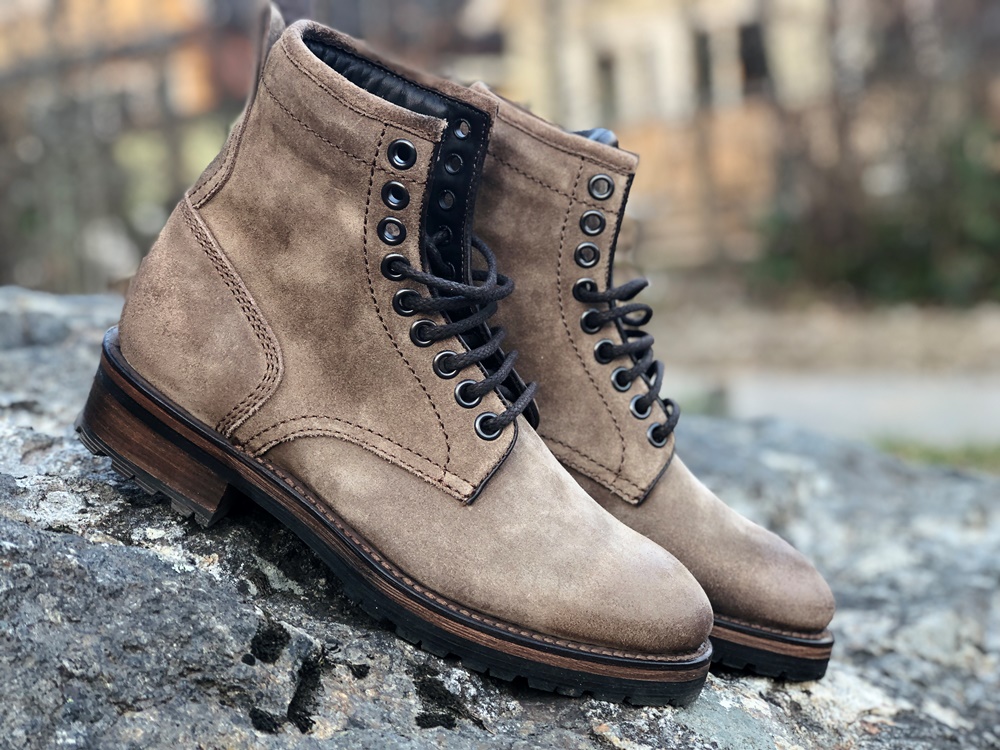 If you are wondering, a Logger Boot is a type of Work Boot which makes it an excellent choice if you are on your feet all day or need a sturdy strong shoe for more unusual professions. In most occasions they will have double welt as well. Here are the full specs for this model:
Brand: Project TWLV
Origin: Sweden
Made In: Italy
Style: Royal
Type: Logger Boot
Leather: Suede
Color: Sand
Soles: Leather with enforced rubber plates
Construction: Goodyear Welt System
Welt: 270°
Size: UK 6 (US 7/EU 40)
Eyelets: 9 normal eyelets
Price: $560 (€500/£430/5225 SEK) including VAT
Pretty good specs don't you think? I feel that it retains the spirit of the Work Boot while being unique at the same time. Let's find out if everything is as good as it sounds on paper.
Unboxing Experience
The first thing you will notice when your package arrives is how massive it is. The box is an absolute monster! I can tell you, no expenses were spared here. It has a black exterior with the Brand name on it and a subtle "Birdseye" texture feel to it.
Inside, a single big black cotton dust bag, a little leaflet of information in different languages, a desiccant bag and of course, your Boots. Wrapped carefully in plastic containers and protected by foam on the sides and middle part.
I would prefer having two dust bags as I do not want my shoes clashing with each other during transport, but it works very well for a suede boot. One can always use the plastic bags to separate them as well.
A lot of care has gone into the box and it shows. After all, spending over $500 is a significant investment. A good unboxing experience and certainly memorable compared to your standard boxes.
Oh My The Smell – Aka First Impressions
My first thought was how rich the smell of the suede was in the beginning. Not exactly similar to calfskin but definitely noticeable. Taking them out of the box I was impressed as much as confused. The former because the boots look fantastic and exactly what I expected them to be, while the latter due to the color.
Now, don't get hasty and judgmental. It is very hard to photoshoot the natural color of products and the truth is these appear a little lighter in the website. In reality however, it really depends on the light. I think they have a slightly more grey tone to them and I actually love it!
My mind began spinning and brainstorming about potential combinations or how good they will look with jeans.
Tip: Any color variance or texture is a natural characteristic, just like hand-patination. It is a desired effect and adds to the beauty of the Boot.
Styling & Appearance
They look like you can go to war with them in style
Ms. Misiu
I think this sums up the Project TWLV Royal Boot in Sand Suede pretty good! The suede has a rich color and nap to it, while the big eyelets and sole give that rugged look to the boot.
It is rather large and heavy, but elegant at the same time with details such as heels with beveled edges. I really like the extra padding of the tongue which adds extra comfort and the unusual upper stitching.
Toe & Backseam
Initially, I thought that there was an issue with the suede in those areas since it appeared waxy and flat. These ares are indeed brushed with a little wax on the polishing machine. This creates this desired rugged effect and also acts as an extra layer of protection.
The Toe is plain with a more round look while the backseam is unlike anything I have seen. A very interesting version with double and triple stitching and a patch of leather on the top culminating with a leather loop.
The Shaft & Eyelets
In true Logger Boot fashion, there are just eyelets here. In fact, 9 of them with some really tough, thick laces. The facing has a hockey stick shape but with an extra perpendicular stitching at the top to accommodate for the extra padding inside.
The tongue bears the Project TWLV logo on a patch of leather and from heel to top the boot is approximately 8″ tall (about 20.3 cm).
Lining & Insole
As for the lining, it is black leather with a nice full insole. Very simplistic overall and the only thing inside is the size on the back of the tongue and the Brand name where your heel sits.
Definitely a Scandinavian touch here! Simple and effective.
The sole
A very innovative sole to say the least! Leather soles handmade in Italy with reinforced rubber plating. It resembles the classic commando sole and has excellent grip.
I also counted a total of 17 nails hammered in the outsole to support it. A quality addition that prolongs the life of your sole.
Welt Stitching
The construction is a 270° based on the Goodyear Welt System and 1/4″ width. The SPI (Stitches Per Inch) is about 3 and 4 on the uppers with a nice light brown thread to match the midsoles.
Sizing Guide – An Important Topic!
Now, if there is potentially something Project TWLV could improve in the future is the addition of half sizes. Currently there are only full EU sizes and for advice you can refer here. It is extremely helpful.
Regardless, a very important detail is that these boots are manufactured a full size up. My regular size is UK 7, which meant I had to size down to UK 6.
It turns out to be the correct choice as these fit great straight out of the box. I should add that currently the sizes range from UK 6 to UK 12.
Tell Me, Are They Comfortable?
I can't emphasize enough how important is fit. Especially for this kind of boot that is made for long comfortable wear.
The thick laces make it a little challenging to slip in the boots initially and you really need to open them up. However, as soon as my foot was in It felt comfortable. The insole is quite soft and the instep generous enough.
Arch support is great and had no issue wearing them for hours at work. The padding on the tongue hugs your ankle but is not too overwhelming or thick.
Unfortunately, there is no information about the last or the width. All my shoes have the F fitting (Regular Width) and I would say this one is similar. I usually get some pain after many hours on my metatarsal but not with this one.
Apart from the overall style, comfort would be a big factor in me choosing these boots. Some people say that they are narrow, but it is not the case for me. It fits snug especially with thicker socks and there is just enough space in the toe area.
Based on my expectations and experience, I feel a 9.5/10 is perfect here. Great fit, good sizing advice and no break-in period.
Reminder: This is my own personal experience and yours might differ!
Quality – Leather & Construction
Half a year ago, I would not even look at suede. Now however, it is growing on me!
Apart from the back and front with the waxy finish, the suede has a nice, soft nap to it and a subtle yet visible color change depending on the direction you brush it.
The finishing is excellent as well and there is no inconsistency in either boot. The same can be said about the stitching which is is top-notch. A recurring theme lately of the shoes I review, but here I cannot find a single blemish. After a week of wear there is no visible creasing either on the vamp!
The sole is tanky with very good grip and perfect for rougher terrain. If there are little stones on the pavement they will get stuck in between the rubber reinforcements. Similar to the commando sole of the Carlos Santos Lace-Up Boots.
Lastly, the laces are quite thick but I feel match the essence of the boot. I really cannot find any more negatives here! I would gladly give it a 9/10 with half a point reserved for future updates. These are initial thoughts and we will see how the Boots stand the test of time.
Price, Value & Competition
The price is substantial for a boot made for more casual wear. At $560 you get a lot of boot however. Great construction and sole, comfort and quality materials. In an era where most companies outsource production to Asia, it is a breath of fresh air to see Project TWLV stay in Europe (but not Spain).
I feel that the Royal is a hybrid. It is for people that look for the rugged look and comfort of a Work Boot but with a touch of fashion. So if you are a fan of Iron Rangers for example but look for something different for your collection, I feel Project TWLV hits the nail in the head.
Every man should have a more casual boot for everyday wear and this is one of them. I don't see often Sand/Grey Suede colors and it is sure to stand out. It means business.
Overall, I believe that the Boot justifies its price tag with high quality construction, leather and finishing.
Taking Care Of Your Suede
Suede in general is a delicate material and does not like rain or smudges. Nonetheless, I was surprised last year in Sweden with how much I wore my suede sneakers. Rain or light snow is not a problem unless it is raining cats and dogs out there.
The only relevant and good tip I can give is to use a suede brush to remove dirt and dust. Store in a nice cool area away from sunlight and never ever leave them to dry next to a heater. Why? Because the suede can fade or harden.
Lastly, always use cedar shoe trees. The most important, inexpensive investment you will make.
Project TWLV Review – Royal Or Not?
For those of you that want a more luxurious sturdy boot with the feel of a work boot and touches of fashion, you cannot go wrong with Project TWLV.
The Royal line is exactly what I expected after my first encounter during the London Super Trunk. With great fit, quality materials and impeccable stitching everywhere but above everything, comfort. The suede is lovely but waxy in the front and back with a nice nap.
Honestly, I am very happy to own this boot and I look forward to years of wear. It might not be for everyone (at least in Sand color) but it should definitely put Project TWLV on the map for you.
Add to that the excellent support by Henrik and Johnny and we got a winner right here. I am always glad to work with passionate people and quality products and hope this lucky streak continues!
With that, it is time to wrap up the "Project TWLV Review of the Royal Logger Boots in Sand Suede". Wow, what a thrilling experience once more! Why don't you let me know what you think in the comments down below? Don't forget to subscribe, because we have some incredible upcoming content!
Thank you for reading,
Kostas Mandilaris,
Misiu Academy