The Pinstripe Suit Is A Timeless Classic
Bold, controversial, powerful. These are some of the words that can describe a Pinstripe Suit. It is a safe choice for those with a diverse wardrobe or looking for a classic business look. Of course this can lead to a lot of follow up questions. When should you buy one? How would you wear it? Should I choose blue or grey? Fear not, because this Complete Pinstripe Suit Guide is here to help you!
A long overdue guide due to a lack of time and proper shoes, but it is finally here! So I suggest you grab some coffee or warm tea like I am doing and enjoy this article!
Picture by GQ of Tommy Ton from Pitti Uomo 103
A Suit Style With Rich History
It always fascinated me how each suit, style and pattern have their own unique history. Few of them have such a diverse history of use such as the Pinstripe Suit.
In its core, the Pinstripe Suit is one of the most formal business suits a man can wear. Depending on the time period however it had a whole different meaning. Back in the day Pinstripes had a negative meaning attached to them as you often saw it on prisoners and sex workers.
It was not until the early 19th century that the Pinstripe Suit got traction and not like you would expect. Banks in London adopted pinstripe pants for their employees with unique colors, weights and widths. It was instantly recognizable and you could easily identify which bank the person worked for.
Strong Presence In The Early 19th Century
It was until after the spread of this fashion to the US that the first full Pinstripe Suits started showing up.
The famous US gangsters and Mafia of the early 20-30's wore Pinstripe Suits. Try to think of them and immediately a Double Breasted Pinstripe Suit with a Tommy Gun and a Fedora will come to mind. Tony Montana in Scarface went all guns blazing in a three piece Pinstripe Suit.
Then there was this resurgent association of Pinstripes with masculinity and power. Bankers, important people and those in finances wore such suits with peak lapels and structured shoulders. There was a strong sense of "Alpha Male", bravado and attitude about them.
Pinstripe Suits Today
The economic crisis of 2008 led to a decline of Pinstripe Suits due to the fact that everyone hated bankers. A more casual approach to more workplaces created a lesser need for people to wear suits. The combination of that and the recent resurgence of Pinstripes in the last few years makes for a very interesting case. Well, that and Daniel Craig.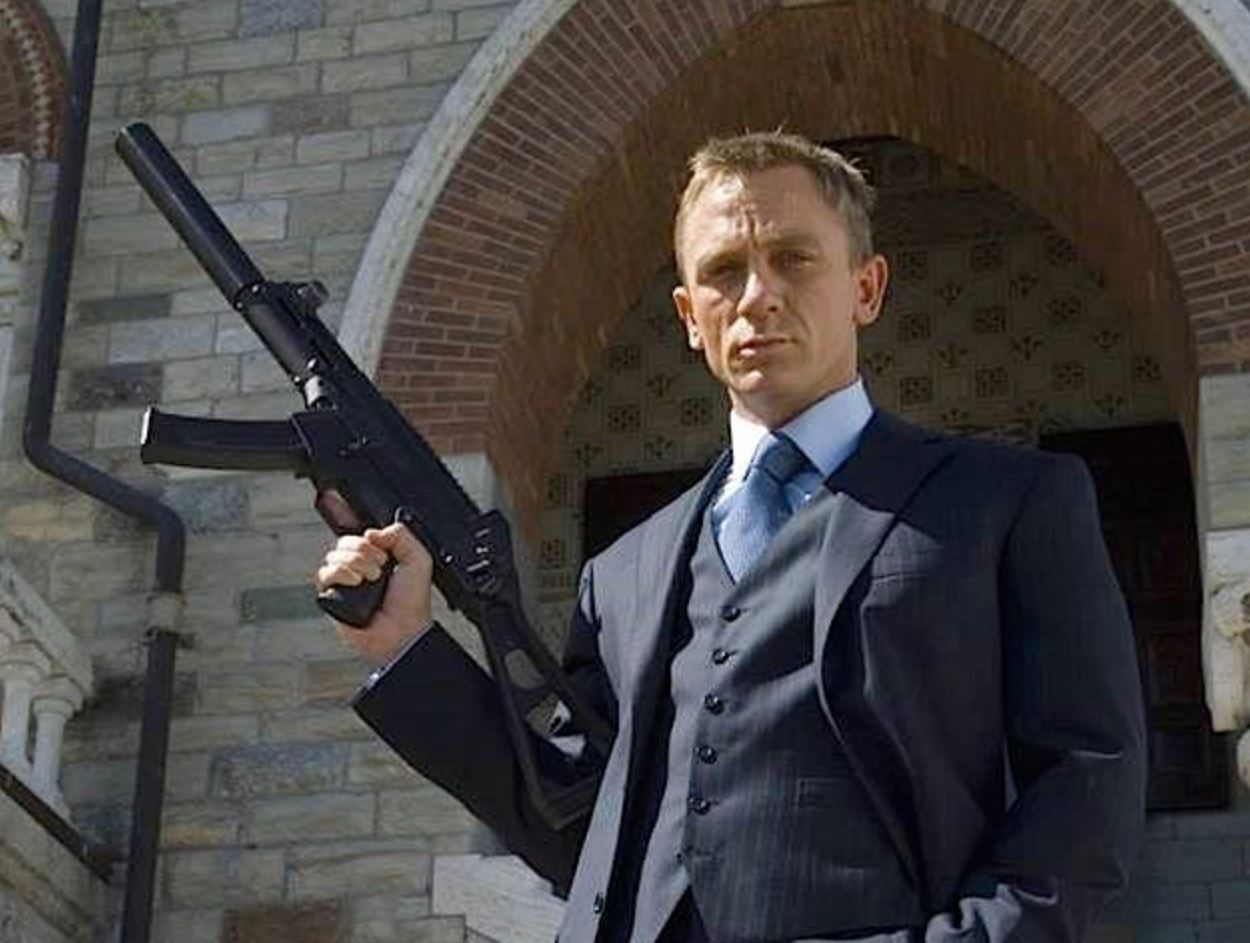 Usually, Pinstripe Suits were reserved for the workplace and the most formal occasions. However the aforementioned casual nature of the (new) 20's means that not only you can wear them anywhere, but you can even pop a turtleneck or sneakers under. It is a very interesting dynamic especially for me who prefers classic to stay classic but will always try out new things.
Types Of Stripes
Now that talked about the history I would like to briefly discuss the few different stripe patters that you might find on a Suit. This is because while we call them all "Pinstripes" for ease of use the are other names for each.
A stripe is essentially a line that runs across the fabric. The thickness, direction, distance between each stripe are some of the facts that influence the names. Generally, thicker more distant stripes are lower in the formality scale.
For today's Guide, I will use the term Pinstripe Suit.
Pinstripes
The universal term everyone will use is Pinstripes. They are very thin and got their name due to the fact that they resemble the top of a pin. When I say thin, I mean really thin! A Pinstripe is generally 1/30 inches wide (not wider than 1/18 according to Gentleman's Gazette).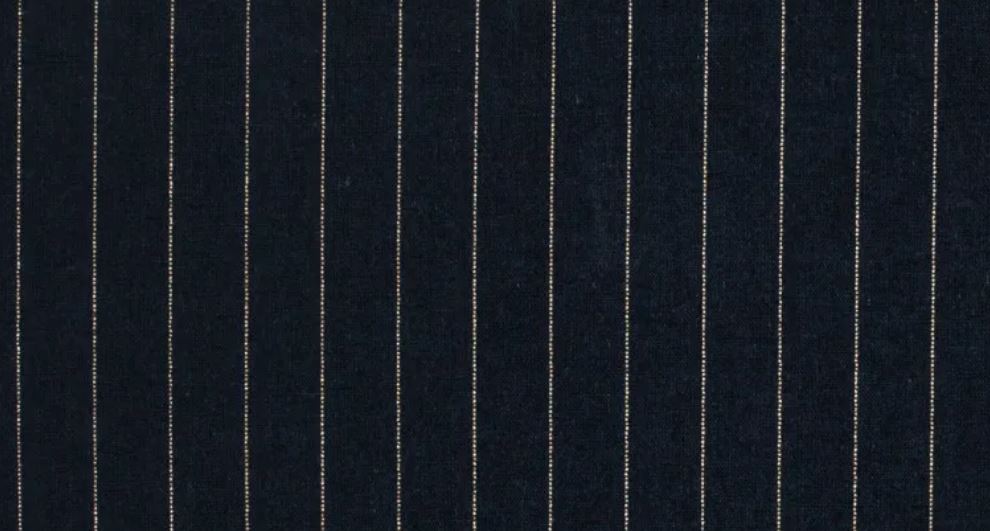 Spacing can vary greatly these days but it usually won't exceed 1 inch. More often than not you will find Pinstripes on dark colored suits such as Dark Grey or Dark Navy Blue. They are the most formal of the bunch and a timeless classic you can never go wrong with.
Due to the fact that they are so thin you will see them mostly in worsted wool suits and not flannel. Tailors used to draw with chalks too to make some measurements, which makes it extra fun in my book.
Chalk Stripes
Talking about flannel, here's where you will find the bulk of the Chalk Stripes. The name is also very intuitive as if someone took a chalk and drew a vertical line on the fabric.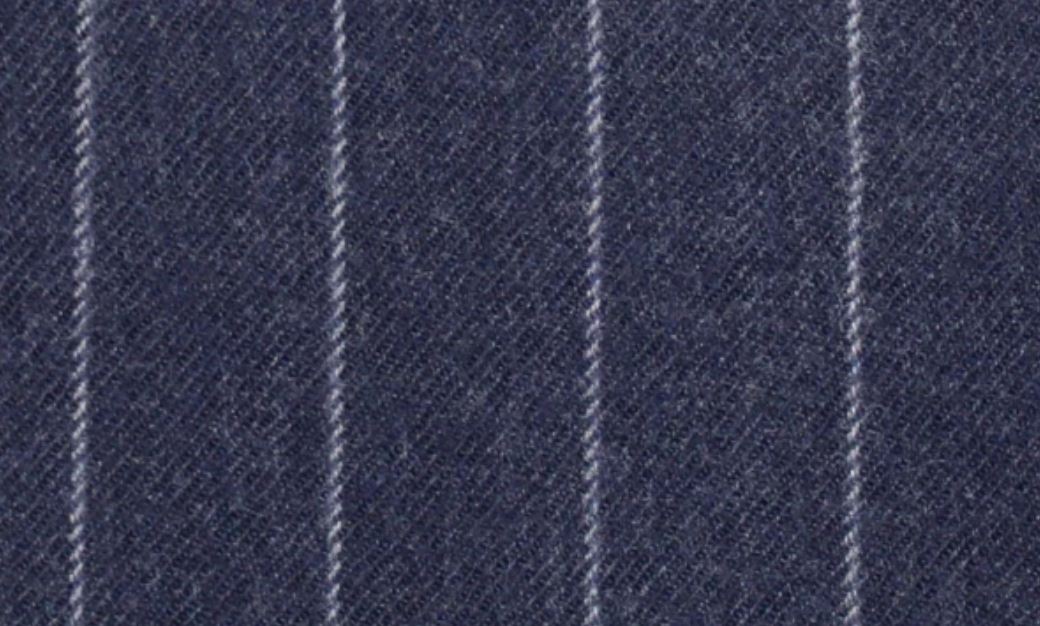 As a result Chalk Stripes are thicker and wider with varying space between them. It looks more like a spiraling line or a rope some would say. This makes them perfect for flannel "fuzzier" suits. If it is cold where you live and still want to maintain a professional look a flannel Chalk Stripe Suit is an excellent choice.
There is also a version of this called "Rope Stripes" with an even thicker rope-like texture. It is rather bold and something you will mostly see on custom suits or Suitsupply.
Special Mention – Regimental Stripes
I guess at this point it is worth mentioning the Regimental type of stripe. This is the one you will find on ties and have a 45 degree parallel angle. The direction of the downwards stripe (left or right) dictates the origin. Originally British Army Ties had stripes from left to right, while the popular American option from Right to Left.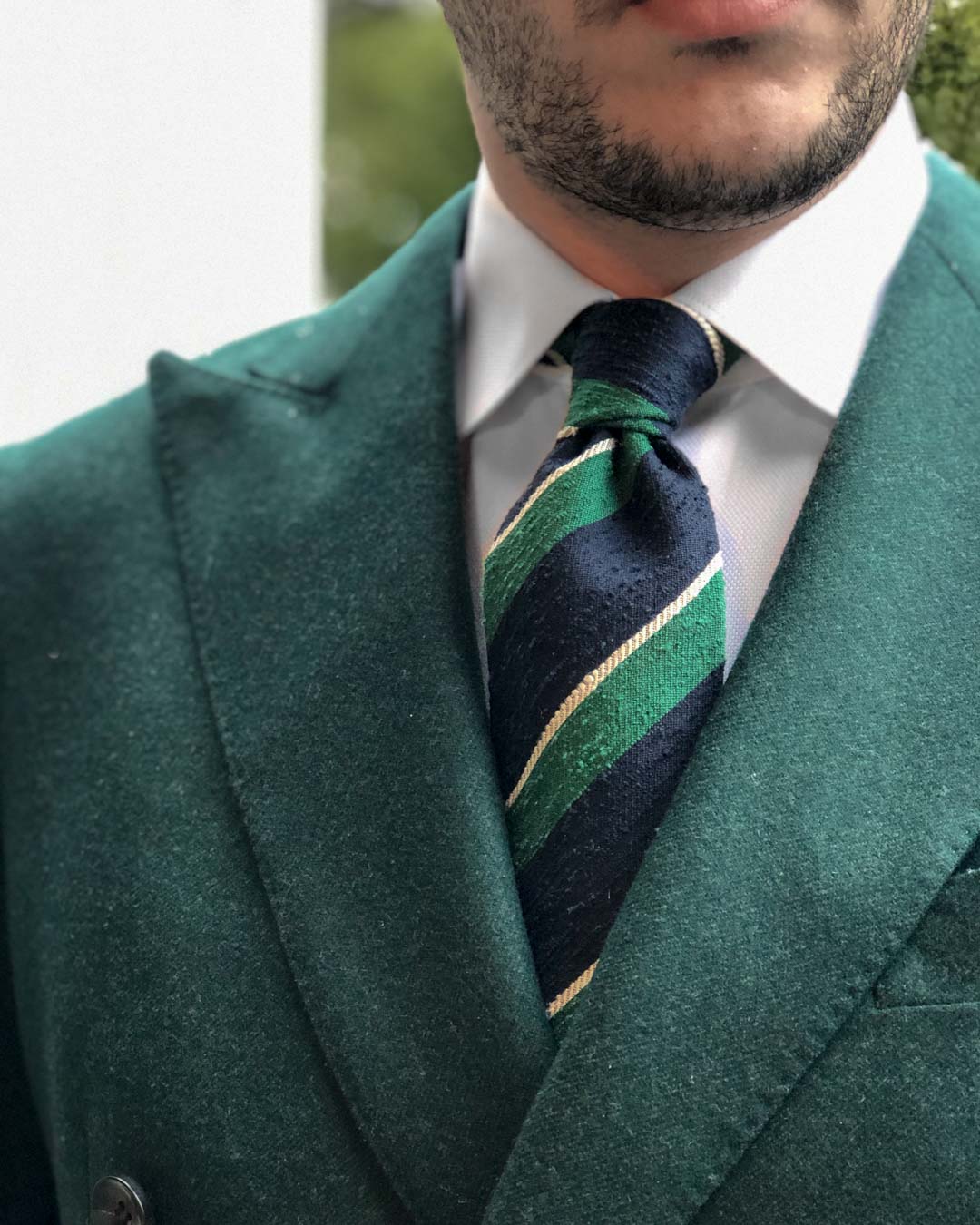 You can read my review of the Granqvist Regimental Tie here.
Who Should Wear A Pinstripe Suit
It is not so much the question of "Who" but more of a "Where" and "When". The truth is that a Pinstripe Suit is a strong statement that aims to impress and stand out. Would you remember the 9 people that wore a Navy Blue Suit or the guy in the Pinstripe Suit more?
It is a style more reserved for the formal workplace especially if we are talking Double Breasted. However you can slap a turtleneck on and you are good to go for a more relaxed yet unique approach.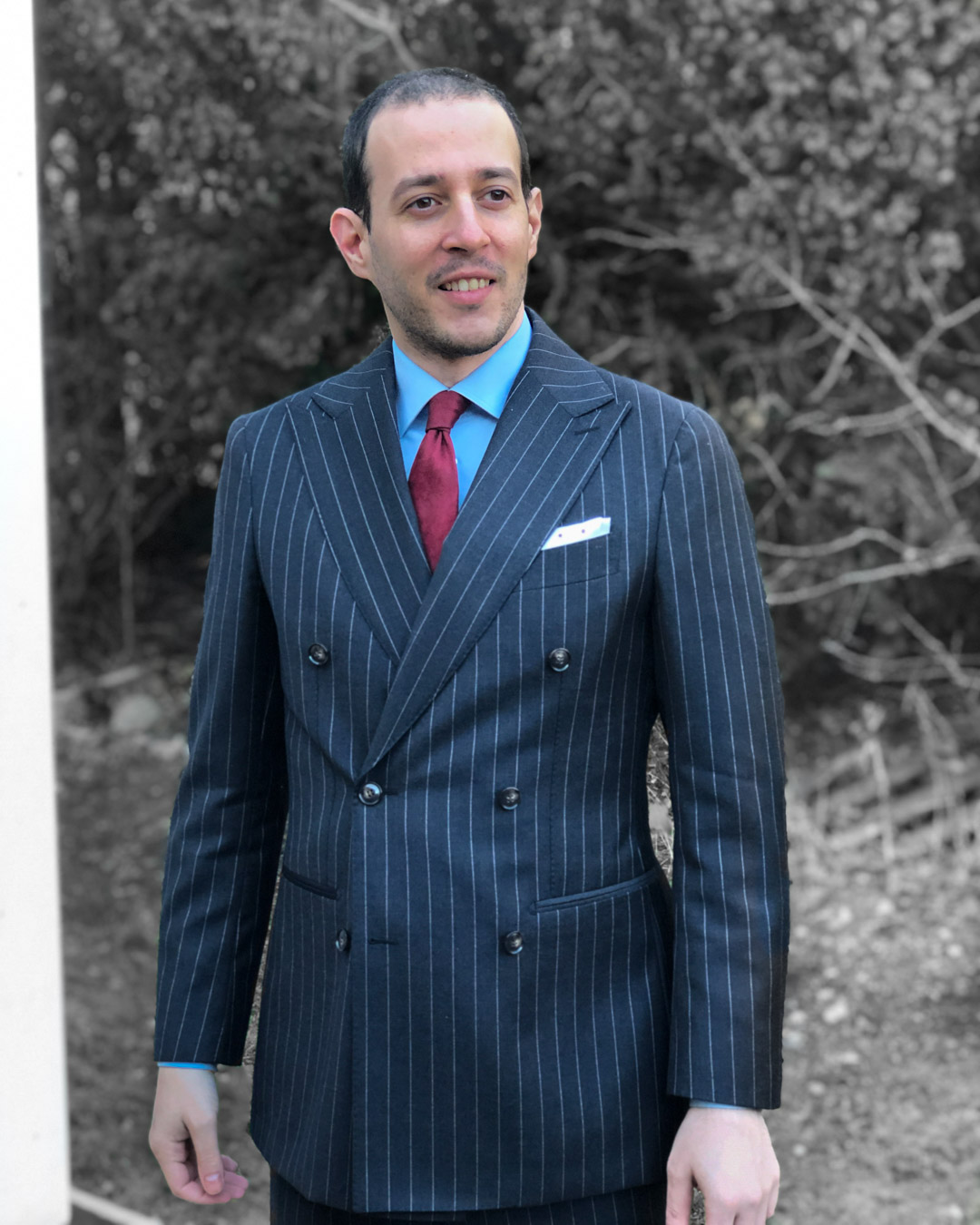 Due to the nature of the vertical stripes a Pinstripe Suit is an excellent choice for those that want to appear taller. They elongate the silhouette but you should avoid it if you are very tall as you can appear lanky and thin.
Likewise, I would not wear this in a funeral, a black tie event or anywhere where the dress code is below business casual. Unless of course you are comfortable with your own self and people know that this is your style.
It is not a suit to wear for a first interview unless it is for a really high position as it exhumes power, confidence and even arrogance if you are too young. This will bring us to our next point.
So When Should You Buy A Pinstripe Suit?
This and the next section are probably the most interesting and important. The Pinstripe Suit should NOT be the first or second suit you should buy.
Why? Because of all the above of course! The Pinstripe Suit is a statement and people will remember you. So you have to use it sparingly and use it as part of your rotation. For that to happen you need (in my opinion) at least 4 suits in more plain colors of blue and grey to create a minimalist wardrobe.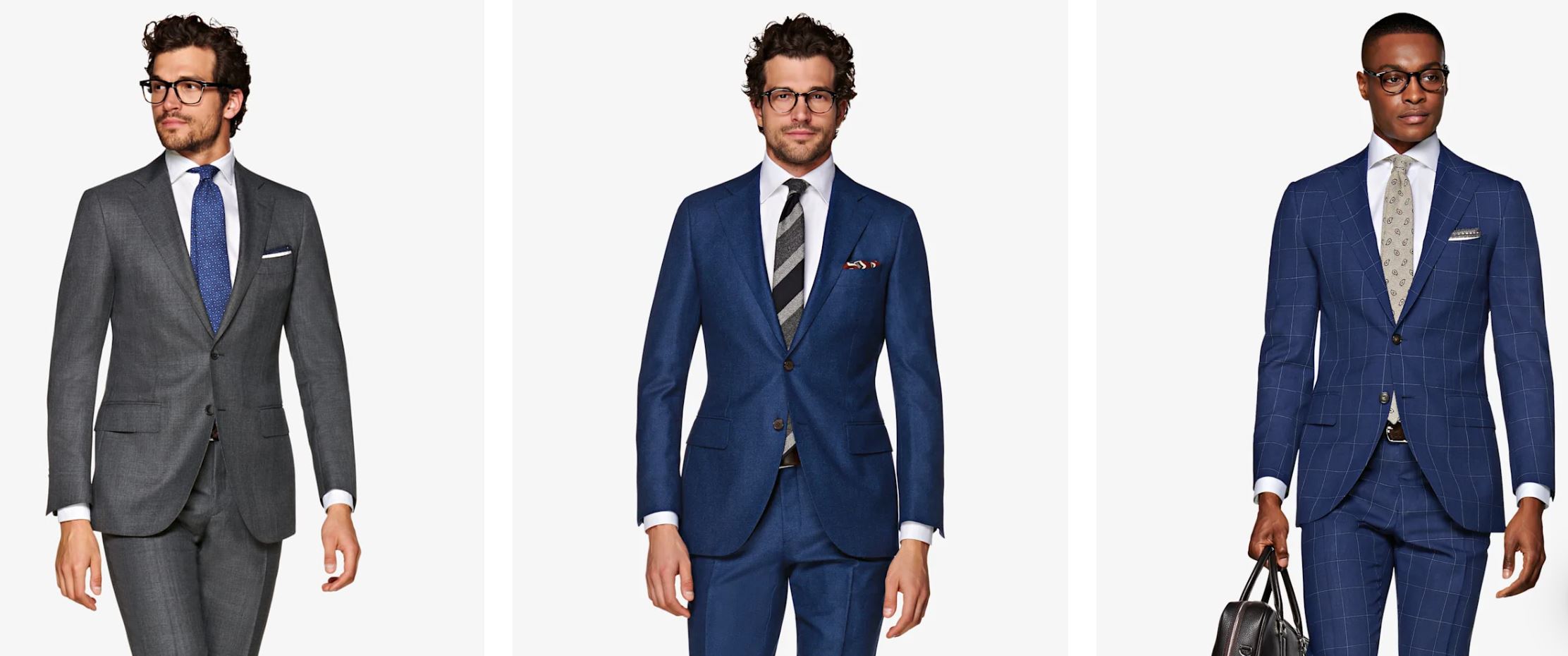 These suits do not draw too much attention and you can easily match them together. One day you can wear a Navy Blue, the other day a Charcoal Grey and the next one you can mix and match for a more relaxed yet classy outfit. Therefore the Pinstripe Suit should NOT be your only suit!
When things get special however the Pinstripe Suit is a very powerful tool in your quiver. Once you cover the basics it is an excellent addition to your arsenal and rotation. Otherwise all your effort to cultivate an effortless style of power and finesse will be in vain. You will come out as a try-hard.
Choosing Your Pinstripe Suit
It really depends on what look you are going for. For a more classic look, stick with the classic Charcoal Grey or Navy Blue Pinstripe options. If you are comfortable or bolder this is a great time to explore a Double Breasted version.
If you want a more playful look or something unique one of the best options is still Suitsupply. While I did write an article about their shady sales techniques recently they do have great value for the money.
As with all suits the most important aspect is Fit. No matter how good or luxurious a suit is if the fit is terrible, you will look really bad too. So no matter your budget, make sure to find the best possible fit for you. Here's a very quick checklist of what you need to achieve a proper fit:
The Shoulders should have a natural drape
Your waistline should have a nice "half-moon" shape instead of looking boxy
The jacket should be long enough to cover your seat
The sleeves should end around the bone at the break of the wrist
Pants should fit nice but not baggy or overly tight
Hem the pants to a proper break
I am a huge fan of Double Breasted Suits and I chose this Havana Jetted Model by Suitsupply. It has natural shoulders and just fits me perfectly in 38R with minimal adjustments.
Tip: Read all about the Suitsupply Suit Fits here!
Single Or Double Breasted
It really is up to you. If you are more conservative a Single Breasted is a fine option. If on the other hand you want to say "I am here" then the Double Breasted oozes class. Think of the occasion and the setting but none of them are wrong. If there is something that should influence your decision is your body shape and height.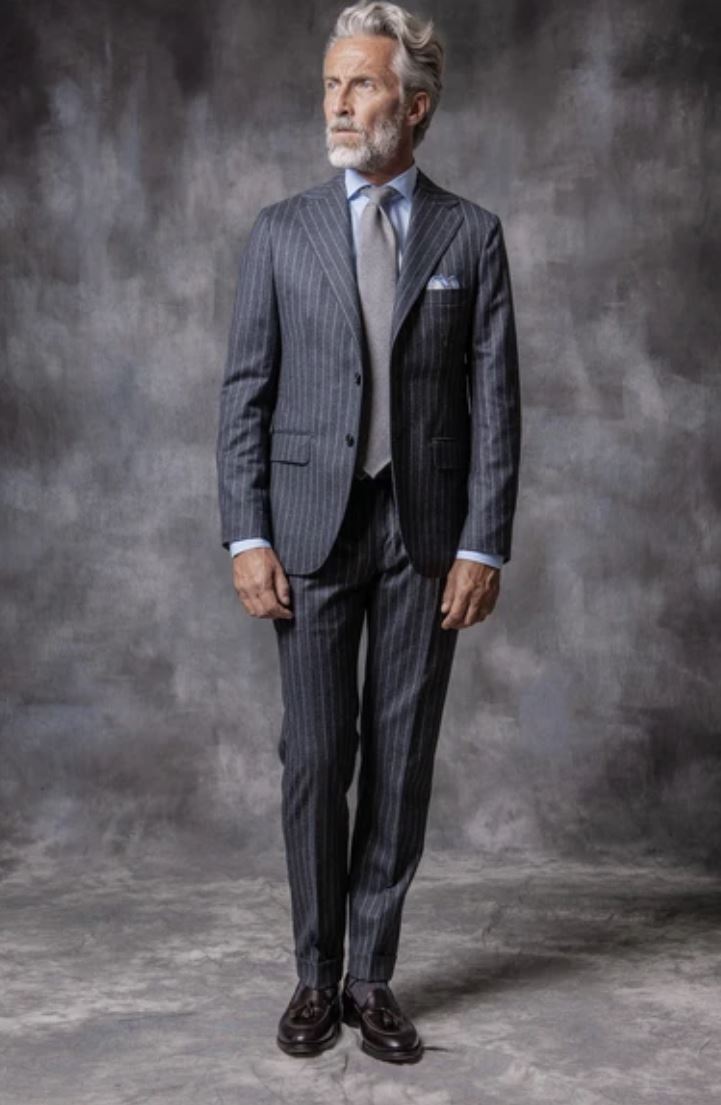 Double Breasted Suits often have peak lapels which help emphasize your shoulders and create a taller, slimmer silhouette. For these kind of suits I would advise to stay with the classic 6×2 button closure.
Is It Really Only Navy Or Grey?
For the business suits yes, there is no other real alternative. This is quite simple and straightforward. However as we move to a more casual age different stripe colors or wider placed stripes are becoming more viable.
You can still have some fun like this and also go for a little lighter blue or light/mid grey. But if you are going to appear in front of the board or a client, nothing beats a classic.
If you have it all, don't be afraid to experiment though!
Which Material To Use?
We already covered this point but nothing wrong with repeating. If you are in a very formal professional setting, worsted wool is your only option. Since you won't be wearing it too much luxurious fabrics are an option, however I would still use S110 – S130 wool for durability and a great look.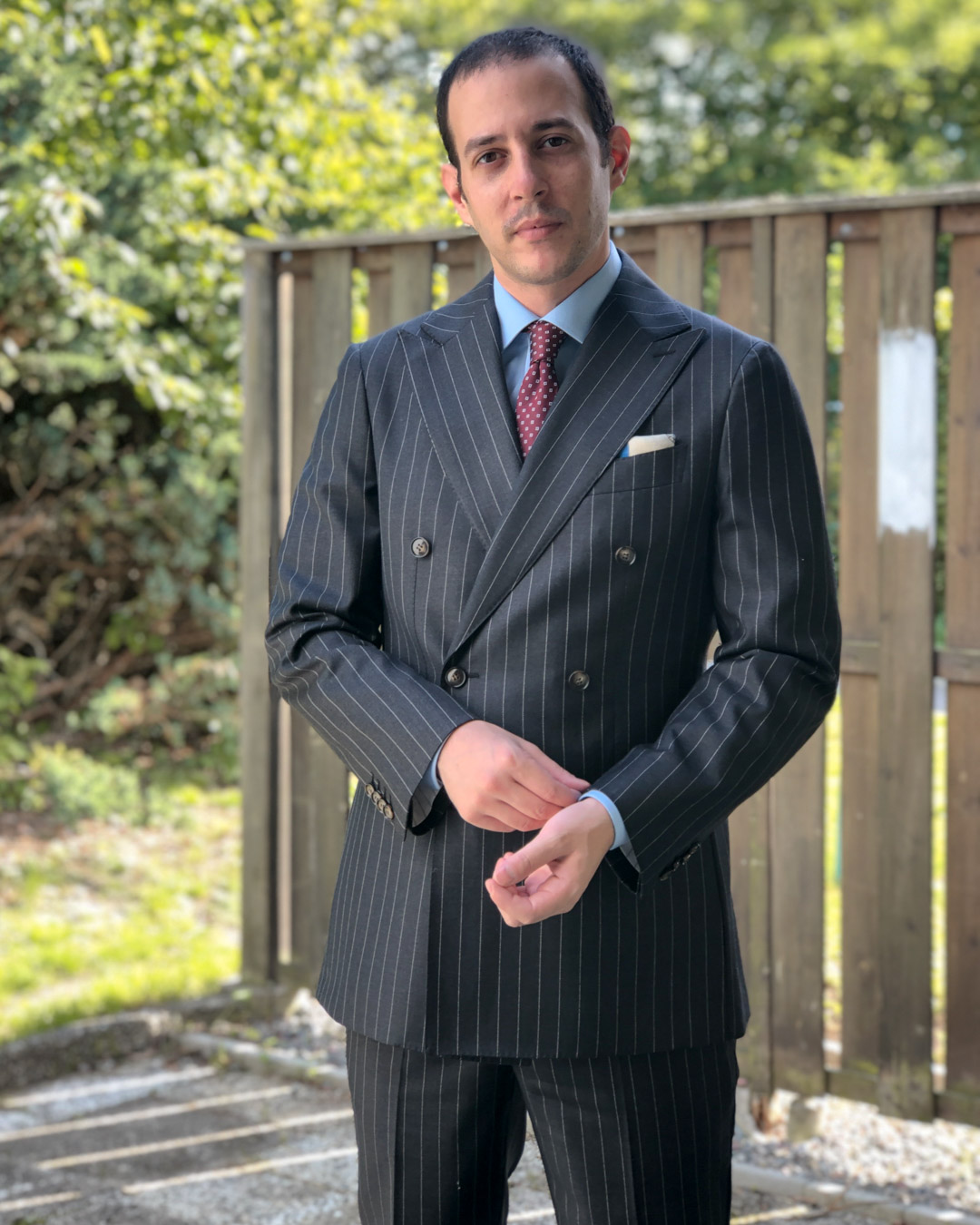 For a slightly more relaxed work environment or very cold places a more heavy flannel with chalk stripes is also acceptable. I have grown very fond of flannel living in Sweden and you will appreciate it greatly too. Pants tend to wear out a little faster with flannel due to the friction so consider getting an additional pair.
At least try to avoid synthetic materials and opt for at least 100% wool.
What About The Suit Construction
Let's face it, if you are considering a Pinstripe Suit and are reading this guide chances are you wear suits a lot and you have a standard line up. I would always spend a little extra to get a half-canvassed suit that will last for ever with proper care.
Canvas is a floating piece of cotton and horse hair that "lives" inside the jacket and drapes over your body retaining shape. Most RTW suits have a glued (fused) canvas that will eventually break and bunch up. This includes most of the designer suits and terrible over-hyped brands like Hugo Boss.
With the increasing prominence of online MTM good choices can be Oliver Wicks, Lanieri, Pini Parma and of course Suitsupply for the best value RTW suits in my opinion. Half Canvas for 399$ is hard to beat.
Great, Now Tell Me How To Style It!
In my opinion there is only a couple of big rules here but let's focus on some tips instead:
Tip #1: Do NOT over-mix many patterns. This is already a loud suit that draws attention to itself via the stripes. You can get away with two patterns and three if you know what you are doing, but it becomes way too noisy. This is the time to bring out the plain accessories.
Tip #2: If you choose stripes over stripes make sure they have different proportions. A striped shirt and suit with the same proportions will make you look like a blurry mess. It doesn't blend in well and distracts the eyes.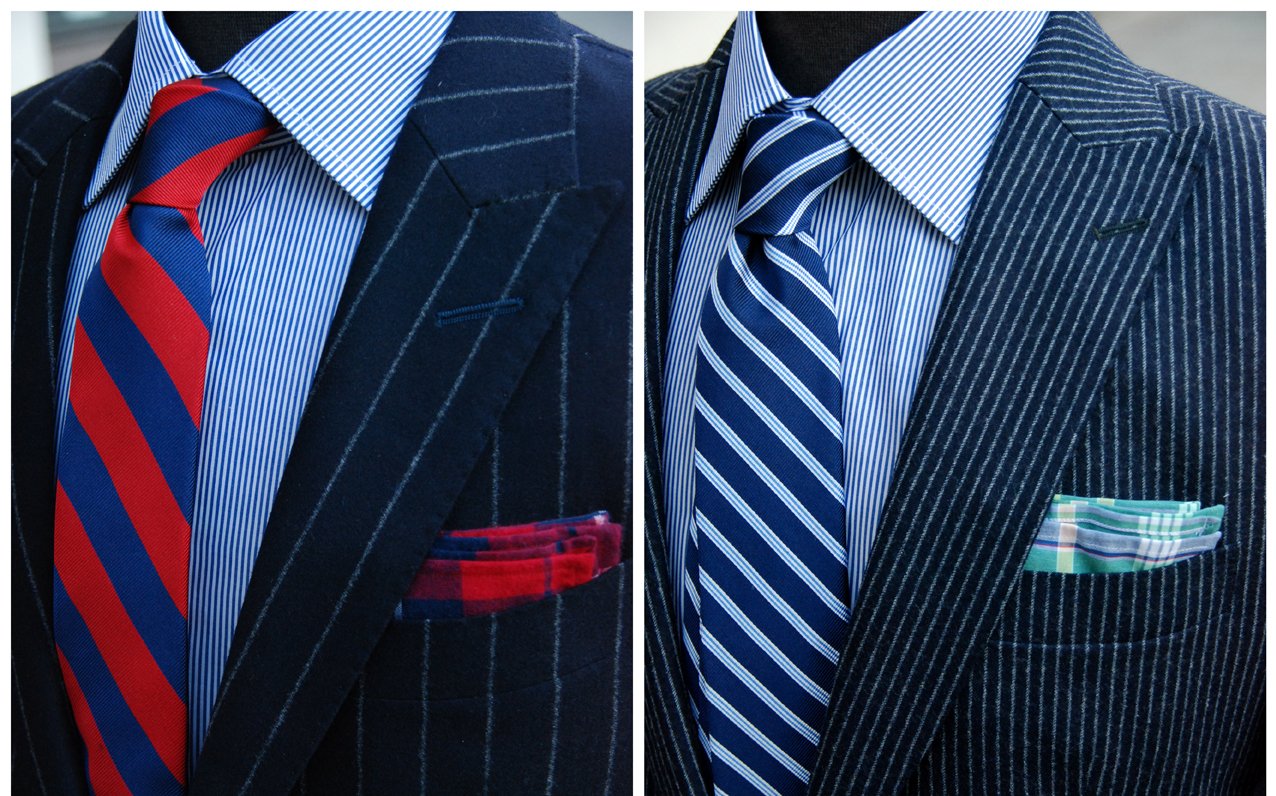 Tip #3: Divide and Conquer. Keep the pants and change the jacket. The Pinstripe Jacket is quite difficult to match solo but the pants can work with many different outfits. Suitsupply is really trying to push the drawstring flannel striped pants these days.
Tip #4: No Tan Shoes. I will discuss this more later, but anything light brown just looks weird into my eyes.
Tip #5: No monochromatic. You are not John Wick, nor Mauricio Pochettino.
Choice Of Shirt
We already talked about the Golden rule which is no stripes of same proportions. Most of you reading this will want a more contemporary look. In this case look no further than the following:
A Plain White Shirt
Light Blue Shirt
Light Pink also works great
Button Down Versions of the above
A Striped Shirt like above
These should already be the backbone of your wardrobe and make sure they fit well and proper. I find that checks mess with the stripe pattern too much. The same goes for the contrasting collar Winchester shirts. I personally feel it doesn't look as good and is too noisy for the pattern.
Accessories Make Or Break The Outfit
Here's where you can really shine. If you keep the shirt simple, you can really get creative with the tie or the pocket square. Plain solid colors are of course timeless and easy to match but there are a lot of options.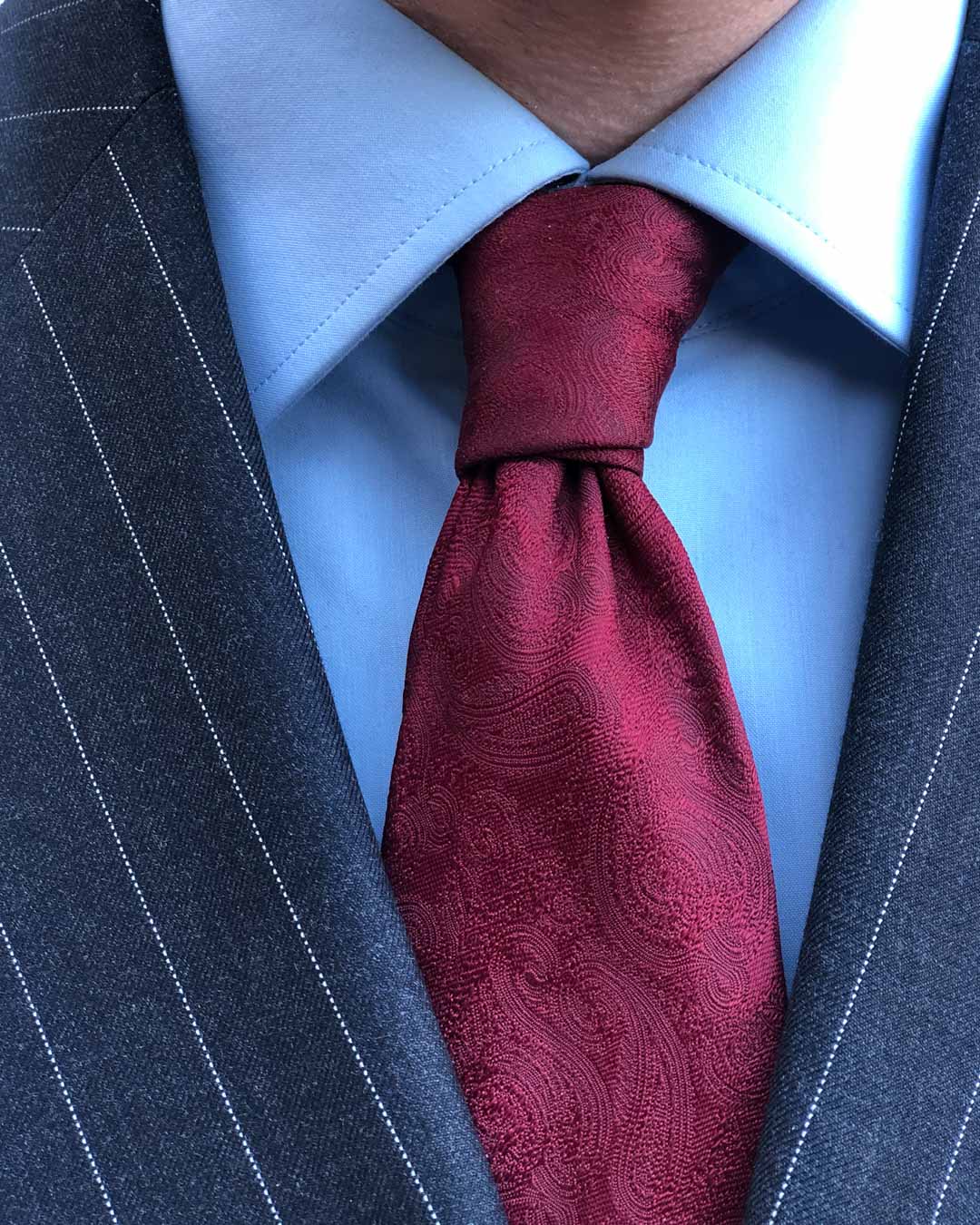 I feel that regimental ties and dotted ties work really well in shades of darker red and brown or green. I personally styled my suit with a nice wine red tie by John Henric with a very subtle paisley pattern. It appears plain but really shines up close. Blue, lighter grey and various shades of purple work wonderfully.
Pocket square can honestly be free for all. Choose a dark contrasting color or a classic white in a presidential fold.
There's no need for flashy lapel pins and less is more.
Shoes Are Quite Simple Really
This is probably one of the easiest sections to write but let's break it down.
Wear Black or Deep Burgundy Shoes with Charcoal/Grey Suits. You can get away with very dark brown shoes but tan or lighter orange colors look terrible. In my humble opinion at least. You can definitely wear dark green or navy too for more relaxed outfits.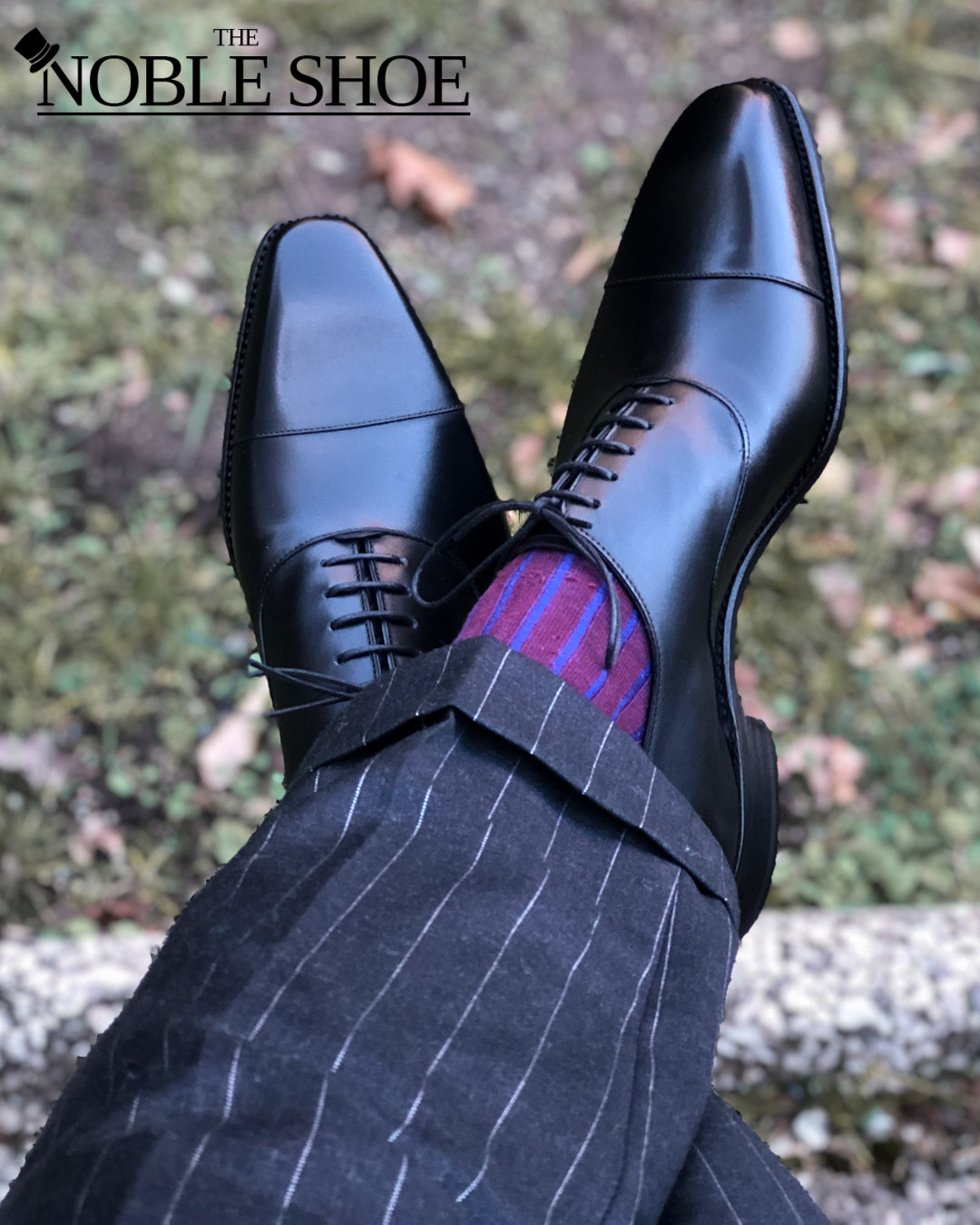 Navy Suits will look best with Dark Brown, period. Black works just fine and also lighter colors of brown. Oxblood is also a fantastic option. I do find Navy suits a little more flexible when it comes to shoes.
Alternative Styling
My dear reader, the world is your oyster here. You can lose the tie, wear some casual striped suits by Suitsupply and even wear sneakers if you want. I personally don't like these looks but there is one I think can look great.
A turtleneck is my favorite alternative and I think it can compliment this outfit very well.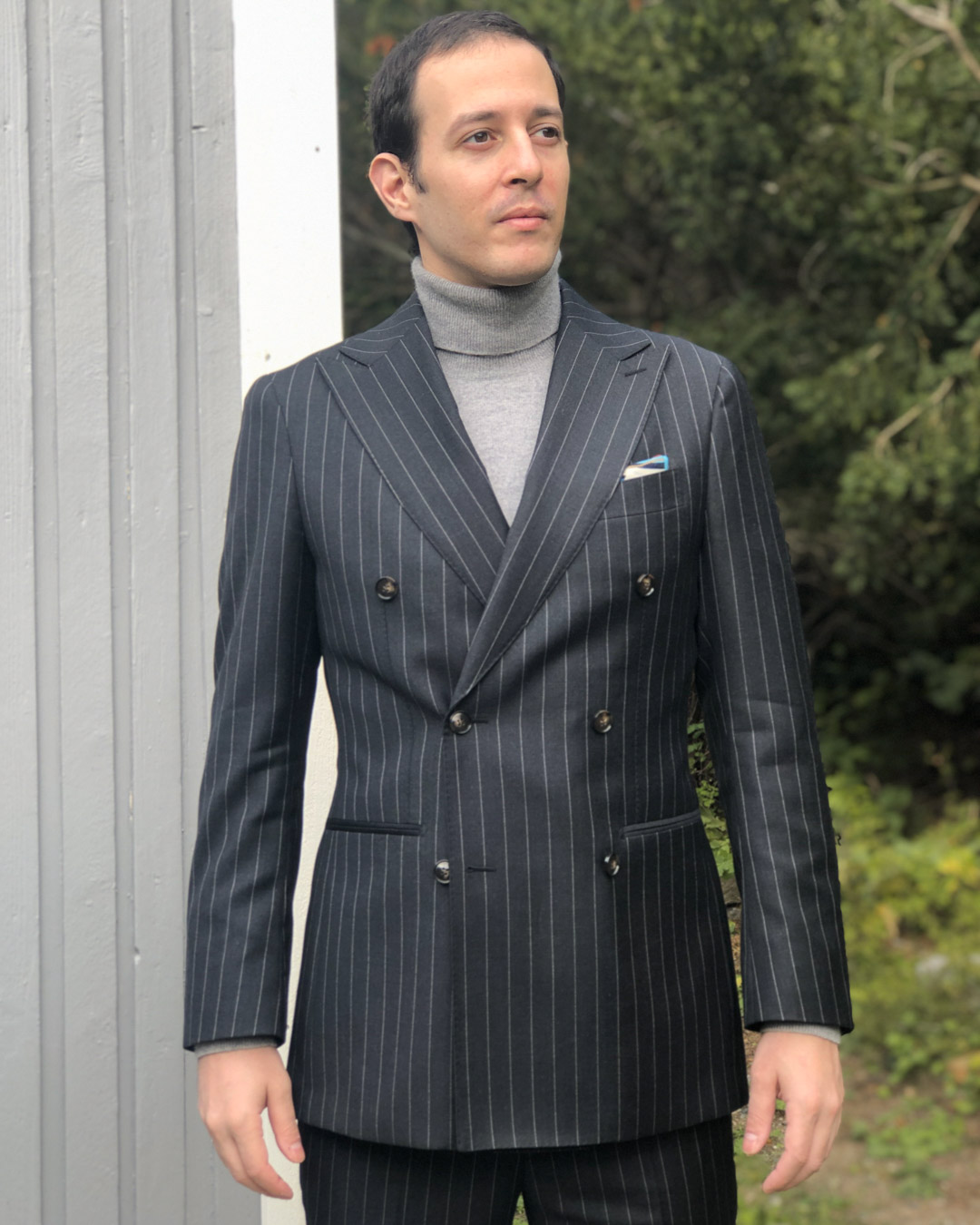 I know my own limitations and due to my more conservative outlook of the Pinstripe Suit Guide I do not feel as qualified to provide more insight in this matter. Turn to Instagram and Pinterest for food for thought!
Don't Be Afraid To Don The Pinstripe Suit
The Pinstripe Suit is special. It needs confidence, but once you wear it properly with a good fit you can feel like a million bucks. But don't bring the gangster, fake "alpha" attitude with it. Treat people with respect. Now go out there and suit up.
For those of you that consider this style focus on the basics. Pick a contemporary design and a great shirt then compliment it with the correct accessories and shoes. And do NOT make it your first or only suit! I cannot stress this enough.
There are probably things I missed and will adjust as time passes, but I feel I hit all the core topics. This is a Pinstripe Suit Guide after all and this marks the end of this article! Next week I will be back with the Shoe News for February and I have some super exciting ones for The Noble Shoe in particular.
Thank you for reading,
Kostas Mandilaris,
Misiu Academy