La Dolce Vita
Welcome to my highly anticipated Lanieri Suit Review article!
One of my most exciting suit acquisitions in a long time and an exciting new brand setting the standards.
A beautiful, high quality double breasted navy suit in a phenomenal Carlo Barbera fabric.
Join me as I break down the process and make an in-depth analysis of the quality and fit.
Let's explore the Italian sweet life!
Disclosures & Background
I actually felt that the title of this article is unfair.
The reason for that is that Lanieri is not an alternative, it's a superior choice for me.
Disillusioned as I was with my limited choices in Stockholm, I wrote a rather extensive article about potential Suitsupply Alternatives.
After that, I reached out to them and they were more than kind to let me choose a suit and make a thorough review.
This made for an excellent chance to not only see if my recommendation was right, but also show you a real online self-MTM experience and result.
As always, expect to see an honest approach but also advice and caution to avoid potential pitfalls.
Enough chit-chat though so let me start building up the anticipation!
Lanieri History
I was aware of Lanieri long before this review and way before my other article.
Seen on the Kavalier, Peak Lapel and various other blogs or Styleforum, I knew about their nonsensical higher end approach to online tailoring.
Lanieri is a 100% Italian company and they proudly remind you in every opportunity.
The best fabric mills in the world are in Italy and when you combine that with their panache, sprezzatura and sense of style the results can be explosive.
Since I am currently studying Italian for my upcoming move to Florence (Read Here), I researched the name a bit.
So, the word "laniero" means something along the lines of wool/woolen, while "lanieri" seems to be the plural form of that word.
Riccardo Schiavotto and Simone Maggi are the co-founders and like most, dreamed of offering accessible yet quality custom clothing to everyone.
With a few core physical locations and a growing online presence since 2012, they built a solid reputation that seems justified now that I tried them.
Lanieri Range
So what can you buy at Lanieri?
You can visit them in store in Italy (and a few more countries) or simply check out their website.
The website by the way is really nice, fast, responsive and easy to use.
Here's a quick breakdown of some of the made to measure garments you can make at Lanieri:
Suits: $645 up to $1490
Tuxedos: $1070 up to $1395
Trousers: $165 up to $435
Shirts: $115 up to $300
Waistcoats: $180 up to $470
Chinos: $190 up to $220
Sweaters: $200 up to $340
Knit Jackets: $335 up to $395
Blazers: $485 up to $1055
Polo Shirts: $120 up to $150
Coats: $745 up to $1195
Various Accessories
And probably more than I need to list here, but you get the idea.
The bottom line is, anything related to tailoring that involves wool, cashmere, cotton or linen will always be available in some form.
Order Process & Consultation
With the thread of Covid still upon us, improving the online experience is more important than ever.
Especially when tasked with the herculean task of getting a good fit and your own measurements on an expensive garment.
While I already had an idea of what I wanted, I still did a video consultation with Luisa who supported me through WhatsApp.
We discussed fabrics, choices and I mentioned my concerns about fit and my measurements.
I strongly recommend doing this as you can achieve a lot in just 15-30 minutes.
The principle of ordering a custom suit from Lanieri is not groundbreaking or new.
You will go through the list of fabrics and colors and pick your favorite design and begin customizing it.
What I found many companies lacking is transparency or additional details.
Lanieri always shows you the mill at the main page, but what I really like is how each cloth has an attribute system.
Through that, you understand how heavy it is, how fine or which season it's best suited for.
The Lanieri Customization Tool
To be honest, I will not go through everything in the customization tool in detail as this would require an article of its own!
After choosing your cloth, the first thing you will alter (or not) is the type of jacket and button configuration.
There is a choice of single breasted (two or three buttons) and double breasted with extra choices for the lapel style.
Afterwards you get to choose the style of the pockets. What I like is that they add a small description under each choice to help you if you are unsure.
Sleeve buttons are next, with a simple choice of 3 or 4 buttons. The latter will always be more formal and the usual default option.
Moving on to the shoulders and back of the jacket for your vents (double or single) which is always a fun stylistic choice.
Roped shoulders or "A camicia"? Personal preference but I really enjoy the natural shape of the shirt-shoulder.
To finish the jacket you need to choose a few minor cosmetic details.
The buttons for example, interior lining color as well as a choice between full or half lining.
You can change a few more aesthetic details such as the melton, piping, stitching and add a monogram before customizing your trousers.
Very interestingly that part begins with selecting the width at the hem (three choices).
A turn up is a cool feature for certain suits, but harder to pull off if you are a short man.
I don't want to unnecessarily overextend, but there are so many modifications for your trousers.
From changing colors, removing belt loops or adding pleats to changing the closure system or adding a coin pocket (because why not).
A total of 14 steps with great imagery and explanations to guide you through before a thorough summary.
Taking Measurements
This is by far the most important step of them all.
If you cannot visit a Lanieri shop, you will have to take measurements according to the guide.
I also recommend creating a profile so you can save these measurements and alter them in the future.
By visiting the measurements page you fire up a very helpful video tutorial that pauses after each step.
You punch in the result and based on your height, age and weight it gives you a common range or results.
There is a total of 12 steps and measurements for different sections of your body.
Most of them you will not be able to do alone, so make sure to get some help.
My advice is to go to a local good tailor and ask them to take these measurements and write them down.
The hardest one for me were the shoulders and arms.
After that you can submit your order and the wait time begins!
Lanieri Review | Specifications
Now we can finally begin with the practical part of the review by taking a look at the specs:
Fabric: Assoluto Blue Prince of Wales S150- Carlo Barbera (CB2001F-201)
Style: Double Breasted 6×2
Pockets: Jetted
Sleeve Buttons: 4
Jacket Vents: Double
Shoulder Style: A camicia (shirt-shoulder)
Buttons: Midnight Blue
Lining Style: Half-lined
Lining Color: Navy Blue
Piping: No
Stitching: Matching
Monogram: Yes (inside pocket)
Melton: Matching
Width At Hem: Medium
Turn Up: None
Tailored Waistband: Classic Blue
Trouser Pleats: One
Belt: Side Adjusters
Back Pockets: Yes
Fly Front: Zipper
Made In: 100% Italy
That's a long lengthy list!
So I was certain I wanted a really high end fabric this time as well as a double breasted suit.
A bit fan of side adjusters and shirt-shoulders made my choice relatively easy as well.
What I did want to try though was better trousers, as I loathe the low rise Suitsupply made standard.
So after my consultation with Luisa, she noted that I wanted a medium-high rise on my trousers.
While this might not be an option, get in contact with them or leave a note as it is a possible customization.
Initially I was skeptical about choosing a fine S150 fabric, but with so many suits and clothes I can rotate them a lot and not having to worry about wear and tear.
Delivery & Unboxing
I placed my order on July 27th and received the suit on the 16th of September.
This was longer than the usual wait, but Lanieri takes a break in August and were very transparent about it.
It was just a 1 day shipping delivery from Italy to Sweden with DHL Express.
The box was a little pressed and dented in one side from the transport, but luckily the garment was in great condition.
What I found inside was a nice protective canvas suit bag and a wooden hanger.
They folder the suit nicely without any creasing and it actually came with a really nice gentle scent.
I should probably mention there's a thank you letter, which is always a nice touch.
Fabric Quality
As enticed as I was from the Loro Piana and Zegna fabrics, I wanted a very specific pattern and color.
Few mills have such a stern and good reputation for high end fabrics such as Carlo Barbera.
The fabric I chose is a S150 very fine wool with 1% carbon which if I remember right helped with stains and odors.
Not heavy nor too light, this seemed like a good exclusive choice for a mild weather climate.
The image above is from the Lanieri website and a fair representation of what it is.
A navy prince of wales pattern which ended up being very discreet and hardly noticeable from afar.
This is perfectly fine for a meeting outside, or the office in my opinion.
The navy color leans more toward the darker spectrum but in all honesty it depends on the lighting.
Smooth to the touch, aesthetically pleasing and overall a high quality fabric.
Even if you opt for the lower tier fabrics you will find something great whether it is from Reda, Drago, VBC up to Loro Piana.
Fabric quality was the least of my worries when it comes to online MTM!
Lanieri MTM Suit Review | Fit
Now, to the moment you all been waiting for and the big question.
How is the fit?
I will break it down in two sections and discuss both the jacket and trousers before making an conclusive summary.
Make sure to read the whole section carefully to understand the pros as well as the criticism!
Jacket Fit
Let's begin with the jacket, or upper part of the suit.
My first initial impressions were that for such an amateur way of taking measurements (a friend), the result was pretty good.
Not only that, but I lost 7 kg since I ordered the suit which surely affected the final fit.
Now that I spent more time with it, I can see certain areas that needed improvement or adjustments.
As you can see from the main picture, there are a few key points for the next go, but none that warrants a remake for me.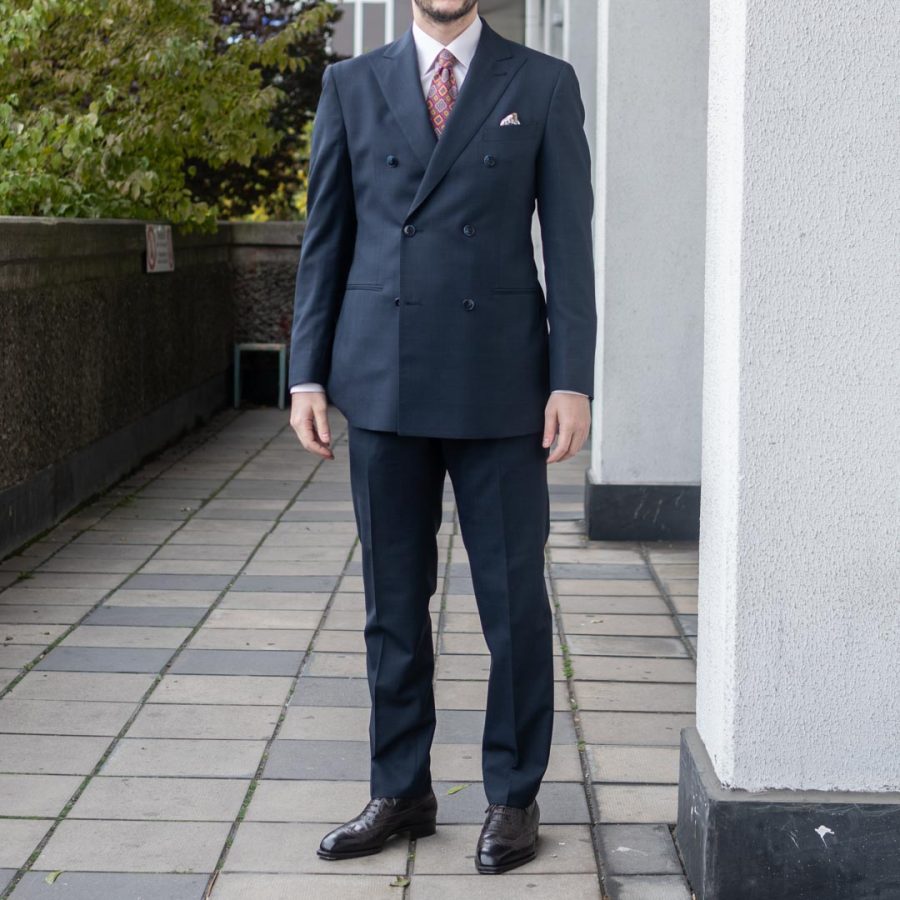 Let me walk you through from top to bottom.
The collar sits very nice with no visible gap and would require micro adjustments in a future new suit.
Both shoulders slope well and straight but then I want you to focus a bit at the end of the shoulder blade where your arm connects.
It is visible that the line arches a little to the left with a tad of excess fabric, indicating they are slightly too big.
Rather intelligently, I chose shirt shoulders which have no padding and mask that. Whereas a padded shoulder would have what I call a "finger gap".
From the side, it is less visible but you can spot it very slightly.
Moving on to the lapels, I think on my next jacket I would request a slightly wider lapel for a bolder look.
What is really nice is the quality of the buttons and the beautiful way the lapel rolls.
For those of you wondering, I am wearing my lovely Dignito Tie & Pocket Square here.
Notice how every button is a little unique and how the lapel rolls just over the button.
Here's another closer look at the fabric and the 4 button configuration on the sleeves.
Since we are talking about the sleeves, I should touch a bit on the length.
Lanieri did a very good job with one of the hardest measurements to get right and with this shirt it looks great.
However due to the bulk of my shirts and the way I wear my suits, I will very slightly shorten them about 0.75 cm.
There is a nice amount of space at the waist area, though it does feel a little boxier due to my weight loss.
A very easy alteration, I shall taper the waist a few centimeters for a more tapered profile. Not too much however to avoid the bottom of the jacket creating the "skirt" effect.
The length of the jacket is very nice, just covering my seat (butt for us uncultured!) but on the next jacket I will probably request a slightly lower button stance.
Moving on let's take a quick look at the back which is an often overlooked part of the suit.
Honestly pretty good right? Drapes nicely and there's no stretch or saggy fabric at the back or the neck area.
You also get a good idea of how the vents drape over the seat.
Lastly, I want to touch upon the inside of the jacket which is excellent.
When I made my custom Suitsupply suits last year I chose the alpaca lining to make them more fun.
However there was no note about them being mainly polyester. It was a little disappointing.
In any case, the Lanieri one is excellent, smooth and half lining was a good choice.
Moving on!
Trouser Fit
The second part of my Lanieri Review is all about the trousers.
My biggest gripe with Suitsupply RTW trousers is the absolutely appalling trouser rise.
It's as low as the Mariana Trench and what's funnier is that they instructed us to call it a "higher rise than usual" at the shop.
If it really was that way, then all the keyboard warriors on Styleforum, Reddit or Instagram wouldn't let me know every time!
In any case, we are here to talk about Lanieri.
If you remember right, I made a special request in my notes for a medium/higher rise.
And finally, behold a pair of proper rise trousers.
There is no way I am going back to normal again, it just looks so much better on me.
They sit just around the belly button area and the extra space and comfort is riveting.
When it comes to the fit the trousers are lovely, but if you remember I lost a lot of weight.
So I will take in the waist and remove a few centimeters from the seat when I get the time.
Excellent quality, lining and stitching everywhere with some excellent side adjusters.
The most impressive part for me is how Lanieri really nailed the length.
No need to hem them at all, just resting on the shoes for a clean no-break look.
I am also glad I chose the medium width instead of tapering the legs too much as it keeps a good balance of comfort and modern fit for me.
Lastly, every small part including the zippers or the pockets doesn't feel like it will fall off.
Very impressed with the trousers, well done.
Fit Conclusions
Let's sum things up.
The small alterations that I will do on the suit are taking slightly the waist in both the jacket and the trousers and shortening the sleeves.
In an ideal world, I would remake this with some better fitting shoulders.
Since Lanieri were kind enough to provide me with this suit and the highest end fabric available, I will take care of my own alterations and not request any remake.
It would just feel wrong and I could not morally do it.
At the same time, I wanted to see what the result would be for someone that is maybe not so experienced or uses help for basic measurements.
Think of it of a more proper, real life test.
In your case, if the end result is subpar or plain wrong, you can ask a remake plus they will cover alterations.
Online MTM requires some patience, tweaking and luck.
More on that later, but I am pleased with the results!
Are There Any Negatives?
You know, if I think about the technical stuff, the fit of the trousers, the pattern matching, small touches of quality and overall stitching, Lanieri gets top grades.
Then again, their target audience is a bit different from the nonchalant bold and excessively modern Suitsupply approach.
I also got top notch service, personal discussions and advice in an era where online customer service is severely lacking.
Lanieri's campaign aims to offer classic finesse, while Suitsupply's mission is to shock.
The only real negatives from my experience (or rather challenges) is the whole concept of online made to measure.
It is really, really challenging to get it right the first time and as our bodies change so will the adjustments you will subsequently make.
The end result depends on the skill of the person taking your measurements and the AI and machine learning translating it into a proper fitting article.
One can perceive the increased price point or the "Made in Italy" badge as a negative.
More than often those are the kind of people that comment on my blog saying that $300 is too much to spend on Goodyear Welted shoes and that Stacy Adams is fine.
It is perfectly fine to pay more for quality and a better service in my book.
Plus, if you visit or are around one of Lanieri's stores you can get a proper in-store experience.
Your expectations set the bar for how negative one of the aforementioned points will be.
Would I Go Back To Suitsupply?
Just like I found Apposta for shirts, I now feel compelled to explore Lanieri more in the future as well as other brands.
Outside of outerwear and maybe some sports jackets, I do not think I will go back to them again.
The only compelling reason for me to get something is their Made To Measure and their frankly astonishing variety of fabrics and unique patterns.
While it is obvious that Asia and China are catching up with the world in skill and quality, I want to step up from mass produced suiting and clothes that appear on Nordstrom (seriously).
I want a more exclusive experience and when I tweak my fit this is exactly what I will get.
Living in Italy has the added benefit of myriads of local amazing tailors that will craft me something unique and emotionally strong.
Suitsupply is a good brand to start and familiarize yourself with suiting but you will realize the small quality details with brands such as Lanieri.
However, they stabbed themselves in the foot with some atrocious orgy marketing and all the cherry pickers waiting for outlets.
Sales are good for the consumer, but devalue a brand and this is why I don't do them often in The Noble Shoe.
Discount on your first order
If you find Lanieri interesting (stay tuned, I bought more trousers and a new suit with my own money), I have a referral code.
It is a 100 Euros Discount on your first order (valid on orders over 300 Euros) and I simply get 100 Euros credit.
You can use the code MISIUACADEMY by clicking the link.
I recently visited their store and they were very professional in a great calm environment.
Concluding Thoughts
This review took me hours and days to make, mostly because of my limited time and my thirst for perfection and good content.
There's no denying that Lanieri deserves a lot of praise and has something great in its core.
My advice to you prospective buyers is to start with the lower end, familiarize yourself with the process and fabrics and then work your way up.
Half and Full Canvassed suits for $645+ is a good deal but ultimately an experience you need to go through yourselves.
I want to personally thank Alessandro and Luisa for their help during this journey.
If you are in the hunt for a high quality online MTM Experience, I strongly recommend checking out Lanieri.
What did you think about the review and the suit?
I would love to hear your opinions in the comments and let me know what you would like me to review next from Lanieri or any other company!
Until next time, stay dapper and stay safe!
Thank you for reading,
Kostas Mandilaris,
Misiu Academy