Reviewing One Of The Best
In today's article I will Review a pair of shoes by Acme Shoemaker.
A rising, Chinese shoemaker earning rave reviews about their quality and handmade shoes.
Specifically, I will review a beautiful pair of Mid-Brown Double Monk Strap Shoes.
Expectations and hype are high about this brand so let's find out together if it is true.
Let's begin.
Preface & Background
Before I begin everything, I want to make a few comments and disclaimers for transparency.
Acme Shoemaker kindly provided a pair of shoes of my choice in exchange for this Review.
However, as you will see my honesty remains and with my newfound experience as a Bespoke Shoemaker I will go deeper than ever today.
In fact, they kindly asked me to be brutally honest about everything so they can keep on improving.
Today's article, as well as the upcoming video is going to be the longest, most exhausting yet.
If you are looking for an article just saying how good the leather or the looks are, there are many articles out there.
Instead, in combination with that I will also discuss various parts of the shoe, whys and hows.
Lastly, I should also mention that when I approached Acme Shoemaker for the Review pair I mentioned that I would be glad to ship them back afterwards.
It will be a long, fun ride and I am glad to have you reading with me.
ACme Shoemaker | Short History
It's no secret that Asian and Chinese Shoemaking is booming in the last few years.
A lot of brands and individual shoemakers showcase the world that China is more than just cheap low-quality knockoffs.
During these years I tried many ambitious projects such as Yearn Shoemaker, Yeossal and more.
Some failed to impress, some were extraordinary but their dedication to improve was evident.
As opposed to the stagnated English contemporary brands, their Asian counterparts seek to constantly improve with a newfound thirst for perfection.
Probably the most ambitious, high end project of recent times is Acme Shoemaker.
A project that launched in Shanghai (China) in March 2020 and keeps going from strength to strength.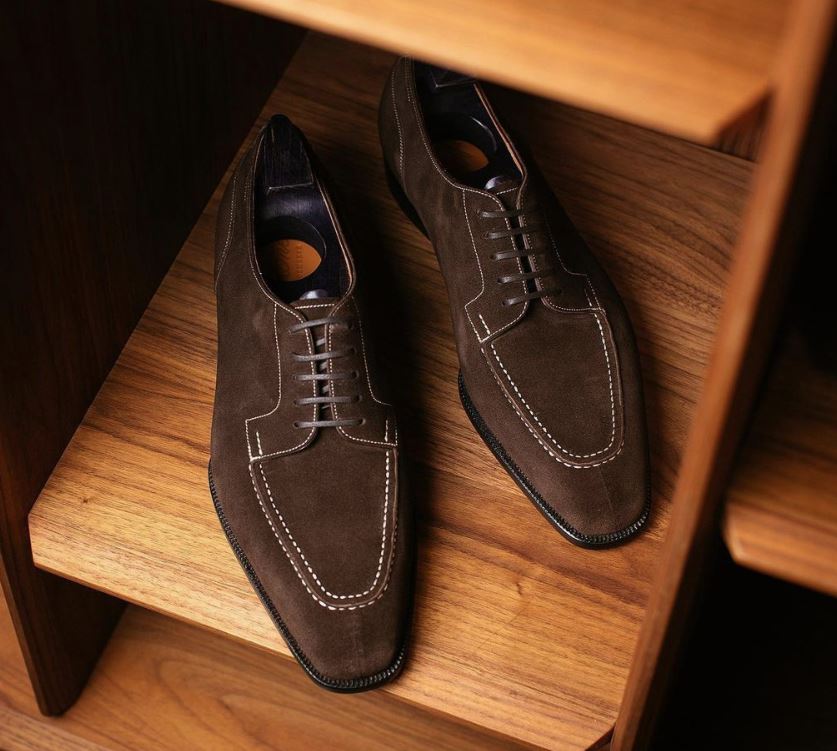 Even more impressive if you think about the fact that they launched exactly when the world started going into lock-downs.
Since then, Acme Shoemaker created a new modern website and made guest appearances in the Shoegazing Trunk Shows.
While the brand is new, the experience is old with about 15 artisans with an average of 30 years of shoemaking.
The shoes are also very expensive but also fully handmade using the old traditional methods.
We will dissect all that later, but for now let's talk about their offerings before moving on to the actual review.
Acme Shoemaker Ranges
Quite simply, Acme Shoemaker can do anything.
There is a RTW Range of about 66 models from the simplest oxford to a fancy lazyman or boot.
Their prices begin around the $1500 mark which is quite fair when comparing to say the Stefano Bemer Tradizione which is around $2000.
You can even find a lower "comfort" cemented range of sneakers or lightweight dress shoes for about half that price.
The second stage is Made To Order where you can essentially choose any style you see and apply different colors, leathers or soles.
MTO's have about a $200 surcharge which depends on the cost of the shoe.
For those that have special feet or require modifications there is also Made To Measure.
Essentially you take an existing last where you either shave or add parts to accommodate your foot.
For example, let's say you have a narrow heel but a wider foot you can do both modifications.
This means that the price can vary depending on the level of involvement and the changes you require.
With an average 8 week turnaround it is also extremely efficient and quick.
Lastly, you have Acme Shoemaker's Bespoke Service which is the top range.
It requires a custom last but also includes a pair of trial fitting shoes which is vital to getting the right fit.
Prices increased since the last quote, but I would expect them to be around the $2500 to $3000 range.
Acme Shoemaker offers at least 6 RTW Lasts right now and has access to some of the best leathers in the world.
No wonder expectations are high with each pair.
Update On Bespoke & MTM
After the publishing of my Review, Acme contacted me with some extra details which I will update now.
MTM is not a part of the range now and they focus on MTO and Bespoke.
It all comes down to if the customer is able to meet the shoemakers who will take their measurements.
Obviously, after trying the standard lasts they can see if Bespoke is required or not.
In the likely case (with foreign customers) that a measurement is not possible, there will be strong communication between Acme and them to ensure the best solution.
The possibility of trial shoes also lessens the burden of getting the fit wrong or identifying problematic spots.
Bespoke starts from $2500 and includes lasted shoe trees, but the creation of a personal last is $250 and is a one time cost.
Trial shoes also cost $250 which is quite reasonable.
Specifications
Today's pair is a Double Monk Strap with a punched cap-toe and a mid-brown color.
As we get ready for the actual review, let's showcase the specifications first:
Brand: Acme Shoemaker
Model: 8039
Type: Double Monk Strap
Range: RTW
Details: Punched Cap-Toe, Seamless Back
Leather: Full Grain Calfskin
Color: Mid-Brown Handpainted Patina
Construction: Hand-Clicked, Hand-Welted, Hand-Lasted, Hand-Sewn
Lining: Leather (Natural)
Sole: Handpainted Leather Closed Channel
Last: Q90
Size: UK 8 (US 9D/EU 42)
Shoe Trees: Lasted, Hollowed
Details: Metal Toe Tips (Custom by Acme)
Origin: Bejiing, China
Price Estimate: $1550
Very high end specs as expected building up the excitement and anticipation.
Buckle up as we are about to discuss things I never had the experience or capacity to talk about before.
Unboxing & Delivery
First things first, let's talk about delivery.
For whatever it's worth, I am in Italy and it only took a few days to arrive with FedEx.
My import duties were €46.84 (about $50) but it might be due to the fact that this was a review pair.
The packaging was very good, with multiple layers of bubble wrap on top of the box.
Speaking about the box it is actually really good and custom made.
While in most boxes the lid closes flush over the box, this one has a small gap in between with a wavy format.
I also like that they chose a shade of dark purple as their brand coloring.
The box has all the classic details about your shoes on the side, written by hand.
Its interior has a grey, sueded/felt feel to it with a lot of structure and fits the shoes snug and nice.
In terms of accessories you don't get much but the shoe bags are phenomenal.
Custom, heavy tweed with velvet interiors and a windowpane exterior.
Lastly, you get your shoes which will be neatly packed in the bags and separated by protective foam.
I was in the 2022 London Trunk Show so I did get a commemorative leaf golden shoe horn.
Overall a great, minimalist yet satisfying experience.
Initial Impressions
As I got the shoes out of their bags I took my time to admire their shape.
It is really lovely, modern and with all the right curves which is right up my alley.
I liked the last, the shape and profile of the toe box, the substantial heavier golden buckles and the sole.
This is a classic double monk strap shoe but with some extra details.
Specifically, it has a punched cap-toe with subtle broguing and a seamless back.
The spacing and angle of the two straps is perfect and very tasteful.
Decorative elements are scattered around the shoe, including the logo on the toe plates.
The sole itself is very minimalist which I like as there is absolutely no need to write "genuine leather" or "Goodyear Welted" as many do as a statement or reminder.
A Blind waist on both sides, with a tight mid-section and a prominent bevel instead of a sharp fiddleback complete the look.
The shoe is neither heavy nor light with a good balance to it.
Lastly, the shoe trees are lightweight but look oddly familiar as you will see later.
At first glance there was nothing to criticize about these shoes.
Purely shape-wise right out of the box I would say there are some of the best experiences out there.
Leather QUality
It will take me years to be able to properly assess leather quality without extensive use.
At this price point all we know is that the leather should be high quality full grain box calf.
Acme Shoemaker notes that they use the finest European and American Tanneries.
I would therefore expect that most comes from Du Puy or D'Annonay and Horween.
Honestly I am fairly sure that if you ask them about the source of the leather they will tell you.
In most of the shoes, the clicking looks excellent.
There were a couple of spots were I noticed some "grain break" such as the tip of a strap.
A similar small mark was also on the right vamp just between the cap-toe and front strap.
Initially I thought that it could be a sign of try-on which would be totally fine anyways as this is a Review pair.
Then my shoemaking instinct came in and I remembered how you last a shoe.
You see, when you last a shoe onto the form, you first do the lining and the reinforcement.
This means you have to pull the uppers back and fold them which can create tiny marks of creasing.
It is quite normal and you can even remove it later with a gentle heat gun.
I tell you such things only to remind you how you make shoes and how leather works.
The leather itself is smooth and soft and has a more "buttery" feel to it.
One of my gripes with the Stefano Bemer Tradizione Leather was that it saturated quickly and I had trouble getting a shine.
I believe that this one will achieve a faster, easier shine for most of you.
This is a section that requires a longer period of exposure and wear so I will revisit it soon.
Acme Shoemaker | Build Quality
We already know that Acme Shoes are genuinely handmade.
It is a term widely misused in the industry and for a good reason.
Other than sanding machines and of course sewing the uppers, is it a sin to call it handmade?
Not in this case in my opinion.
Let's take a look at all three main construction areas of the shoes.
Hand-Lasted Uppers
The base of the shoe is the last and the insole.
Compared to your classic Goodyear Welted production shoes, Acme Shoemaker does everything by hand instead.
This means properly creating a holdfast (wall) that has interior and exterior even cavities allowing the shoemaker to welt and bind everything together.
In order to get to that point however you need to last your leather by hand.
Once the pattern and leather cutter cut the leather and lining, they sew it together.
The shoemaker then uses nails to last them by hand on the form and the insole.
It is very important to last the shoe correctly as it requires the right amount of stretch in the right places.
A loose lasting will show its weakness afterwards but there will also be ugly marks at the bottom of the leather between the uppers and outsoles.
Wrong lasting will also create a gap and wrong shape at the heel point.
Your shoes should also have the exterior part slightly lower than the inside.
During lasting you also reinforce the heel, toe and sides with stiffeners to give structure and shape.
Many companies these days cut some corners and use celastic materials for the reinforcement.
It also allows them to skip the skiving and molding by hand of the toe puff.
Acme Shoemaker uses leather for those parts just like in Bespoke Shoes.
Looking at the shoes in detail, the lasting seems great both from the inside and the outside.
The shoe stays structured, doesn't collapse and the heel, vamp, sides and front have an excellent shape with no markings.
Of course, it is something you should expect at this price point.
Hand-Welting
It's not easy to asses the welting technique if you don't cut the shoe in half or layers.
A welt is a strip of leather that connects the leather to the insole and the rest to the outsole.
Think of it as an intermediary agent that binds or holds everything together.
A regular welt has a width of about 4 mm and depending on the construction is mostly 270° or 360° usually for chunkier shoes.
Structurally there is no difference but the 270° looks always cleaner and more appealing for formal shoes.
A welt will start around the heel block, go all around the shoe and stop at the other side.
For the blind waist, you have to trim and bevel it closer and also skive the ends to join it with the rest of the shoe.
Unless you take an extremely closer look you cannot really see the welt in this case.
It is excellent, seamless and considering it's by hand very even.
Blind Waist, Hand-Sewn Sole
A blind waist means that the stitching and welt is not visible.
You achieve that by skiving the welt and outsole so thin that you can curve it and fold it over.
Of course, you have to keep the curve consistent and even which is hard on its own.
Do all this incorrectly and you will end up with a mess of a waist.
Acme does a great job in all levels and eliminated any lips on the top.
You can just barely see some different color or where the sole channel closes.
Which brings us to the next topic of stitching the sole by hand.
Most production shoes have decorative fudging on the top of the welt.
However in handmade footwear the ridges that the fudge wheel tool creates serve as an indicator for the stitches.
Doing it by hand is quite laborious and doesn't really have any benefit other than bragging rights or that awe feeling.
Acme's stitching seems to be around the 10-11 SPI (Stitches Per Inch) mark which is very good.
The visible stitching is also immaculate, clean and consistent across the board.
Outsole Details
Staying on the outsole but we will talk about different parts of it.
Let's begin at the front by discussing the toe tip installation.
It has a golden appearance with the Acme logo engraved on top.
Probably brass, because if you look at it from the side where they sand it flush it retains a silver metallic look.
The installation is flush, with some decorative wheeling elements on the base.
A careful observer will notice that they use an edge crease for a tidy look around the edges of the sole.
The waist has a 5.5 cm width which is exceptional for a RTW Shoe and comparable to Stefano Bemer.
To give you a point of comparison, the first Bespoke Shoes I produced had a width of 6.5 cm.
The waist also has a beveled fiddleback with rounder shapes instead of the sharp, edge-like corners in other shoes.
It looks tidy and nice but at the same time fairly noticeable.
To finish with the sole, it has a total height of around 8-9 mm which is standard in the industry.
Usually an outsole is about 5 mm and in combination with the welt gives you this depth.
The Heel Block
I never thought I would have an actual section about heel blocks but here we are.
After becoming a shoemaker I realized that the heel block is the toughest part of the shoe.
Your precision and eyes have to be spot on to create the shape you want.
A heel block needs to be even, straight at the top and elegant.
There are different types of heel blocks including the Cuban heel with a more slanted look as opposed to the straight one.
Acme has more of a Cuban Heel which has even distribution across the sole and narrows inwards.
The heel has a width of 5.5 cm which matches (and should match) the waist line.
They also apply the edge crease tool for a nice appearance.
On that note, the rubber part of the top lift is not entirely flush with the leather piece.
I don't know if that was intended, but I can feel that there is a tiny gap of less than 0.5 mm.
I was taught that the mark of a good shoe is that it retains its balance and doesn't wobble when you tilt the vamp.
When placing this shoe on a flat surface I can see a small gap between the front and back part of the heel.
Additionally when I press the instep it slightly wobbles around.
It is absolutely nothing that you will notice in real life applications but I do recommend them to pay close attention to.
Finishing up with the heel block, there is a general scale to the height of each heel.
A size UK 8 should generally have a heel of 28 mm which is the perfect case here.
In shoes over UK 9.5-10 they start going towards a 30 mm heel at least in Bespoke.
This concludes the exterior construction details, which will amaze you and leave you satisfied.
Interior Quality
There is rarely enough to talk about in the interior department when it comes to shoes.
After the shoe is out of the last, you nail the heel block from the inside.
Afterwards you cut the insole, which can be full or half and prepare it for application.
The half insole should generally not be straight and is oftentimes wavy as is the case with this one.
It also allows you to see the handwelted bumps on the left and right of the shoe.
Under the inner insole, there is a lift where your heel rests.
Since this is a monk strap it needs a secure position for the strap and buckle which you can feel inside the shoe.
Generally the lining is very clean, with a natural (or customizable) color and the trimming on the top is excellent.
There is a specific tool that you use to trim the excess lining, even though I do it with a knife.
Stitching & Other Details
We are now at the final part of the overall construction experience.
While they do the stitching using a machine, there are a few areas where you can spot hand tools.
For example, when you do the broguing at the cap-toe there is a pattern.
A bigger hole, followed by two parallel smaller ones and repeating.
The pattern maker punches these tools by hand using a hole punch and has to be very accurate and consistent.
In a couple of spots you can notice that the smaller holes are not straight and off ever slightly.
It's not something you would notice unless you very specifically looked there and had OCD.
For me it doesn't matter and even enhances the feeling that this is made by hand and has some light nuances.
The rest of the stitching is perfect and I have nothing to say about it.
The Acme Shoe Trees
It's not uncommon for companies to use the same maker for shoe trees.
In fact, the current owner or leader of Acme used to be part of the Xibao workshop according to my friend Jesper.
When I saw the shoe trees they instantly reminded me of the Yeossal shoe trees I have, which they make in the same factory.
There are a few minor differences such as the height of the grip but they are fairly identical.
It doesn't matter, I just thought it was a cool observation.
Plus, the Acme Shoemaker Shoe Trees are lasted and specific for this shape of shoe.
Overall I found them good quality with a nice finish and an ergonomic grip.
Fairly lightweight with a silver spring mechanism and a must for shoes of this caliber.
It was a little hard to get them out of the shoe without unbuckling the back but overall excellent trees.
The Acme Shoemaker Q90 Last
Acme Shoemaker currently has 6 lasts in its portfolio.
Lasts are important as they give shape to the shoe and its overall look.
Variations of Almond, Square, Chisel and Loafers lasts are available here for comparison.
Mine is the Q90 which is an elongated soft square shape.
It's a very tasteful, professional and modern looking last.
Having it on the punched cap-toe here accentuates the shape and proportions which I like very much.
Given that usually a toe puff sits right under the cap-toe at a distance of about 7 cm, this one is half a centimeter longer.
It's a great last that appears like a fuse of the TX and S Lasts by Stefano Bemer.
I would recommend this last for shoes that have details at the front.
Very tasteful and the pictures speak for themselves.
Sizing & Fit
For the first time I will try to be more specific about my fit.
I will need to wear them more to accurately gauge it, as everything was perfect during the first wear with Yearn and then they crushed my arch.
Just like taking Bespoke measurements, I recommend standing and sitting with your shoes on.
When we stand, our feet compress and flatten differently so the feeling can be different as well.
These shoes are on my standard UK 8 (US 9D) size.
It was also the same size that I tried during the London Super Trunk Show 2022.
My findings are that overall for most people they should fit fairly true to size.
My feet have a good amount of space at the toe area.
The sides are snug and ok when sitting and a little bit snug when I stand on my little toe.
It is not uncomfortable, but it will require a little break in.
Arch support is very solid and my feet felt secure with enough cushion to not get tired.
My heel has no slip and the shoe cups it very well.
However I must point out that the instep was a bit tight.
I do have a higher instep especially on the right foot so it is generally a more problematic area for me.
My feet are also between a regular and wider size so that plays a role as well.
For most people I would recommend taking your classic size.
However if you are on the wider end or with a high instep it might be beneficial for you on the long run to size half up.
Regardless I recommend discussing this with Acme directly and taking their advice before any decision making.
Are They Worth The Hype?
There is a very simple answer to this and it is yes.
Shoes by Acme Shoemaker are of the highest quality and among the best shoes I own.
Fully handmade in the traditional way, modern and committed with great attention to detail.
The prices are also very fair for what they offer and competitive to the rest of the industry.
There is some debate about the originality of their designs and the brand identity which I can understand to an extent.
I think this is something that they will evolve more into as time passes.
But from the shoes that I have in my possession I find it hard to think of someone being disappointed after purchasing a pair of Acme shoes.
Unless of course the fit is not good for their foot, which is understandable.
I would say that they are up there with Stefano Bemer, Meccariello, Scafora, Petru & Claymoor and a few select others.
Now again if you are looking for "value" you are probably at the wrong price tier.
There are exceptionally good shoes at half the price and you will not notice any difference as a user.
Shoes like Acme cater towards people in a better stage of life that want and can afford the best.
I always recommend starting from the entry level and slowly going up the quality ladder in shoes.
It helps you compare and appreciate the differences but also understand if it's worth for you.
Of course, if you can afford a pair of Acme and want the best, you will not regret it.
Absolutely stunning pair of shoes, friendly and professional people to deal with and I cannot wait to wear them more.
How To Wear Monk Straps?
I had a computer issue so worn pictures will come in the next few days!
We are back to the eternal question with the same answer.
The shoes have a nice mid-brown color with some hues resembling museum calf.
It's actually a shade darker which is great and depending on the warmth of the lighting the color changes.
One of the pictures I took during the sunset for example made them appear more reddish.
I generally really like shoes that have color character that changes with the slightest variable of light.
These monk straps are a jack of all trades and you can wear them with everything.
From your most formal blue navy suit to a pair of jeans or chinos for a casual chic look.
And the color matches literally everything but black and dark charcoal.
A shoe like this should be in your first 5 shoe purchases in my opinion for a minimalist modern wardrobe.
Conclusions
This brings me to the end of this very lengthy Review about my first pair of shoes from Acme Shoemaker.
I want to thank them for trusting me with a pair of their shoes and that you enjoyed the Review.
I tried to go more in-depth in many categories and details that I never did before.
Now that I am a shoemaker it gives me a whole new perspective about the why and how.
This also closes another chapter of high end shoemaking, leaving me with less options.
In the future, I think I will have to work with even smaller niche brands which excites me.
I will see you next week with another surprise shoe brand.
Thank you for reading,
Kostas Mandilaris,
Misiu Academy