There Are A Lot Of Options
That's right, there are a lot of alternatives to the iconic Edward Green Dover Split-Toe Derby.
Coming hot of the heels of my recent disappointment with Edward Green as a brand, I wanted to take a look at the Dover.
From just $200 all the way up to $2000 you can find something within your budget.
Which is the price point where you get better shoes than Edward Green though?
Let's find out today.
Deconstructing The Edward Green Dover
I should begin with a heavy disclaimer here.
Nobody argues that the Dover is a bad shoe, or with its status as a modern classic icon.
Nor you should expect to buy a pair of Meermin and get anything remotely as good.
However, for certain people on lower budgets that like this style of shoe (Split-Toe Derbies) it is a good chance.
In my opinion, there are tons of shoes that just look better and have better construction or details.
For me the Dover is a classic shoe, with well-balanced proportions, last and looks as well as a trademark hand-sewn apron.
Would I spend $1650 for a new pair though?
I would rather bleach my anus and change my name to Stephanie.
It's quite obvious I jest here, but I still cannot believe how they could botch a so expensive MTO.
One day if I meet the people at the Northampton workshop I am sure they will not want me there unfortunately.
In any case, this is a decent list you can use as a starting guide.
If you feel the original is worth your time, money, aesthetics and quality then by all means go for it.
Tip: Read the infamous Edward Green Cardiff Review.
Split-Toe Derbies
Now, there's a ton of Types of Dress Shoes out there.
Derbies in particular are famous for being a flexible shoe that can work as both formal and informal with the right attire.
Recognizable by its open lacing system, it has many forms.
One of them is the Split-Toe Derby, where the seam is in the front.
The most distinguished feature I suppose is that split that connects to an apron (think of a large U) on the vamp.
There are different technical terms depending on how they sew the apron or the split.
For the Dover, it has a borderline invisible seam (not raised) that creates a ripple/dimple effect.
For simplicity's sake I will call everything here a Split-Toe Derby.
Let's begin!
1. Meermin ($215)
Hate them or love them, any list that does not include Meermin as a budget brand is incomplete.
The current model that likens the Edward Green Dover is the 101596.
It comes in different colors and leather options and also tries to mimic the style of the split.
Take a good look though and it is obvious that the result is not as good.
But for $215 it is a good option to start with and familiarize yourself with this style of shoe without breaking the bank.
Unless you are on a really strict budget however, I would encourage you to save a little more for another brand.
Since links and models are subject to change, here's the link to all their Derbies.
Tip: If you want to know why I dislike Meermin here's the Review.
2. Allen Edmonds ($276)
Now, if you are desperate and you hate online shopping in the USA then I suppose you can try Allen Edmonds.
An absolute shadow of their former quality, you must be absolutely insane to pay full price for these ($395).
Using a constant sale model for 30-50% off, it's an ok alternative for those that really need to try shoes physically.
Then again, it looks like ass and probably wears like one so why would you put the Delray on your feet?
Easy answer: Don't.
3. Carlos Santos ($320)
There's always something good coming out of Portugal and this is no exception.
However, this is also one of the rarest at it really depends on retailer availability which is pretty much just me.
There are two models of interest here: The 9114 and 9131.
Both cost about $320 and the one resembling the clean look of the Dover the most is the 9114.
However the slightly more busy 9131 is more popular at the moment.
The model in the picture is an upcoming exclusive to The Noble Shoe.
You can email me at [email protected] if you want to order a pair until stock arrives.
Good leather, excellent patina work and overall value makes Carlos Santos a no brainer.
4. Septieme Largeur ($320)
Very similar price point and very good quality from French Septieme Largeur.
Shoes made in Spain, finished in France with an intelligent modern design.
The model you should be looking for is the Gatsby.
It comes in two versions, one with a leather sole called the Gatsby and another bold one called Gatsby Commando.
The latter has a proper commando sole and actually looks really interesting compared to the usual styles.
For those that either want a classic with a more sharp toe or a bolder alternative I can recommend Septieme Largeur.
Tip: Check out my Review of Septieme Largeur here.
5. Cobbler Union ($395)
Another brand making shoes in Spain (you get the trend) is Cobbler Union.
Based in Atlanta (Georgia), they make some nice classic shoes for rather affordable prices.
They have a Split-Toe Derby called Norwegian in a few colors or leathers for just $395.
Not so long ago I reviewed one of their Chukkas and their suede quality and solid build impressed me.
I don't have something bad to say about them.
Tip: Read my Cobbler Union Review here.
6. Sons Of Henrey ($420)
One of the best looking Split-Toe Derbies for an affordable price out there is by Sons of Henrey.
A really small company with such a nice owner that produces small batches of mostly MTO shoes in Spain.
Tom (the owner) loves experimenting and creating new things with different leathers and models.
His most famous one is the George, which is an excellent looking Split-Toe Derby.
It sports a slightly more almond toe shape which I always prefer over rounder ones.
It also comes in a variety of leathers and colors making it a very attractive choice at just $420.
A small issue is that availability is a little scarce so your size might not be in stock.
For those more demanding, Tom also takes order for Oct. Tenth who makes handwelted shoes in China with some great designs and value.
Obviously expect to pay more for those and you can only MTO them.
Speaking about Sons of Henrey, I might have a Review lined up in the near future.
7. TLB Mallorca ($439-$511)
TLB Mallorca is another brand gaining traction over the past few years and for good reason.
Their Artista range is exceptional with a lot of features you often find in more expensive shoes.
As an Edward Green alternative there are actually two options.
From the main collection, there is the Dylan Split-Toe which costs $439 but has a different style of side panel.
The apron is too high for my taste however and the last too bulbous looking.
Instead, I would focus more on the 135 Artista model which costs $511 but looks so much better.
Available in a plethora of colors and leathers, it looks really good and simply has a better looking last.
Great choice and would definitely take them over Carmina.
8. Carmina ($465-$500)
You know when you meet someone for the first time and for whatever reason you get a bad feeling about them?
Well this is how I feel about Carmina most of the time for some reason.
Shoddy QC, hit and miss customer service and just plain ignoring me as a customer left a sour taste in my mouth.
Nonetheless, one cannot argue with the fact that they make decent shoes.
Carmina makes welted shoes in Spain around the $465 mark for dress shoes.
They have a few different Split-Toe Derbies but there are only two that I would recommend if you go for the Dover styling.
One is the 757 that keeps that clean look and the other is the more expensive 80692.
The latter has a really chiseled toe on the BALIXT last which I have no clue about.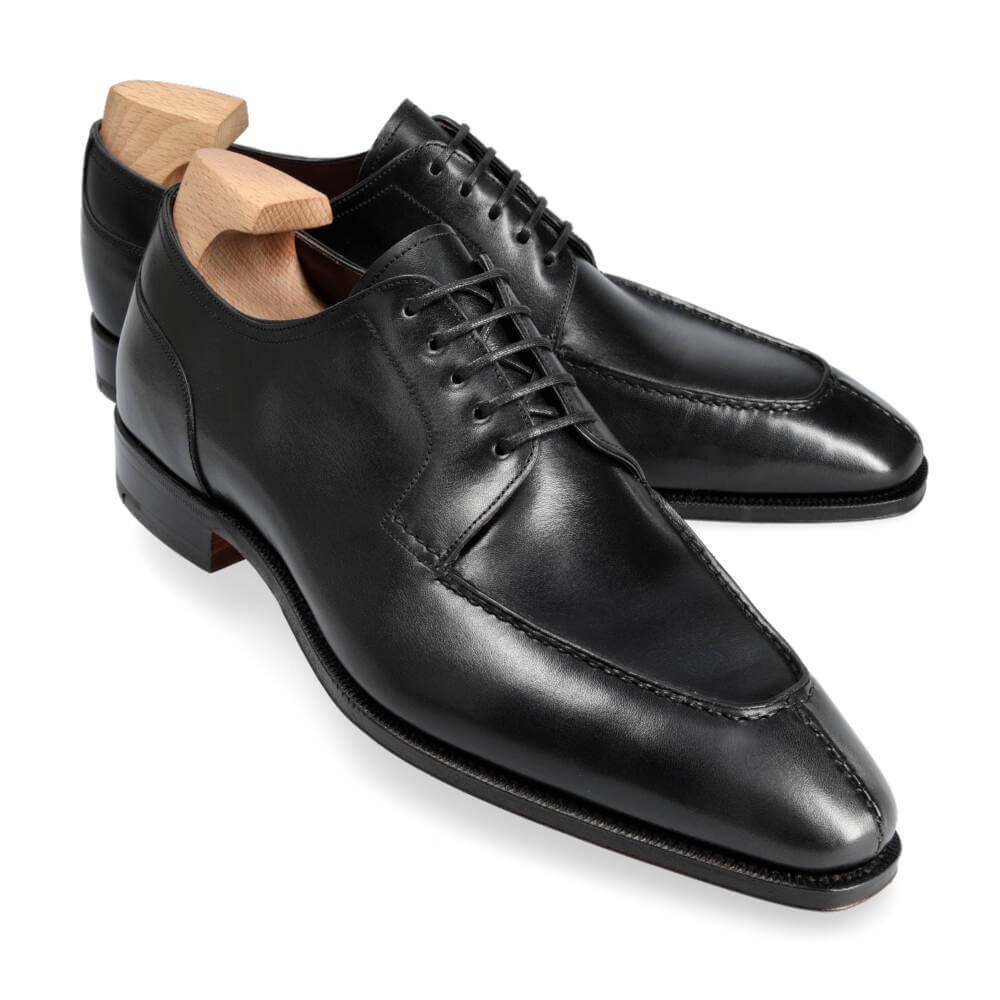 For some reason there's something bothering me about the eyelets on that one.
You know like when you have nose hair dangling out of your nostril and you look stupid but have no idea?
In any case, you can customize with their "revolutionary" new 3D MTO Program.
I say revolutionary because Bespoke Factory has a similar program for years now.
You will probably be satisfied with Carmina but I would rather spend my money elsewhere.
9. Crockett & Jones Hardwick ($530-$600)
When it comes to English classics, it's hard to leave Crockett & Jones out of the boxing ring.
A model I handled previously and resembles the Dover is the Crockett & Jones Hardwick from the main collection.
You can buy it for $570 or $640 if I remember right from the official store depending on leather options.
However, you can get it for as low as $530 and $600 (suede and leather) via The Noble Shoe.
All you need to do is send me an email at [email protected].
It's a solid shoe with good leather, a nice city sole and more conservative look.
10. Yeossal (From $590)
One of my surprises of the year was Yeossal from Singapore.
Honestly, if I had to pick just one brand from all of this list based on price, value and quality I would probably choose Yeossal.
It offers everything you need from a Split-Toe Derby.
Specifically the Thomson model is the one I am referring to.
Starting at as low as $590 USD but be aware that the prices on the website appear higher because they are in Singaporean Dollars!!
Great looks, very good leather, superb fit (for me) and endless customization via their MTO Program.
Depending on the options though, it will run more expensive by around $200 but it's worth it.
Hand-welted, hand-lasted and simply too good to not consider.
Tip: Read my Yeossal Review here.
11. Enzo Bonafe ($600)
Enzo Bonafe is an Italian brand I've been lusting to try for a long time.
For reasons I will not go through publicly, it is highly unlikely I won't.
If I buy them, it will be through my friend at Shop Mehra.
The one we are looking for here is the Style 2475 that looks quite similar to the Dover albeit with a raised seam at the front.
Hand-welted Italian shoes for $600 is a pretty good offer if you can find your size.
You can browse through the list of Mehra's Enzo Bonafe Shoes here and simply search for the 2475.
12. Miyagi Kogyo ($620-$770)
The only time I managed to see and handle Miyagi Kogyo shoes was in my first London Trunk Show in 2019.
A Japanese brand that admittedly I don't know much about but they have some excellent shoes.
I think prices have crept up quite a bit over the past few years and the only place I could find them was in the Norwegian shop Skomaker Dagestad.
What confused me was the pricing as I could not understand why the black version of the 103 Split-Toe Derby costs $620 while the others cost $770.
Not gonna lie though, that brown suede pair looks tasty.
Still a tough sell for something I am unfamiliar with but Japanese shoes have great reputation for a reason.
13. Winson ($650)
The pricing on this one is a speculation based on research and could be considerably higher.
The only worth entry in the list from Indonesia is from Winson Shoemaker whose reputation is growing worldwide.
In fact, I had an Interview with the owner this year and he spoke about his vision and work ethics.
A small issue is (and not his fault) that many clients seem to ask for carbon copies of other makers.
So while you will see a lot of familiar shoes on his Instagram, they are still very good.
You get a lot of shoe for $650 too and he has some Split-Toe models that would fit the bill.
As of now the only way to contact Winson is through Instagram and Email.
14. Gordon Jim Jun (From $700)
The emergence of Chinese Brands taking the shoe world by storm lately is nothing new.
One of the brands that I frequently see and admire their work is Gordon Jim Jun.
A very small workshop that luckily has a decent website now with MTO customization.
His Split-Toe Derby has a pie crust apron and is Goodyear Welted with the base barebones model costing $700.
However if you choose all the goodies, including hand-welted or a Norwegian welt it will cost you a colossal $2100.
It reminds me of my Yeossal and is a brand I would love to try one day.
A great alternative choice.
15. Altan Bottier ($750)
Ah, if only Altan Bottier stopped sending things to my friend Justin and sent me a pair instead!
I am joking, but Altan Bottier is a French Brand that I would like to explore.
The name of the game here is aggressive shapes, exotic leathers and extravagant patinas.
All marinated with the appropriate construction which is more often than not Blake Stitched.
The Charles model however that I am looking at today is around $750 with a Goodyear Welt and a free patina of your choice.
A more adventurous, modern model for those of you that seek something different.
I like the proportions of the split and the way the do the flush, dimple seam at the front.
16. Zonkey Boot ($865)
I really don't get the name of this brand.
A Zonkey is a cross-breed of a Donkey and a Zebra.
Since this marriage is rare and unique and controversial, does it mean that their shoes are too?
I am overthinking it so back to the topic.
For $865 you can get a pair of the Andreas Split-Toes from Zonkey Boot.
Quite handmade, but the striking resemblance to Saint Crispin's baffles me a bit.
Even the last has the same name (Classic) and it still has something about that shape that slightly bothers me.
However, for almost half the price of the Saint Crispin's I would take these any day of the week.
Is it worth it? Up to you to decide.
Update: I knew that the former founder of StC made Zonkey Boot, but not that the took with him the exact same lasts until now.
17. Passus Shoes ($875)
Back to a brand that I actually own and tested.
Passus is a Hungarian brand making high end shoes around the $875 mark.
Their stock is rather limited at times, however you can customize your shoes based on specifications too.
One model that is relevant to today's article is the Jonathan which is on the 2000 Last.
That last actually looks much nicer in real life than in the pictures with a very chiseled shape.
In fact, you should size up half from your regular UK on this one.
Good shoes and if your budget is higher you should at least consider them.
Tip: Read my Passus Review here.
18. Antonio Meccariello ($915)
Ladies and gentlemen, we arrived at the big daddy of shoemaking.
Uncle Antonio Meccariello is in my top 3 shoemakers in the world right now.
As terrible and basic as his website is, his shoes are spectacular.
Let's add to the mix that his is just such an awesome person.
Antonio Meccariello has a workshop in Naples (Italy) and will make everything you want from RTW to Bespoke.
One of his most famous models is the Centurion which in my opinion makes the Dover go to the corner and cry because it made a doo doo.
The Centurion is perfect, mostly handmade and starting at $915 it's nearly $700 less than the Edward Green Dover.
For me personally, this is the standard now.
Tip: Read my Antonio Meccariello Review here.
19. Wayman Bespoke ($1030)
I am mostly including this due to reputation and the hard work of the owner since I don't have a pair.
Wayman Bespoke is not really Bespoke, it is a heavily modified MTM/MTO Experience.
They make the shoes in China (I think at Xibao) but the standards are quite high.
I don't remember where I saw some pictures of their Split-Toe but they do have a page on this style.
If you are curious the best way is to contact them.
Tip: Read my Interview with Wayman Bespoke here.
20. Paolo Scafora ($1300)
From Uncle Antonio to Uncle Paolo Scafora.
Paolo Scafora from Naples makes spectacular shoes.
They are not for everyone, but they are spectacular and unique.
If you are looking for a more Edward Green Dover look, the style you are looking for is the Art 701 on the Sirio last.
If you want something more unique then you should look at the Art 583 on the DOOR last.
Both are marvelous, here's where the price really starts to get out of hand.
The 583 is available at The Noble Shoe for $1300 including lasted shoe trees and toe tips.
However the 701 is currently MTO only and would cost you around $1600.
For MTO inquiries all you need to do is mail me at [email protected].
21. Acme Shoemaker ($1300)
If you are familiar with high end shoes, you must know who Acme Shoemaker is.
A small workshop in China making super high end handmade shoes.
Don't be fooled by the "Made in China" tag as these are proper luxury shoes with a proper price tag.
They currently don't have a website but one is in the works so you can reach them via mail or Instagram.
Medallion Shoes also carries some models but at the moment of writing their website was down.
My price is just an estimate I took from an older article of Shoegazing but indicative of what to expect.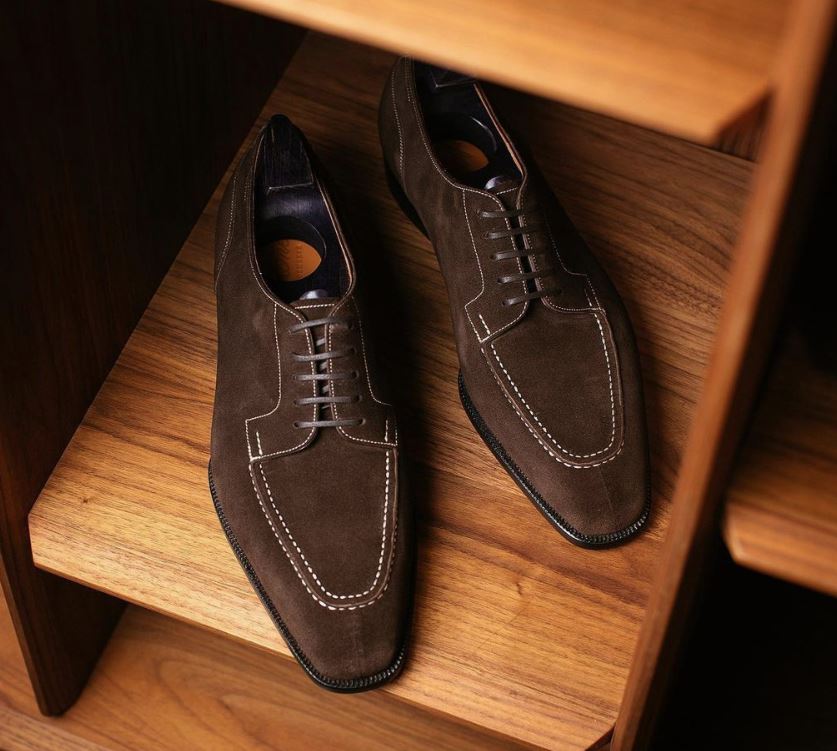 For MTOs and modifications I would expect to pay more like $1500.
Since there is no website yet, I only included a picture I found on the internet on one of their Split-Toe derbies.
They look much better than the Dover and a Norwegian welt adds a whole new dimension to the shoe.
22. Norman Vilalta ($1400)
My other surprise for the year was Norman Vilalta.
What a breath of fresh air it was, like a room with air that was trapped for 100 years and then is finally open.
Norman Vilalta was an Argentinean lawyer that moved to Italy to learn Bespoke Shoemaking.
Now he makes amazing shoes in his small atelier in Barcelona.
Norman Vilalta shoes are not for the faint or heart and certainly not for the average individual.
But you go to Norman for the personality, the quality and this different, chic appeal his shoes have.
The model in question here is the Tete which is a split toe with a very sharp toe box and low profile.
For some reason I think it looks exceptional in grain patina by the way.
It's very expensive for a Goodyear Welted shoe at $1400 but then again it's Made to Order.
During Group Made to Order periods, you can get up to a 50% discount on them which is a no brainer.
One of the top 3 shoes I currently own is from Norman.
I can only recommend his work.
Tip: Read my Norman Vilalta Review here.
23. Saint Crispin's ($Too Much)
For a moment, I will try to not be too harsh on Saint Crispin's shoes.
They are still decent but I find them uninspiring, way overpriced and the oversaturated filters they use on their product images are annoying.
When I was googling them up the tag "Genuinely handmade shoes" came up which is not true since they machine stitch the sole.
They also wood peg the waist which is fine but it's not cream of the crop either.
Plus, their leather was underwhelming to me compared to others.
In any case, they do have two models that look like the Edward Green Dover.
The first one is the Mod 633 with a hand-sewn apron and a more flush seam.
The second one is the Mod 508 which I reviewed here.
Both will set you back around $1400 which I would rather spend on the next 2 brands.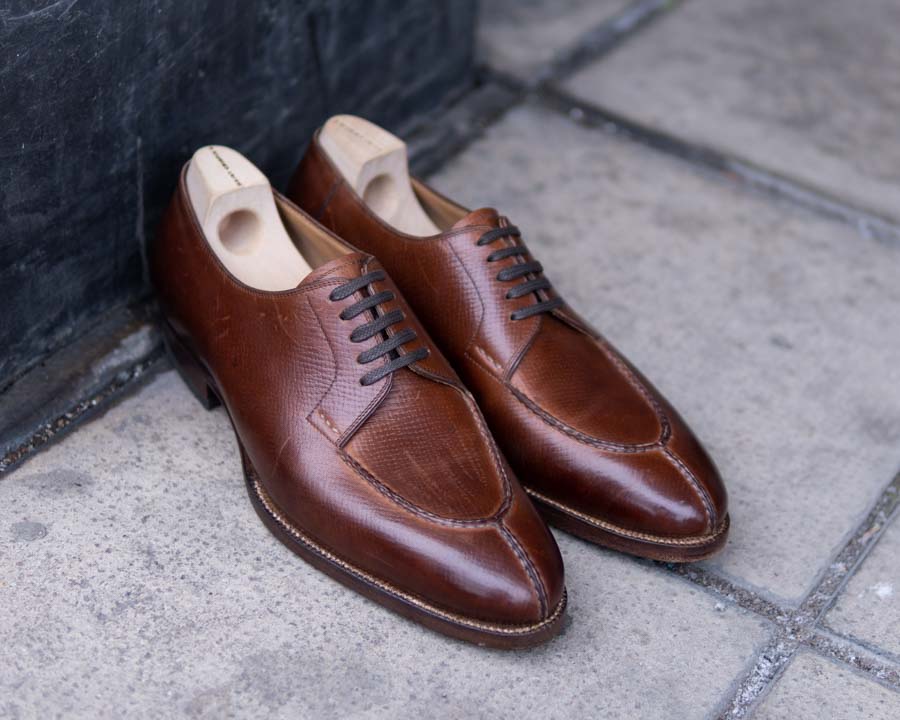 I don't know, it just feels like you ordered French fries and there's not a pinch of salt.
I imagine the people that wear them owning a Prius, wearing tweet and owning a hunting suit.
So much for not being too harsh, but I am mostly making sarcasm and having fun here don't be offended.
If you do end up buying them, I am sure you will be happy for the most part.
24. Gaziano & Girling ($1440)
I still struggle with the idea of buying machine welted shoes at over $1000.
However after my experience with Norman Vilalta, I changed my mindset a bit.
Gaziano & Girling is the only high end British Shoemaker I like aesthetically, because they are not British looking at all.
Super sleek lasts and shapes and the only ones embracing a modern approach and design.
Their Edward Green alternative seems to be the Stamford.
You know what though, the pictures on the website are not great and don't really show how lovely it can look.
So here's one from Instagram instead so you get the idea.
Very nice, customizable if you do MTO and with a trademark soft square last.
The only thing I have a hard time swallowing is the $1440 price tag, but this is a brand I've only seen good stuff from.
25. Petru & Claymoor ($1750)
We are literally in the end game now and reached one of my absolute favorite brands.
Petru & Claymoor is a small Bespoke shoemaking brand that not so many know about.
Made in the same area as Saint Crispin's so the craftsmanship is high, they do exclusively MTO/Bespoke.
Their Split-Toe Derby is marvelous, high quality and everything you would expect from a shoe that will cost you $1750.
Fully handmade (unlike Saint Crispin's), using the finest leathers (Horween for example) and simply more polished.
If you look for the Dover/Saint Crispin's aesthetic and fit but want a better shoe, I recommend reaching out to them.
The owners are simply the nicest people as well which is a massive deal in my book.
Oh, and did I mention you get wine?
Tip: Read my Petru & Claymoor Review here.
26. Hiro Yanagimachi (From $2200)
Ok look, if you are about to spend over $2200 on a pair of shoes then you probably have no monetary issues and congratulations.
At this point you can begin thinking about Bespoke, but here's where you also find some of the nicest high end Japanese shoes.
One of the best, most amazing looking Split-Toe Derbies I've seen was Jesper's from Shoegazing.
Specifically his commission from Hiro Yanagimachi which according to his website Made to Order commissions start from 250000 Yen ($2200).
From every angle, everything about this shoe is phenomenal.
I don't need to say more, these are plainly fantastic and if you can get a pair, wear it in good health sir!
Why Is X Brand Not Mentioned?
There are a lot more brands out there, especially upcoming ones from Asia, others from India or the USA.
It would be impossible for me to cover them all.
For example, I know the Indian brand Bridlen makes some Split-Toes but I cannot recommend something like that without trying them.
Then you have all the small workshops in Asia and the Japanese makers that are mostly MTO/Bespoke and often hard to communicate with or lack websites.
I could mention Yearn Shoemaker or Yohei Fukuda (if you have $2500+ to spend you know him already).
Of course, if you noticed any glaring omission let me know in the comments.
Lastly you have other brands that go to the next section.
Because one man's trash is another man's…trash.
Dumpster Dive
You know when you leave some post workout shirt or forget to wash that shaker with that whey protein somewhere for a long time?
And then you find it and it smells like something putrid and triggers your gag reflex?
Well there are some Split-Toe Derbies that will probably do exactly that.
Then again, that is my personal opinion so don't be offended.
Cheaney Chiswick
Beginning with Joseph Cheaney and their Chiswick Derby.
I imagine them sitting around in a room and having a discussion.
"Oh I know, let's make a shoe to honor Charlie Chaplin or the McDonalds clown".
"Yes yes, with a round raised toebox this will be a smash hit".
The toe box ruins everything for me.
Tricker's has an equally horrific one that I will not even bother showing.
CNES Shoemaker 69
I am not sure if someone thought using the number 69 was a good idea for a model or I am being too childish.
In any case, for $180 this is not a terrible shoe, but it kind of feels devoid of any personality and looks cheap.
My last review was not as positive and this model is not close to the Dover either.
Vass Norweger
I am not sure why this model from Vass Budapest upsets me so much.
In all honest I've seen some people that love them, but I think it is hideous.
The way the apron is so far up the toe box makes it look like a box to my eye with a thong for a split.
Now, if you like the style it's fine just go for it.
At least you will get a very good shoe with excellent construction.
Tip: Read my Review about Vass Shoes here.
Paul Parkman
Another brand that seriously upsets me is Paul Parkman.
I like my friend Justin Fitzpatrick very much but not the way he promotes Paul Parkman.
They don't look great and cost quite a lot of money.
Of course I would love to review them and see if they can change my mind, but they would have to reach out and send me something.
Nothing in there looks like the Dover anyways.
I feel you can spend your money better elsewhere.
Change my mind, I'd love to try.
Church's
Church's don't really have a split-toe derby right now but they suck ass and I wanted to remind you of that.
Saint Crispin's Mod 108
The sheer thought of this model penetrates my lobe and triggers an allergic reaction.
You already know I am not the biggest fan of Saint Crispin's by now mostly because of the price.
But the Mod 108 is just so ghastly and unsightly.
Of course nothing like the Edward Green Dover but it's still a Split-Toe I suppose.
Now who am I to judge the aesthetics of a pair when everyone has their own taste.
It looks like someone gave that split seam a wedgie.
If you want a Dover alternative better stick to the Mod 633.
Split-Toe Derby Controversy
Before summing up, I would like to briefly talk about the Split-Toe Derby as a style.
When I began my shoemaking journey, I thought it was a hideous style.
I considered it informal, busy, ugly and something I would never wear.
This is because in the beginning of my journey I searched around the internet and everybody said so when I wanted to be classic.
However, when your experience and taste evolves, you start to appreciate other things or change your opinion altogether.
As a style, I believe that it will always be a bit controversial with people that hate it or love it.
Nothing in the middle for most of us.
Keep an open mind and maybe one day you will also love them.
Then again, I have an open mind and I would rather drop hot wax on my genitals than wear kiltie loafers.
Final Words
Summing this massive article of Edward Green Dover Alternatives, I should talk about the actual shoe too.
It's not a bad shoe by any means. I just believe that you can get better value and quality for the same or less money elsewhere.
Most of you will get a pristine, good shoe without defects and will be very happy.
For those of you out there that cannot afford to spend $1650 there are many cheaper alternatives.
I would start by looking at Carlos Santos, TLB Mallorca and Yeossal before moving to the big leagues.
This was a fun, humorous and hopefully educational list that will help you in your future shoe adventures.
If you want to see more of these let me know in the comments, share this article and tell me your thoughts.
Thank you for reading,
Kostas Mandilaris,
Misiu Academy